October 14, 2011
— John Clary Davies
In 2007, Chris Benchetler blew up. He had segments for "Idea," Warren Miller and Poor Boyz. Then he landed the cover of Powder Magazine's photo annual, an iconic shot he took with his teeth while spinning in a bright red and blue striped jacket. And then Atomic called him. Now, his Bent Chetler is one of the hottest powder skis on the market, and he and Sage Cattabriga-Alosa are the faces of a stacked Atomic roster. In addition to being a pretty good skier, he's also a triathlete, an artist and a newlywed who recently traveled to Africa for his honeymoon. Read below for words from Benchetler himself.
———
My mom pulled something out from the sixth grade where I had to write and illustrate a story of what I wanted to be, and it was all about skiing and how I was going to be a pro skier.
I got to [Parkasaurus] by meeting the right people. I got to hang with the big boys. I ended up having a really good photo shoot there until the end when I broke my femur, but before that I got tons of shots so they gave me a decent article in the magazine and gave me MVP of Parkasaurus.
[Atomic] was revamping their team and hadn't gotten the heavy hitters they have now. They were willing to do a ski with me and it was just the right place at the right time.
I was really confident in Atomic's ability to make a good ski because of their track record with racing. I had skied rocker, so I was obviously going to go with a rockered ski just because I wanted it to be something that I was going to ski on. I wanted camber underfoot, I wanted it to be as lightweight as possible to reduce swing weight. The other skis I skied, like the Hellbent for example, was way too wide in the shovel for me. I ski a fairly narrow stance and the tips were always clanking together, so I tapered it back in the tip and tail.
Basically, I drew up my dream ski.
I've done all the graphics year after year. I draw with a Sharpie and put it all together through Photoshop.
The next one I'm super stoked on; it's my favorite probably. Hopefully everybody else likes it, too.
I never liked my art. I've never been a guy to save my art from when I was a kid or anything. I would draw a lot in class and at home, but I'd always just crumple it up and throw it away. It was my first year on Atomic and I broke my collar bone twice that year so I had some time, so I decided to rekindle my art skills and I drew that first graphic and it turned out pretty good.
I was obviously K2 teammates with Pep [Fujas] and Andy [Mahre] and had been friends with Pep from when he was living here. They wanted me to come on board but I was pretty stoked on Poor Boyz because of what they had done for me in the past. So I put in as much time with Poor Boyz as I could, and then I went on a trip with the guys from "Idea," and it was awesome because we were all very like-minded and wanted to ski the same type of terrain.
After that, Pollard was really stoked on how I was skiing and that I was similar to their vision, so he called me that summer and told me his idea of wanting to either make another movie, or that's when he came up with the webisode idea. I was really stoked on it, so I jumped on board.
I just really enjoy skiing with those guys, is what it came down to. We're all really good friends.
I mean, it's out there, obviously, but filming to me can be stressful and you get put on crews where you just ski differently. For example, if I went to Alaska with Seth Morrison or something, we'd be looking at the terrain completely differently versus if I went with Sage, where we'd have a very similar outlook on what we wanted to ski. And so you just kind of feed off those people that ski a little more similar.
It was incredible filming with [TGR]. I basically just came out to Jackson not knowing what to expect. I hadn't skied out there since a ski race when I was 13 or something. I was working with them for two weeks and we were able to pull that segment together, which was incredible.
I really enjoy skiing with Sage, and his approach on the mountain, so this coming year, hopefully I can ski a bunch with him and maybe even talk to [TGR] about getting up to AK.
It's probably the biggest challenge of them all. It's been unfortunate, because you may block out a month for TGR or Nimbus, and then [if it doesn't work out] you've kind of ruined your shot with that other film company, so you're just lessening yourself for all of your accomplishments at the end of the year — to keep your sponsors happy, to make it in the mags, to being nominated for rider of the year. If you spread yourself too thin, you generally run into some problems unless you get really lucky with both companies, which does happen. Then you're looking really good. So it's definitely a gamble but one that's usually worth taking.
[Sammy Carlson] is a freak. He's insanely talented. He basically lands everything. His segment in Poor Boyz this year blew me away. It was incredible. That's exactly how I want to ski — a lot of natural stuff. You just need those lucky trips and good conditions. It's hard, especially when you're trying to film with multiple companies because you're always on the move.
[Africa] was super eye opening — a lot of poverty. It was sad and kind of humbling. I guess you could say it made me appreciate of the life that I have.
In terms of animals, it was insane. We got off the plane and 12 minutes later the guides had taken us to a pride of lions that had just killed a water buffalo. Basically what lions do, they eat as much as they can for an entire day, until they start hyperventilating and then they'll sleep for three days and do it all over again.
We learned a lot. Zanzibar was insane. We went to Stone Town, which is where the slave trade started. We checked out a museum and checked out the dungeons where they kept the slaves and it was really, really sad and crazy to see.
It speaks to who I married, that she's down to go do that kind of adventure for our honeymoon.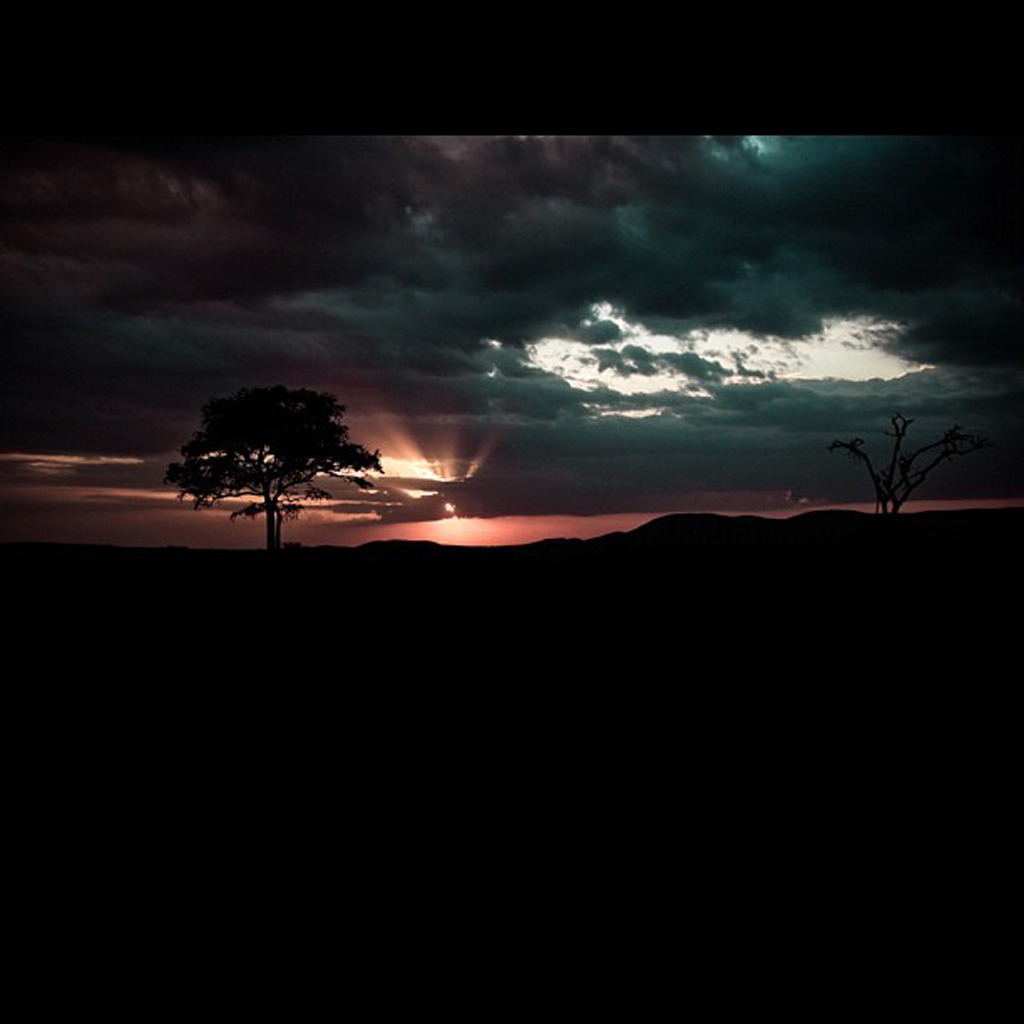 Chris Benchetler captures the setting sun in Africa. "I think this sunset takes the cake from our travels," Benchetler said.