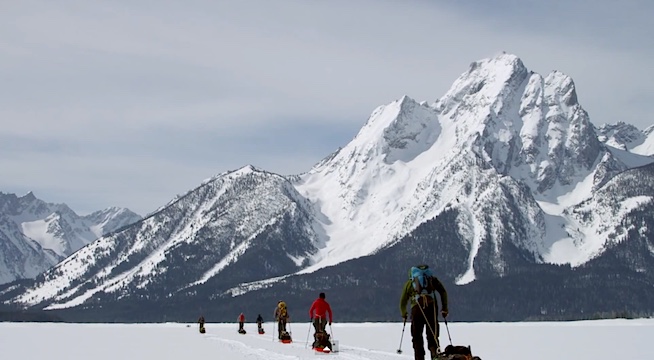 TGR's film crew marches across a frozen Jackson Lake to their base camp to film three separate lines off iconic Mt. Moran for Almost Ablaze. Do the same trip yourself this March with Exum Mountain Guides. TGR photo.
The Skillet is as rare a backcountry line as they come. In the Tetons–a range full of complicated, exposed, and puckering ski mountaineering lines that can demand rappels and rock and ice climbing moves–The Skillet starts from a racing gate drop-in on the tabletop summit of Mt. Moran, not from some tiny dug-in spot on the edge of a massive cliff, and then drops some 6,000 vertical feet directly down the fall line, ending almost at the shore of Jackson Lake. When approached in March, deep slab instabilities in the snowpack are usually put to bed, but the temps are still cold enough to ski powder top to bottom.
It was this line, along with two others, the East Horn and The Sickle, that were the objectives of what Exum Mountain Guides' Zahan "Z" Billimoria considered a dream mission. He undertook this dream trip along with a number of other Exum guides and porters last March in order to get TGR athletes Mark Carter, Angel Collinson, Max Hammer, and Griffin Post in position to ski all three lines on the same day for the filming of Almost Ablaze (which you can also watch for free today!).
And this coming March, Exum is opening the same exact expedition up to any high-level and motivated backcountry skier and rider who wants it. "I thought, 'We need to open this up to the public,'" Exum's Brenton Reagan said in a recent interview. "These are the biggest lines on the best backcountry mountain in the United States. 6,000 foot vert fall-line runs that ski straight into camp; not even the Grand can offer that."
Exum's guide staff will get you in, out, and shredding safely during the camp. David Stubbs/Exum photo.
While Exum and TGR had to employ an army of porters to ferry all the gear necessary to support so many athletes and an entire film crew the six miles across Jackson Lake to the campsite at the base of Moran, once there, it's logistically a very straightforward mission. "It's so valuable to be able to take full advantage of making that trek across the lake and being there; there's so many lines that just feed right back into camp," said Zahan.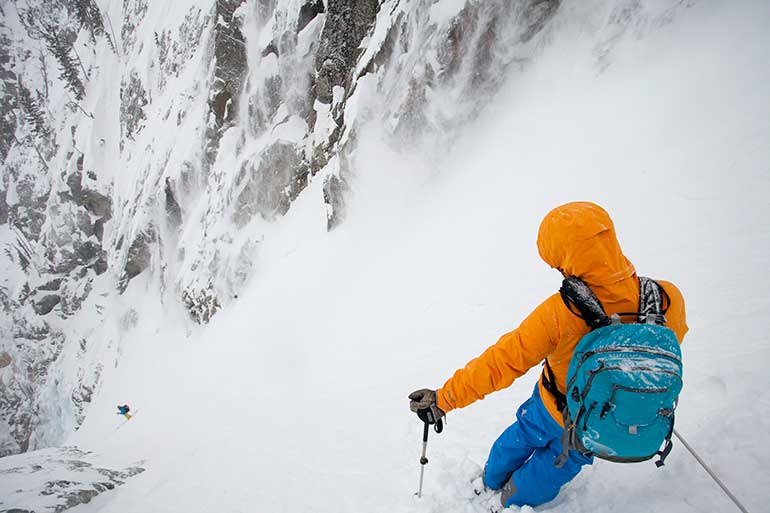 Like it steep? Exum's got you covered on Moran. David Stubbs/Exum photo.
So Zahan and Exum worked to replicate the trip they built for TGR's film crew and offer it to the public, which they're doing this March 12-16 for $2,195, with the idea of making the mission as turnkey and simple as possible. Exum will provide shuttle service to and from the airport to the trailhead, negating the need for a rental car, and will provide assistant guides to porter gear across the lake and set up and break down camp, a fully-stocked backcountry camp with catered meals, and 3 full days of guiding up and down Moran's iconic lines by some of the best guides in the mountains today. "If you are that skier or snowboarder," Zahan said, "You'll be able to have the experience of a lifetime with very simple logistics."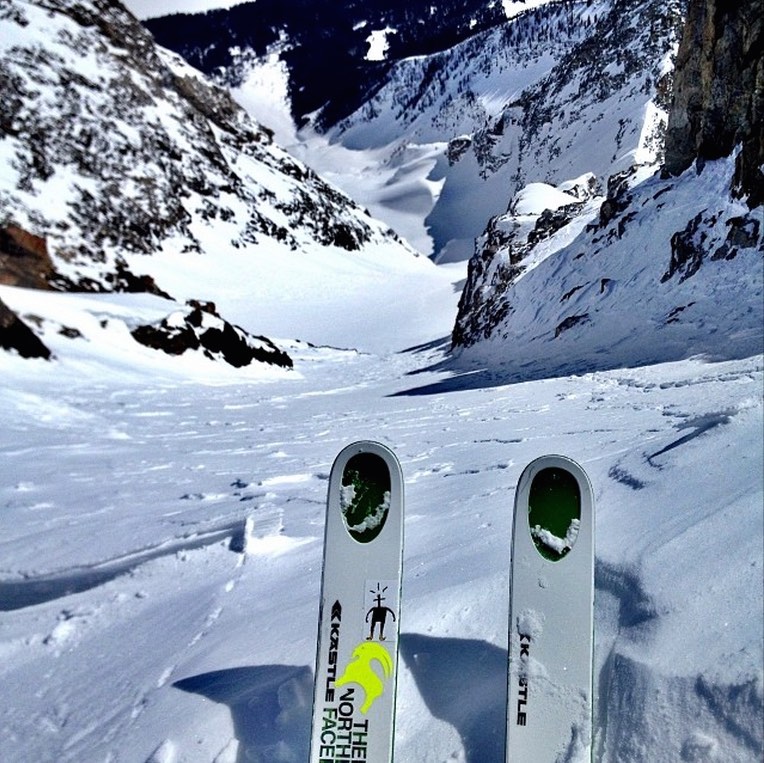 Griffin Post hangs his tips over the start to a 6,000 foot run down The Skillet last March. Griffin Post photo.
Of course, the Moran camp is not an entry-level experience by any means. With a six-mile approach and hours spent on the ascent, Exum will be looking for candidates with strong fitness, some backcountry experience, and the ability to ski steep terrain. But according to Zahan, the trip presents the trip of a lifetime for the right person. "I can't think of a better mountain I've ever skied. The Skillet is the ultimate backcountry line. Your tips are hanging out over a 6,000 foot fall line. It's steep enough to be fun, but not contrived. It's pure shredding, and then you get the feeling of skiing down to the water. It's like no other run you'll have in your lifetime." If you're into it, get on it quick; there's only one spot left!
Exum Mountain Guides' Moran Camp
What's provided: Lodging, shuttle to and from airport and around Jackson Hole, a stocked backcountry camp with catered meals, assistant guides to porter gear and build and tear down camp, professional guiding on Mt. Moran.
Dates: March 12-16
Price: $2,195
More information and booking: click here, and do so soon–only one spot left!