TGR athlete Colter Hinchcliffe dropping into a first descent this June off the north side of 14,131 foot Capitol Peak, one of 54 Colorado peaks above 14,000 feet. Jordan White photo.
They're everywhere. #notoverit. Shots of your buddies nearly three miles high, ice axe in hand, turning down a chalky chute–in June–inundate your Instagram. You thought you had had your late season powder turns in April and May. Now you're checking your iPhone, jealous and barefoot, flipping burgers on a grill while these assholes are shredding the San Juans, the Elk Mountains, the Sawatch and posting celebratory micro-brew-clutching selfies from some funky Colorado mountain town, population 84.
Chris Davenport crossing the Knife Edge Ridge section in route to the summit and a first descent of the East Face. Neal Beidleman photo.
Home to 54 peaks above 14,000 feet, Colorado's exceptionally long season of high altitude skiing can range from mellow to downright sketchy to as good as any place in the world. Lou Dawson, legendary ski alpinist, was the first person to climb and ski the Centennial state's 54 peaks above 14,000 feet. It took him 13 years. His books, Dawson's Guide to Colorado's Fourteeners, Volume 1 and Volume 2, are the gold standard of backcountry skiing beta. In 2007, Aspen-based pro ski mountaineer Chris Davenport became the first to ski them all in less than 12 months. Christy Mahon became the first woman, and Jarrett Luttrell the first snowboarder to finish the task on the same day in 2010.
Centennial Skiers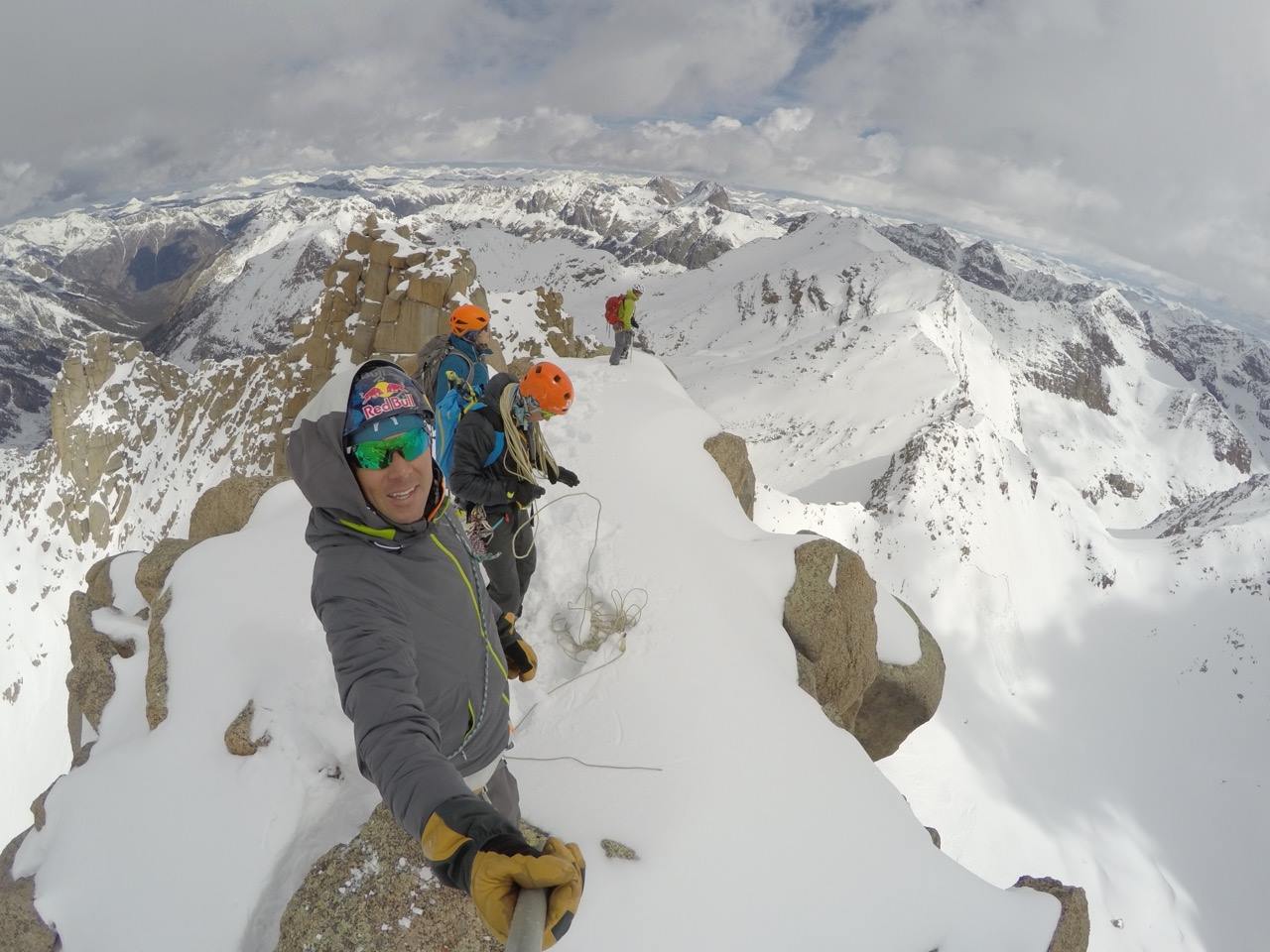 Chris Davenport and Ted and Christy Mahon recently became the first skiers to summit and ski Colorado's highest 100 peaks. The project left them with only four peaks remaining this spring- all of which they had previously failed to complete. A late season snowfall allowed the trio to finish their three year mission this spring.
The final--and one of the more challenging peaks--Jagged Mountain, stands at 13,830' tall, and required a 4-day mission to complete the summit and descent.
Dallas Mountain, the shortest of the centennials, stands at 13,809 feet, which goes to show that the remaining 47 summits remaining after the 14'ers were no walk in the park.
Why You Should Go Bag Colorado Peaks... In June
Getting ready for a big day at the trailhead. || Chris Davenport Collection
With all the talked-about late season skiing destinations like Alaska, British Columbia, and the glaciers of the Pacific Northwest, Colorado has an unusual, not-quite-Southwestern hippy vibe with pockets of diversely cultured mountain towns.
"Fumbling your way through the Colorado landscape on a road trip format is just as much of a cultural experience as it is about climbing to the top of a summit and skiing it," says Mahon. She joined her husband, Ted Mahon, and Chris Davenport for a project called CentennialSkiers.com, in which they are climbing and skiing Colorado's 100 highest peaks. Both Mahon and Davenport outlined past and possible weeklong spring trips, during which a group could basecamp in eccentric, uncongested hamlets and plan to hit 4 or 5 peaks in one trip.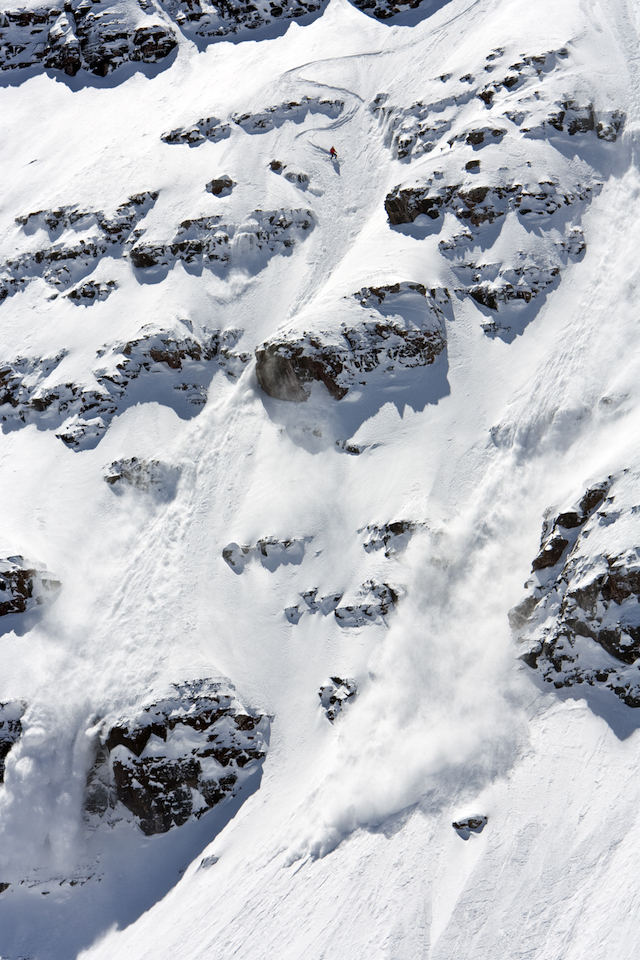 Davenport skiing 14,014 foot North Maroon Peak in April of 2006. Jonathan Selkowitz photo.
"There are a lot of high mountains and sub ranges, all of them are unique and different," explains Davenport. The Colorado Geologic Survey lists 57 significant topographical features, seven of which contain peaks above the 14,000-foot mark. The different characteristics and personalities of each group are part of what draws ski and snowboard mountaineers to a particular area.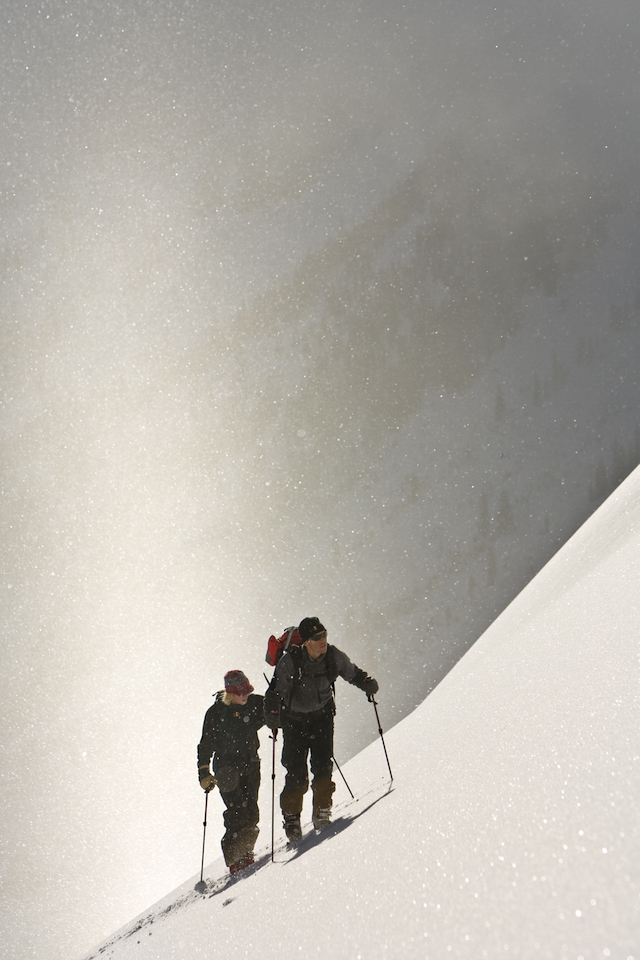 Davenport & Nick Devore skinning 14,014' North Maroon Peak in April of 2006. Jonathan Selkowitz photo.
"In the Wasatch or Tetons, the skiing is similar within the range. But Colorado has six or eight Wasatches, each with different conditions, varying snowpacks and climates. The fact that you have a lot of choices here makes it pretty fun."
Snowpack, mountaineering skills, other beta
"Colorado is certainly known and has a reputation for having a pretty high avalanche danger, or a fairly weak and shallow snowpack," explains Davenport. Unfortunately, its notoriously dicey continental snowpack and intimidating avalanche statistics acts as a bit of a deterrent for those thinking about mid-winter descents.
Chris Davenport bagging another 14'er in Colorado. Photo courtesy of Chris Davenport.
"We really don't get big windows to ski mountaineer in the wintertime," he added, saying, "In late March and April, the snowpack begins to consolidate and opens up a new season for people who are savvy. I've skied a lot of 14'ers in winter, but not something I would blanket recommend."
Zach Taylor topping out. Photo courtesy of Zach Taylor.
In addition, skills like assessing snowpack, learning to glissade, knowing when weather is deteriorating, navigating with a map and compass, and determining when it's appropriate to use an ice axe or whippet pole are all critical factors in managing your descent, explains snowboard mountaineer Zach Taylor.
Taylor has climbed all 54 of the 14'ers and boarded 33 of them. As a part of Colorado's Alpine Rescue Team, Taylor also witnesses firsthand the difficulties people experience coming from a resort background. He points out that skiing 35-degree terrain inbounds doesn't have a great of a chance of preparing you for variable conditions and the consequence of a thousand-foot tumble. "I've seen people ski off the wrong side of mountains or skiing off a cliff on a line," he says, citing examples of people getting lost and ending up on the wrong route.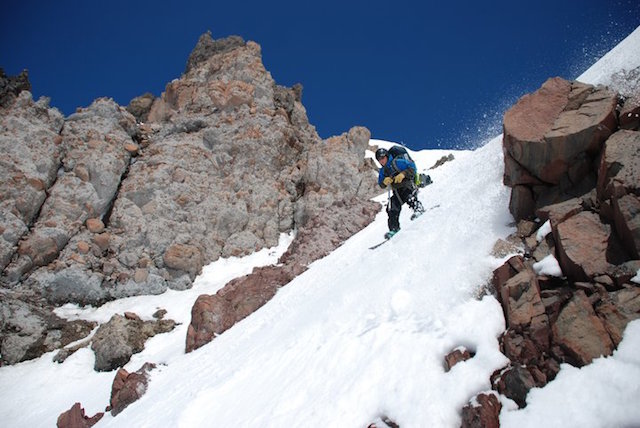 "Skiing 35-degree terrain inbounds doesn't have a great chance of preparing you for a thousand-foot tumble." Zach Taylor puts all his skills to the test on 4th Class Chute. Photo courtesy of Zach Taylor.
"It's a long road to learn all the climbing and mountaineering skills, especially avalanche knowledge," Taylor adds. "You can be in trouble if you don't know how to navigate, climb, and understand snow safety. It takes a while to be competent and comfortable doing it."
The Greens, Blues, and Blacks
Just as there is a range of choice between which ranges and sub-ranges you can visit, there is similarly a broad spectrum of difficulty in the Colorado 14'ers. Davenport likens some of the more easily accessible peaks like Bierstadt, Bross, Quandary, and the state's highest peak, Mt. Elbert, to green runs that are relatively mellow. He also remarks that there are plenty of "great blues" and then what he calls double blacks like Pyramid, Mount of the Holy Cross, the Wilson Group, Crestone Group, Capitol Peak, Maroon Bells and Snuffles, which require both a high level of mountaineering and skiing skills. Some of these he admits are scary, sketchy and very challenging with tough mountaineering and long approaches. Definitely Type II fun, maybe even Type III.
Davenport skiing 14,014' North Maroon Peak in April of 2006. Jonathan Selkowitz photo.
Fear management is also a major factor, as some of the peaks are famously dangerous, packing several no-fall zones.
"I've learned through this process that if you have put in the work and you believe you are at that ability to ski something like that, you shouldn't let your fear get in the way of you trying," said Christy Mahon.
"I've adopted the theory that you should go out and try. You don't really know from being on the couch if you can do something. Not to say you should fling yourself onto something. If it's too much, it's too much, then you turn around or you don't ski from the top. It's been important to me to show myself that I can really do anything I put my mind to."
Photographer Christian Pondella summiting 14,345' Blanca Peak in the Sangre de Cristo Range on a freezing cold January Day. Chirs Davenport photo.
The most important skill you need to get up and get down a 14'er?
"The biggest thing I would sum up in one word: grit. You have to have some resilience with these peaks and certainly in order to get up and down 54 of them," says Christy Mahon. Great spring skiing conditions can mean a tortuous in or outrun, complete with postholing through mush for hours on end. People who can't laugh and endure with a sense of optimism and confidence aren't meant for tagging Colorado's high summits.
"You find a lot of awesome skiers who aren't into the give and the take of skiing these high peaks," she adds. "You need a lot of motivation. It's not all high fives. Sometimes I have to say, 'I'm going to block that out of my memory, have a beer and forget the last two hours.'" Type III fun.