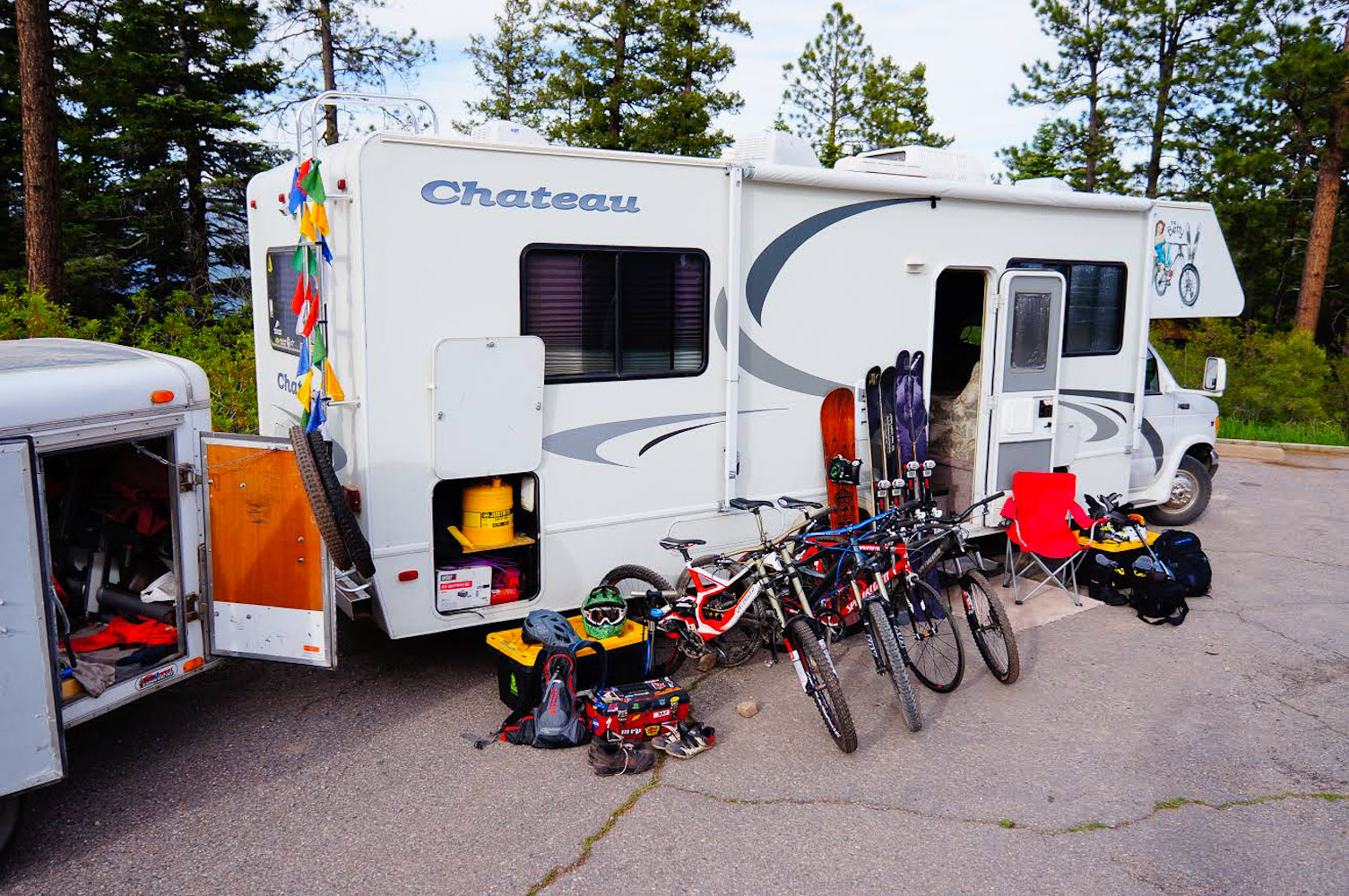 Matt Reichel's RV home, The Betty, and her assortment of passengers.
It was on a chairlift at Trestle Bike Park in Colorado that Matt Reichel first got the idea to quit his career job in construction and live out of an RV full-time so he could chase singletrack and powder across North America. Matt, who had been working for six years in construction management building power plants, had become burnt out and, a year and a half into a stint in the flatlands of Iowa, the draw of the mountains was eating him on.
During a long weekend trip to Trestle to scratch that itch, Matt shared a lift ride with another biker from Washington, who had recently quit his job and was living out of an RV while touring bike parks across the country. "Running into Mike and hearing his story was the push and inspiration I needed to to throw it all to the wind and commit to this dream trip of mine."
We had 28 hours to Gumball it back to Minnesota before work, doing 80 miles an hour with no stops and climbing over each with the cruise control on to switch drivers.
Click to Tweet this quote.
Back in flyover country, Matt began putting his plan together. He started liquidating his stuff—his furniture, flat screen, dirt bike—anything that wouldn't fit in an RV went up for sale. He figured out a lean budget and started saving money, a process he'd already begun in hopes of starting his own company later. He sold his truck. Most all the proceeds went to the anticipated gas bill for the RV.
Finding "The Betty"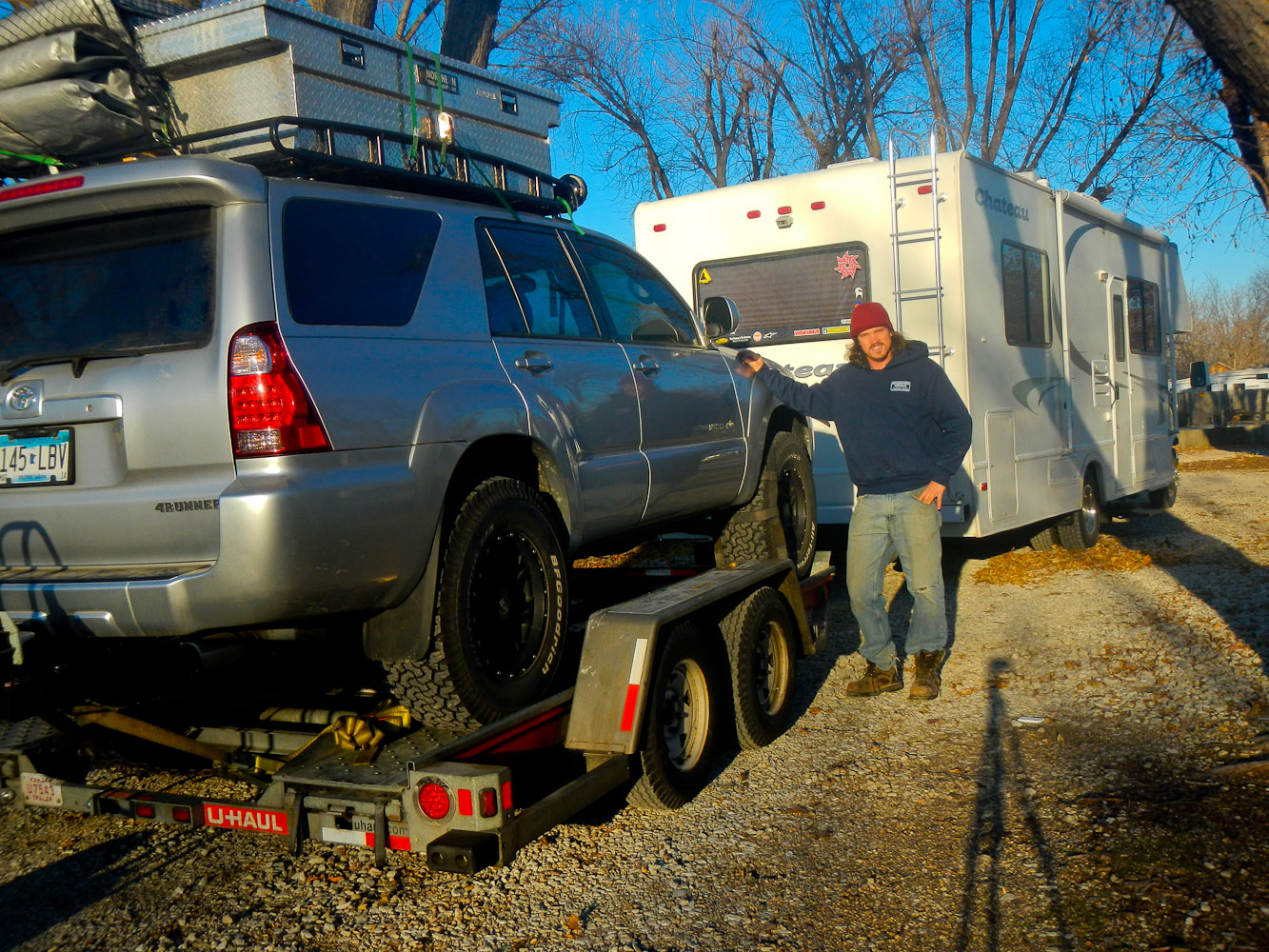 Then came the search for the steed, and home. Matt pounded the internet, searching up and down Craigslist, EBay, and RVTrader.com, and eventually settled on a used Ford E450 Four Winds Class C motorhome, with a bullet-proof 7.3 Liter diesel engine and barely 19,000 miles on it; practically a milk run's worth of mileage for an engine that can last far into the hundreds of thousands of miles before calling it quits. The only problem was that it wasn't exactly close by, and rested in a driveway in a tiny town called Superstition, Arizona. In a weekend, Matt and his Dad would somehow have to fly down, inspect it, and get it all the way back to Minnesota before work started again.
Quick tip: James Niehues' portfolio of map art (also known as trail maps) makes for great wallpaper, and it's free at your local lift ticket office!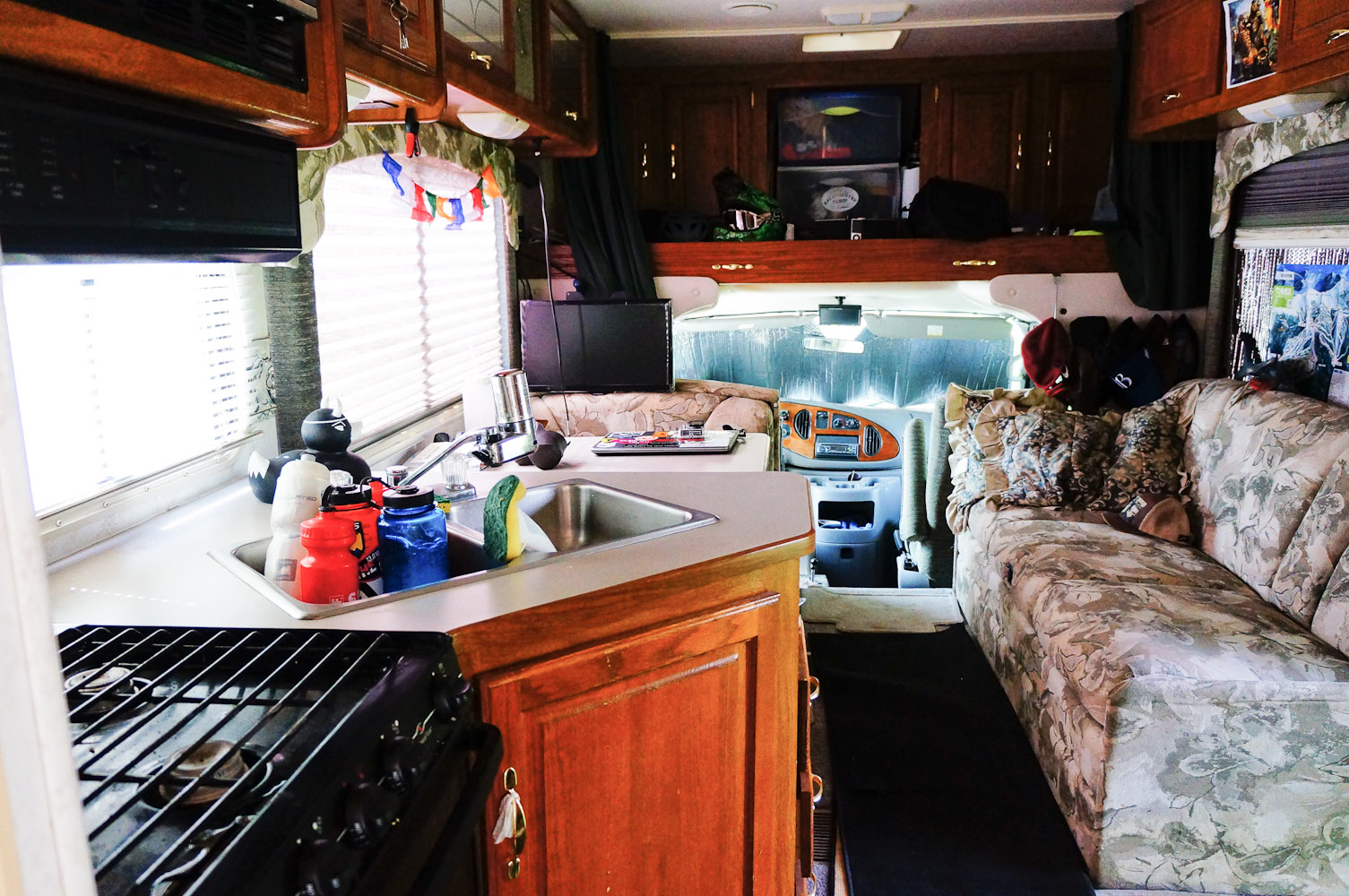 "We got down there—I had already bought it sight unseen—and met the owner, who was the spitting image of John Wayne, with chew spit coming out of the corner of his mouth and everything," Matt said. "We had 28 hours to Gumball it back to Minnesota before work, doing 80 miles an hour with no stops and climbing over each with the cruise control on to switch drivers." With the mood already tense, their headaches swelled when they blew a tire on the trailer Matt had bought with the RV to tow his 4Runner. Naturally, the spare tire was flat. After some tire goo and a late-night Walmart run, they were back on the road. Then the second spare broke off in Oklahoma and blew another tire off the trailer. Down three tires as the trailer's new owner, Matt sold "the piece of shit" as soon as he got back to Minnesota.
Base Camp Breckenridge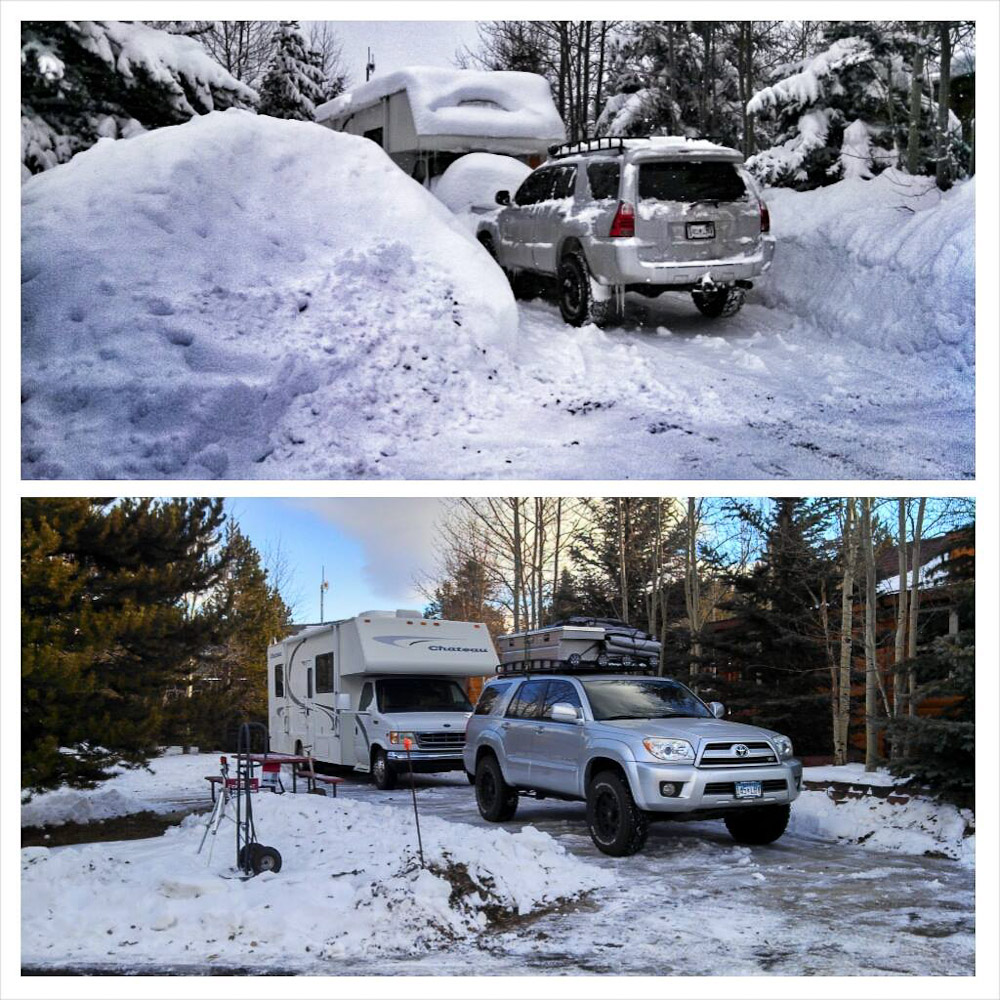 Decemeber 1st (below) compared to a few weeks later. It was a good year to park your RV in a Colorado campground for the winter.
Matt put in his two weeks at work, and by December 1 st, was hooked up at a campsite in Breckenridge, Colorado, which was picked as the winter destination partly because of the availability of long-term winter parking for the rig, which Matt had dubbed "The Betty" after the smuggling ship in the original Alien movie. Despite the intense cold of a record intercontinental winter—one that had frozen even the olive oil that the Powder Pilgrimage crew had stored in their rig—Matt managed to survive in style. "I built a skirt around the underbelly of The Betty and wrapped the vehicle in insulation and tarp to keep the snow from freezing it up. At night the heater ran non-stop, which didn't make for the most efficient living."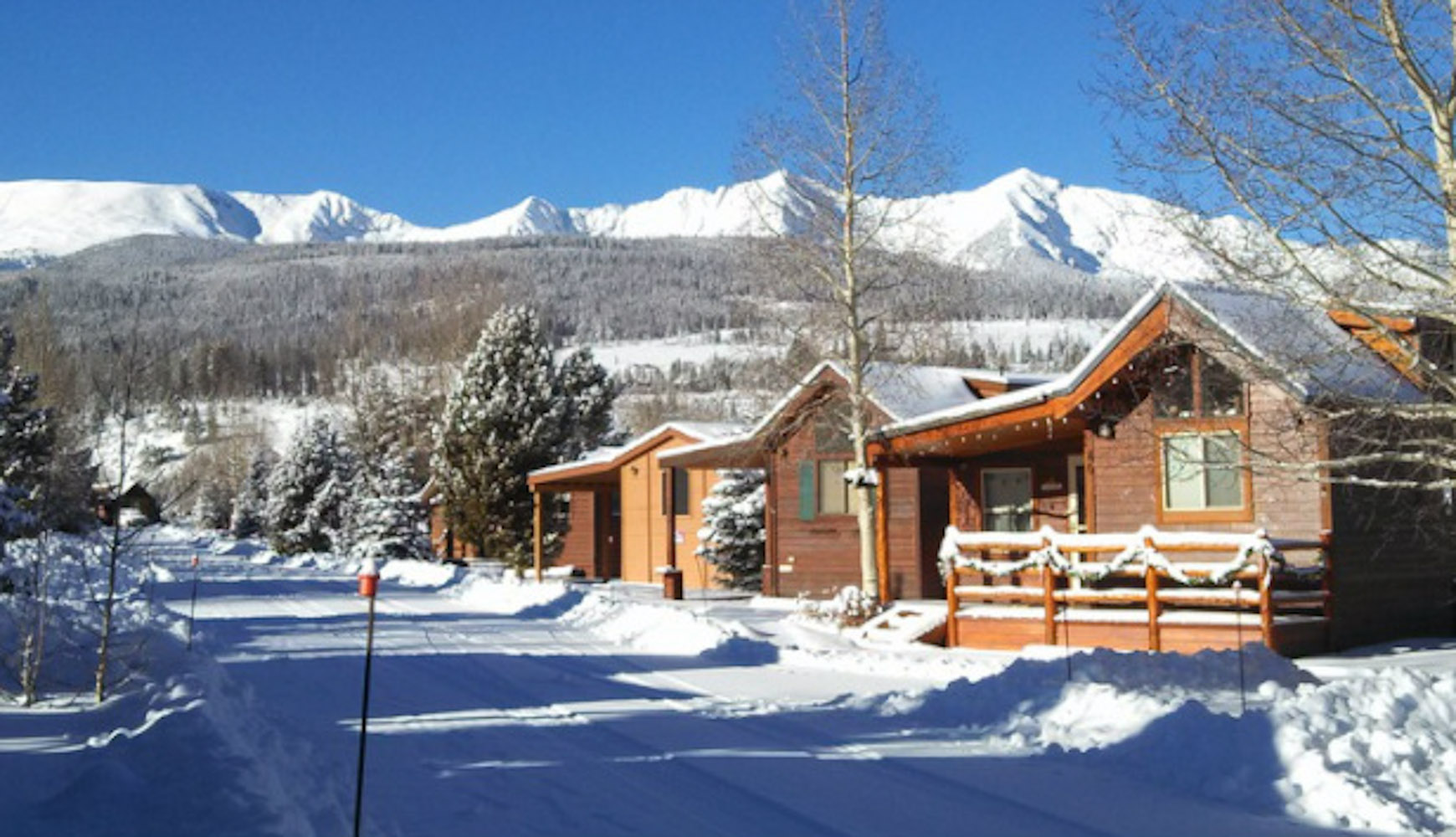 With a driveway view like this, would you live in your car?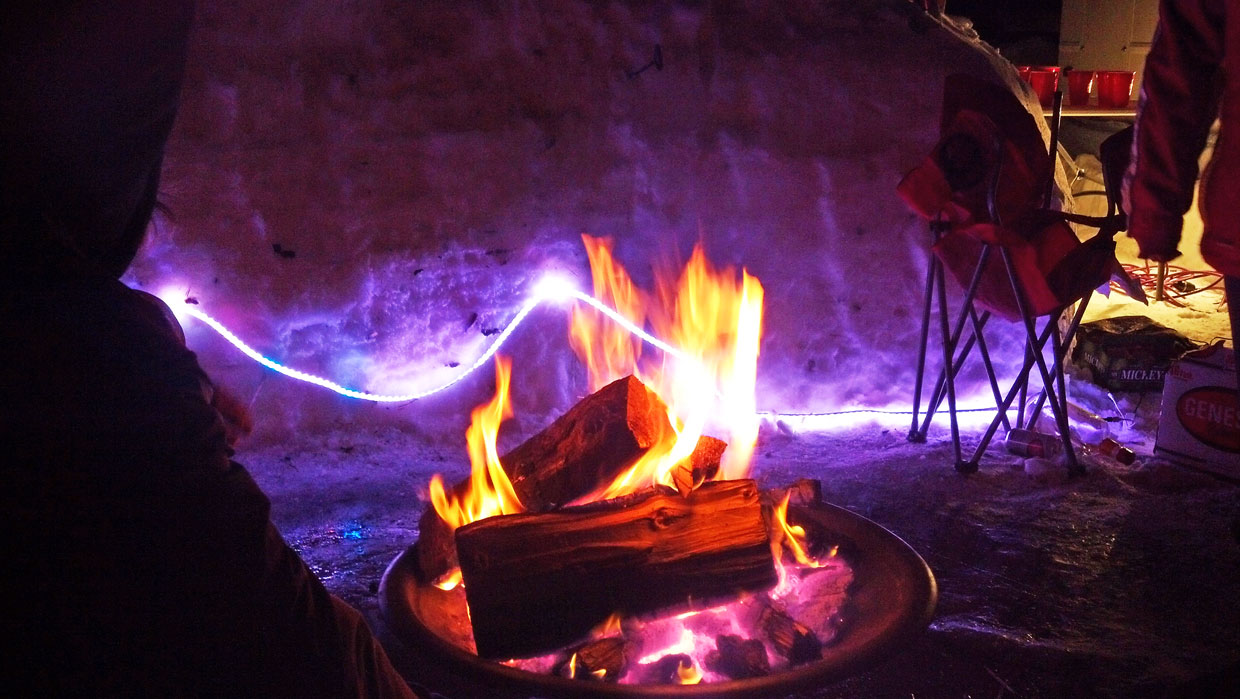 Every seasoned outdoorsman knows a well-tended fire keeps pesty insects away...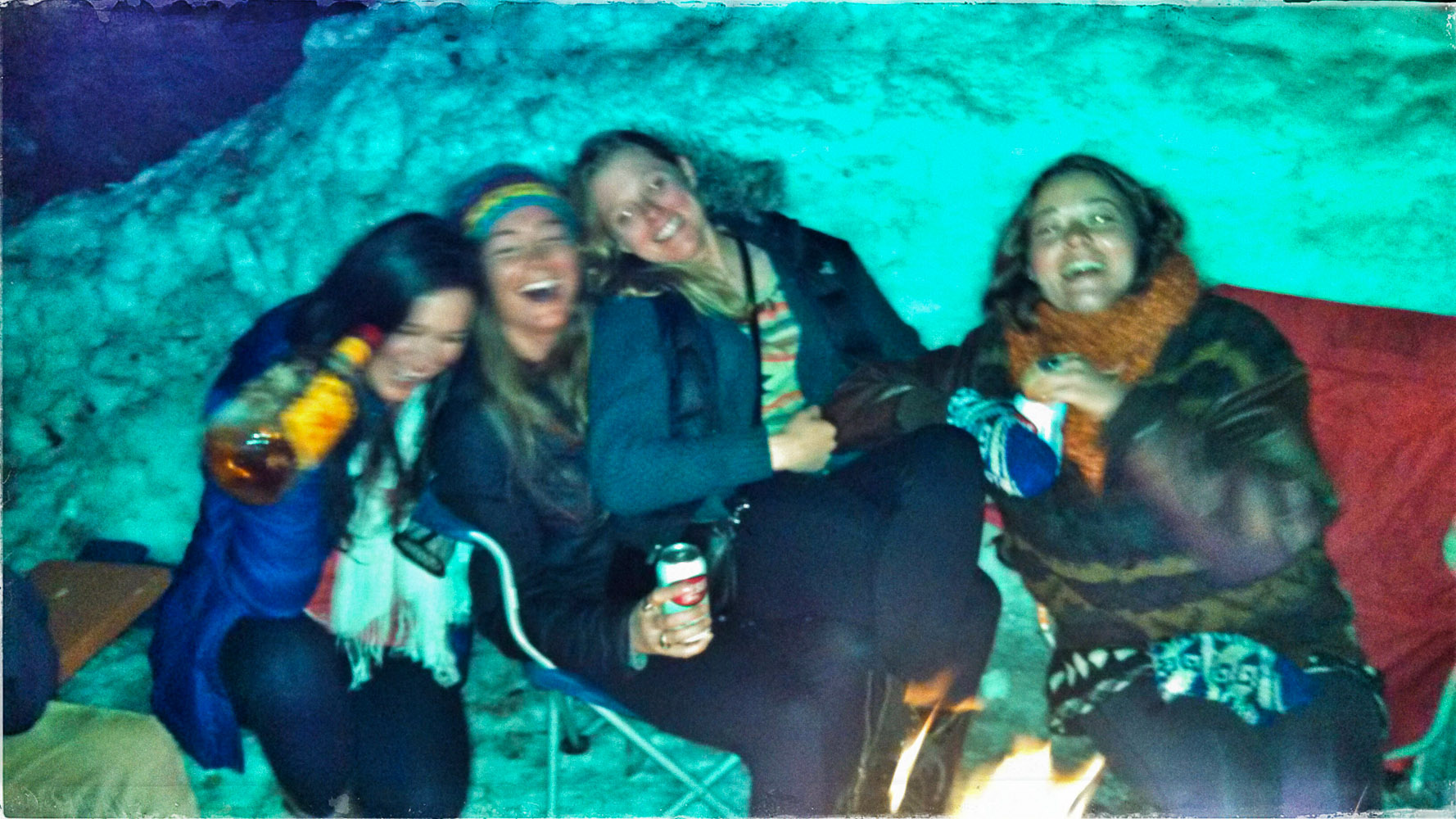 ...while also attracting babes. As does Fireball.
Consistently before his new job as a ski instructor, Matt would be up on the roof shoveling off multiple feet of snow, the proceeds of which went into building a snowfort that insulated a fire pit, making Matt's zone prime après terrain. With a largely dialed system, the only setback Matt had to deal with was forgetting to open his drain tank while he ran his faucet overnight to keep the pipes from freezing. The flooded RV took days to dry out.
Round II: The Summer Bike Park Tour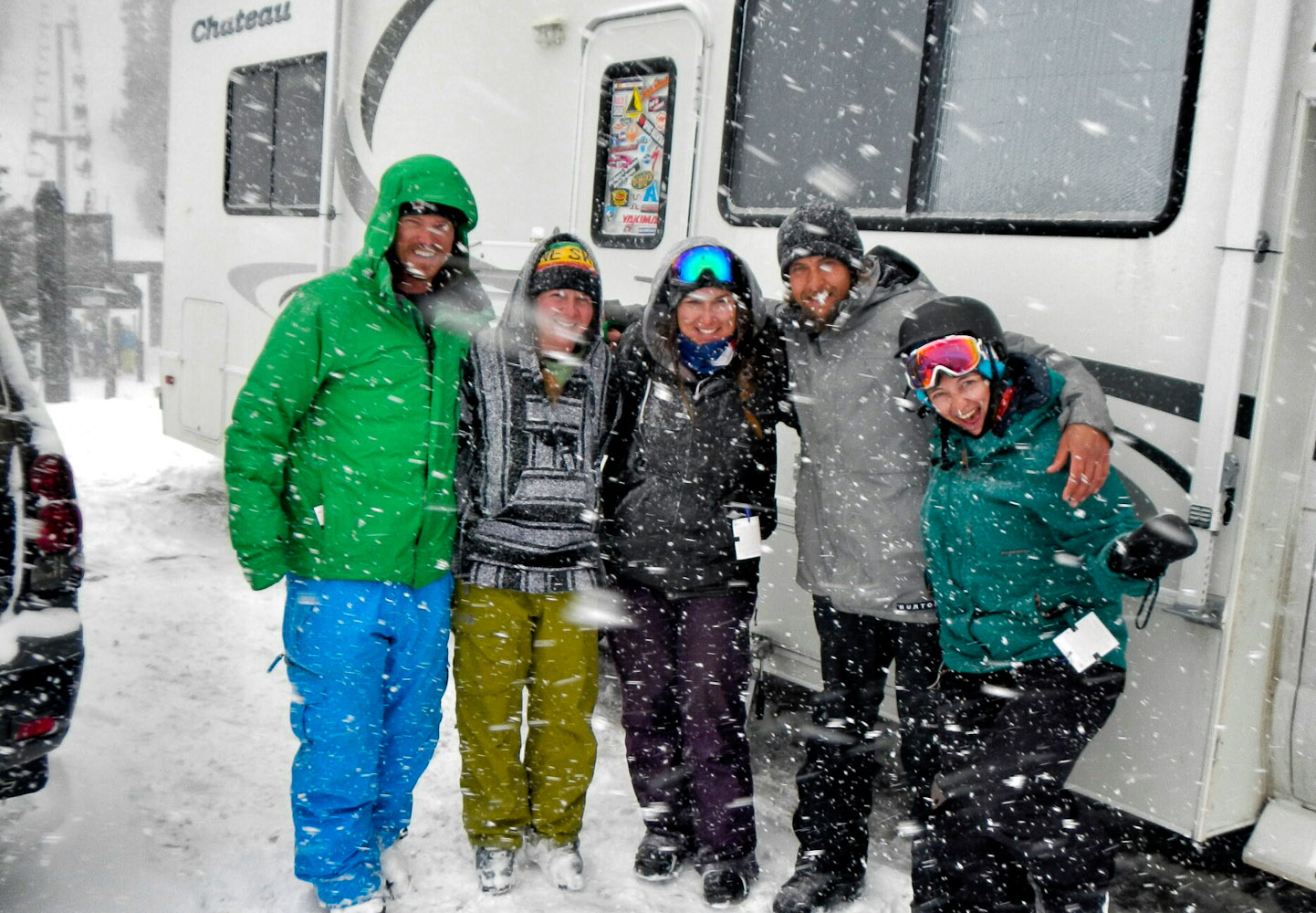 You always think winter is over, and then... Matt and company enjoy a soft and freezing May 10th at Arapahoe Basin.
They don't call A-Basin's parking lot "The Beach" for nothing. All I need are some tasty waves, a cool buzz, and I'm fine!
With winter slowly coming to an end and his parking spot lease ending in early April, Matt looked to the road, and to hit as many of the hundred or so lift-served mountain bike parks across North America as possible before the snow arrived to bury them all once again. A high school state champion cross-country racer, Matt had come back into bikes while living on the East Coast for a construction gig, taking off on as many weekends as possible to lap the jumps and berms at places like Mountain Creek in New Jersey and the infamous Highland bike park in New Hampshire.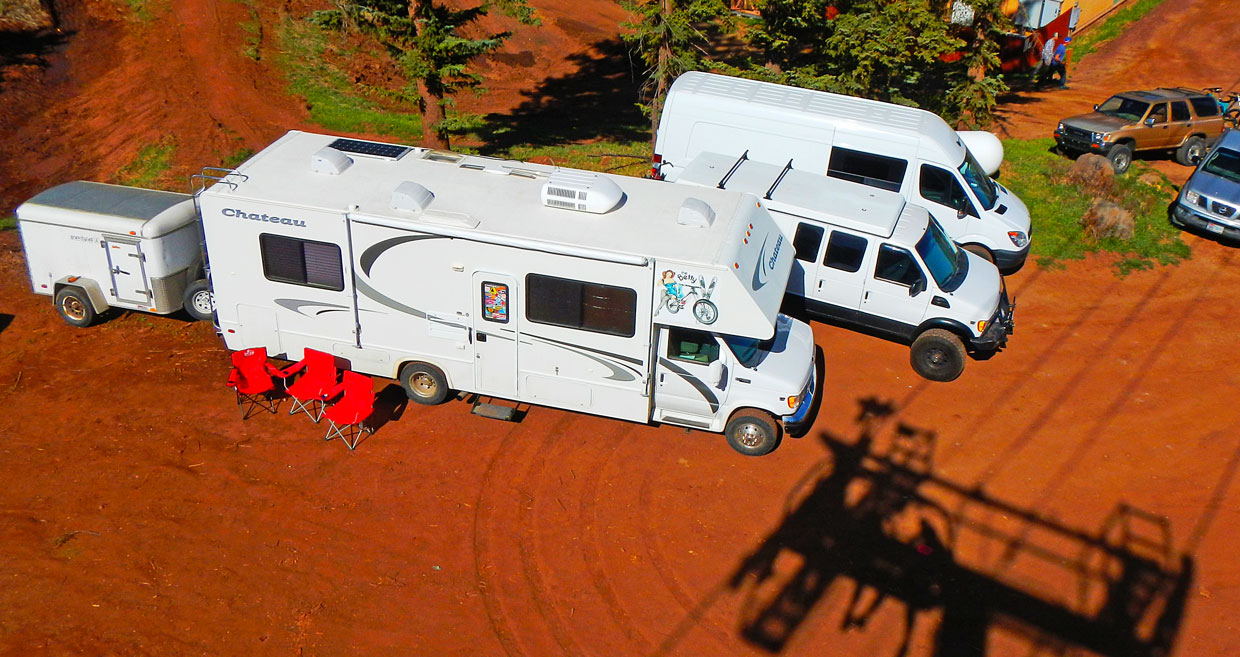 The Betty finds her kin in the parking lot at Angel Fire Bike Park on opening weekend.
After a late-season pow day in May at Arapahoe Basin, Matt took off for Angel Fire, New Mexico, which was due to be one of the first bike parks in the nation to open. Since then, he's passed through Durango and Moab, and is currently somewhere on the road with the diesel humming and a stable of bikes in tow.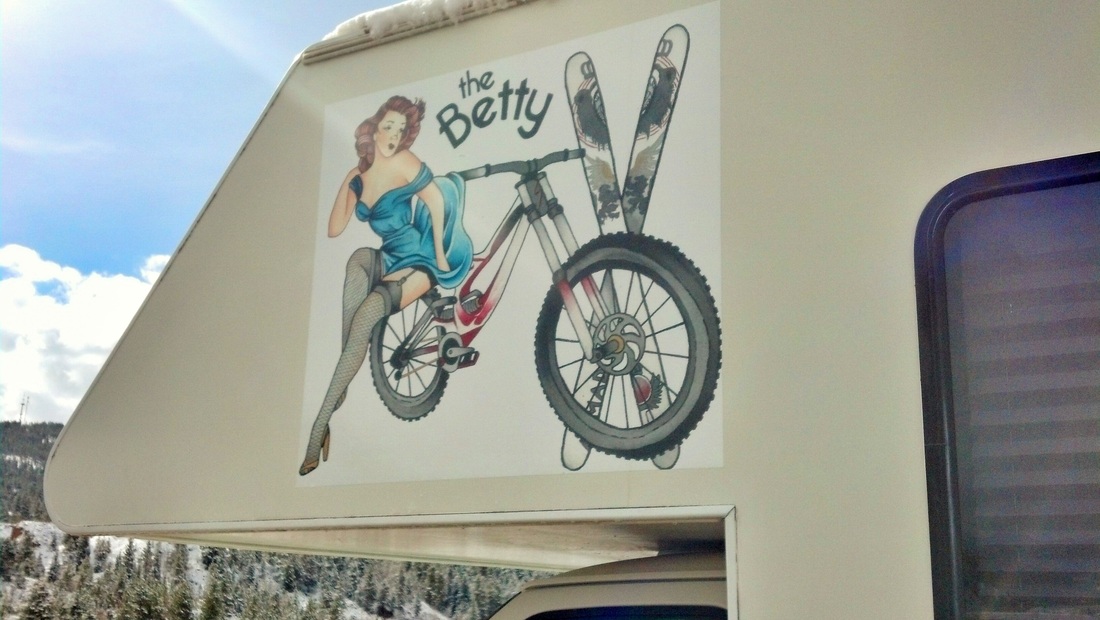 If you spot this emblem, which was put together by a Breck-based tattoo artist, chances are Matt's inside planning the next singletrack destination. Knock on the door...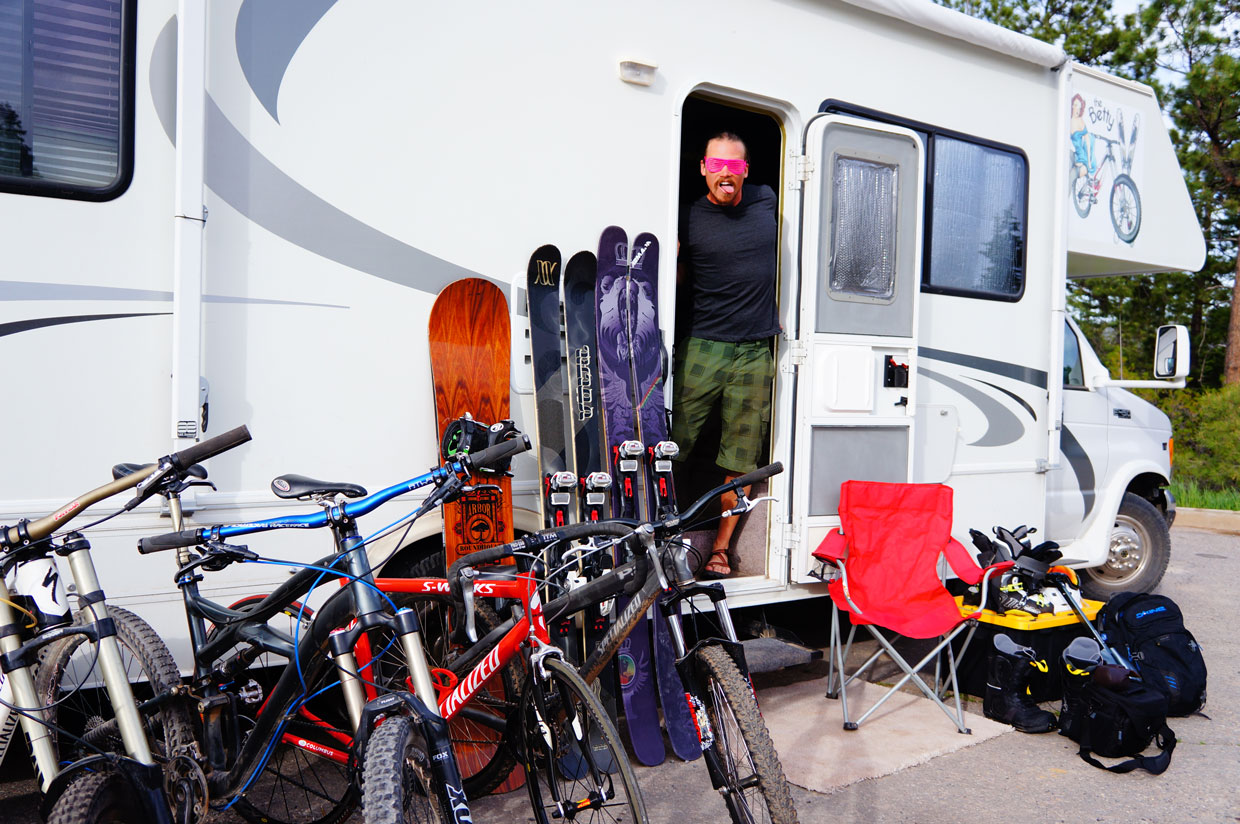 ...but we don't suggest asking for candy.
---
Be sure to follow Matt in the TGR Community to follow his summer on the road. Got a rad story of your own to share? Think about signing for a Community profile today and sharing your stuff for a chance to get selected as a TGR Staff Pick...