Base Camp is a semi-frequent photo column where we check out the cabins, lean-tos, igloos, tents, and RVs where mountain-minded folk base their adventures out of. To kick off our series, we profiled friends James Roh and Joey Howell, who quit their jobs to spend the winter hunting for pow while living out of their truckbed-mounted camper. This week we profile Snowtrekker Tents, a Wisconsin company that makes canvas tents for winter camping that are for Arctic dogsledding, weekend ski missions, and even TGR's own Fantasy Camp in the remote Neocola mountain range of Alaska.
When it comes to winter camping, few outfits have the bonafides of Wisconsin's Snowtrekker Tents. Compared to your average ubertech badass orange dome tent walled of balloon-tight synthetic fibers, the Snowtrekker's stitched canvas walls and antiquated appearance, with the tin chimney of a wood stove sticking out the side, seem dated. But they are no joke. A favorite among dogsledders who run overnight races in the far reaches of Northern Canada and who love the tents for being rugged, lightweight, exceedingly comfortable no matter the temp, and very easy to set up in under five minutes.
It was the rugged reputation of the Snowtrekker tents that persuaded TGR to employ them for housing for last year's Fantasy Camp, a heli-skiing expedition that sought to film athletes like Ian MacIntosh, Sage Cattabriga-Alosa, and Angel Collinson in the remote and untapped Neacola Mountains. The expedition required setting up a self-sustaining base camp on a frozen lake 20 miles from anything considered civilization for several weeks. If that challenge wasn't enough, the lack of available firewood in the area meant that instead of the hot and efficient wood stoves traditionally used to heat the Snowtrekkers, small kerosene heaters had to be used instead. To stave off the Alaskan cold, Snowtrekker put two layers of canvas on the roofs, while TGR's logistics partner, Alaska Alpine Adventrues, pre-fabricated sections of flooring built out of wood frames, foam insulation, and stray insulation. Snowtrekker even customized one of their tents to be a sauna and shower for the crew during their stay.
The entire base camp, along with cases and cases of beer and plenty of firearms for down-day entertainment, was flown in a Caravan 208 prop plane to the remote village of Nikski, Alaska, and from there each load was split in two and flown in a smaller Beaver turboprop with skis by famed Alaskan bush pilot Doug Brewer twenty miles to Fantasy Camp. "We had never done that before," said TGR Lead Guide Kent Scheller, reflecting on the task of finding, and establishing, and maintaining an off-the-grid base camp for a top-level film crew. "The logistics were almost unmanageable."
Of course, pro skiers aren't the only people making use of Snowtrekker's tents. The couple that owns it, Duane and Margot Lottig, take it with them on their weekend trips up to ski Mt. Bohemia, the Upper Peninsula's secret powder skier's paradise. "With camping fees and the cost of firewood coming out at $27 a day, it's lot more economical than staying in a motel for $75-150 a night." Not to mention all the creature comforts of home afforded in their Snowtrekker tents, from the ambience of an antique wood stove to warm, dry gear in the morning and plenty of insulation from the Midwest cold.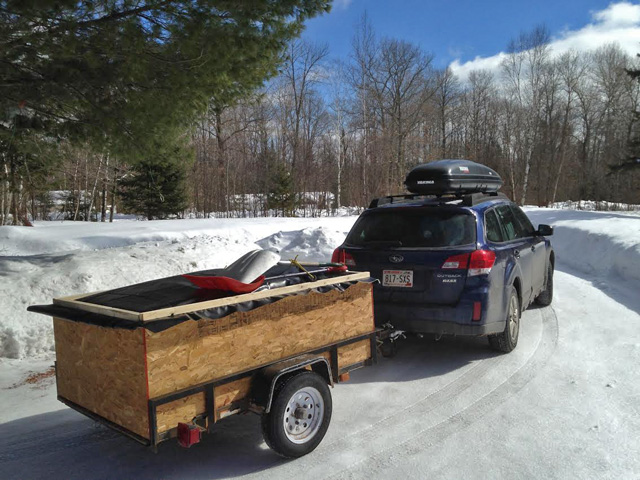 The weekend starts with the Lottigs packing the trailer with the tent and all their supplies for the weekend. With experience, the Lottig's learned to modify their camp supplies and furniture to lay flat in the bed of the trailer.
After finding a camp spot, they lay down an weather rug that allows free water to flow away from underneath the tent. A waterproof tarp is then laid down to keep the floor of the tent dry.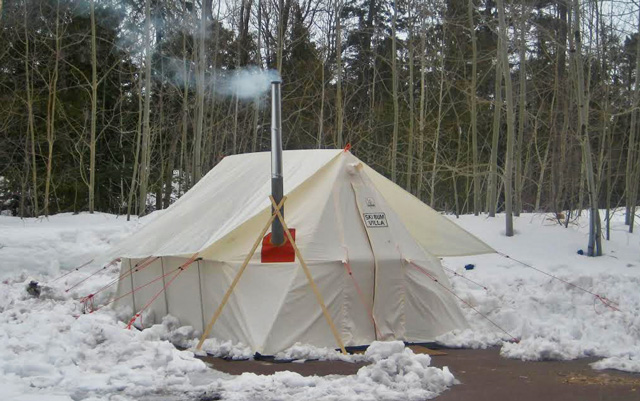 All set up and ready to go. The Lottigs use the EXP Basecamp model on their "glamping" trips, like this one to Mt. Bohemia, but utilize lighterweight versions if they're hiking it in themselves.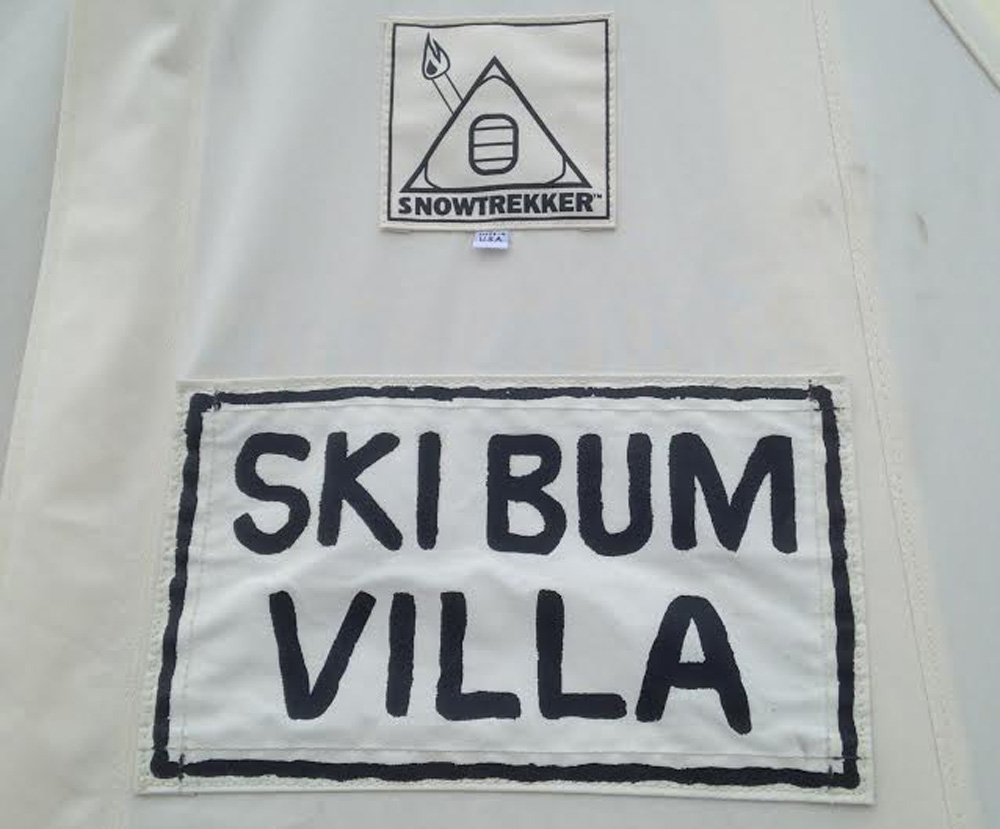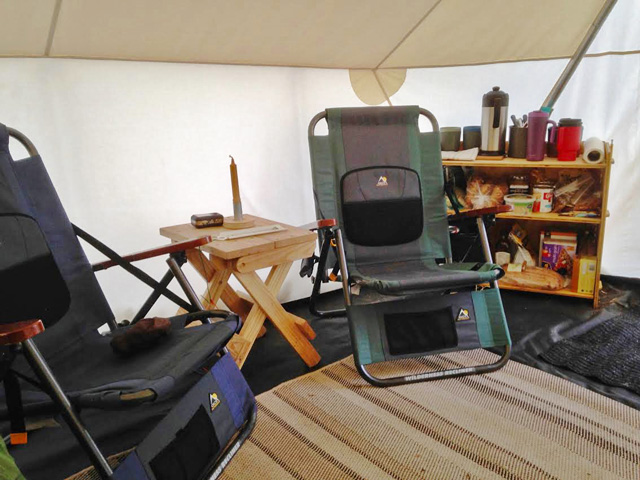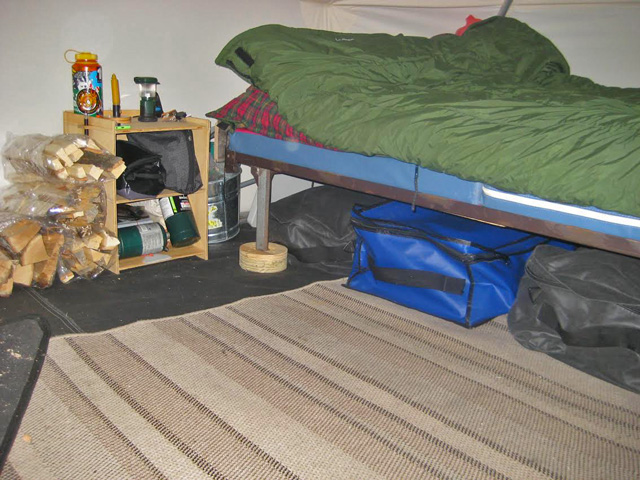 "We designed and manufactured waterproof duffels specifically to fit under the bed. Our full sized double bed is as comfortable room as anything from a 5 star motel. It's often hard to force yourself to get up in the morning!"
Tech be damned, the Lottigs prefer a cast-iron woodstove for both hear and cooking during their winter camping outings, fueled by a mix of firewood and sawdust bricks. "Some people prepare fairly elaborate meals; we tend to do one pot meals- heart soups that you can eat with a fork. With a wood stove, we can keep the temperature in the tent at 70 degrees, even when the temps outside are below zero."
"The temperature in the ridge, which peaks out at nearly six feet tall, stays in the 90's, and we hang all of our gear there to dry. Every day we start out with thoroughly dry gear." Ah, the good things in life...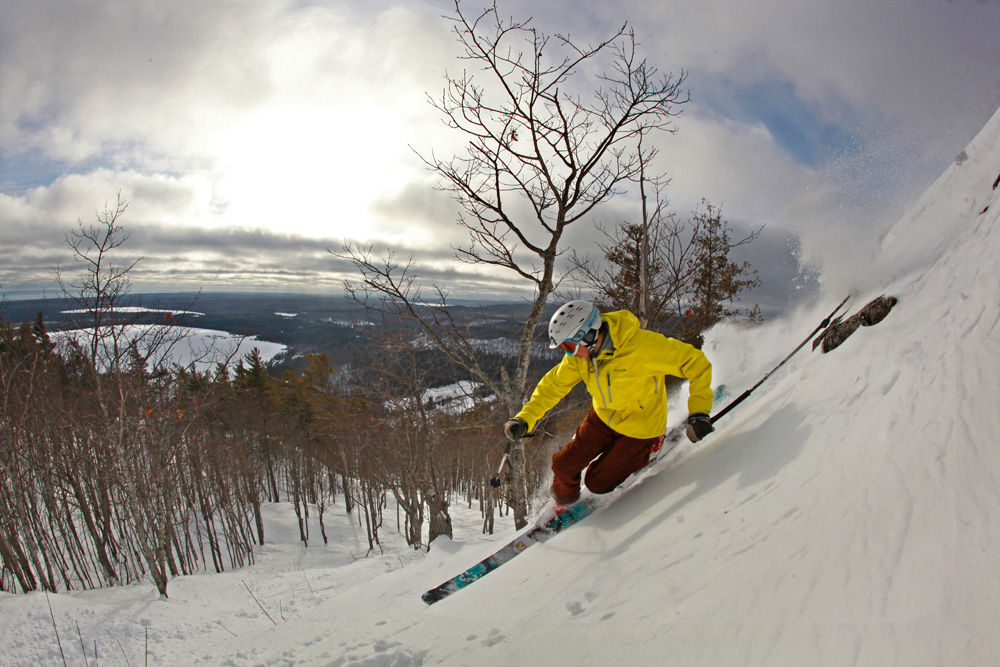 The Lottigs most recently used their namesake tents to hit up their favorite MidWest powder stash, Mt. Bohemia in Michigan's Upper Peninsula. "Mt. Bohemia is an ancient volcano with about 900 vertical feet. It's got about 500 acres of mostly tight tree skiing. There is no snow making, no grooming, and no beginners allowed. Year to date snowfall this season is sitting right around 335", thanks in part to being surrounded by Lake Superior on two sides. Here a local tele skier tastes the goods for the lens of Joey Wallis.
"There are two lifts at Bohemia, but because of the shape of the mountain, you can pretty much ski off the top in all directions. It's possible to pop out of the woods nearly a mile from the base of the lift, so the mountain runs a shuttle bus up and down the road at the base of the mountain. You simply stand by the edge of the road wherever you come out of the woods and the bus stops and picks you up. The spirit, enthusiasm and energy that you get from the riders on the bus reminds us of the same feeling we got riding the tram at Jackson Hole."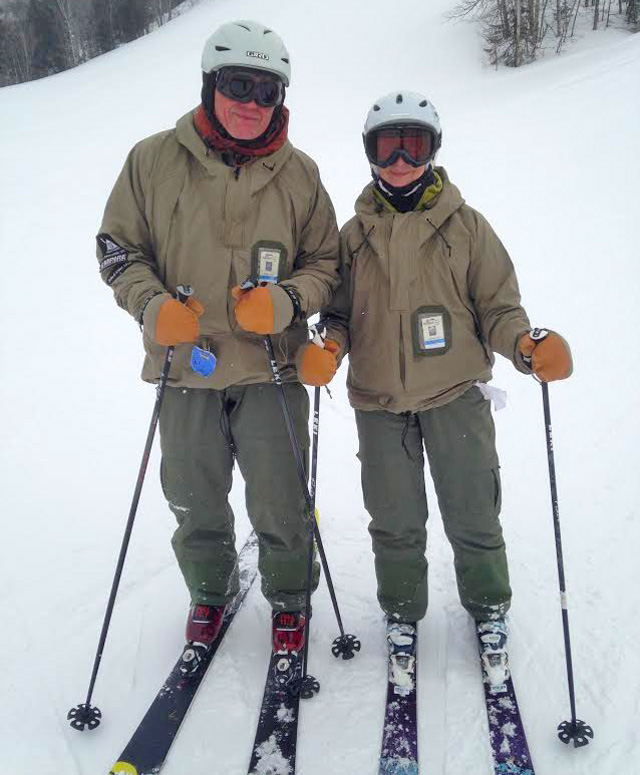 Duane and Margot at their favorite hill. "If we get seperated skiing, I just ask the liftie if they've seen anybody that looks like me, but smaller," said Duane.
Want more Base Camp? Check out:
-Base Camp: The Powder Pilgrimage Rig
-Base Camp: The Riverfront Tahoe Cabin
-Base Camp: Dream VT Ski Cabin