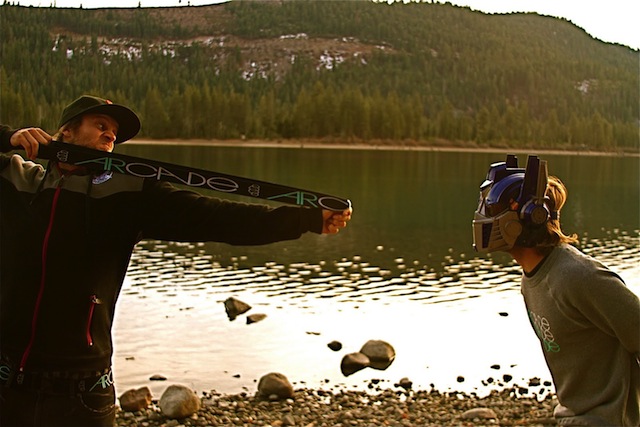 Well folks, it's a brand new day and a brave new world here at Teton Gravity Research, the Worldwide Leader in Gravity Sports (not sure if that's the company-approved mantra but I'm running with it), as they've managed to wrangle my copious talents and bottomless editorial genius into the Associate Editor's seat here surrounded by brand-new IKEA furniture. Some of you may remember my work from previous articles here at TetonGravity.com as well as others at Powder Magazine and BroBomb.com, if you ever bothered to pay attention to who wrote any of those articles. My guess is you didn't, and are thus unfamiliar with both my literary bravado and my impenetrable ego – one unmatched even in the highest ranks of professional skiing.
Some of you will blow off my astoundingly obnoxious approach to the world, consider me an asshole henceforth, and carry on with your day. Fair enough. But some of you currently slaving away behind desks to sell powder skis, waterproof jackets, and other assorted snowsports trinkets will need to suffer the humility of massaging my warped self-perception in order to get your stupid press release on the homepage. To do you all a favor, I'm going to use Cody Townsend and Arcade Belts as an example of how not to go about gaining publicity for your inflated product announcement on TetonGravity.com.
On my first day at TGR, I received the following e-mail from Townsend, co-owner of Arcade:
Hey Mr. Dunfee,
So where you at right now? Driving in Kansas on your way to Jackson, in Jackson or lost at sea? Pick one of three options please. Anyways, stoked to hear about your new job in a snow fun environment. As part of your new job you will now be fielding an onslaught of Press Releases from me. So to start you off, here's the first of 69 we will be releasing this Fall. So if one of your internet monkey's would like to post it up at TGR would be very appreciative. Thanks amigo and hope to see you around this Winter.
CT
[Queue press release]
For Immediate Release: Arcade Belt Company launches Autumn 2013 Belt Collection.
Olympic Valley, Calif. – Oct. 7th, 2013 – With a heritage of crafting unique and innovative belts,
Arcade Belt Co. carries on their traditions with the release of their Autumn 2013 Belt Collection. The collection introduces the most versatile and useful belts to date, thirteen original designs and a new one-of-a-kind buckle.
New for 2013 is the ingenious and versatile Hybrid line of belts. The all-purpose Hybrid line is designed with the familiarity of a traditional pin and hole buckle combined with the comfortable elastic webbing Arcade belts are known for. Classic design and high-grade leather combined with burly stretch webbing and weather-resistant coatings make these belts go from the office to the outdoors with ease.
Arcade also launches their new LockFit Speed Buckle on their Original line of belts. The new upgraded buckle has been designed to pass through belt loops quicker and easier, while still being as durable and out-of-the-way as the original buckle.
The new collection continues on Arcade's tradition of distinct styles and uncommon material combinations with designs like the flannel inspired Atwood Belt and the suede and herringbone styled Hemingway Belt. With the focus set on small details, the Autumn collection continues Arcade Belt Co.'s path to create, design and produce a better belt.
Cody will be receiving the following response:
Dear Cody,
I must say it is an honor to have my first e-mail at my new job be a request to post a press release about a belt company that finally figured out how to make a belt with holes in it. I believe that accomplishment was achieved several hundred years ago, but there's nothing like reinventing the wheel.
It's clear you need the support as well, given the tough time you've been having Keeping It Real, i.e. getting flown around the world to ski powder, marrying a hot chick who does the same, and living at the base of Squaw Valley when you're not occupied with either of those two endeavors. Unfortunately, my low moral standards and pathological greed require that you immediately ship several thousand of your belts free of charge to the following address:
Ryan Dunfee
c/o Teton Gravity Research
1260 Northwest Street
Wilson, WY 83014
Why several thousand belts, you ask? It's called a bribe, dumbass! And when it comes to gear bribes, we snowsports editors are like Vladimir Putin picking construction contracts for the Sochi Olympics. However, once you've satisfied my conditions, including adding me to your "team" and kicking Mike Rogge off of it, thereby securing the position of the only ski journalist actually sponsored by a ski company, feel free to send your press release to editor@skiingmag.com. I'm sure it will get posted.
Sincerely,
Ryan Dunfee
Associate Editor
Teton Gravity Research