Jason as most people know him: in charge.

Jason Ranoa is a pillar of his community. A former Army Ranger combat veteran, he manages Vail Lake MTB area in Temecula, CA, was instrumental in forming Southern California's HS mountain bike league, is a race director and promoter that puts on around 10 mountain bike events a year, including three endurance, three enduros, and several Kenda Cup cross-country races, and he runs SoCal Endurance.
As part of TGR's interview series with folks that influence and shape our sport, we were really excited to profile someone who's done so much to promote the sport, get young people into mountain bike (if you've never been to a high school race, do yourself a favor and check one out), and create one Southern California's premiere riding destinations.
Gunnar Waldman: You were an Airborne Ranger–I would love to hear how life brought you to that.
Jason Ranoa: I am an army guy through and through. I spent over 12 years serving our country in one of the best jobs a guy could have. The majority of my time served was in the 82nd Airborne Division in North Carolina. I have been around the world and back again. I've served in numerous different countries in both peacetime and wartime theaters. My experiences in the military helped to make me who I am today! It is a very physically demanding job and often times will challenge you to the core. I learned patience, leadership, perseverance and much more in the service. Often times you don't have a choice, so you do what you have to.
I really don't like to brag about my service career. I had a great time, met some awesome people, and learned a lot about myself. I traveled to exotic places and got to experience firsthand the different culture of the world.
My military experience helps to keep me grounded in day-to-day operations; once I got out of the military, everything else was gravy! So I live life knowing that I am lucky to have what I have and I am thankful every day!- I am a pretty adventurous kinda guy and I love to do things that keep me healthy. Mountain biking is a natural sport for me. I am definitely more of an enduro type rider, but I love anything two wheels!
Rumor has it you were 6'4" when you went in, but you stopped using a parachute because it slowed you down, which caused a bit of compression–true or false?
Ha ha, yeah, that's what's static line jumps with full equipment can do to a guy!
When you left the service, did you go straight into events and founding SoCal endurance? Or was there something else?
I have always been kind of a gym rat. Prior to SoCal Endurance, I spent my time as a trainer, coach, and a gym owner. I spent a lot of time in the bodybuilding world. Lots of time training athletes to compete in muscle bound beauty contests.
Would love to know about that key moment when you wanted to make MTB into what you do for a living.
I have been riding bike all my life. BMX when I was young and mountain bikes as I got older. I got involved in promoting about 12 years ago. The first race I promoted was called the Inland Vally Bike Shop Challenge. At the time, most of our local shops weren't getting along, and I thought it would be cool to get them all together and do a friendly competition to help develop friendships. It was an amazing first experience. The shops all came out and we had a great time! I made a cool trophy from old parts from each shop. IE Bike shop was the first winner!
RELATED: Finding and crushing your first MTB race
At the time, I was riding a lot and my wife Heather got involved in 24 hour racing. It just so happened that Granny Gear was putting on a 24 Hour race at Vail Lake. The year we got involved was one of the biggest rainfall years in SoCal history. Shortly after it rained, we had a monstrous fire season. Vail Lake got hammered! So bad in fact that the 24 Hr race wasn't going to be able to happen. I came in the picture and took on the task of re-manufacturing the trails at Vail Lake and doing what I could to fix things so that the 24 hour race could happen. It took 2 months of serious work, but in the end we made it happen!
Vail lake with a little moisture. Gunnar Waldman photo
Within the next year or so, we found out the 24 hour races weren't coming back, so I decided to put on my own style of races. I liked the 12 hour concept and I also wanted to develop a cross-country and downhill type of race. So we ended up putting on the 12 Hours Of Temecula and the SoCal Super D stage races. 12 Years later, we are one of the biggest endurance mountain bike races on the West coast and our SoCal Enduro series are selling out fast!
You are the Manager/Sheriff/Developer of the Vail Lake resort MTB area. It's an exclusive area developed only for MTB with an extensive trail system. From what I understand that relationship is pretty unique. Can you talk about how that started, and how it evolved into what it is today.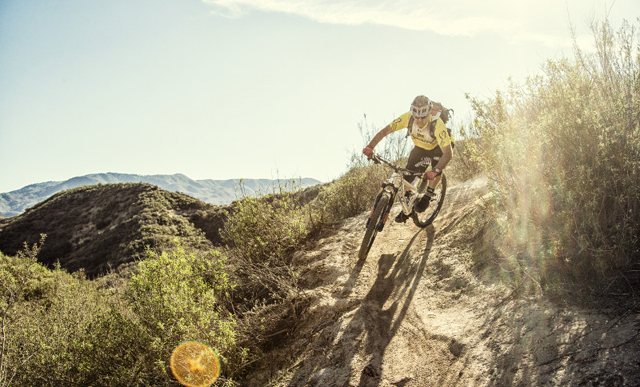 Hans Rey riding at Vail Lake. GT Bikes photo.
My relationship with Vail Lake started when I was introduced to the previous owners. They had just come on board and were pretty overwhelmed with Vail Lake as a whole. They bought the place as a real estate investment and realized it had resort income possibilities.
Over time, I helped develop the trail system and we started getting some big time events like Xterra West Championships, Spartan, high school races, and Tough Mudder. Vail is now owned by the water district, and they are very keen on keeping the mountain biking on track. I work very closely with Vail on a weekly basis to improve and maintain the trail structure.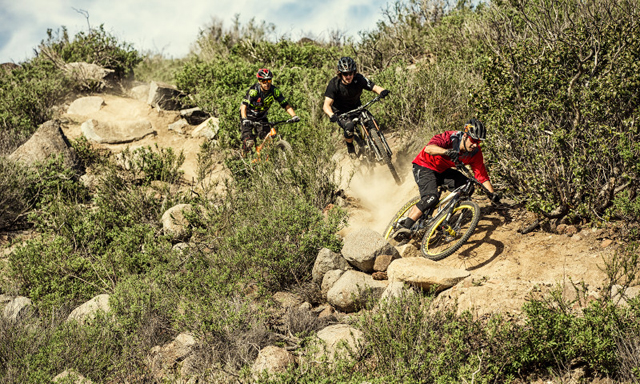 Tyler McCaul, Bernardo Cruz and Amir Kabbani at Vail Lake. GT Bikes photo.
The future at Vail is very bright. The water district is helping get a trail map and trail markers in place. We plan on developing the bike park aspect of the trail systems. New trail ventures include pump tracks, skills training areas, kiosks, jump lines, and much more!
You were there at the beginning of California's high school race league. High school mountain biking is growing across the country, what's the biggest benefit to the kids and what would your hopes and dreams be for the sport or for a national league?
SoCal's burgeoning high school league puts out some of the best young talent in the country.
A national league is happening! We are already in over 13 states around the country with many more on the books ready to open. High school mountain biking leagues are an amazing aspect of the mountain biking community. It is because of the leagues that the rest of the racing is growing. You have to start the kids young and develop them along the way. Now the SoCal league has some of the best talent in the country!
The National Interscholastic Cycling Association (NICA) is the governing body for the high school leagues, they are doing such a great job. I have been a part of the SoCal League since day one, and I intend to be a part as long as they'll have me!
In my humble opinion, you put on one of the best races in America, 12 & 6 Hours of Temecula and SoCal Enduro. Can you walk me through the evolution of those races?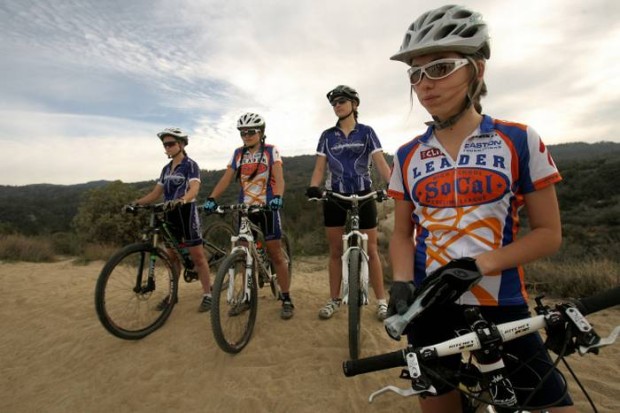 I just wanted to put on the best experiences that I can. I come from a racing background. I know what I like and what I expect from a race product. I strive to stay grassroots and fun! I want races from all skill levels to have a good time. Challenge yourself and use these events to help better yourself. Strive for a goal you've never done before, and come out with your buddies to make it happen!
The 12 & 6 Hours Of Temecula is already a beast of its own. That race is constantly growing and I am amazed at how big it has become. We host over 3000 racers a year in the series. Folks come from all over the US and other countries to participate.
The Enduro series is another whole ball of wax. Enduro racing has become the most popular form of racing in recent years. It is happening all over the world. People from all levels and disciplines of racing are getting involved. I love it because it focuses around the do-it-all bike in your garage, and it happens on the best parts of the trails that we all love to ride. So basically, you hang out and talk with your buddies as you climb in between stages, then you rip down the best parts of the trails and brag about how fast you were when you're done!
You were one of the first folks to jump on Enduro and add it to your events. Where do you think it's headed?
Racing at Vail Lake. Blackstar Racing photo.
We started doing enduro style events a while ago. We called them Super D stage races. I love enduro, as I think it is a great way to get folks racing and riding bikes. Anyone can do it and you can ride just about any bike. Enduro does have its downfalls, though. It is very tough for promoters. The timing systems can be costly and complicated. Also the amount racers you can allow per race is low.
We release folks in 30 second intervals for 3 separate stages. If we have 200 racers, that takes approximately 1 hour and 45 minutes to release all racers for 1 stage. Thats 4 hours and 15 minutes of releasing times. Now add in the run times and the time it takes to get folks to the top of the next run and you have a long day. Now think about having 400 racers; whew! I know we've done it. I partner with Team Big Bear and we time the Sea Otter Classic and the Kamikaze Games in Mammoth. These are some of the biggest and most visible enduros in the world! It takes a lot of work and planning! Enduro is an amazing form of racing and its evolution is still in the works, I'm just excited to be a part of it.
Your wife Heather was also an avid/pro racer. You guys must ride all the time. What are your goals for riding and having fun with the sport?
Heather and I stopped racing a couple of years ago. Now a lot of our time goes into our DEVO (junior developmental team) We do a lot of training with our young fast guys and girls. Heather and I ride all the time, but it's different now. We ride purely for fun and to stay healthy. But don't get me wrong, we still drop into the occasional race or two to still see if we got it!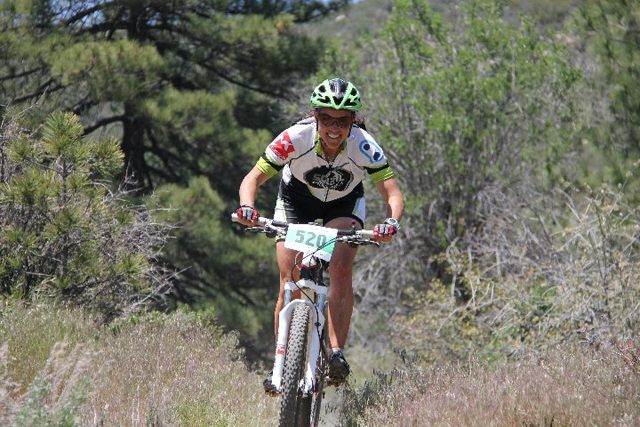 Heather Ranoa racing the clock.
If you are young, what's the best way to get into the sport?
Most everybody has a bike in the garage, go out and ride and have a good time. If racing interests you, go online and check out what's in your area. If you have a mountain team in your school, join it! If you don't, find out how to develop one.
What's the best way to train for the sport if you're a young rider?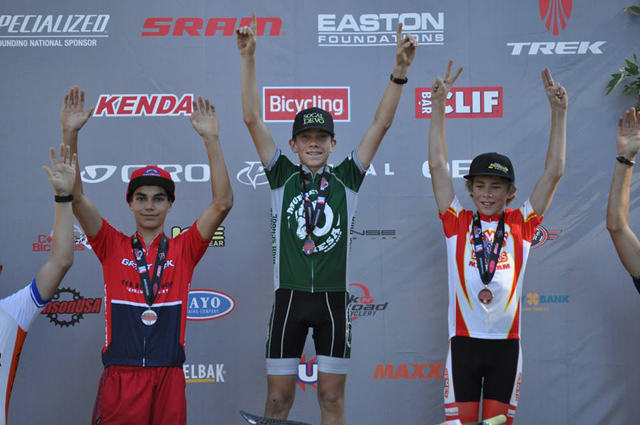 If you are serious about training as a young rider, seek out a reputable coach. Or go to the store and get a few books and learn some training techniques. It's different now because the internet makes knowledge so accessible. All you gotta do is look!
What's in your pack when you go riding?
In my pack when I ride, I like to carry as little as possible. I hate having a huge bulky weight on my back. But when I do epic rides, I carry extra tubes, CO2 cartridges, pump, food, tools.
I even carry a beer or two for my friends and I to help get us through the day.
What's your favorite beer?
My favorite beer comes from my buddy's place, Wiens Brewery. Luke Wiens always takes care of me when I am in there. Lately, I have been into drinking some darker beers, so I really like the double black IPA from Wiens.