Few people in skiing can claim to be a self-made pro in the 21 st century fashion like Andrew Whiteford can. The New England-born skier and biker owes his professional careers in both sports to the POV edits he filmed and edited entirely by himself. The ultimate Youtube hero, Whiteford is a ferociously talented athlete who studied ski movies until his VCR player wore out growing up. This helped him understand how to combine his talents, balls, the bike and ski terrain around Jackson Hole, and the creative angles and footage enabled by the explosion of POV camera technology to make spectacularly entertaining edits that have garnered nearly a half million views at times.
But despite his internet celebrity, Andrew is still 100% down to Earth. He works full time, year round, pedals up for most of his downhills, and is still sheepish enough to only bring out his goofiest GoPro mounts when he knows no one else is on the trails. We sat down to talk with him about his path to pro status, his failures in competitive skiing, and how central the Jackson Hole area has been to his success.
When did you first start coming to Jackson Hole?
I have lived here about seven and a half years. I moved here in the fall of 2006 after a couple years of ski vacations in college with my buddies. We started coming out here because we were running the ski and snowboard club at the University of Vermont and realized that the more people we could get signed up for that, the bigger the discount was for us, and we ended up coming out here for two weeks for two years in a row and just absolutely loved it. Back east, skiing Stowe and Smugglers' Notch, Jay, and Mad River Glen, you get used to trees and how much fun it is seeking out powder and the whole feeling of the backcountry.
Were you bigger into biking or skiing as a kid?
I really got into biking when I was in elementary and middle school with my friends back in Connecticut and Massachusetts. We just enjoyed biking and building jumps in each other's backyards. But my sophomore year of high school, I broke my clavicle twice mountain biking and missed out on most of a winter. I really wanted to be able to ski, so I kind of stepped back from biking.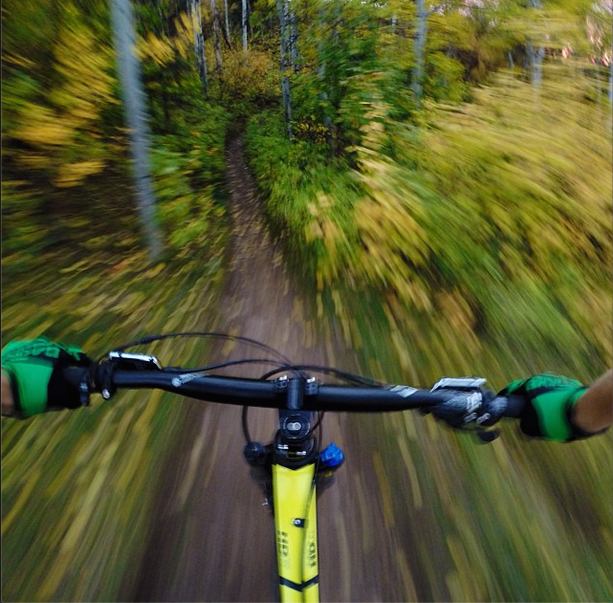 Moving at the speed of Whiteford. Andrew Whiteford POV via Instagram
When you moved to Jackson Hole and started seeking out sponsorships, was it for biking or skiing?
I wasn't really thinking as much about biking. That was more just for fun. I was such a ski dork at that point and had done some filming with Meathead Films, and started meeting reps and things like that through work when I was in college. So I had an understanding of how sponsorships worked and how it flowed. But I was watching TGR movies on repeat until my VCR would blow up. Then DVDs came about and you didn't have to worry about that as much, but I still had this dream of being a pro that was informed by those ski movies.
I kind of thought "I'll get into the big mountain comps," because that seemed to be the traditional process that skiers like Hugo Harrison and Ian McIntosh had gone through. But when I did a couple of those comps, it was really frustrating. Things wouldn't line up, and I'd crash in the qualifier or I'd feel like I had a good line but didn't get scored well. It was just super frustrating.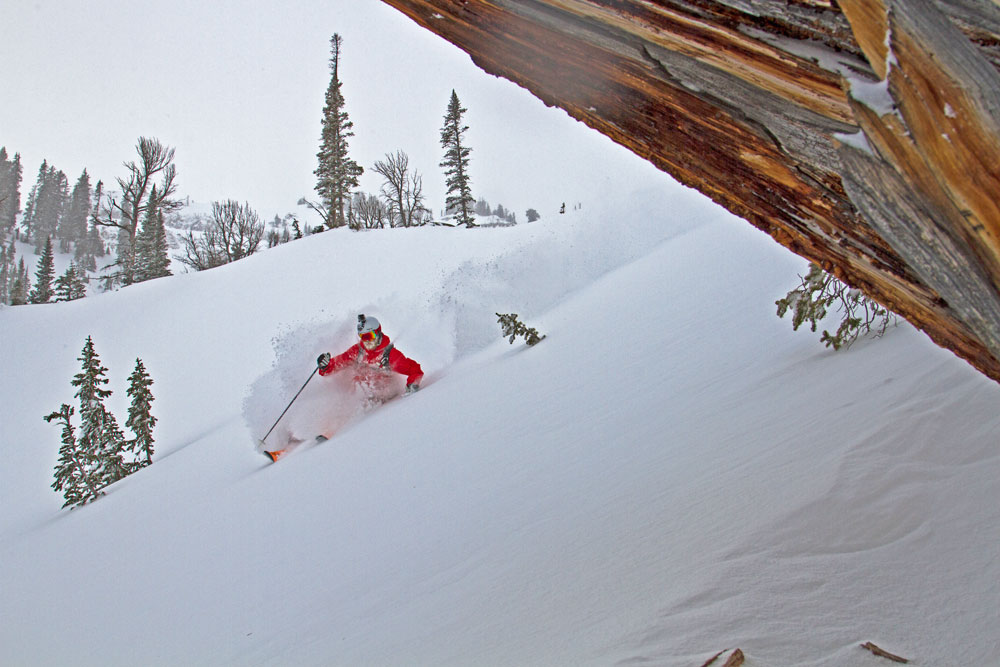 Whiteford found that shooting photos was a "simpler, easier, more fun, more relaxing and more effective" means of going pro. Just ask anyone on the FWT these days... Patrick Nelson photo
But shortly thereafter, I met Tristan Greszko, a local photographer and filmer here in Jackson. He was working with Jackson Hole Mountain Resort and their marketing department. I went out shooting with him a couple days and ended up on all the marketing materials the following year for the resort. And I realized that that was a much simpler, easier, more fun, more relaxing and more effective way to make contacts and was something that companies found valuable.
And how did you then become "The POV guy?"
The same winter I started working with Tristan and shooting more photos, I think that was the same winter that GoPro came out with their first HD camera. I absolutely loved ski movies and would just study those intensely. When we'd come out to Jackson on vacations in college, we'd make little edits and pretend to be TGR.
The POV edits were a really natural way for me to show my friends and family what I was doing on skis. And I was kind of lucky because I dorked out on that stuff for so long that I was able to be smarter than the average bear on YouTube.
The POV edits were a really natural way for me to show my friends and family what I was doing on skis. And I was kind of lucky because I dorked out on that stuff for so long that I was able to be smarter than the average bear on YouTube. And that was also early in the whole organic social media content benefit for companies. So, I kind of caught that wave and that led me into all the connections that I've got now with the industry. But through my entire time here at Jackson, I've worked at a hotel, the Amangani, more or less full-time and year round. So that's really what's paying the bills and getting me health insurance.
And then the following year we had a really good snow year, 600 inches or so, and I was becoming more comfortable with the terrain around Jackson and had more confidence in myself, my decision making and waiting for the right conditions on certain lines. So that was when I started going a little bit bigger, and that was when I caught GoPro's eye and they started sponsoring me as an athlete.
And then how did you start getting sponsored for biking, too?
Well I already knew Dakine and Smith through skiing, so they both have supported my biking as well. With Ibis Cycles, it's been really informal. They really enjoyed my POV edits when I first bought one of their bikes, and I absolutely love their bikes. So, it's just kind of a grassroots marketing thing for them. I really enjoy my connection with them as a company because they are so small and so focused on putting out something that they're really proud of. Instead of switching colors for next season and always trying to put something out new, they'll put something new out when they feel it is properly justified for the customer, which I really appreciate.
And do you race bikes at all?
I used to race a lot. Now, I'll race occasionally. I think that that's a great outlet for your competitive side and also for expanding what you're comfortable with on the trail. By its very nature, when you're racing, you tend to get a little loose and wild and push yourself aerobically way beyond what you do in any other situation. So, that expands your spectrum of experiences in a way that benefits your everyday rides.
I wouldn't mind doing more enduro races. But with a tight full-time schedule in the summertime, it's awesome just to be able to go out and ride with friends or just do a solo ride out here.
When you're ripping bike laps off Teton Pass, are you generally pedaling up or hitchhiking?
There are a lot of masochists in Jackson, so plenty of people pedal up. But it's just so easy. This is the first place...one of the only places in my life where I've hitchhiked. You have so many like-minded individuals, and people want to maintain the car karma.But generally, I try to keep myself honest. I'll pedal up at least 50 percent of the time. I'll park at the Old Pass Road and start from there. Riding up to the top of Jimmy's Mom is about forty-give minutes or so of climbing or so. And then you can do Jimmy's Mom to Candy Land to Parallel Trail, and that's a sick loop. Or if I've got more time, I'll pedal up to Fuzzy Bunny and ride that down.
If I'm hitching, I'll just come from downtown Wilson. Because I always love doing the bottom single-track. I think that's just the epitome of greatness--having a single track that leads you to a bar, and the infamous Stagecoach, no less.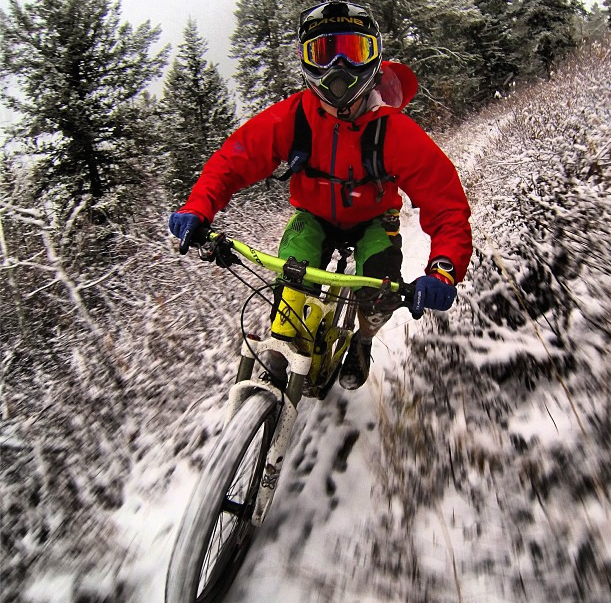 When it comes to racing, Whiteford's generally trying to pedal faster than winter can arrive. Andrew Whiteford POV via Instagram
What's your take on this whole enduro craze?
I think as far as the catchphrase of "enduro" nowadays being so popular, really all it is is riding uphills to enjoy riding downhills. I think you can still appreciate a beautiful scene or wildlife that you see while you're riding uphill. But for most of us, riding back down is more fun. And so, this idea of riding up slow and down fast I think is really the basis of enduro. But in the end, it's all mountain biking.
Here we are super lucky as far as rides that preps you for endure, with the Pass I being the best example of it. You can have a very comfortable ride up that you're enjoying and having a conversation with people on your way up, and then have 3,000 feet of descending right down to the Stagecoach Bar.
I think it is the perfect crossover for the kind of skiing that we tend to do here in Jackson. You take a lift up or get a shuttle up to the top and end up kind of yo-yo-ing terrain high up in the mountains before finally making your way all the way back down.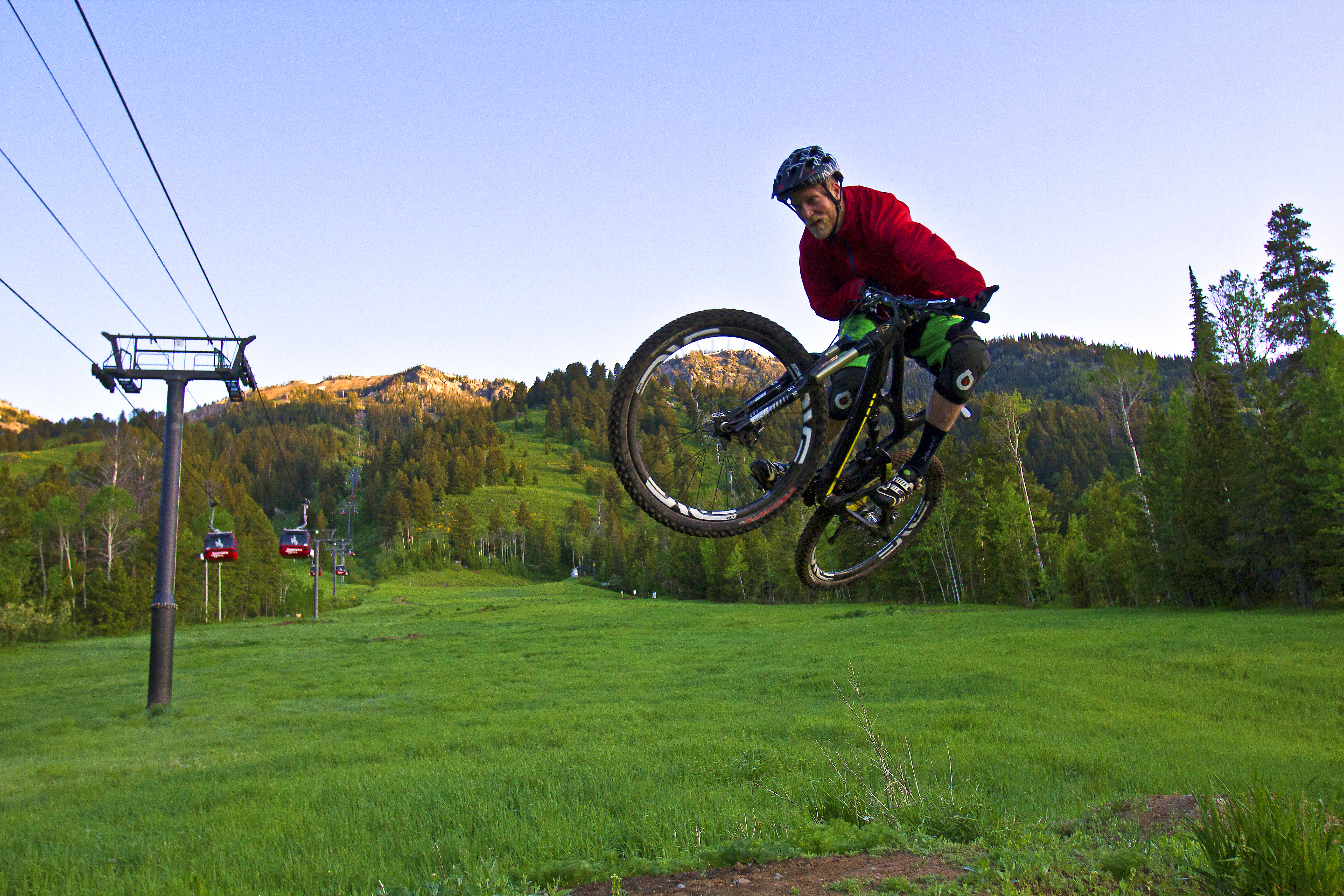 Andrew taking advantage of one of the hundreds of opportunities for airtime near the intersection of Highway 22 and Teton Village Road, this time at Jackson Hole Mountain Resort's bike park. Patrick Nelson/JHMR photo.
What's your take on the Jackson Hole mountain bike scene?
If you're at the intersection of Teton Village Road and Highway 22, there is a hugely well-rounded selection of trails within ten miles in any direction. The only exception being Grand Targhee and the whole mix of Teton Valley cross-country trails. There's great cross-country around the town of Jackson and up Cache Creek, great introductory downhill over at Jackson Hole Mountain Resort, and some of the best downhill bike trails in the country off Teton Pass.
The story of the trails there is pretty incredible, where the Teton Freedom Riders went from an illegal trail-building group to a legit non-profit that ending up finding a way to work with a very progressive Forest Service, who offered the chance for those guys to build the first downhill mountain bike-specific trails on Forest Service land in the country. While it's definitely still a seesaw back and forth between different user groups and going through all the red tape, it's an incredible story and we're all very lucky as a result. The May issue of Bike Magazine did a great story on it.
Stay tuned, as we'll soon be divulging Andrew's secrets to POV Youtube success right here on Tetongravity.com...