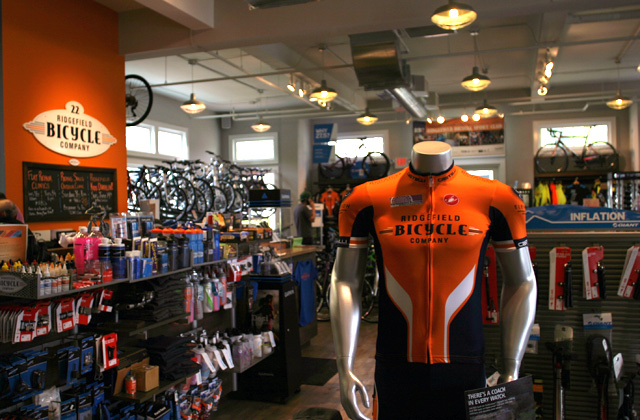 It can be swanky or chill, but you'll know when the vibe is right. Gunnar Waldman photo.
Finding the right bike shop is critical to staying in, and loving, mountain biking. A local bike shop should be a social hub, a place to find rides, pick up skills, get your bike fixed, meet people, drink beer or coffee, and stay connected. Putting some time into finding the right shop is one of the best investments you can make to improve your overall experience on a bike.
We love to ride at TGR and know that if you, like us, don't have your own support team of mechanics, tour managers, sponsors etc., then a good shop is the next best thing. Shops help provide the experience of being a mountain biker. I've got two shops I can't live without. I wouldn't be as into this sport if it weren't for them. Here's what to look for when building that team.
You should want to be at your local shop (Topanga Creek). TCB Photo
A solid shop relationship is symbiotic, you spend a little, and they make sure you don't spend too much. You dig trails a little, volunteer a little–they make sure you get a t-shirt or a ride to a race. You pay for a shock and fork rebuild, they don't sweat you to bend back a derailleur hanger or to check the indexing on your shifting.
To find the right one, ask other riders at the trailhead. What's the best shop? Who did an awesome job fixing your bike? Who's cool, who's not. Seriously, gossip like a Brazilian soap opera. Shop owners–we're talking about you all the time, that guy that shows up just before his ride is taking your interaction with him to the trail. There are a couple good listings, search the America's Best Bike Shop review.
Check the list of best shops from the NBDA.
Of course there are plenty of awesome shops not on the ABBS list. Yelp reviews are also a good place to start (though online forums are subject to astro-turfing and angry, venting trolls). And never be afraid to just visit the four or five near you, check the vibe, and ask about shop rides.
Sean Dowd, owner of Ridgefield Bicycle Company in Ridgefield, Connecticut, told me a good bike shop should let you be for at least the first 10 minutes–get your bearings, walk around, touch stuff, feel the store vibe with no pressure. And when you do engage, it's not instantly about selling; the store just begins to know who you are. Chris Kelly of Topanga Creek Bicycles near Los Angeles is like the Abuela of cycling; if you're a cyclist, you're family, and he treats all who walk through the door as long-lost relatives home for thanksgiving.
Your bike shop should want you to be out here and not dealing with faulty repairs. Ryan Dunfee photo.
A LBS should also be part of the community, supporting its town, riders, local artists, whatever (if they host a TGR film, that's a great sign). If they care about people they'll care about you. If they don't, then… they won't.
SEE ALSO: Finding and crushing your first MTB race
When you find a shop that 'gets' you, work on a give-and-take, symbiotic relationship. It's not just about spending money; ride with them. Respect what they do and they'll respect you're not made of cash and that biking can be expensive. Ask yourself, do you like going there, do you get treated right, and are you happy to give them your business?
Volunteer when they have a trail maintenance day or a bikes-for-kids giveaway. Do they have shop rides that suit your level; do you like the other people you've met through the shop? Do you trust their work? Sure, they want to sell you a bike when you're in the market, but they'd rather have a customer forever.
10 Ways to be sure you found the right bike shop:
#1: There must, must, must be at least one guy with a bald/shaved head and facial hair.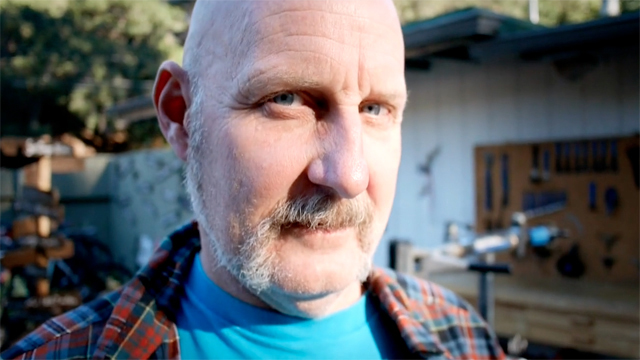 Chris Kelly of Topanga Creek Bicycles. TCB Photo
#2: They have a bike club or regular and accessible group rides (this is a fast-track to shop discounts and new riding buddies).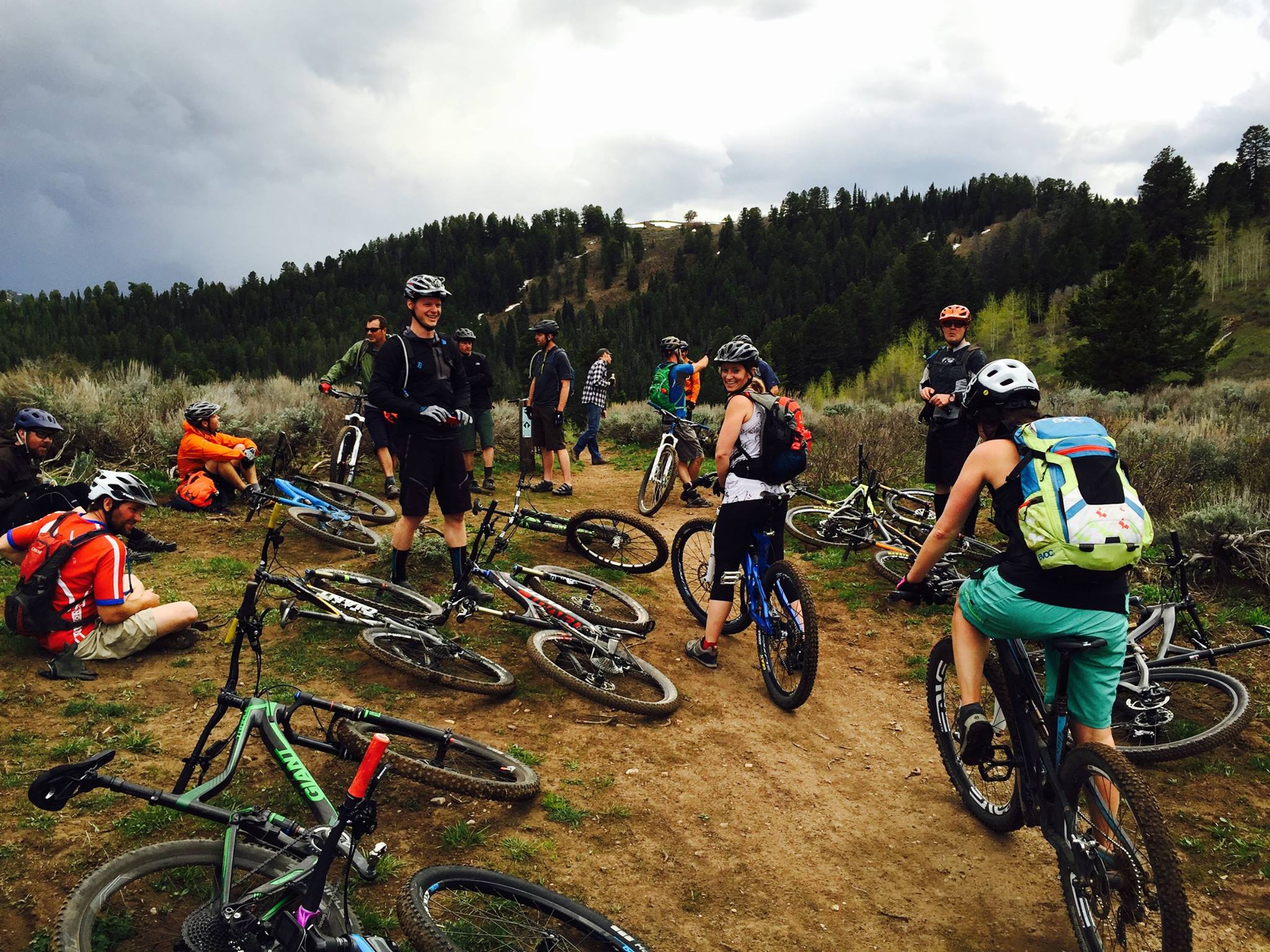 The Hub Bicycle Shop runs one of the most well-attended group rides in Jackson Hole. The Hub photo.
#3: They love it when you show up at the group rides.
#4: They have a super-chill shop dog.
Yes, you can follow him on instagram.
#5: They race, and invite you along
#6: You like the folks as people, and would hang out with them even if they were lawyers.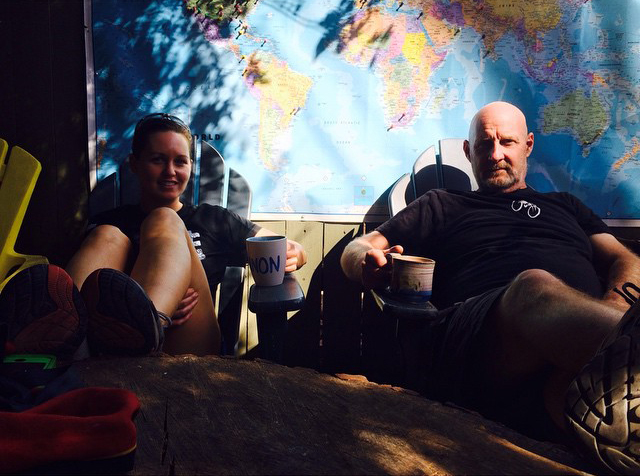 Not lawyers, but Shannon is science-y. TCB photo.
#7: You trust them to maintain the most important purchase in your life.
#8: They give you good advice.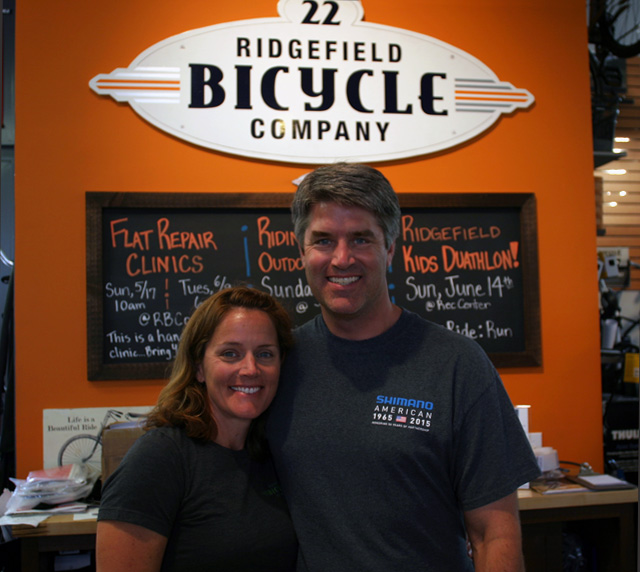 Sean and Jackie of RBC,who left their old life to open a bike shop. Gunnar Waldman photo.
#9: They introduce you to people who you like riding with.
#10: If they mess something up, or sell you something that breaks, you feel comfortable telling them, and they'll make it right
8 ways to not be an asshole to your bike shop:
#1: Wash your bike before you bring it in for service. Seriously, not washing your bike is like wearing dirty underwear to the doctor. They're not there for that.
#2: Don't show up with a box of bike parts you bought online.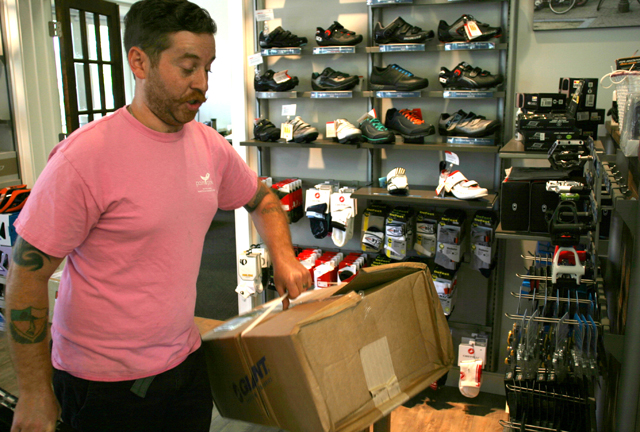 Seriously, don't be this guy. Gunnar Waldman photo.
But, if you do, then don't negotiate with them about the price of service or installation. Not to say you have to buy all your parts from a shop. If you find some world-beating deal, they'll understand that. If you can install something yourself, definitely get it online. They'll never know (unless you fuck up the install). But if you need a bottom bracket, buy it from the shop; it's not that much.
#3: Don't showroom the bike shop for stuff you'll buy online–there's a special place in hell for people who do that.
#4: Don't talk too much. Hey, it's cool in there and the wrenches are nice guys but, if it's busy, let them work. The longer they make small talk with you, the later they have to stay.
#5: Don't talk too little. If it's not too busy, treat them like people and be a friend.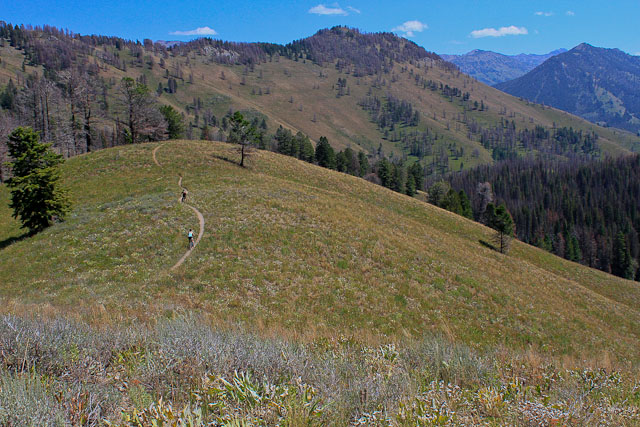 If your shop is organizing a trailwork day, attend and build up some shop karma! Ryan Dunfee photo.
#6: Don't ask them to teach you how to do a repair. That's what the internet, handbooks and trial and error are for. Now, I'll cop to having broken this rule before. I had a hard race in a remote area coming up and it was possible I would have to swap a derailleur, fix brakes or true wheels trailside. I asked could they please show me a few things so I would be able to deal with a situation like that. Then we settled on an hourly rate for them to teach me that stuff–after all, billable hours are billable hours. And I brought beer.
#7: Beer is currency; use it liberally.
#8: Volunteer when they do a bike swap or rebuild bikes for needy kids, dig some trails (this is the way out of hell if you brought in parts from an online store).
SEE ALSO: How to buy the right mountain bike
A couple quick anecdotes about how the right bike shop responds to your needs:
The owners at Ridgefield Bicycle Company chucked their old lifestyle to open the shop and I consider the service manager a close personal friend. A year and a half ago, I was headed to a bucket list, multi-day race and I needed my bike to be in top shape. I brought it into RBC a week or so before leaving. We got pretty much everything dialed but when we did a final check we found that, while my wheels were true, the rear spokes were frozen and one or two of the nipples were about to go. This was a day or so before I had to fly. I was freaking out, but instead of taking advantage and selling a wheel to a guy in a tight spot, they pulled a burly new rear wheel off a Pivot Phoenix and said "Borrow it."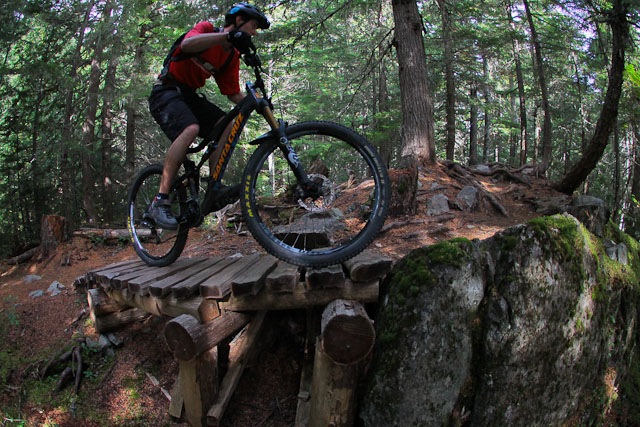 Build a relationship with your LBS, and they'll hook you up when you need it most. Ryan Dunfee photo.
This race was 6 days of hardcore blind alpine gravity racing. I was going to destroy it, guaranteed; they were giving up a wheel, or at least the ability to sell it. But they were psyched I was riding the race and they would rather hook me up than stress me out. I gratefully accepted the bro deal and rode the hell out of the wheel. There's been a hundred times I've had a small problem and they'll throw my bike on the stand, twist a bolt, hand it back and say "Don't worry about it."
The first time I walked into Topanga Creek Bicycles, I'd heard they demo'd bikes, found their website, and really wanted to get a ride in. The owner, Chris, said, "Hey, you just missed our shop ride, but take a bike out–we've got a nice one for you to try." He hooked me up with a $10,000 BMC Trailfox. As a demo.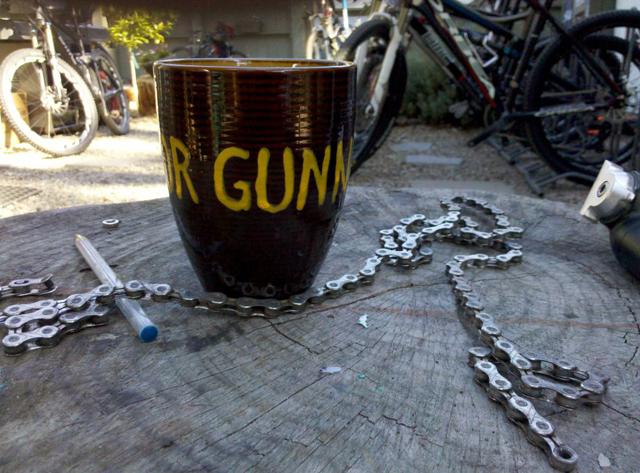 I have a coffee mug with my name on it there.Gunnar Waldman photo.
He gave me a GPS route of an awesome local trail and connected me with another semi-local guy looking to ride so I wouldn't have to go alone. I rode the bike all afternoon in the Santa Monica Mountains and got back to the shop about an hour after they closed, thinking I was going to have an angry guy and a situation to solve. He just said "How'd you like it? Here, we have some banana bread and coffee, why don't you take a seat outside and hang out?" TCB is now my local bike shop despite being 2000 miles away. They are right at the trailhead, and have Adirondack chairs outside the shop.
These folks are my soul. I stop in every time I'm in the LA area, and even if I can't ride, I go and hang out.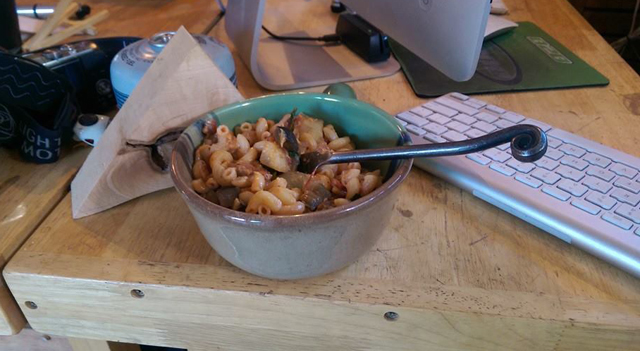 They usually feed me, too. Gunnar Waldman photo.
To be clear, finding an LBS is not about getting free stuff, it's about them doing what they can to make you feel like family, and knowing that if you have cash to spend on a mountain bike, you wouldn't put it anyplace else than with them.
SEE ALSO: 5 Tips for getting the best bike for your money
On the flip-side, some shops are run by trained baboons who give attitude to anyone daring enough to walk in. They destroy bikes with bad repairs, sell you what you don't need and price everything too high. Bad shops are, fortunately, pretty easy to spot. They are mean, empty, and not involved in the community.
Anyway, thanks for reading this far, would love to know your thoughts on this as well. If you've got an awesome shop recommend, I'd love to hear about it.