Story and Photos by Seth Lightcap

The rumors had started to trickle in the previous week. "Crest looking solid. Maybe Negatives?," said one text message from a Mammoth bro. "Still thin but could be good high, real high," said another message.

These were the magic words we had been waiting for. Finally our frantic calls to friends living in Mammoth, Calif. asking, "How's the coverage? Can we ski in the backcountry yet?!" were met with a response other than, " Ummm...Bring your climbing gear! Perfect bouldering weather in Bishop!"

Snow has been stacking up in the Northern Sierra and the Tahoe Basin since late October but the early season storms didn't hit the High Sierra peaks near Mammoth Mountain quite as hard. Back to back storms the first week of December changed all that, or at least helped the effort. The couloirs and aprons dropping off the crest got creamed enough to start looking tempting anyway.

A glimmer of hope that we might slay alpine pow lines while our backyard peaks in Tahoe suffered through a nasty melt/freeze cycle was all it took to round-up the posse. Alpenglow Sport's Jeff Dostie, Brennan Lagasse, Toby Schwindt, Allison Lightcap and I rallied down HWY 395 and went to have a look around near Mammoth in early December.

This Eastern Sierra season opener trip turned out to offer the complete package - good weather, stable snow, sweet alpine pow shots and the distinct feeling that we weren't in Tahoe anymore. Conditions weren't epic everywhere and the coverage was still thin at best, but one thing was certain, it was definitely worthy of leaving the climbing shoes at home.



One day we toured out of the recently closed June Mountain. It was an odd feeling being the only two cars in the parking lot on a sunny Saturday. The lower lodge was barren of any signs of life. It looked like no one had lifted a finger at the place since last spring. Starwood Capital Group, the owner of Mammoth Mountain and June, is obviously sticking to their plan to keep June closed this winter. Starwood's tentative plans are to re-open the mountain next season. We weren't sure if we were allowed to start hiking from within the resort boundaries but we saw no signs suggesting otherwise. There were also a few sled tracks on top of the first bench for those with braaa-p lapping on the mind.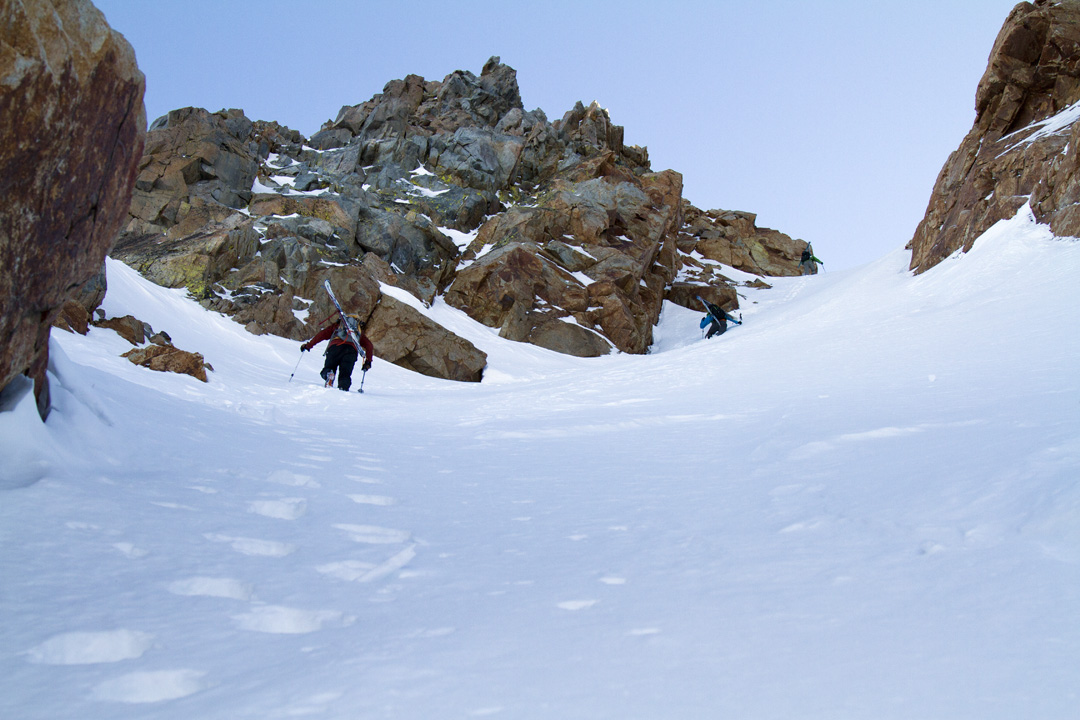 We toured way back beyond June Mountain's boundaries and punched a staircase up a chute to the crest. Damn it felt good to get back in the bootpack.



Yet again, Mammoth Mountain proves to be the snow magnet of the High Sierra. Mammoth's upper mountain is caked with snow, seemingly more than any other peak in the region.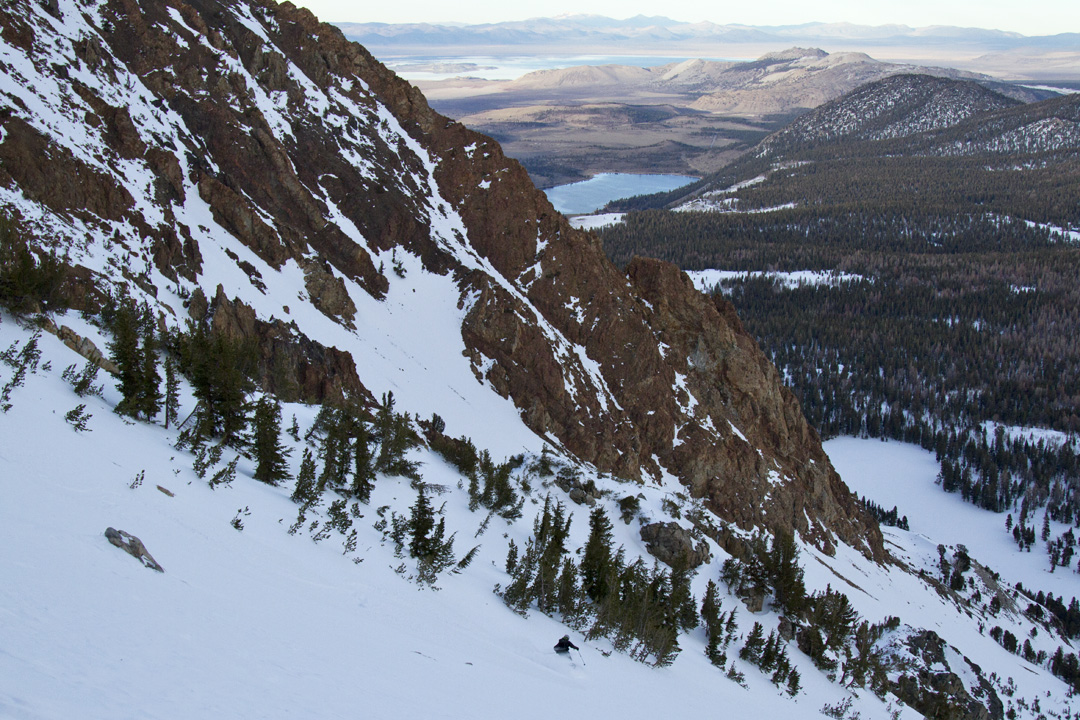 Though it had rained to the top in Tahoe two days previous, the summits near Mammoth were spared the deluge. At 10,000 feet we found drifted panels of boot-top winter pow and a fair bit of wind buff snow. Jeff Dostie lapped it up in between long looks at Mono and June Lakes.



Rippable passageways through the craggy Sierra granite are starting to fill in. Brennan Lagasse carved up this surf gully.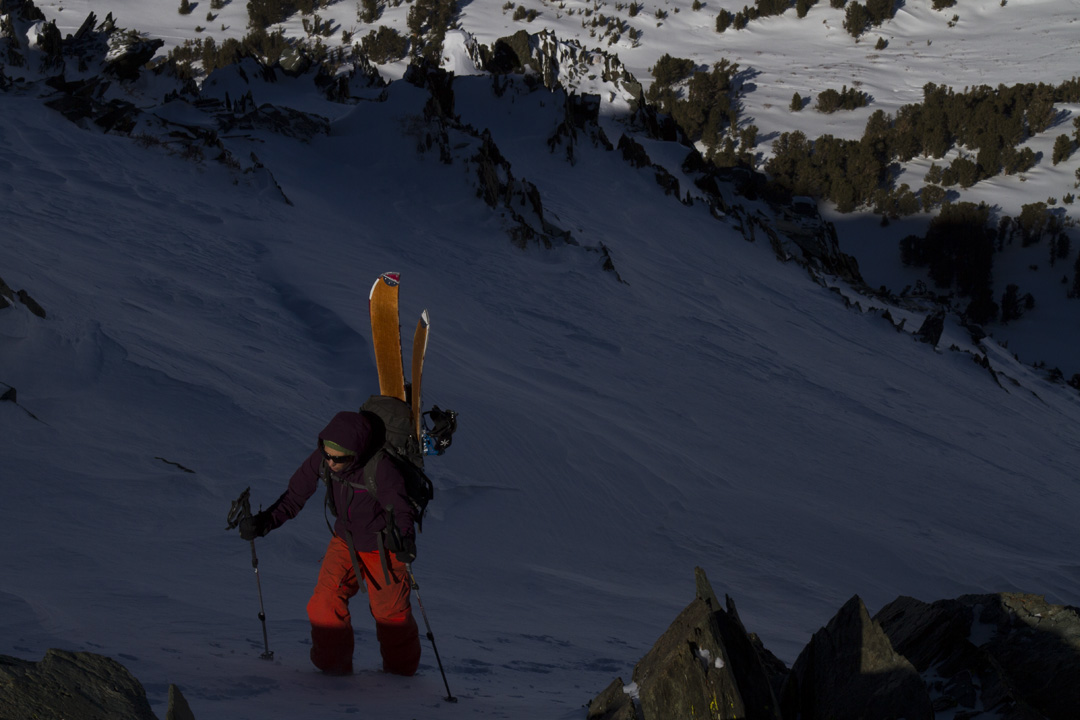 We chased the sun as we best could but it's warmth was fleeting. Coverage was way better on northern aspects which kept us hiking and riding cold north faces. Allison Lightcap broke out into the sun topping out for another lap.



If you want to shred in the High Sierra you gotta love wind buff. This mission was no exception. Brennan Lagasse ripped into this tasty textured panel of the chalky stuff.



I wish I could say the Sierra snowpack down by Mammoth was super fat. Sad but true, it was not. There are some sweet alpine lines that were ready to ride but a vast majority of the peaks needed more snow to be fully in-season. Toby Schwindt carved into a rock field soon after this shot.



But where the snow was deep enough...Jeff Dostie found some High Sierra bliss opening it up down this alpine face.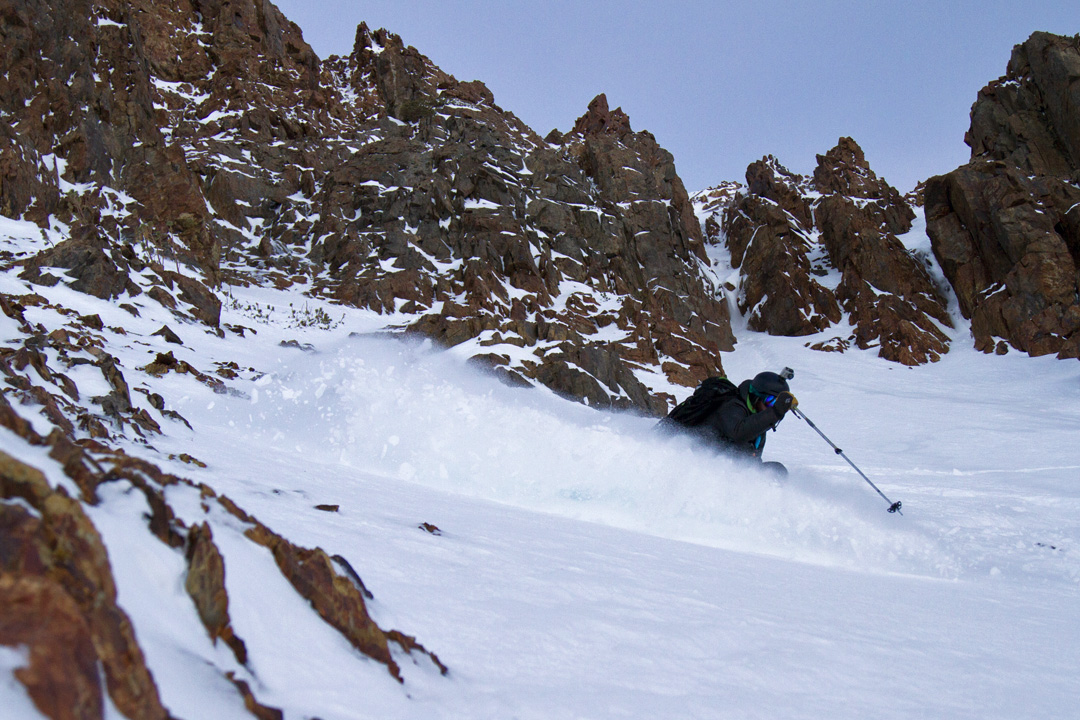 Slashing deep pow in the High Sierra is always extremely satisfying. Between the effort it takes to get there and the unfortunate reality that wind or warm temps often strip away the snow with a quickness, you gotta cherish every blower turn you can get in the Sierra. Brennan Lagasse made this turn count.



It's a distant second to shredding pow yourself but watching your buddy whoop it up takes home the silver everytime. Dostie and Lagasse approve a Toby turn with a hearty pole whack.