This past weekend, the staff of the High Fives Foundation, whose mission it is to raise money and awareness for athletes that have suffered a life-altering injury, returned the Mad River Valley, the home stomping grounds of founder Roy Tuscany. Roy, who suffered a traumatic spinal cord injury in 2006, returned to his home town of Waterbury and his home resort of Sugarbush along with other High Five staff members for the Fat Ski-a-Thon fundraiser, as well as to present High Fives' B.A.S.I.C.S program, which promotes safety and awareness of the fundamentals of action sports to local schools. After the end of a busy three days, the High Fives staff returned to Lake Tahoe having presented B.A.S.I.C.S to hundreds of elementary and high school students, raised over $15,000, and lit the spark of inspiration for expanding their operations back East.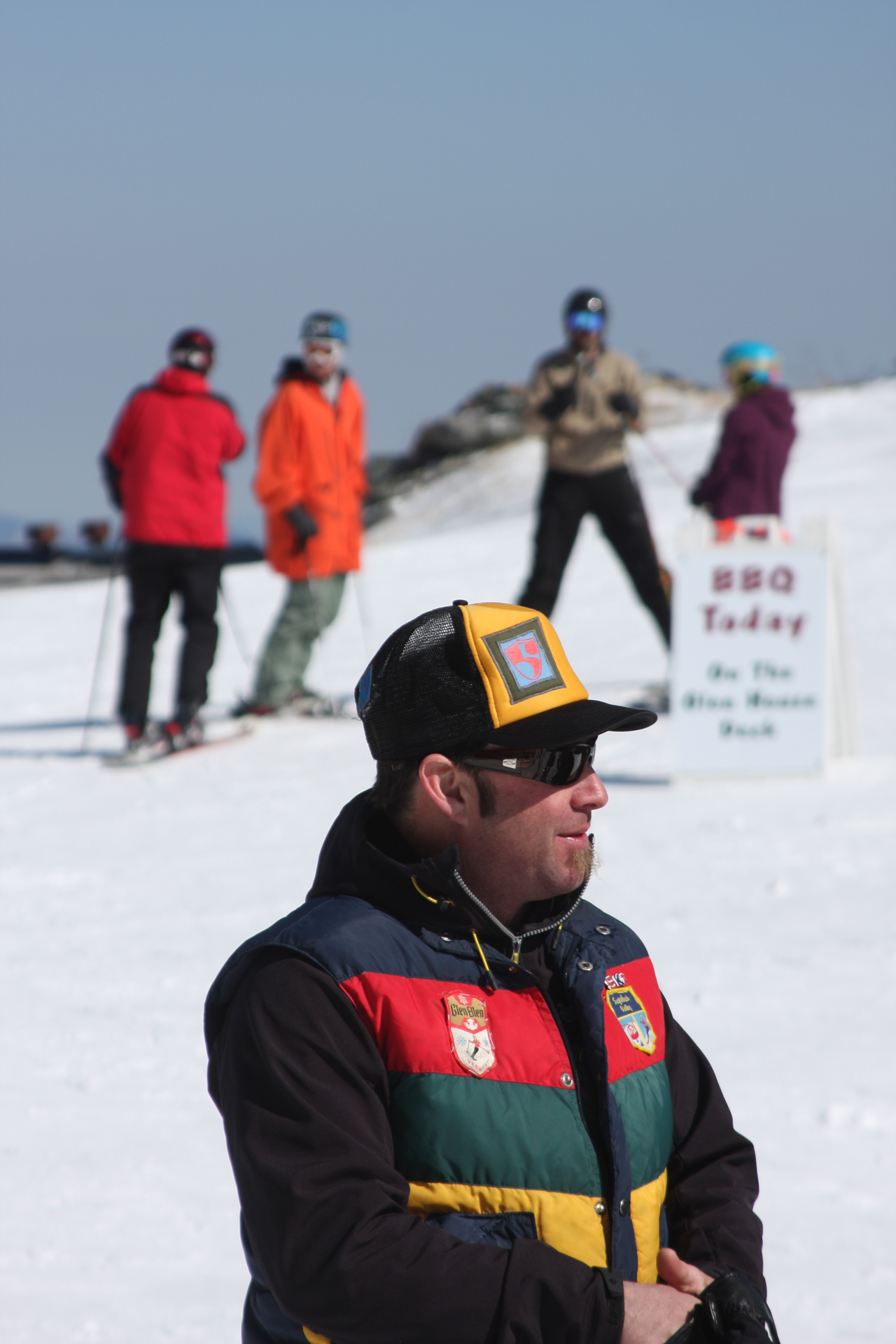 Chris Parkinson raised the most money for the foundation, completing over 25 laps and raising over $1690.00 for High Fives. Photo by Austin Stewart.
The connection to Sugarbush and the Mad River Valley has always been strong for High Fives. While several of the crew hail from the East, founder Tuscany first found his passion for skiing on the slopes of Sugarbush, where he was one of the first graduates of Sugarbush's Diamond Dogs freeride program. While his hometown was nonetheless shocked to hear of his devastating spinal cord injury suffered while training in Mammoth in 2006, the strength with which he has recovered, and his founding of the High Fives Foundation, has been a huge source of inspiration for people young and old across the valley.
Steve Wallace and Roy Tuscany presented to over 700 students at Harwood Union High School in Moretown, Vermont.
As part of their tour, High Fives presented their B.A.S.I.C.S. program to several hundred students at several local elementary schools and Harwood Union high school in Waterbury. The B.A.S.I.C.S (Being Aware & Safe In Crazy Situations) program is designed to teach kids the basics of snowsports fundamentals and give aspiring athletes a solid foundation to progress safely and avoid the kinds of injuries High Fives was founded to deal with. With students equally as excited to hear about Roy's story and recovery, kids from Waitsfield Elementary to Roy's alma mater of Harwood High were all ears and eyes.
Jesse Murphy, one of the co-owners of Vermont North Ski Shop, helped put on this super successful weekend for High Fives. Thank you and the whole staff at Vermont North Ski Shop. Photo Austin Stewart.
Then on Sunday, High Fives and the Vermont North Ski Shop put on the Fat-Ski-a-Thon, a fundraiser with the goal of raising money based on how many laps its participants could ski off of Sugarbush's Summit Chair between 9 am and 3 pm. Money was raised on a per-lap basis as well as through flat donations. On a beautiful sunny day that followed a 10 inch powder day, the 40 participants ripped bumps, railed groomers, and shredded trees, and after tired quads returned to the base of Sugarbush's Mt. Ellen, over $15,000 had been raised for High Fives' various programs supporting safety and the recovery of injured athletes.
Johnny Egan Jr. and Evan Theurer, both students at Harwood Union High School completed the most laps during the Fat-Ski-a-Thon, the two of them tied with 33 laps completed. Photo by Austin Stewart.
Local skiing legend John Egan noted the pride that the valley felt at Roy's homecoming, and in turn the support they returned this weekend. Roy's former Diamond Dogs coach, Chris Parkinson, raised the most money for High Fives, bringing in nearly $1,700. Egan's own son Johnny tied with fellow Harwood High student Evan Theurer with the most laps skied, 33, off Sugarbush's Summit Lift. Egan's other younger son William was not far behind, clocking in 29 laps between 9 am and 3 pm. Tuscany, who was raising $168 a lap in pledges, was surely feeling the love. "It was so rad," he said. "Just to see how the valley got behind High Fives all weekend long."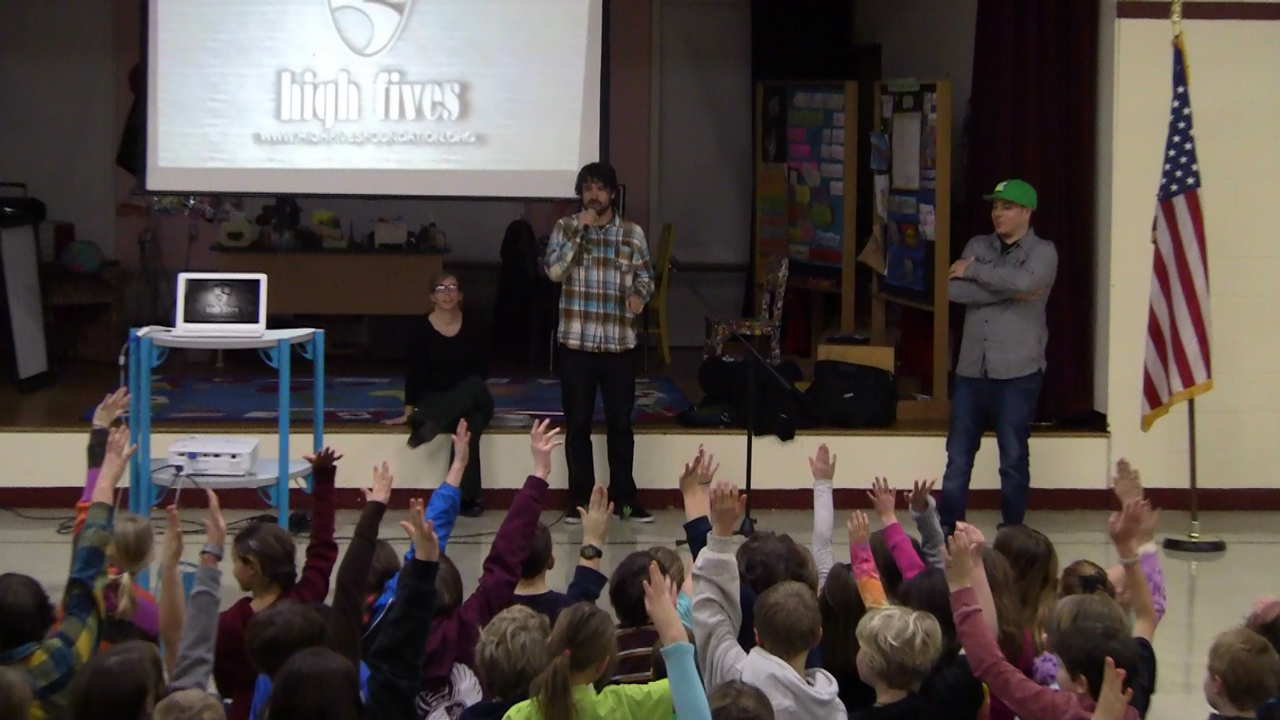 Steve Wallace asking the crowd who is a skier and who is a snowboarder at the Waitsfield Elementary presentation. Photo by Nick Baron.
Noting the smiles on the faces of elementary and high school students as well as current Diamond Dogs skiers, Egan was quick to point out how much of an inspiration Tuscany's story and his strength have been for his hometown crowd. When asked to put it into words, Egan kept it simple: "Roy's spirit in an inspiration." With a buzz of support now coming from his home valley, Tuscany is now feeling the renewed support of the Mad River Valley, and says that plans to expand High Fives' operations back East are all but imminent.
Roy Tuscany, founder of High Fives, skiing a ton of Powder on Saturday. On Sunday, Roy completed 20 laps and had $168 pledged per lap completed. Photo by Chris Parkinson.