Day breaks on the Points North touring camp in the Chugach Mountains near Cordova, Alaska.
"In the end, to ski is to travel fast and free — free over untouched snow country. To be bound to one slope, even one mountain, by a lift may be convenient but it robs us of the greatest pleasure that skiing can give, that is to travel through the wide wintery country; to follow the lure of peaks which tempt on the horizon and to be alone for a few days or even hours in clear, mysterious surroundings."

— Johann Wolfgang "Hans" Gmoser, Helicopter-Skiing Pioneer

For a month of the year, ski-guides Brennan Lagasse and Jeff Dostie live in a deluxe ski-camp in the sky. From mid-March to mid-April, the two Tahoe-based backcountry professionals head to Cordova, Alaska, to run Points North Heli-Adventures' new helicopter-accessed ski-touring base camp — the first of its kind in the Chugach Mountains. A dream of the late Kip Garre, Points North owners Kevin Quinn and Jessica Sobolowski-Quinn obtained the permit last winter to start the 5-star winter camp and opened it to the public March 18, 2012. Now Lagasse and Dostie are the gatekeepers of the ski touring paradise.
The vital supplies of touring camp.
Located on a border of the company's heli tenure, Points North now drops backcountry skiers and snowboarders at the camp in the Chugach for a week to access an area seldom traveled by humans. Opportunities for first ascents and descents abound, and the quiet, remote winter camp provides a serene, non-motorized, less expensive, yet more valuable skiing experience in a mountain range notorious for high-priced heli-skiing operations. In early April, TetonGravity.com traveled to Cordova to check out Points North's set up. It was so epic, we stayed for 10 consecutive days.
Mark Keim rips perfect Chugach velvet in the back bowls near the Points North touring camp.
Situated at 3,500 feet above the Rude River, in the right conditions you can ride that vertical to the valley floor, right out the front door of your heated Arctic Oven tent, which also has electricity thanks to a generator. If the snow is not looking right on that aspect, a 40-minute tour takes you to the top of a ridge where you can view Cordova Peak and Cordova Glacier, then drop about 2,500 vertical-feet of wide-open north facing velvet powder. On lazy days, you can lap this face until you feel like touring home to crack one of the 130-plus craft beers you and your crew flew out for the week. Next year, maybe consider bringing a keg.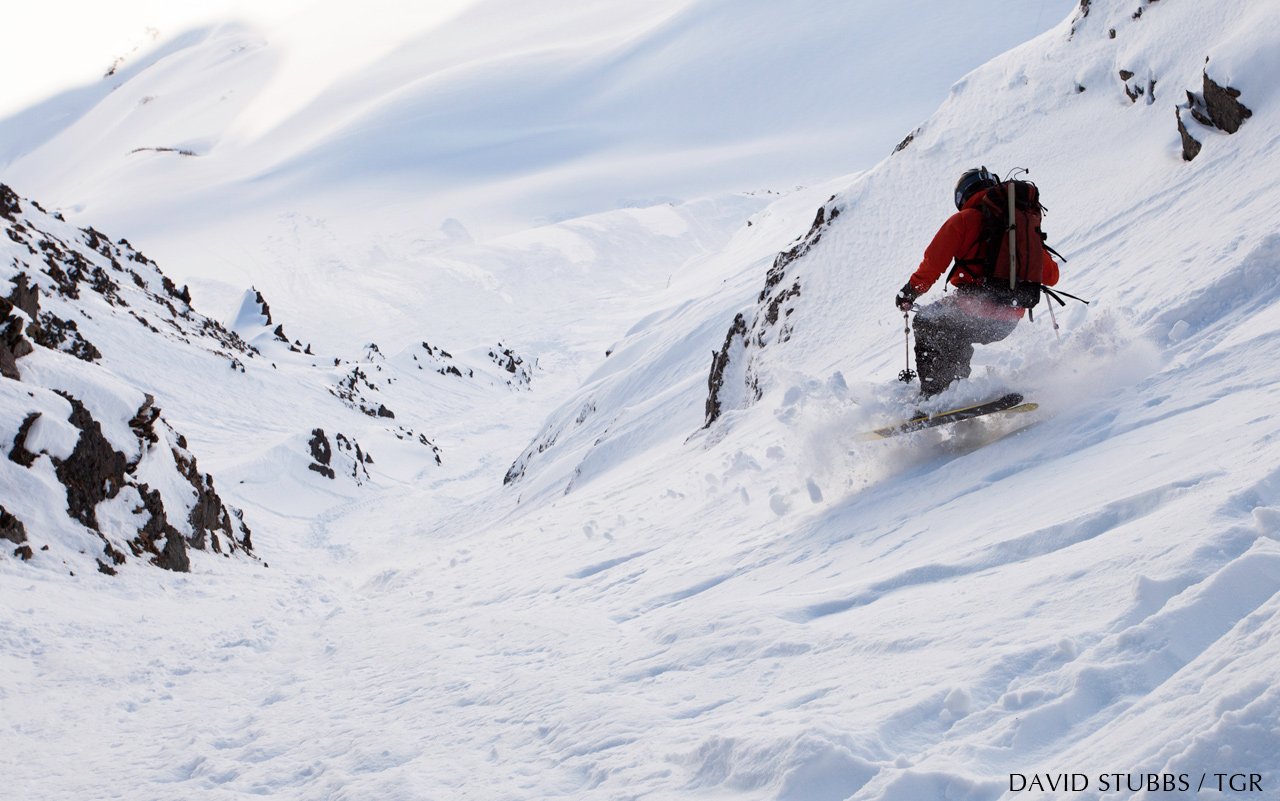 Jeremy Frumkin makes the first descent of Tweezer, an atypical Alaskan line.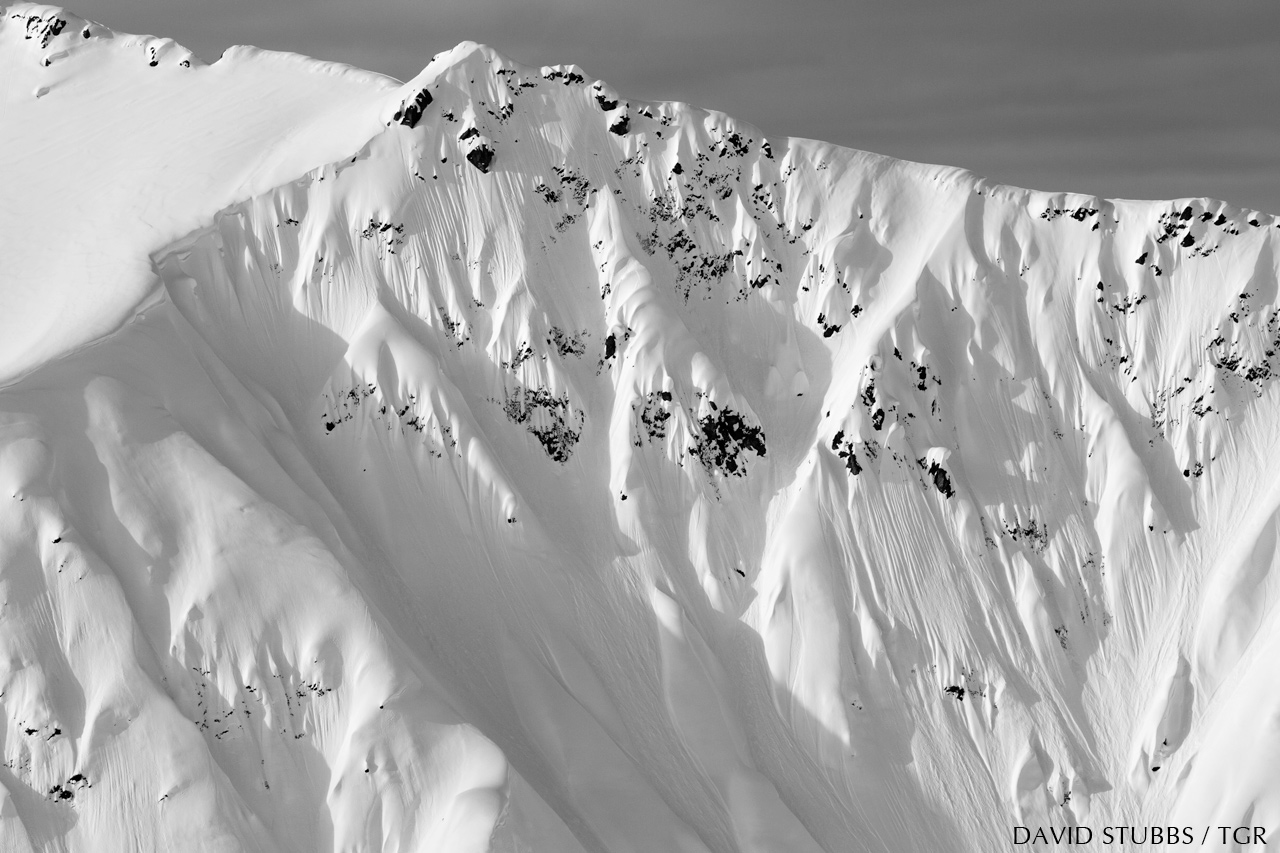 The classic Alaskan spines of Dan O's are accessible from the Points North touring camp.

Stepping it up, you can tour deep — for miles — using low-angle glaciers to warp to other valleys, kind of like a moving sidewalk at the airport. Classic AK ramps, obscure couloirs and delicious, terrifying spine walls toy with your curiosity. What's around the next corner? How far can we really go? Has anyone skied that? No, they haven't. But you can. And you do. The mountains are yours. There is no stress — just you, your skis and your friends in freaking Candy Land.
A crew skins their way up from the Simpson Glacier after descending the prominent ski line in the distance named Shakedown Street.
Like any ski trip to the Chugach, you are at the mercy of the weather. When it's snowing, you can't ski. There are no trees for definition and the vertigo is vicious. So you hunker down and wait for it to go blue. This isn't so bad when you've been touring harder than you have all winter for three days straight. Don't forget, you have a generator to power mini speakers, so you can pump the Grateful Dead on blast while you talk about environmental sustainability with Brennan Lagasse — who teaches Environmental Science at Sierra Nevada College — while 24 inches of snow stacks up outside. Or, you know, you might want to fire up the DVD player and watch Talladega Nights or Caddy Shack for kicks. It's up to you. Meanwhile, Jeff Dostie, who used to work as a sous chef, will be cooking up something hearty and delicious: moose steaks from Cordova, linguini with meatballs, Copper River salmon, tri-tip steak, lasagna, chicken stir-fry, a triple pork stacker sandwich with cheese. Let the sustainability debate begin.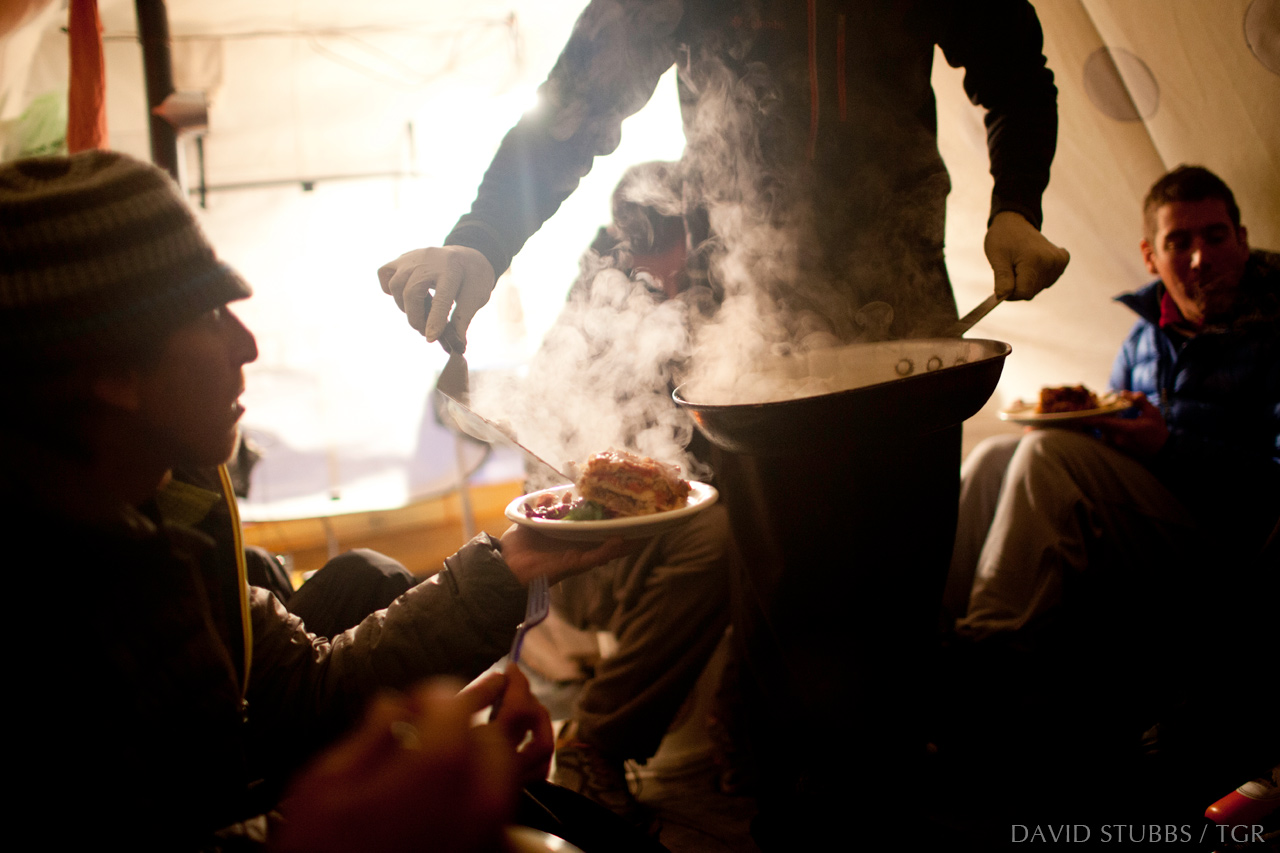 Guide and chef Jeff Dostie serves up steaming lasagna at camp following a long day of ski touring in the Chugach mountains.
With a vibe somewhere between skiing the Haute Route and being on military rec leave, the scene at Points North's touring camp is classic AK. You're burning diesel and propane to stay comfy at camp, but you're going long, skiing hard and discovering untouched mountains with good friends using human power. The helicopter simply drops you off and picks you up. At a price of what two days of helicopter skiing would cost, you're out in the mountains for a week, having a decidedly different Chugach skiing experience.

A 90 second clip of an after-dinner jam at Points North Touring Camp.
Points North has plans to set up as many as four of these ski-touring camps along its heli tenure border in hopes to open up even more terrain to skiers and snowboarders. This would also allow for groups to travel through the Chugach from "hut to hut" – just like they do in the Alps. The Chugach Mountains hold some of the most perfect ski slopes in the world. Points North's ski touring program makes this terrain all that more attainable.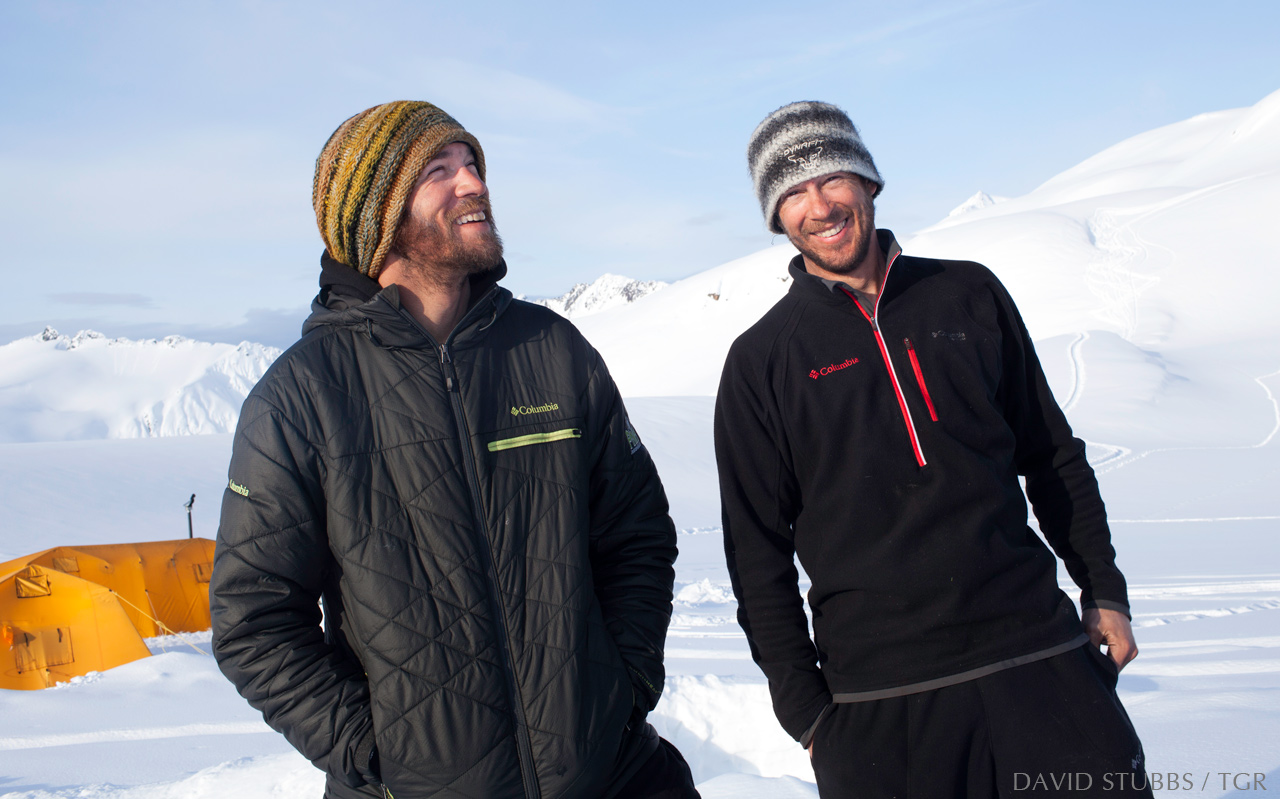 Mountaineering partners and Points North ski touring guides Brennan Lagasse and Jeff Dostie.
For more, visit the Points North website.
All photos by David Stubbs.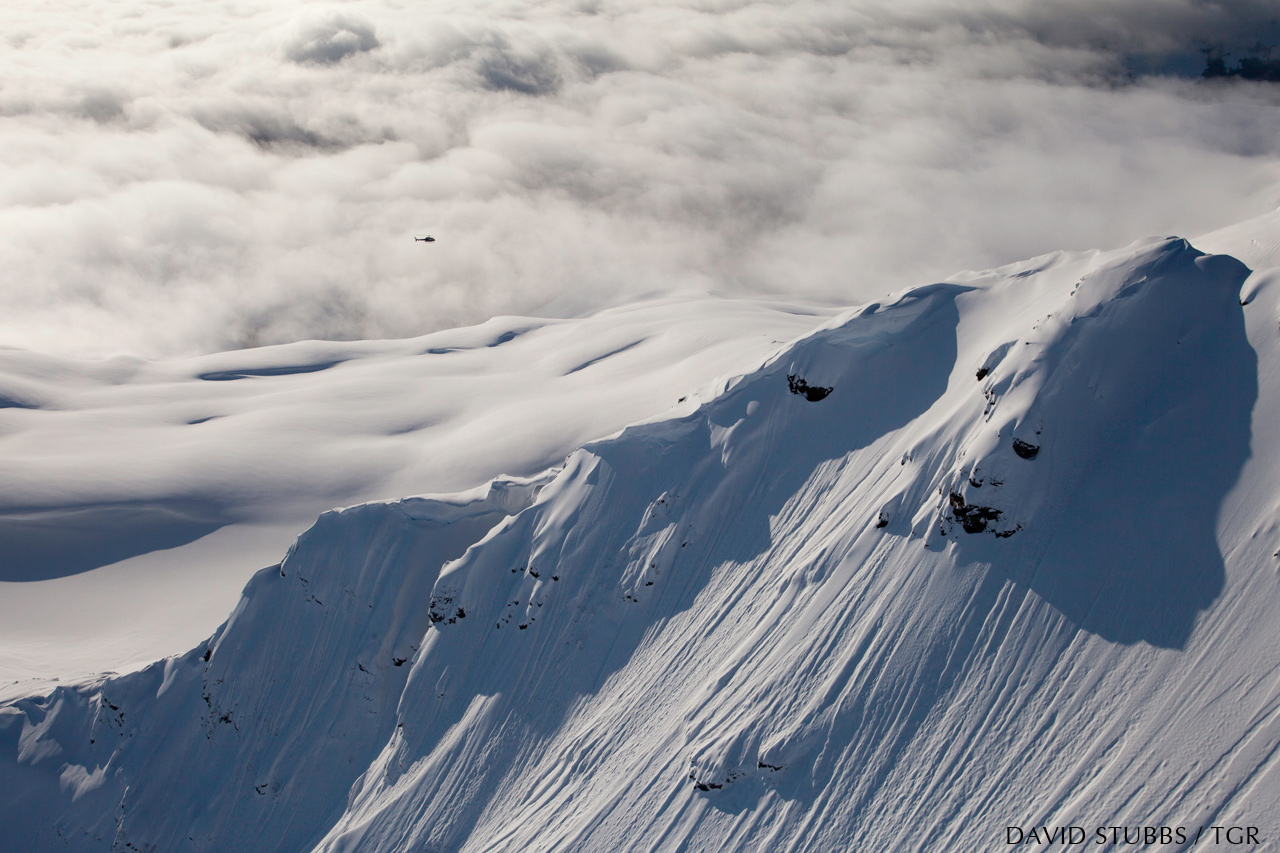 A Points North helicopter flies over the Chugach en route to Cordova after picking up a crew at touring camp.