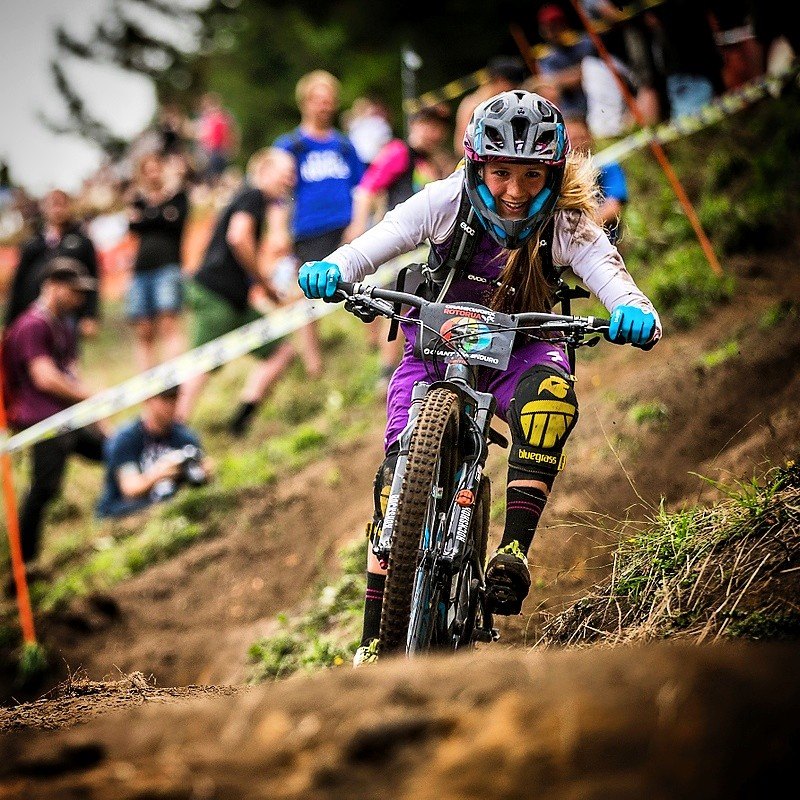 Hannah at the Enduro World Series opener this past March in Rotorua. Sven Martin photo from Hannah's Instagram.
Hannah Barnes is a terrific mountain biker. She's bright, charming and will have a huge smile on her face as she rips past you at 100 miles an hour. She's a pro on the EWS circuit, an ER nurse, a sailor, a violinist and, more than that, she's one of the folks that holds it all together. The sport is better with her in it.
She's had a great couple of years, switching from Orange to Yeti to Specialized. Three fantastic sponsors. She's done some terrific videos for CUT Media and other folks. She's one of a new breed of pro that seems completely at ease sharing race experiences, personal life, adventures, challenges and sponsor activities online with everyone. As a fan, it's kinda nice to follow someone who seems like such a solid human as well as a hard shredder.

We met at the Trans-Savoie race in 2013 and, aside from crushing the rest of the pack, you had the greatest attitude about riding and racing. Seems like being "up" is part of your game. Can you take us through your philosophy overall–and also for race days?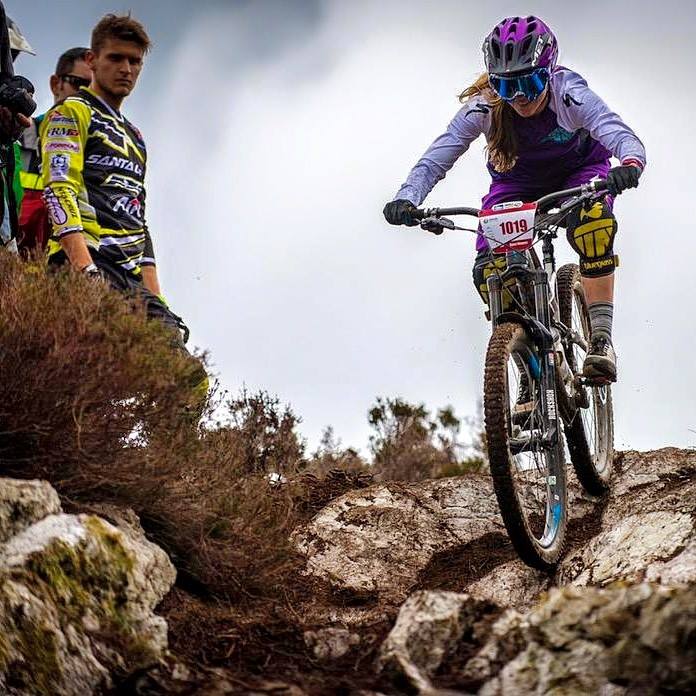 Hannah at the Emerald Enduro in Ireland this season. Hannah's Instagram photo
I just really love riding my bike, being in the mountains and having an adventure. Riding those amazing new trials in the alpine sun, the added fun of camping, and a lovely mix of great people. It was the perfect week. I love racing, there are so many different aspects that draw me to it–the physical and mental challenge, pushing my riding and skills, the atmosphere, the way it brings people together and the friends you make. I am competitive and love pushing myself, but I'm not particularly driven to race by results, but because I really enjoy it.
On her way to winning the Trans-Savoie. Hannah's Instagram photo.
Winning the Trans-Savoie just capped off a brilliant week. It's not the result I remember for a long time, it's the whole experience. It sounds cheesy but it's true. I'll keep racing for as long as I keep enjoying it. Top results are awesome, but for me it is just one aspect of racing which is the icing on the cake of a good day on the bike. Everyone has different views on this, like anything in life, which is great. For me it is best not to over-think these things and just get out and enjoy it.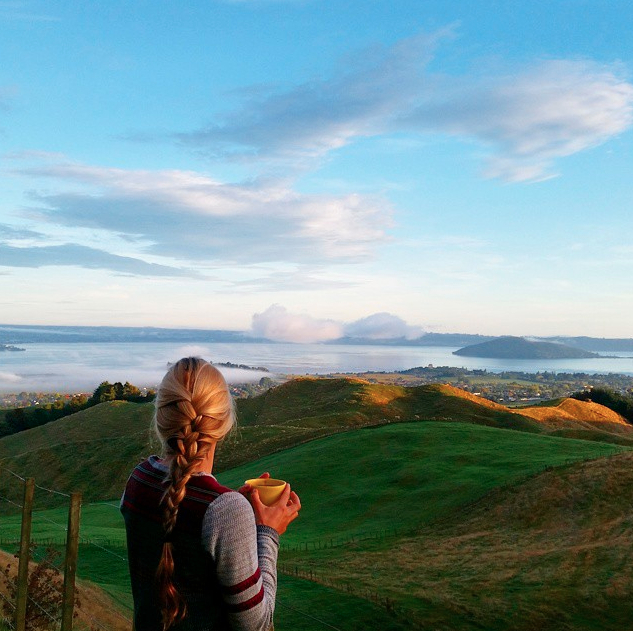 Thinking of the bigger picture... Hannah's Instagram photo.
Thinking of the bigger life picture and putting it into perspective; it's only riding a bike and is there to be enjoyed and not stressed over. I'd like to think I will race for a long time, and do all sorts of different and exciting races, some of my best memories have been from racing. If I want to enjoy racing for a long time, it has to be fun.
Can you take us through your strategy for mapping out a season? Aside from the obvious Enduro World Series stops, do you look for courses that match your style? Things that challenge you in new ways? Anything you are particularly looking forward to this season?
Joolze Dymond photo from Hannah's Instagram
I'm really happy to be able to race all the EWS stops this year, they are fantastic events and always in beautiful locations with world class riding, so it is a great thing to be part of. It feels like one big travelling family, and I always look forward to meeting up with the Specialized team and seeing all the friendly faces of the other riders, mechanics and media guys again. I also really looked forward to 10 under the Ben, a 10-hour XC race on my home trails in Fort William, Scotland. I have done it about 4 times before, and it feels like a bit of a local iconic race for me.
Hannah after winning the 10-hour, 90-mile 10 Under the Ben race last weekend. Hannah's Instagram photo.
In November I will be racing the Yak Attack in Nepal. If there was ever an epic mountain bike adventure to race, then this is right up there. I can't wait!
You have a brother, Joe, also in the biz. Now, you're not the only family like this, but… how did it happen that you both wound up talented, racing cyclists admired for their outlook?
Hannah with her brother, Joe Barnes. Hannah's Instagram photo
Ha ha, that's a nice way to put it. I got into cycling through Joe when he was racing downhill. I thought it looked fun, so I got a hardtail and just rode around the local woods and really enjoyed it. I preferred the physical aspect, the amount of time spent on the bike, the changing scenery of cross country, and the small, nimble bike. I tried downhill, it was good fun but I didn't feel like I got enough riding time in and I just felt like a passenger on the big bike.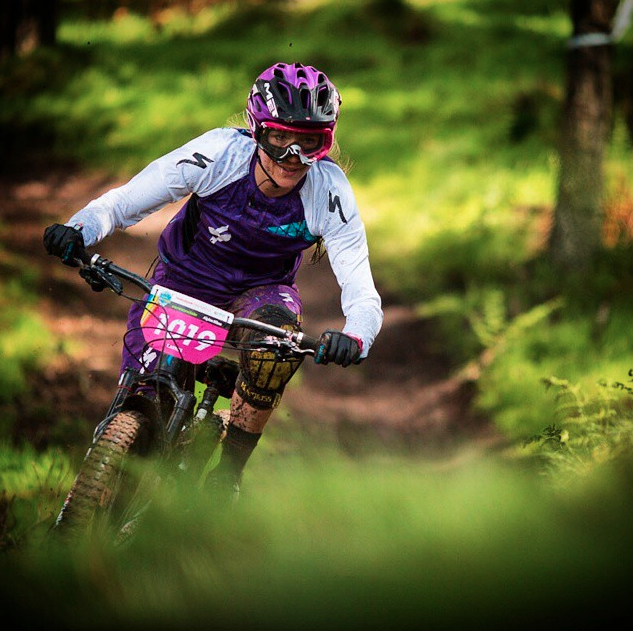 Hannah, full speed on the EWS enduro circuit. Sebastian Scheik photo via Instagram.
Now with enduro, it's the perfect mix of physicality, technicality, and fun–it feels like a very well-rounded riding style. It has been great getting into the sport through Joe, and it's awesome to see how he's progressed in the last 10 years since he was a privateer junior racing World Cups, to being a professional world podium level enduro racer. He is so focused, also has loads of fun and is always enjoying himself with the same small group of friends he grew up with; he definitely has his feet on the ground. We don't spend much time together, although we live next door to each other and go to the same races. We have completely different personalities, but we're fortunate to share that we're both earning a living from the sport that we both love.
Your family was very adventurous (I believe the family took the kids out of school for a year to sail?) and at 15 you sailed on an old wooden boat from Fort William up to the Lofoten Islands in the north of Norway, with a couple of friends, which is awesome–did that upbringing and spirit influence what you do and how you approach things, if it does?
Yes, I think it definitely did. With that adventurous, less conventional upbringing, perhaps you could go either way to loving or moving away from that way of life. I absolutely love it, a bit of uncertainty and hardship is good for you. Being on a little wooden sailing boat in a big storm, or being in a blizzard in the mountains of Alaska with a team of sled dogs definitely makes you tough and resourceful. It is character building, you could say. The most memorable exciting experiences are in those times. In Alaska, we would go a trickier route on skis or with the sled dogs just to make sure some sort of adventure happened. It would be boring if everything were always planned and easy.
You mention your love of Scotland, Fort William and other locations nearby, in film and online. At the risk of making you go through it again, what about the area makes you so passionate?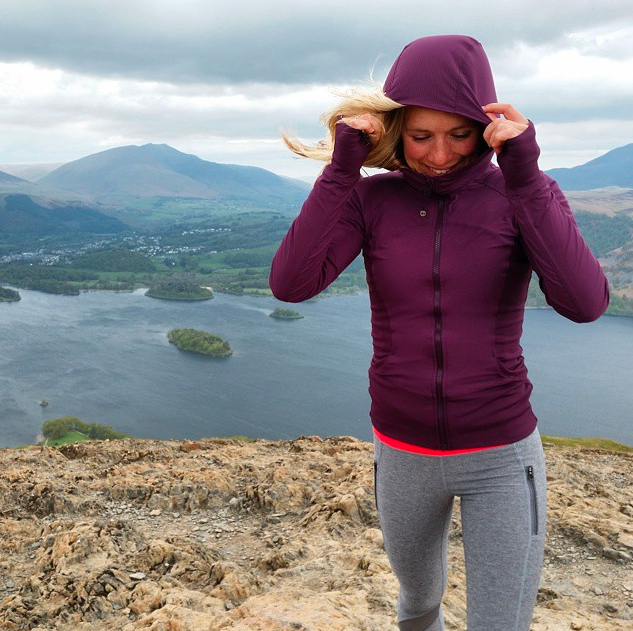 Hannah, at home in Scotland. Hannah's Instagram photo
I love Scotland, particularly the North West coast and the Highlands. Rough, rugged, untouched, big mountains, beautiful white beaches, remote islands, the people, craic (Irish/Scottish term: enjoyable time spent with other people, especially when the conversation is entertaining and funny. Pronounced 'crack'), and traditional music. It's a really great place to call home.
You got your Bachelor of Nursing in 2008 from University in Glasgow. No easy task. What thought process led you to decide on nursing?
Nursing provides the balance of a real job with the flexibility to move and travel as she wants. Hannah Barnes photo.
Nursing is a job, which can be done anywhere, so you are pretty much free to live anywhere in the world you want to. Within nursing, there are so many fields to work and specialize in (GP Practice, Emergency, Community, High Dependency, Specialist Units etc.), but also scope to work on expeditions or for Medicine San Frontieres or other organizations. I enjoyed biology at school and found the human body fascinating. It is a job where you can work very flexible hours, and tailor it to your lifestyle, which would appear to be quite rare for a 'proper' job. I really enjoy the type of study a practical subject such as nursing or medicine, dentistry, or veterinary practice involves–practical and hands on, yet also academic, and with a good purpose. I also enjoy caring for people, and the people-centered aspect of working in healthcare. Medicine, dentistry etc. involve years of hard continued study and my life balance would be all wrong. By process of elimination, I concluded that nursing was for me.
When you were in school, how did you balance those two very demanding passions? Did you have to dial biking back? Or did it help you?
I didn't start riding until half way through university; once I graduated I really started to get into it then. During high school, I was really into dinghy sailing and racing, which was my big passion. At university, I got really into climbing at the indoor wall. I loved how simple it was, how climbing a route was like solving a problem, and how strong and fit it made you; I also made really good friends through those university climbing days.
What is it about nursing speaks to you now?
Exactly what it did when I started. I'm pleased that it is what I expected it to be, and after 10 years of studying and working in the National Health Service, it still feels like a really nice job and career choice. I have met so many nice, intelligent, fun and caring people, which is awesome. It's great to have such a contrasting job to mountain biking; it makes me really appreciate both.
Are there any times or anecdotes of when nursing was hard? When there was something difficult you went through you needed to overcome? Either by getting on a bike or not?
As a nurse, you come across hard or upsetting things quite regularly, but you can't get too emotionally involved. You do what you need to do to look after the patient as best you can, give them the best medical and nursing care you can, and be understanding and kind to them and their family. A lot of the time when you hear how their life took them there, it can be really heartbreaking.
For life in general, it has taught me to be kind to everyone and treat everyone you first meet with the same time and respect and not be quick to judge someone. A situation I found hard a while ago was when a man in his 50's walked into the department with chest discomfort. He was a lovely man, drinking tea and chatting about how him and his son were going to play golf in California the following week. An hour later he suddenly had a massive MI (heart attack). We were doing CPR on him for what felt like a very long time... and he didn't make it.
It was very sudden and tragic for him and his family, awful for his wife who had come in with him. It is part of the job, and talking it over afterwards with the team is really good to process something like that. The job is challenging but also very rewarding. Going for a ride and getting into the hills after a day in the hospital; it's definitely nice to breath some fresh air and spin the legs, but after a 12 hour shift I'm usually exhausted and just chill on the sofa with a cup of tea.
When you do go back and work as a nurse (I believe there's a minimum number of days you have to do a year?) do you have a particular specialty or rotation, ER? OR?
Yeah, you need to do a certain number of hours and training days each year, which isn't too many but enough to have to keep on top of it. I work in an Acute Combined Assessment Unit (Medical and Surgical ward), and also in Accident & Emergency. I love A&E the most; it's awesome working there.
Ever had it come in handy during a race?
Enduro can get hairy.
It has, actually! During the Trans-Provence a few years ago, my good friend Sven had a big crash head first into a tree–he blames it on following my brother's line choice, ha ha–he had concussion and a badly broken arm. There was a race doctor there immediately, but he was a radiologist without much acute experience so he wasn't comfortable enough to use his bag of medical goodies.
There were a lot of other racers there to help, but we were in the middle of nowhere. A quick assessment, regular morphine injections for the pain, getting him as comfortable as possible, and co-coordinating his retrieval by air ambulance then went down, and the only thing he was worried about at the time was that his lunch pack and baguette went with him in the heli, he was pretty concussed still! It was nice to feel comfortable and useful in that sort of situation.
There's a clip of you in a video playing the violin in a pub–another passion that takes time and focus. Can you take us through when you started and how you kept that up?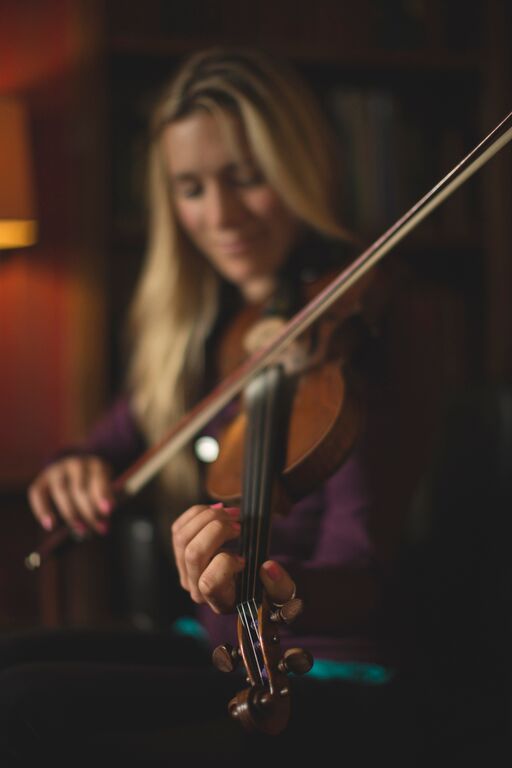 Hannah has been playing the fiddle and violin since she was 13. Justin Sullivan photo.
Yes, I love playing music. I started playing the classical flute to begin with when I was about 12, but it was too regimented and there was no banter, so I soon got drawn to traditional music and the fiddle. I went to a local Feis (A week of traditional music classes), and thought one of the teachers there (Iain MacFarlane of Blazin' Fiddles) was absolutely amazing. I was only around 13, and insisted on going in his intermediate class even though I'd only picked up a fiddle about a week before hand. Iain was awesome; so inspiring, fun and encouraging. He didn't really have time to teach me as he was full time touring with Blazin' Fiddles and all of his other music projects, but I kept hassling him until he agreed to give me lessons. Considering I was only 13, I was pretty determined! He is an incredible player, one of the nicest people I know, and he soon became a really good friend.
When and where do you still play?
I still play, not as much as I want to or should be playing, though. There is a great music session at the Glenfinnan House Hotel near to where I live. It is such a cool place, with incredible musicians getting together to play tunes, sing songs and get merry. Whenever I'm at home, that's one thing I make sure I don't miss!
Take us through your fitness and health routine for pre-season and during the season? How has it changed over the last couple years?
Justin Sulivan photo
To be honest, it hasn't really changed much at all. I ride my bike when and where I feel like it, whether it's a fast cross country ride or a long road ride, or steep muddy trails on my enduro bike. Depending on the weather, and what I feel like riding, that is what I tend to ride. If I feel like I need to do a short fast-paced ride, or a longer base-fitness ride, then that is what I do.
When you're on the road and traveling, or fitting in a few 12 hour hospital shifts, it's hard to have a routine. I do the best I can and use my imagination. I run, swim and do yoga too, for fitness and strength, I really enjoy it and enjoy the variety. I eat healthily, but I'm not obsessive. I try and eat a balanced diet, limit processed food and refined sugar, and be organic when possible. I love a glass of wine with dinner if I'm with friends. I'm conscious to be healthy, but also eating what you want within reason is more sustainable and enjoyable long term.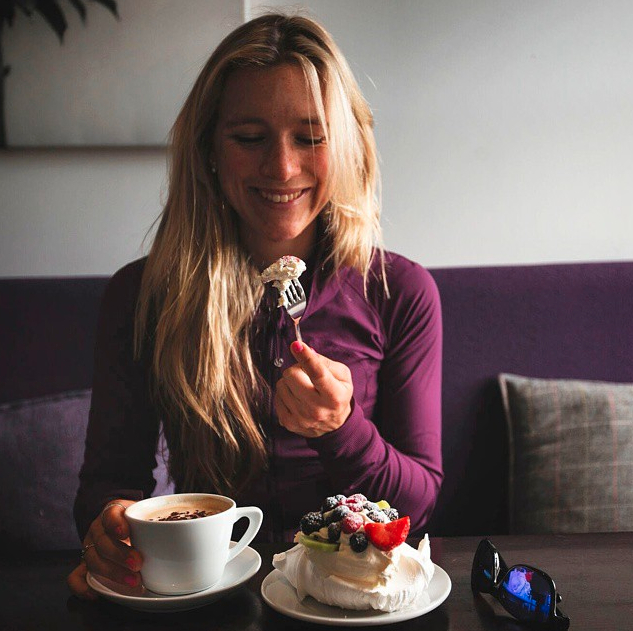 "I'm conscious to be healthy, but also eating what you want within reason is more sustainable and enjoyable long term." Hannah's Instagram photo.
I love nice food! You like what you know and what you are used to, so being 'used' to training, exercise, being busy and productive, and eating well, is a lifestyle and a choice.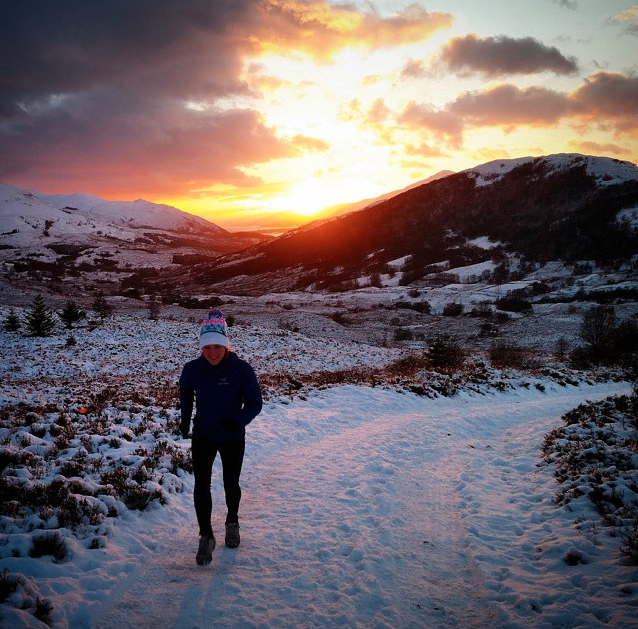 Cross training by running the Scottish winter. Justin Sullivan photo.
Whether I was a professional athlete or not, I would have this same lifestyle. Perhaps the only difference is that now I make myself go out and ride or run in the rain on those days when I'm not so motivated, and throw in some hard efforts on my rides.
Would love to get your thoughts on the changes in women's mountain biking visibility and focus over the last few years.
Hannah pumps the transition. Specialized Bikes photo.
I think that it is awesome how everything to do with women's mountain biking has grown exponentially in the last few years. Visibility, participation, number of women racing, the fast increase in the level women are riding and racing at, and the women specific bikes and products–it is great how big the sport is becoming for women, and in such a relatively short space of time. It can only keep on growing.
How is your role, or that of any athlete in mountain biking, different now than it was a few years ago? Have your media responsibilities changed? How do you adapt to that?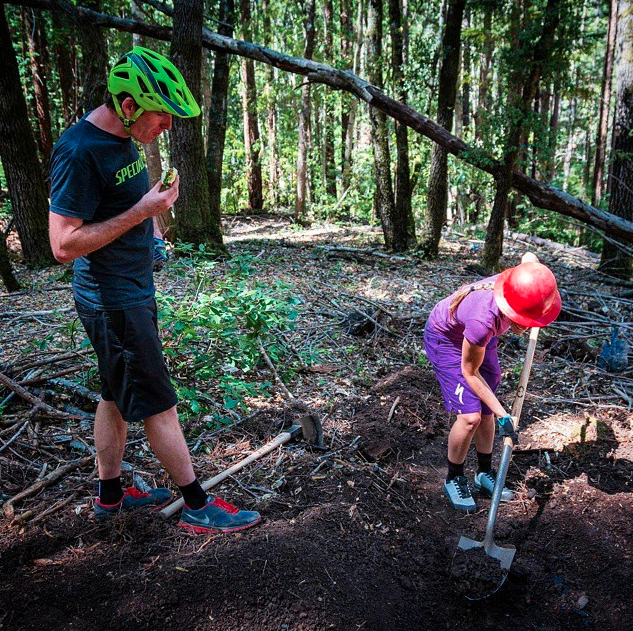 Sometimes a girl's gotta dig for her lunch. Hannah Barnes Instagram photo.
The things of importance to me, in no particular order, are race results, attitude, presence, social media presence and influence, quality videos, web and magazine content, and of course your personality and ease to work with. It is important to have all and generally a nice balance of these things. It seems that now there is a strong and growing emphasis on social media, which wasn't there in the past as magazines played a more important role for coverage. I think it is a good thing that you are in charge of your own media platforms, and it is instant and current which is really nice, you're not relying on a magazine editor to publish your story. Magazines are great and necessary of course, but there's room and relevance for it all. Nothing changes too quickly, so you just move with the times.
What's in your pack when you ride?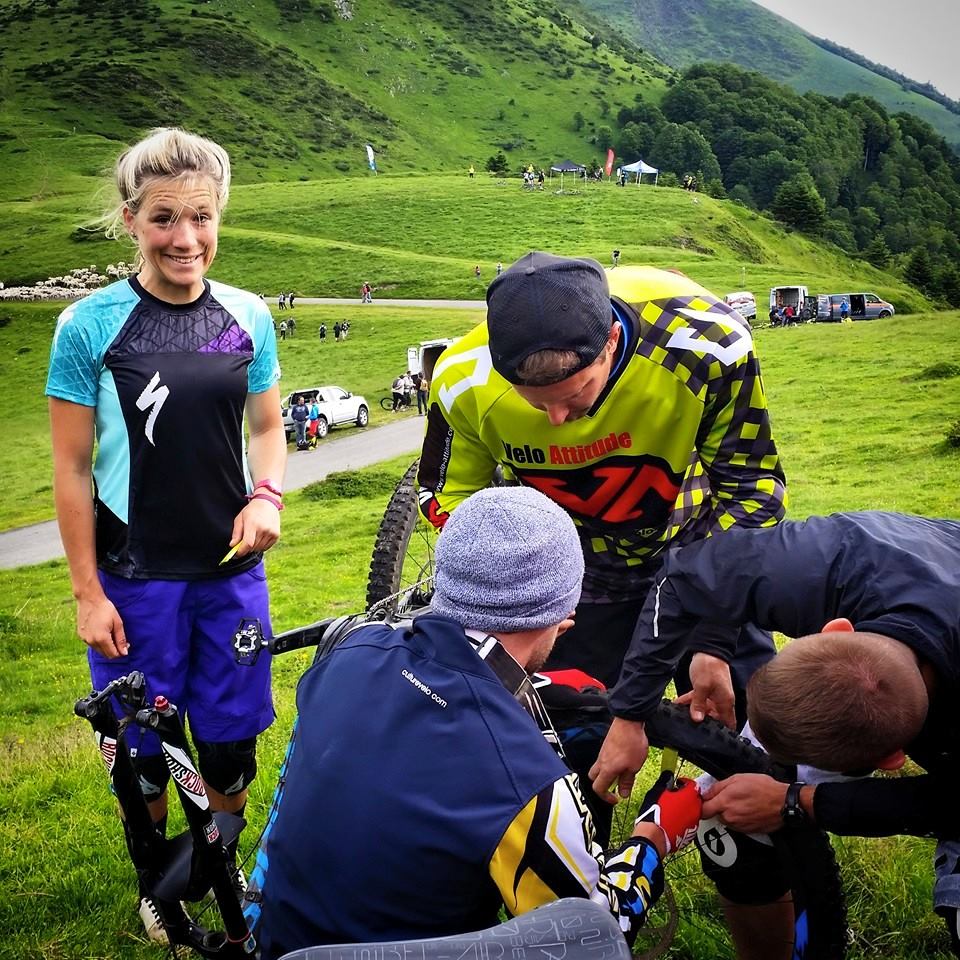 Truthfully, Hannah might not need to pack tubes and C02 that much. Hannah Barnes Instagram photo.
It depends on how long I'm riding for, but here are a few things I might take: cheese sandwiches, a couple of bars, a piece of fruit, dried apricots, chocolate, cash money for an emergency coffee stop, phone, a lightweight small jacket, lip balm, a bladder carrying water. On my bike I carry all of my bike spares using SWAT technology, for for the first time in years I'm actually prepared on my rides.
What's the most non-standard thing on your bike?
As far as I am aware, it is all standard with no crazy different set-up. Apart from the shock (a Rockshox Monarch + RC3), my bike is as stock. If it ain't broke, don't fix it.
Tintin or Asterix?
No preference, however I am more familiar with Tintin so I'll go with her. Joking, I know it's a He.
Matching kit or whatever's clean?
Clean ,matching kit.
Arthouse or Blockbuster?
Both as long as it is good!
Beer or Liquor?
Beer, but I prefer nice wine. Or a nice cocktail. I love earl grey tea and nice coffee, too.