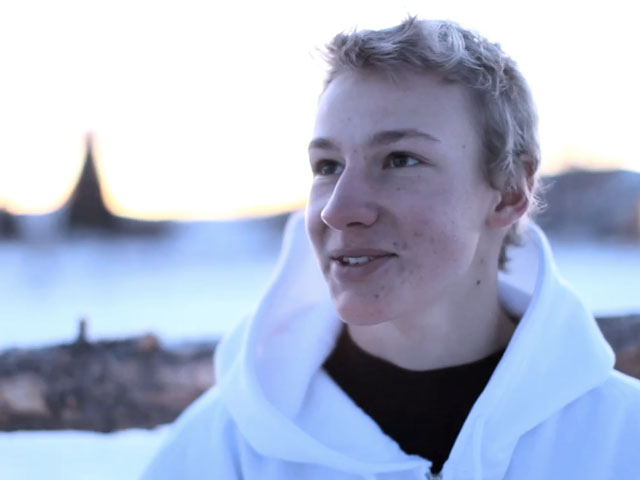 Jackson Hole local and this year's Overall Grom Contest winning skier Sam Winship may be a young gun, but he's at the heels of the top dogs. Winship has won the opportunity to film with the TGR production team during the 2012-13 season. Winship also gets to attend the world premiere of TGR's newest ski and snowboard film, The Dream Factory, and have his video edit play before every showing of The Dream Factory during the film's tour. On top of that, Winship gets a GoPro package and a pile of TGR swag. Take a gander through Sam's goggles, and get a view of the future he sees in skiing.

When did you start skiing?
At the fine age of 3 years old.
What aspect of skiing do you most enjoy?
I definitely enjoy skiing powder and taking park-style to natural features. I like to learn tricks in the park and be able to throw them down on any feature.
Who do you look up to in the skiing world?
I really respect people that can do it all. Jossi Wells has placed in both slopestlye and halfpipe and has impeccable stlye. I also really enjoy skiers like Sean Pettit, Dane Tudor, and Sammy Carlson, who can take technical tricks to powder jumps. It's hard to make a list because there are aspects in almost every pro skier that I look up to.
Who are your favorite people to ride with?
My brother, Owen. We've always had a common interest in skiing, and he taught me a lot of the basics. He's taken some time off to pursue filming and a serious career, so I didn't get to ski with him as much as I wanted to last year. However, the days that we do get in together are some of the funnest, biggest, and scariest, and produce some of the best shots.

How do you balance school and skiing?
It's always hard. Especially going to a private school that doesn't have early-release as an option. I'm the only one who leaves to ski during the week. It's resulted in cab rides, taking multiple courses during my free blocks, and almost having to sleep at the Stilson Bus Station…twice. I always tell myself, "School first", but sometimes that's hard to follow. I need to thank my parents and teachers for helping me figure that all out.
Who do you think is the best skier in your local scene?
It seems that every time you ride up the lift it's with someone who just went to do backcountry lines or who just hucked a backflip off of Nightmare. Matt Philippi and Tony Seibert were two skiers that really impressed me. I saw tons of crazy shots of Matt going HAM in the stash parks, and I got to ski with Tony on a weekly basis and he never ceased to blow me away with huge tricks, airs, and some classic stlye. There are tons of others, but these are the ones that i consistently see at the resort going hard.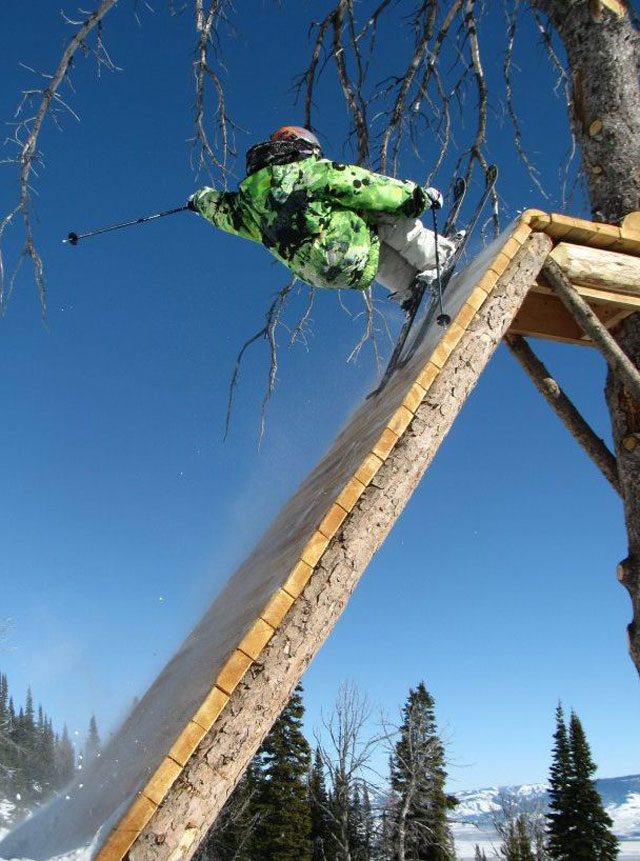 What does it mean to you to have your video selected by TGR?
When I got the call from TGR and they told me I'd won the overall contest I was pumped. For youth riders who want to get noticed in the freesking world, this is one of the best ways. To be selected amongst the likes of Willie Borm and Daniel Tisi makes it feel even more surreal. I've seen Willie do double flips at Windells, and Daniel throw down one of the sickest park runs Jackson Hole's park saw last year: misty-7 to cork-9 to blind-270 off the rail. This year was probably the biggest year for the contest, and I was up against kids who had landed doubles off of pow jumps, flat-spins off of 30-foot cliffs, and mind-blowing rail tricks. It just showed that the hard work and the money my parents have put in over the years has payed off, and gives me an option to get my name recognized and to show the TGR crew what I'm made of next winter!
Do you edit your own videos? Who do you edit with?
My brother Owen does it for me. I've done a few by myself but by brother has experience editing videos. I generally give him my footage and he shows it to me at a few points along the editing process to get my input, but I rarely have any negative feedback. The end-product never ceases to blow my mind and make me look like a better skier that i probably am.
Can you describe your best day, or series of days, during this last season?
Yep. There was a saturday after a fresh dump and Crags was opening for the first time in a few weeks. I had never been up there, but my coach Matt Lancaster brought me with a few other homies, and we basically built four or five jibs off of cliffs and natural features. I did a few 360s off of cliffs and a switch rodeo-7 that I didn't quite stomp, but it felt great. In the days that followed, I had a sick day at Grand Targhee, filming with my old bud Sam Dery. We also had another sick jump session on a step-down that we built, which was awesome, until I over rotated a misty-7 and ended up with four stitches in my face.
What are your plans for winter?
Try to improve my riding and get some clean shots with the TGR filmers. I'd like to take my skiing to more powder jumps, and work on cork-720s and some more technical tricks that we see in the park. I will probably compete in a few USSA slopestlye competitions in Park City, Utah, and Sun Valley, Idaho. I'd like to compete in a few more big-mountain events than I did last year. There are some secret spots up on Teton Pass that I'd like to get after, but not before a few avalanche courses. I guess I'd like to get better, go bigger, send harder, and get more footage than I have in the past.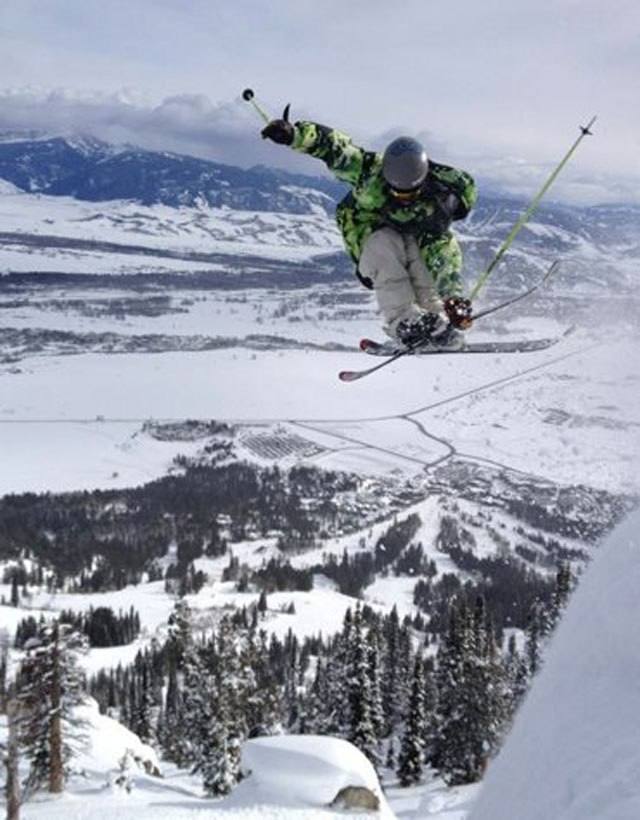 Have you found a way to train for winter during these summer months?
Summer ski camps are the best, but also the most expensive option. I've been lucky enough to go to them for the past four summers, and with airbags and foam pits, its the best way to improve. Other than that, bouncing on the trampoline and getting a good sense of air-awareness is very beneficial. For park skiers, tramp as much as you can, and for big-mountain riders, try to fill your days with fun activities that will help with your balance and strength.
How do you plan on using your video selection with TGR to help further your ski career?
I think that this will be beneficial on a resume. It also gives me confidence [knowing] that professional filmers and skiers picked me out of a crowd of riders. To know that my skiing impressed some of the riders I look up to makes me want to send it harder, to hopefully continue to impress all of them. This is like an extra boost that I think will send me up higher and hopefully to the top, or at least part of the way. Also, having my video play at the premieres of the TGR movie will hopefully let people across America see who I am and expose me to a larger audience.
Any shoutouts to your homies, family or sponsors?
For sure. To my brother and family, first off. They've been the biggest help with getting me gear, getting me to the mountain, feeding me, and all that necessary stuff. Kuborra is an up-and-coming company with sick swag for the lowest prices around. Habitat ski shop is located in Driggs, Idaho, and have a plethora of products. And then to all of my homies, Lyons, Matt, Jake, Sam, Cole, AT, and Kathleen.
Sam's winning Grom Contest entry:

Here's some bonus footage of Sam, shot a while back at Windell's:
Sam's portrait photo via kuborra.com