The Teton Gravity Research crew blasts through the mud in their Ford Explorer on the way to go ski-camping for 12 days in Alaska's Chugach Mountains.
In April, I spent 12 days camped between Cordova and Valdez, Alaska, on the Woodsworth Glacier at the base of the famed Pontoon peak, in the Chugach, filming Ralph Backstrom, Todd Ligare, and Griffin Post for Teton Gravity Research's newest film,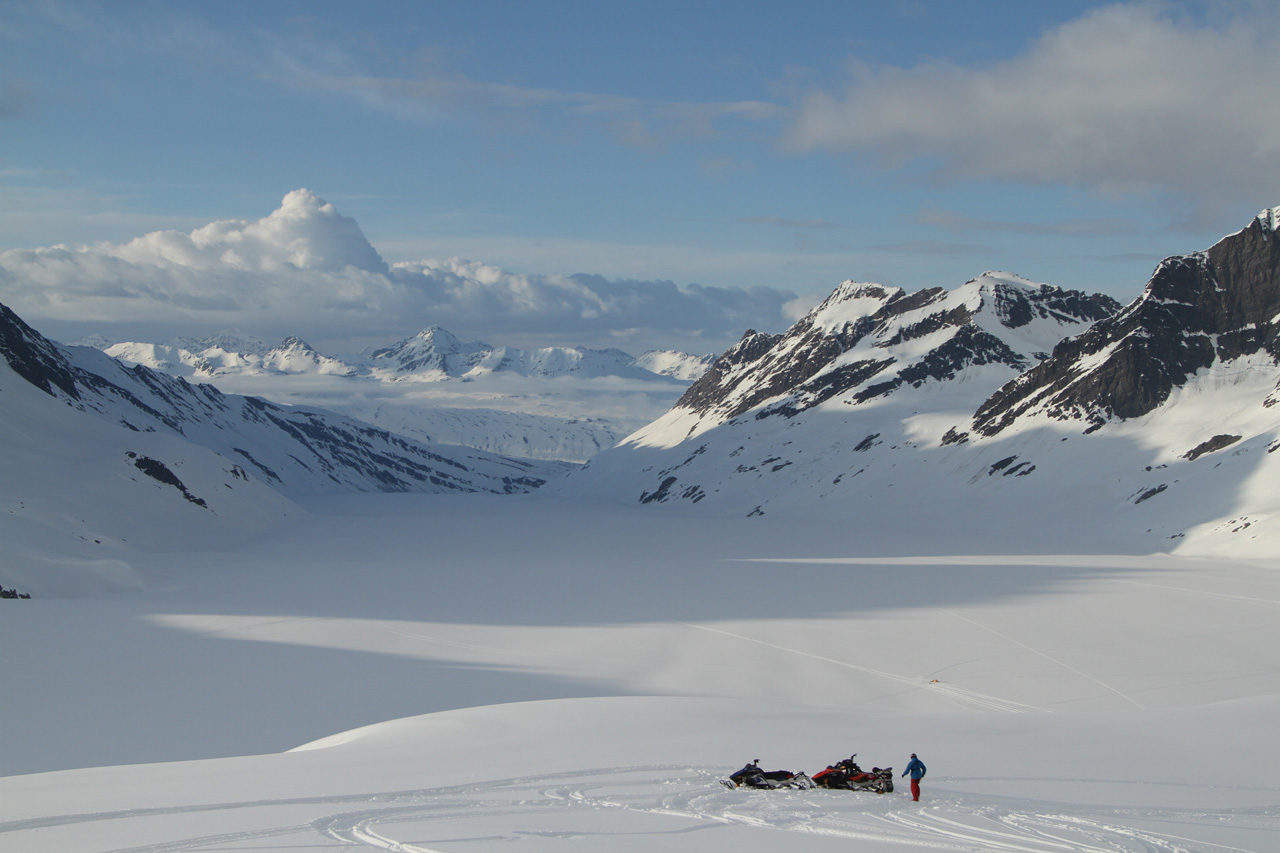 Todd Ligare, Griffin Post, Ralph Backstrom took sleds from Valdez almost all the way to Cordova, Alaska — a 25-mile trip through the Chugach.
We used snowmobiles to cover the 25 miles from Thompson Pass, and though we started in Valdez, our camp was actually closer to the town of Cordova. While camped, we used some of our limited SAT phone time to get snow and weather reports from the guys at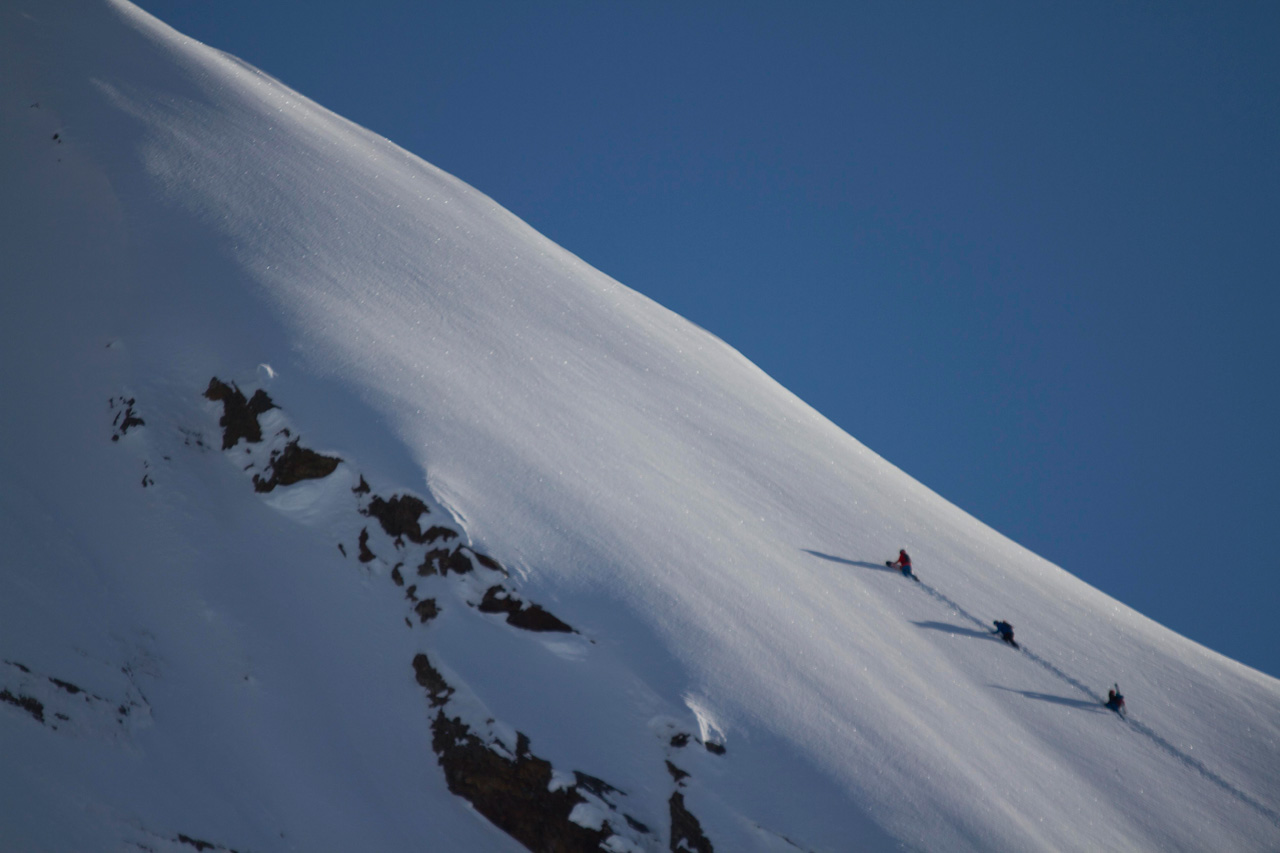 Todd Ligare, Griffin Post and Raph Backstrom hike for their turns.
Though everyone knows Alaska for its heli-skiing, it's a little-known-fact that many of the same zones that are accessed by high-dollar heli clients can also be accessed by snowmobiles. To our knowledge, we were the first group to use sleds to get that deep into the range. There's some sweat equity involved, but unlike heli skiing, you won't be panhandling on the streets of Anchorage to buy a plane ticket back to the Lower 48. Unless you wreck your snowmobile, which is easier to do than you might think.
The sun sets on the TGR campsite.
Of our 12 days out there, probably 10 of them were sunny, but we did have a couple down days. Anyone who's spent any time filming up there knows about the Alaska Slow Roast; sitting around in a lodge or hotel waiting for something that is completely and utterly beyond your control — the weather. Roast time can be anywhere from a couple hours, to a day or even weeks, but there are always distractions: the Internet, movies, trips to town. One might even occasionally indulge in an adult beverage.
But the glacier takes the Roast to a whole new level. When the weather is bad, there is literally, NOTHING TO DO. You can sit in the tent and stair at the walls, you can walk outside and stare at the mountains. You can contemplate your wasted college degree, lack of a 401k, or any kind of long term plan. If your iPhone has any battery power left, you can play Tiny Wings. The options are pretty limited.
Ralph Backstrom is a damn good snowboarder, but his true talent lies in fireworks.
Anyone who knows Griffin Post, knows that he's a motivated guy. To my knowledge, he's the only professional skier with an M.B.A. In fact, while we were roasting in the tent, he was outside making real estate transactions on the SAT phone. No joke.
On the second day of our Glacier Roast, Josh Swierk, owner of the
Ralph Backstrom blows off some steam.
And so for most people, while the AK Slow Roast is an opportunity to sleep, waste time and complain a lot, for Griffin, it was the opportunity to fulfill lifelong dreams and you don't get to do that every day.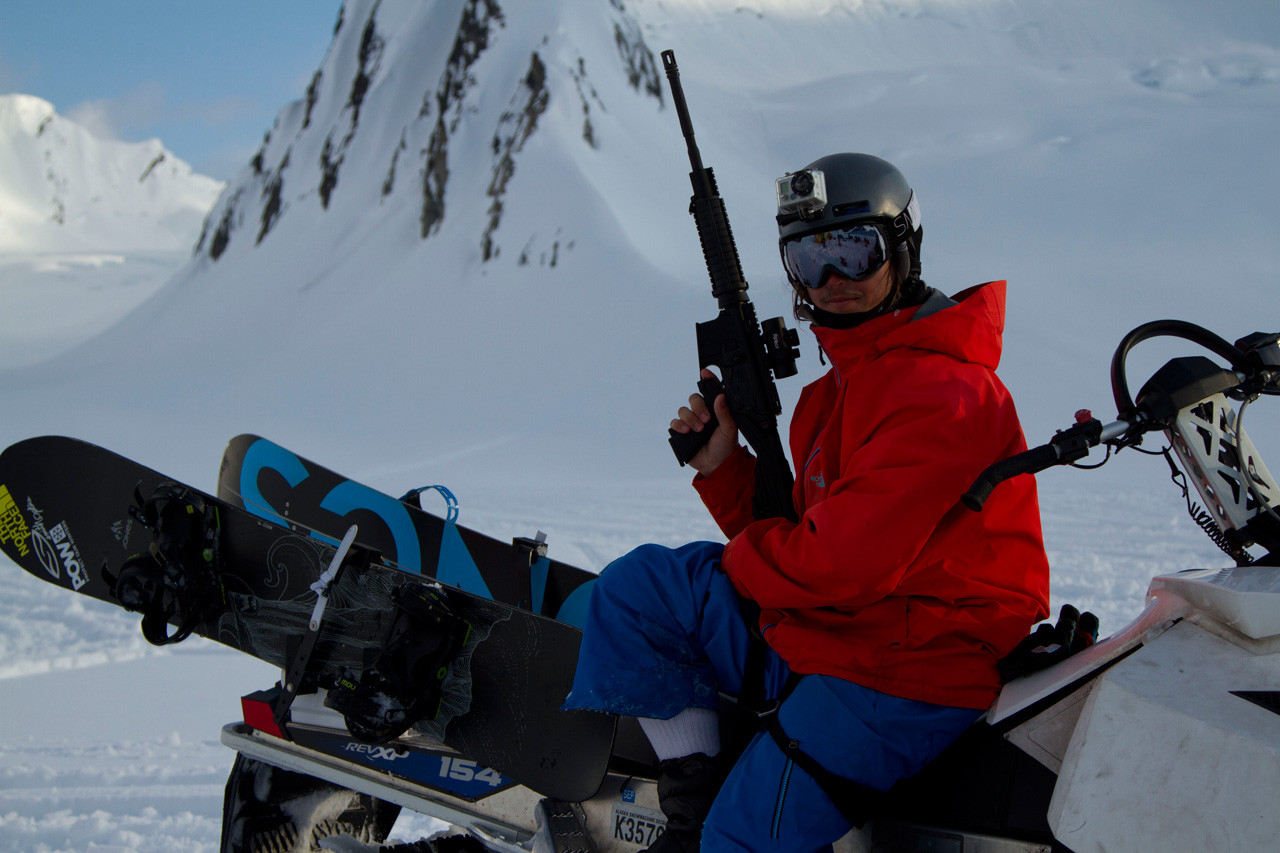 Alright, let's go snowboarding.