"I don't fuck around." Dr. Powder says. "This is my 30th week up here. I only get two weeks each year to really ski, and I'm not going to blow it. I come here. I am not fucking around."

It's hard to look directly into Dr. Powder's intense, near-purple eyes as we chug uphill in one of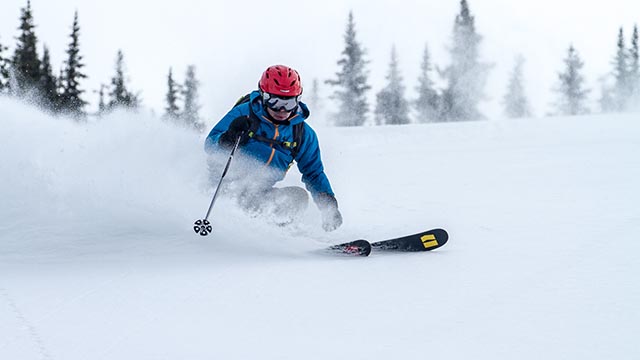 Fanaticism runs deep in the clientele at Selkirk Wilderness Skiing, the first cat skiing operation in the world located in Meadow Creek, British Columbia, just two hours north of Nelson. It's not a mystery why. The cats access more skiable terrain than


The cat stops and we file out into knee-deep snow. I just grin while looking the snow-caked, spine-filled mountains with pillow clusters and steep glades. There's every type of skiing feature imaginable here. I search for my skis. Ian, our cat driver, has already laid them out on the snow for me, as he has with everyone else's skis. How nice. I click in.

Remple, who also owns a business called


Remple explains the layout of the run, and where people of different abilities need to go. Throughout the trip, Remple, Jeff Gostlin, and Carla Aldinger consistently guide us to the gnar. Every run has features to jump off of, leaving us repeating phrases like: "So sick!"

"You've got to understand this is a diverse group," says Remple. "On any given run though, there are a lot of options and we can get into almost anything. There's something for everyone."




That might be the best thing about SWS—you can go there with your old man and have a blast. In fact, two guys in our cat were a father-son duo from San Francisco. While dad would ski the open powder field, his son, who we nicknamed "Big Air Blair," would shred pillow lines. Both were fired up at the bottom of every run, ready for more. That's quality family time.

It goes on all day. We ride up, blast down, each time linking back up with the cat. Rarely do you see the other cat out there. Each run from start to finish takes about 40 minutes or so, including time spent in the cat. Depending on the group, it's possible to ski anywhere from eight to twelve runs in a day. Depending on the group, it's possible to get six to twelve runs per day. Most runs are about 2,000 to 3,000 vertical feet.

Helicopter flights jack you up for the next run, while traveling in a snow cat is like a relaxing bus ride through a powder forest. If heli skiing is a stimulant, then cat skiing is an opiate.

SWS serves lunch in the snow cat, and it's one of the best things about the experience. It even comes with tea and cookies. This daily ritual happens every day at SWS. It's amazing. Skiing needs more tea and cookies.




The lodge, located at an elevation of 4,000 feet, has a cool, community-style vibe where guests hangout together and eat together. There's a pool table, ping-pong table, hot tub, sauna, and a serve-yourself bar stocked full of chronic Canadian microbrews that don't show up in America. Oh yeah, there's WiFi, but you're here to unplug. Just ski. Don't forget to eat though. The food is healthy, hearty, and delicious. Dinners are served family style, adding to the overall camaraderie one feels while at SWS.

The snow in interior BC, while feather-light, has a bit more moisture content than in the Rocky Mountains. This lets mini-AK-style spines, flutes, and pillow features form almost everywhere, allowing for playful bonks off terrain features without fear of dry-docking. I go all day without hitting a rock or crossing a track.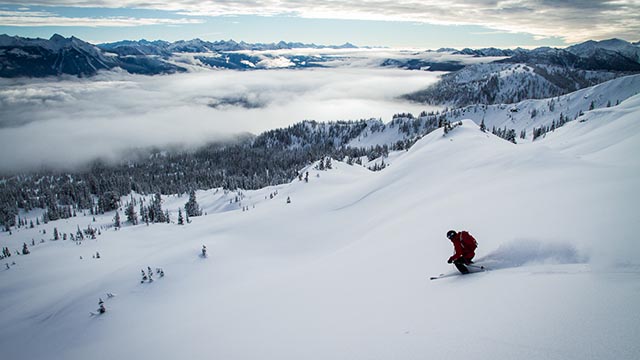 Back at the lodge we melt into the cushy chairs, kick our feet up by the fire, pop beers, thumb through Kootenay Mountain Culture Magazine, play ping-pong, and soak in the tub. This is the place. Tomorrow, we'll get on a snow cat at 8:15 a.m., and ski the best powder of our lives all over again. It's no wonder Dr. Powder comes twice a year—he's in on the Selkirk's secret.

Book Now

Selkirk Wilderness Skiing TGR Special

March 24 to March 30. Both 3 and 5 day package are available at 20% off right now.

3 day – normal price/discounted price = $2580/$2150.
5 day – normal price/discounted price = $4300/$3440.

Photos by Steve Shannon