72 hours into winter, Allison Lightcap slashes a deep drift on Donner Summit.

Story and Photos by Seth Lightcap

More than a few Lake Tahoe folk got the lights turned out on their summer lifestyle last week. After a mild fall with very little rain, Old Man Winter flipped the switch with authority. A potent storm blew into the Sierra on October 21 and dumped nearly four feet of snow on the crest over the next three days. There was no window of tacky singletrack for the mountain bikes and motos this year. Tahoe went from dusty, powdery trails to straight-up pow turns in 24 hours!

It's not the first time the Sierra ski season has opened with an overnight pummeling, but the last week of October 2012 will go down as something special. The combination of immediate coverage and cold pow made for unbelievably good skiing conditions within a day of the first flakes falling. But don't take my word for it. I know seeing is believing. Here's a gallery of shots from last week celebrating the epic start to winter in the Sierra:


The storm track favored North Tahoe. Donner Summit and the neighboring peaks of Sugar Bowl ski resort got especially creamed.


Earning your turns is the only option if you want to shred the Sierra crest in October. Squaw Valley opened one base level chairlift for four hours on Thursday and Boreal did the same Friday to Sunday, but no upper mountain lifts have cracked in California yet. Allison Lightcap started her season on her splitboard.


The storm came in gusty on Sunday but the winds died Monday night. Tuesday and Wednesday it snowed steadily. Terrain at 8,000 feet was left with a couple feet of cream atop a couple feet of dense windpack - a perfect insta-base.


Moss Halladay lights up a turn testing the depths of a loaded gully dropping off the crest.


Allison Lightcap threads a line into one of the 'Sisters' chutes at Sugar Bowl.
You can bet Sugar Bowl ambassador Daron Rahlves has been out charging laps around his home turf.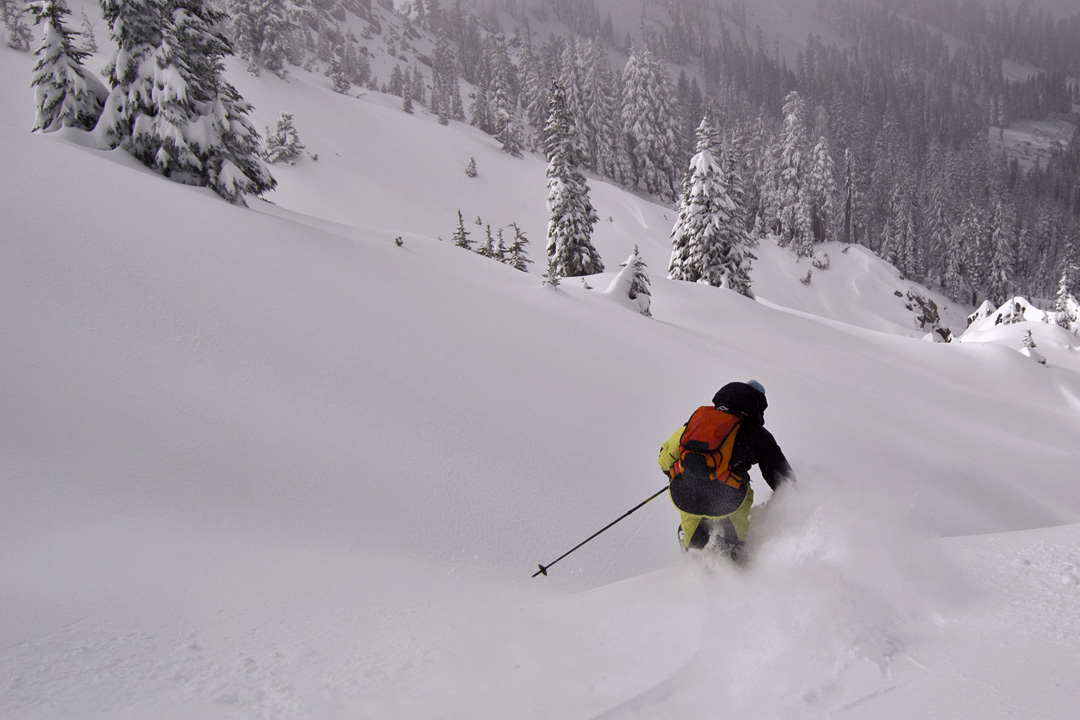 Even speed racer Rahlves has kept his turns relatively mellow. Despite the thick blanket of fresh snow, lurking rocks still abound.


Ryland Bell left his home in Alaska just in time. He drove into Tahoe and wallowed into waist deep snow the next day.


Field of fall foliage turned field of dreams for Ryland Bell.


Matt Clark barrels into the white room while the storm was still pounding.


All of the Tahoe Basin got some snow but only select areas got enough to safely ski. Brennan Lagasse swam through a shark tank skiing this pitch.


These first tours were the perfect shakedown to remind you what you forgot about backcountry skiing over the summer. Brennan Lagasse won't leave home without his skin wax next mission.
From a mild fall to dead winter overnight - Chris Galvin lives the Tahoe dream tearing into an October pow turn.