Siri, will it be a blower pow day?
If you haven't bought an iPhone already, you're either an idiot or for some reason, don't want to give all your personal information up to Steve Jobs (R.I.P.), where he is watching your every move from a heaven of turtlenecks and Gap jeans. But while you were busy riding and getting a few precious hours of unplugged reality on the hill, plenty of nerds were hard at work making smartphone apps that will now tempt you back to the screen. These few apps may actually be worth spending a few extra minutes on the 21st-century boob tube to avoid some common shred-day mistakes.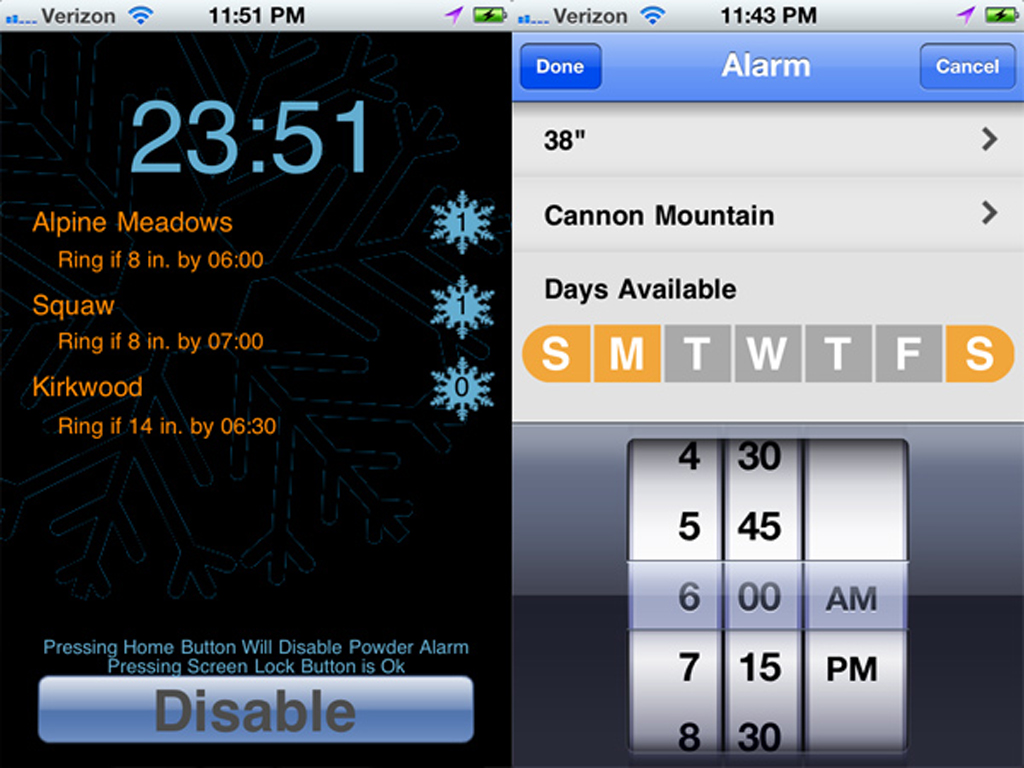 Screen shots of the Powder Alarm, left, and Snow Alert iPhone apps.

Don't Blow It On A Pow Day
After a long week pounding nails or whatever it is you do to pay for riding, the last thing you want to do is get up at or before sunrise. But using Powder Alarm and Snow Alert, you can set alarms for custom overnight snowfalls at your favorite resort. You would get up before dawn if it snowed two feet, right? Now you can set an alarm for 24" at 6:00 a.m., and if it snows as promised, you're up. If not, your iPhone doesn't make a peep. Using Powder Alarm is straightforward and uses hourly snowfall data, getting you up when it has been snowing an inch an hour since the lifts closed the day before and not just for a deceivingly large 24-hour total. Snow Alert has more comprehensive resort information and features. For ski bums working odd schedules, Snow Alert even lets you pick which days of the week you want to be woken up on. Like a spoiled pro, wake up to crush the epic days, and sleep in on the rest.
Snocru geolocation and session data screenshots. From snocru.com
Don't Wait For The Rendezvous
You're stuck waiting at the lift for your buddies to show up, they're claiming they're, "Five minutes away, bro, I swear!" Your anxiety is spiking as droves of people pass you by on a powder day. Enter SnoCru, where, after adding all the homies to your "Cru" (alliteration unnecessary), the app will geolocate them on a Google Map of the resort in real time. You'll quickly realize Bro No. 1 is still traversing to the top of the ridge, while Sis No. 2 is still riding the lift, and you can ditch your friends knowing full well you were in the right when they bitch at you in the bar later. You can also live chat within your group, get your run speed and elevation and all that jazz, and find the nearest ATM or gas station.

Download SNOCRU in iTunes
Don't Wander The Parking Lot
You crushed it today. Hauled down some epic groomers, got some hi-fives from the locals, and ended up with female company every time you got in the singles line. But now you're exhausted, delirious, it's dark, and your early-season legs are fading fast as you wonder the parking lot looking for one black Tacoma among many. Now with Realski and the powers of "augmented reality," you can take a geotagged photo of your car. When you return at four, look through your Realski viewfinder (through the phone's camera) and you'll see the orange marker reading "car" pop up while you pan the parking lot. While you're on the hill, you can also view virtual trail markers and geotag the spot where you dropped your glove off the chair or saw that bad-boy cliff that will get the whole liftline howling when you send it to the flats. While it has the advantage of only needing a GPS signal to work, you have to pay for individual resort maps, so most skiers and riders may decide to use it strictly for parking lot search purposes.

Download REALSKI on iTunes