Forum Watch is a new column where we here at the front page of TGR's website make an effort to capture some of the grassroots awesomeness, completely unfiltered conversations being had, and connections being made in our very own TGR forums. This week we cover the recovery of a maggot's (TGR member = maggot) burnt-down home, gripped moments, Tahoe refugees, and epic trip report.
Maggot Down: Lightning just struck our man twice. WTF!!!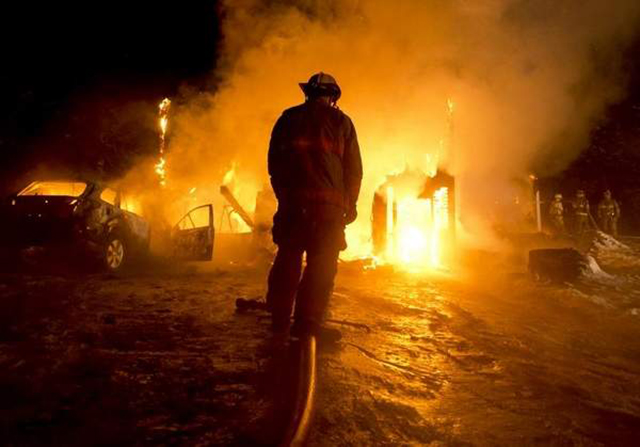 Top of the news is a tragic bit: forum member Dalton Harben aka Thin Cover's home in Cambridge, Vermont burned to the ground on Tuesday night, possibly due to a faulty ATV battery charger. The fire broke out late in the night, requiring Dalton to rush his wife, five-year-old son and six-month-old daughter into the cold night to safety before the entire house became consumed. Apparently Dalton's wife was sent to the hospital and the entire demo fleet for Worth Skis, of which Dalton was a co-founder, was destroyed in the fire, along with his car.
But the selfless mags responded quickly after Dalton's business partner and friend, sending cash payments to Dalton's family (you can PayPal money to redline3108@yahoo.com if you're interested in helping) and organizing shipments of clothing and equipment and offerings of errands of all kinds.
Dalton was overwhelemed with the response:
"Hey Guys,

As usual the response from the TGR family has been tremendously overwhelming. You guys are all amazing. We bounced around last 2 days, but should have a solid place to stay for a while, starting today, until we get things sorted out. Here is the address I will be at:

168 Woodlands Lane, Hyde Park VT 05655. If sending USPS then PO box 42 Cambridge, VT 05444, ATTN: Dalton Harben.

Rough times for sure, but you guys are providing much needed positive energy and strength. I will try to update when I get connected again.

Thanks again all, you guys are way too awesome."
A big thanks is owed to the maggots (our forum users) who have or are currently helping out Dalton and his family. Sounds like it'd be a good time to pre-order a pair of Worths as well...
Holy Shit it Snowed in Mammoth 13/14 Haps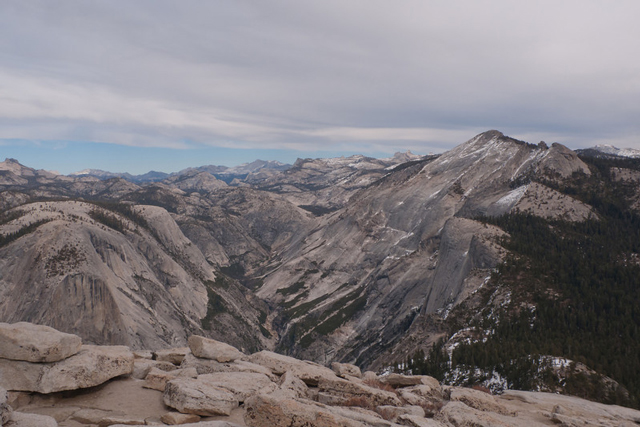 The Tahoe and Mammoth regional threads in the forums have been awfully quiet this winter; something to do with the intensely miserable drought they've been suffering this winter that has left the snowpack at somewhere between ten and twenty percent of normal. There was even another thread starting under the title of Incoming Refugees from Tahoe Drought. Thanks to the foot of snow that just laid an as-yet-unseen blanket of white across the Sierras, the positivity is starting to show, but before that, member Unfrozen Caveman Lawyer posted this pick of a bare Yosemite National Park:
"Wow - I can't get over how little snow is in the High Sierra right now. Shot from this weekend looking out towards Conness, Ragged Peak, etc.. past Tuolumne. Nothing. On the plus side, the climbing right now is pretty incredible for January. Enginerd and I had the top of Half Dome to ourselves in the middle of the day on a Sunday. Pretty cool."
tahoe-to-utalorado - a road trip tr

Powdork was one of those Tahoe refugees making the pilgrimmage to the Intermountain West to find that soft, loose snow we call powder. On the voyage through Colorado, Vail Pass provided some much-needed sustenance, which he documented for the trip report.
Member tahoetrash tries not to salivate at the taste of fresh pow with a foreign-ly light moisture content off Vail Pass.
Of course, multi-season adventures in a single trip are all the rage these days, so the crew made sure to stop by the Fisher Towers area of eastern Utah for some rock climbing. Here hutchski proves she hasn't let her skiing screw up her hip flexors.
The skier vs. snowboarder argument took off again when a Salt Lake City group sued Alta and the Forest Service in order to force them to get over being one of the final three ski-only holdouts and allow snowboarding. Responses varied from calling out the frivolity of a lawsuit allowing "equal access" for a fringe winter sport to tired sighs over this age-old battle to wondering why a snowboarder would want to deal with Alta's countless flat and/or uphill traverses. Overall, it seemed not many care either way.
As BroMontana put it:
"Alta excludes 40% of the wider skiing population in order to provide an experience that's 10% better for the remaining 60% of the population. For skiers, it's great. For the overall population, it constitutes an irrational reduction in fun factor on public land. Labowski would not abide. It's basically jihad."
Forum members recap some of the scariest moments of their lives, from jumping off the wrong cliff to being shot at to running from the cops to being caught in an avalanceh to being in a lighting storm while climbing the Grand Teton.
33 Days Across Wrangell St. Elias NP, AK: The Southern Spiral (NSR)
Photographer Jim Harris aka The Gharwhale has been finding his way into crazy adventures for years now, and his trip report from 2009, when he traversed 430 miles on foot and float around Alaska's Wrangell St. Elias National Park with three other friends, continues to inspire in 2014.
Vermont Backcountry Skiing Development...
Members set out debating the utility and wisdom of a proposal being pursued by folks in the town of Rochester, Vermont, that would establish the area as a backcountry skiing destination by encouraging guiding services and thinning of state and national forestland trees for better glade skiing. The organization is naturally called RASTA (Rochester Area Sports Trails Alliance), and members debated their proposal either by recognizing the need and desire for dedicated backcountry skiing areas and others who thought the idea of corraling the population into a specific backcountry area would just destroy whatever pow is there currently.
Can We Start Some 2014-2015 Gear Rumors Yet?
Gear whores of the world unite. 23 pages worth of photos, rumors, and details of next year's ski gear, covering everything from the new Atomic Bent Chetler to the Moment Underworld to the new Tecnica Cochise boot. Sure to boil over once all the photos from SIA are in the door...