Forum Watch is a dedicated column where delve into the impossibly vast array of topics being discussed in TGR's own forums. The "maggots" (TGR's own name for their forum users) are talking about everything from used gear deals to ski conditions to the Keystone XL oil pipeline to Bitcoin and powder day road rage. Want to get involved in the conversation? Sign up for the forums here.
Haines Conditions 2014: How bad is it?
After a massive avalanche knocked out the highwayto Valdez and stranded residents there for 11 days, the TGR forums have been curious as to what's going on with the snow in AK this winter. Sierraskier, checking in from his "cubicle in California," started a thread after reading about a low snow year in powder skiing's favorite state and a rain event that glazed the peaks in ice.
Quinner from Points North Heli (username and heli operation) checked in with some pow-choked reality from the Chugach: "I can tell you that we have a very shallow snow pack. Probably the shallowest I have seen in my 20 years in the Chugach. Skiing is very good now with low confidence in the stability... Steep terrain is good but we are not confident to get up on anything big at the moment. Powder skiing is all time, however. Very cold low density snow is prevalent."
Sprocket Rockets: 112+ road miles on a mountain bike?
Tuckerman asks whether he'll be able to survive riding the 112-mile road leg of a triathalon this summer on a mountain bike. The answer? A resounding "It will suck!"
Inside Edition Attacks Ski Culture
If you can bear the horrendously annoying tone of the narrator in his effort to bring the most salacious story of the 21st century (people smoke weed while on the hill) to the public's attention, you might be able to watch this video from Inside Edition long enough to understand that these guys made this "exposé" in earnest. It took these narcs placing hidden cameras inside an infamous smoke shack in the woods around Breck to understand that people like to smoke weed "Puff... after PUFF... AFTER PUFF!!!" But TGR's level-headed forum users noted the irony that building a bar in the middle of a ski mountain and encouraging patrons to get croaked off Bloody Mary's before going back outside to yell at all the stoners and crash into kids didn't arouse a similar level of media interest. But hey, at least there's no hidden cameras to worry about...
The endless flow of second-hand ski & snowboard gear deals carries on in the Gear Swap thread, with a a pair of Tecnica race boots, Arc'teryx outerwear, to a nice pair of PM Gear Lhasa Pows (pictured above). PM Gear is a ski company birthed entirely from the TGR forums (PM=Private Message in the forums).
Tech Talk: The do-it-all tech bindings?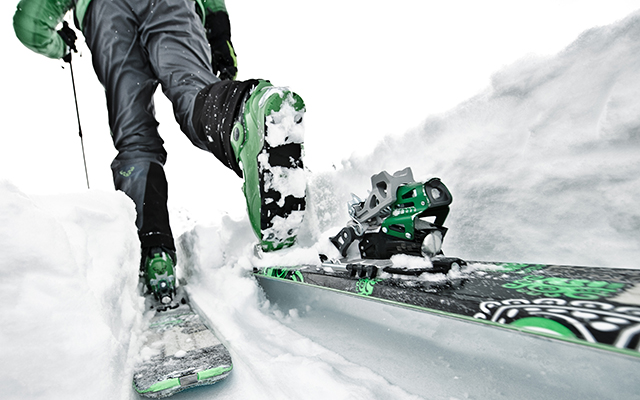 Wstdeep asks whether with the current offerings in tech bindings, skiers can finally arrive at a perfect do-it-all tech binding that will survive in-bounds and out. The answer, according to mags, is either the Dyanfit Beast, the CAST touring system, or "no."
The Rubble: Political Asshattery
Want to really get your blood pumping before the weekend? Drop into a section of the TGR forums that by design is physically separated from the rest. From the psychology of internet trolls to whether or not Americans care about the Keystone oil pipeline to the pros and cons of raising the minimum wage.
Regional Thread- East Coast Gets Pounded by Rain
After getting pounded with snow to the point that rock salt shortages were the talk around every government water bubbler and Connecticut started ticketing people for having "ice missiles" on the roof of their cars, the inevitable end of the party has come for East Coast skiers and riders. Reports are in that's it's currently "pouring f&#king rain" everywhere, but there still appears to be a silver lining for the spring. "The corn skiing's gonna be redonk," said infamous EC mag Icelanticskier. "Especially with this mini rain/thaw/deep freeze shit. The recipe gives us the best corn on the planet."
The Padded Room: Driving too slow on a powder day - do you call them out in the parking lot?
Answers varied from passive-aggresive niceness "ski pole enema" to "Nuke from orbit. Behead remains if any exist" to a less hot-headed "My move would have been to take a deep breath, remember that I'm going to die and every second is precious and then probably sit back in my captains chair and smile."
The Padded Room: Bitcoin - who's gotten into it?
Yes, even virtual currencies are a topic for discussion on an outdoors sports-centric forum. The Padded Room is the outlet for all things non-sport-related in the TGR forums, with topics ranging from the seriously raunchy to the seriously nerdy. This mildly serious dicussion about bitcoins and virtual currencies discusses their weakness (deflationary, easily stolen, poorly traded, and other according to user Hugh Conway) to its usefullness as a payment system across different currencies that avoids VAT or currency brokers. Some mags had put their money elsewhere, though: assman already went all in on pork bellies.