When the news broke in 2010 that a heli-skiing operation was coming to Lake Tahoe it left more than a few local skiers scratching their heads. 'Where are they going to ski?' some questioned. Others wondered,''How can they guarantee pow in the sunny and windy Sierra?' Speculation ran rampant. At first glance, heli-skiing just didn't seem feasible in Tahoe.

Well, turns out it is ... and then some! Pacific Crest Heli Guides, the first-ever heli-ski operation in Lake Tahoe, had a fabulous first season in 2011 filled with deep pow and fully booked fly days. The success came as no surprise to Pacific Crest's owner, veteran Valdez heli-ski guide, former Alaska Backcountry Adventures owner and current Pacific Crest Snowcats owner Dave Rintala. Rintala had been planning the venture for years and dropped in only because he knew the pieces were finally in place to get the operation flying high.

There may be no jagged peaks on the horizon, but heli-skiing in Tahoe still offers epic untracked terrain. Photo by Court Leve.
Dec. 15 marked the opening day of Pacific Crest's second season. TGR caught up with Rintala to get the lowdown on last season's success and hear what's in store for PCHG when the snow (and the heli) starts to fly.

TGR: Why did you believe heli skiing was a viable business in Tahoe?

Rintala: Tahoe was one of the only ski destinations in North America that didn't have a heli skiing operation. With the deep snowpack, killer terrain and market close by, I knew it was a natural fit.

TGR: Your fly-zone came as a surprise to many locals, in a good way. Where is it and why is it ideal?

Rintala: Our fly zone is 100,000 acres of all private land located on the Sierra Crest between Donner Summit and the Sierra Buttes. It's pretty remote terrain that sees little to no backcountry skier traffic. Arranging the deals with the 30 or so landowners took me ten years and i'm constantly in talks with new land owners to expand the fly zone.

TGR: What is the terrain like and how much can you expect to ski in a day?

Rintala: Our terrain is really varied and would remind you of the best terrain at Squaw, Alpine or Kirkwood. We've got everything you'd expect to see on a heli ski day — long pow runs, couloirs, steep faces, trees. We can cater the terrain to any skill level. An average day is eight or nine runs. Each run averages about 1500 feet.

TGR: One of the cool things you advertised last year was the opportunity to ski likely first descents and name new runs. Any of that left for this season?

Rintala: Definitely. We only explored about half of the terrain last season. Lots of new runs to be named this winter.

Daron Rahlves and Pacific Crest Heli Guides owner Dave Rintala talk terrain options. … Lots of 'em. Photo by Court Leve.

TGR: How many fly days did you get in last season?

Rintala: Last year was awesome. We flew nearly thirty days — everyday we had blue skies and pow.

TGR: Who were your average clients?

Rintala: A lot of our clients are international, probably 40 percent European. Another 30 percent are from California and the remainder are from the rest of the U.S. We also took out quite a few more kids than we expected.

TGR: How old do you have to be to heli-ski with Pacific Crest?

Rintala: Twelve years old.

TGR: What makes booking a heli day with Pacific Crest different than many other operations?

Rintala: If you book a heli day with us and it's bad weather, you have the option of going out with our snowcat operation instead. This is a huge bonus. It guarantees you'll be skiing if the snow is good. During the clear period last season we were also being cool and let clients postpone scheduled fly days until later in the season. There was great corn snow out there, but that's not what most people wanted.

TGR: What upgrades did you make for this season?

Rintala: We've put a lot of effort into making things more efficient. We put in a remote fueling station and changed our morning operations by having people meet us at the remote stop instead of our base. The goal is to be on snow an hour earlier than last season. We're certified as an air taxi service now, too, which enables us to have a four-month season rather than a 50-day season, like in Alaska. This made more sense than trying to do a short season in the middle of the year.

TGR: What kind of experience does someone need to heli-ski?

Rintala: If a person likes skiing untracked pow they are going to have a great day with us even if they have no heli-skiing experience. By the time they get in the heli they will be prepared.

TGR: How much does a day of heli-skiing with Pacific Crest cost?

Rintala: $899 a day. I'm a ski bum too so we're trying to keep the prices as low as possible to make the heli-ski experience as accessible as possible. Offering single day trips helps that a lot. It's much cheaper than betting on a week of skiing up north in Canada or Alaska.

TGR: Are you worried about the dry start to the season?

Rintala: We've had seasons were it's been all man-made until Jan. 15, then it snows a foot-plus every day for a month. I've never seen a bad winter in Tahoe. We always have our periods that are epic and when it comes it will be that much sweeter.

For more info visit www.pacificcrestheliguides.com.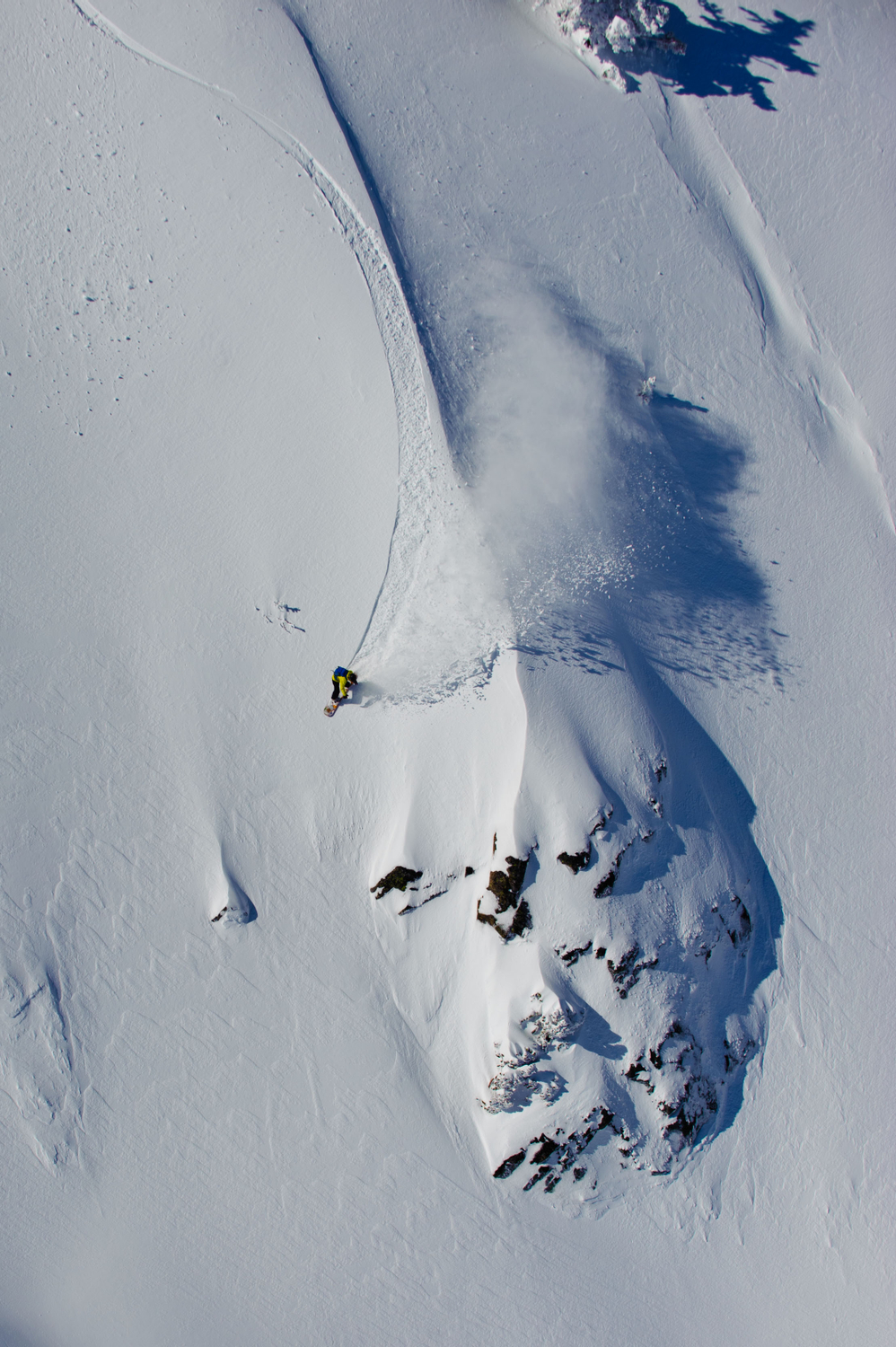 Brian Bozack rips a line on the way to another heli bump. Photo by Court Leve.