Harvey, the Trew RV. Photo by Lance Koudele.
November 9, 2011
— John Clary Davies
The dog's name is Pop Tart. The black mutt is the first to greet visitors to Trew HQ. Tripp Frey named him after Frey's staple while driving Harvey, the Trew RV. As Pop Tart runs along the driveway, Frey emerges from the standalone garage that is Trew's office, warehouse and shipping center. In front of the garage, located just down from the Hood River skate park, a dinghy idles in a lily-filled pond.
The modest workspace is an upgrade from the dingy basement Trew operated out of its first year, in 2008. That winter, Frey and his business partners, the twin brothers Chris and John Pew, lived out of the purple, teal and orange RV with a big thumbs up on its left side, representing the companiy colors and logo. They drove throughout the mountain west in a grassroots effort to push their new stylish, but technical freeride threads. Three years later, in the garage, the boys say the company has experienced significant growth each year. They rebuke a recent CNN Money report on "6 Hot dorm-room startups" that claimed the company is now worth five times its original value, but insist the company is sustainable.
Back in 2008, the group of young backcountry skiers and snowboarders, set out to create a product that suited their particular needs.
"We're going to build stuff for us, for locals whose gear is like a Wall Street guy's suit," said Frey, Trew's finance and operations strategist. "It's our uniform. It has to last, feel good and look cool."
Frey and the Pews have known each other since their childhoods in Michigan. Frey and his parents lived in the house that John and Chris' grandmother grew up in. Frey said the times he and the Pews connected always seemed to be on chairlifts. After college, the mountain lifestyle brought them together again. They all ended up in Hood River and, with little understanding of the winter sports industry, conceptualized Trew. They hadn't been to fashion or design school, but they considered themselves jacket experts, because they were longtime skiers and snowboarders. While they had a vision for their brand, their inexperience led to a product that looked and felt unique.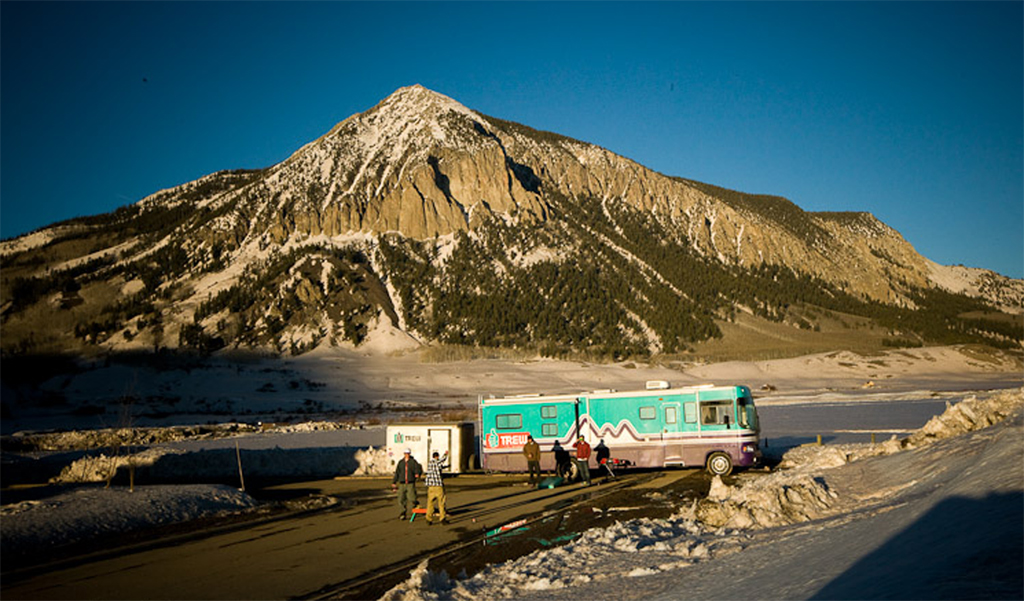 Just playing corn hole in the parking lot, no big deal. Photo by Lance Koudele.
"A lot of what makes our brand look different is because obviously we didn't really know what we were doing," said Chris Pew, the product line manager. "The traditional mountaineering approach for technical outwear is it's all about lighter is better, and for the most part that's right, but the utility and function needed from our fabric and garments is all about durability and comfort, and that's why from the first year our fabric had a really different feel."
Pew says a lot of their models wouldn't have passed the design table at most companies, because the products are too far outside the box.
"Because we didn't have experience in the field and we didn't have the parameters that a designer goes through at Arcteryx or Patagonia or Bonfire, we just thought about what we would want," said Frey. "In a way, it was a blessing in disguise."
In order to connect their new product to consumers, Trew took its ad dollars and bought a 30-foot long RV. They named it Harvey. The inside is like a ski industry passport, every poster or sticker a stamp representing where the bus has been, and who's been in it. The crew drove throughout the mountain west, meeting people on the hill and in the parking lot, for runs and beers, and telling them about their new company.
"Without Harvey, we probably wouldn't be here," said Frey. "That bus makes it so easy to meet people, to tell our story and explain our product. It was the best thing we decided to do. It put us out there with everyone. It was way more effective than an ad."

Trew that. Photo by Lance Koudele.
But this was 2009. While it was easy to connect with locals over cold ones, it was a difficult time to be selling a new product, especially one with a high price-point that is targeted toward young people.
"Being out in the parking lots, shredding with people, having a beer afterwards, it was those moments that kept the spirits going," said John Pew, who handles domestic and international sales. "It was a rough time for everyone. It was a really hard time for a startup, but it was hard for big companies, too."
From the beginning, Trew wanted to work with ski shops instead of selling directly on websites, in order to create legitimacy and longevity for the brand. Blindly approaching ski shops in the middle of a recession was a lesson in humility, said John Pew, but the group still found motivation.
"It's hard to get told, 'no' so many times," said Chris Pew. "The encouraging thing was the staff. You connect with a good staff guy and he looks at it and he's like, 'holy shit, this is what I've been looking for.' We saw that enough times to be like, we got to get it to these people somehow."
Back in the garage Chris Pew shows off new samples for the 2012-2013 product line. He talks about taking their outside-the-box approach to new products. Pew is optimistic about Trew's future.
On the wall of the garage a framed copy of the October issue of Powder Magazine hangs from the wall. On the cover, Colter Hinchliffe is boosting an air in Alta's Wildcat area at dusk. He's wearing Trew pants.
"It's fun to see your clothing on the cover of Powder," said Frey. "That's what keeps me going. People are stoked. We want to keep it going."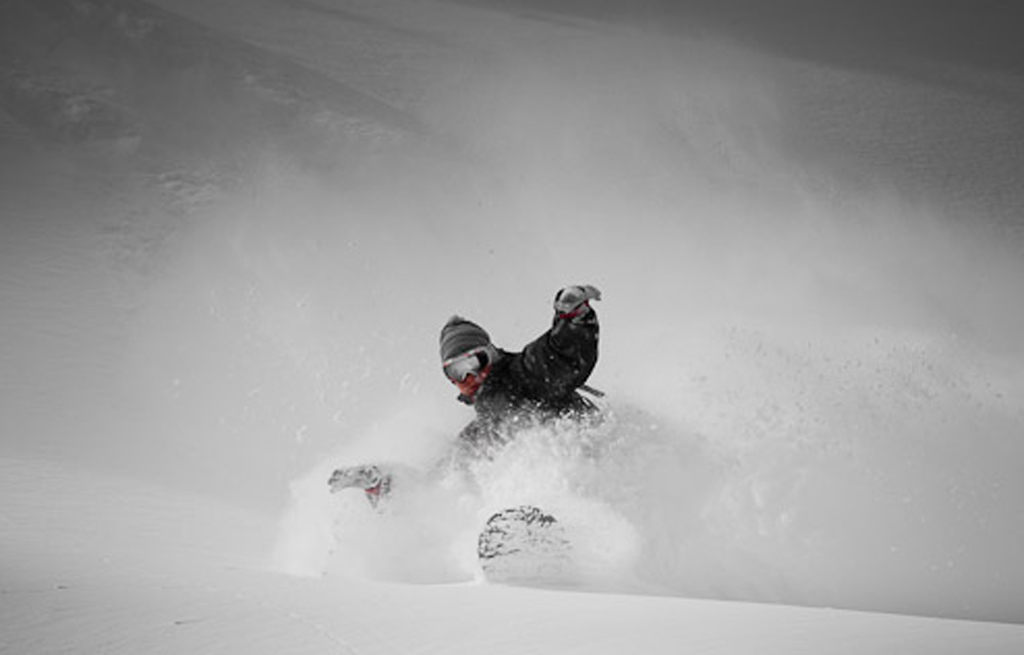 Trew powder. Photo by Lance Koudele.