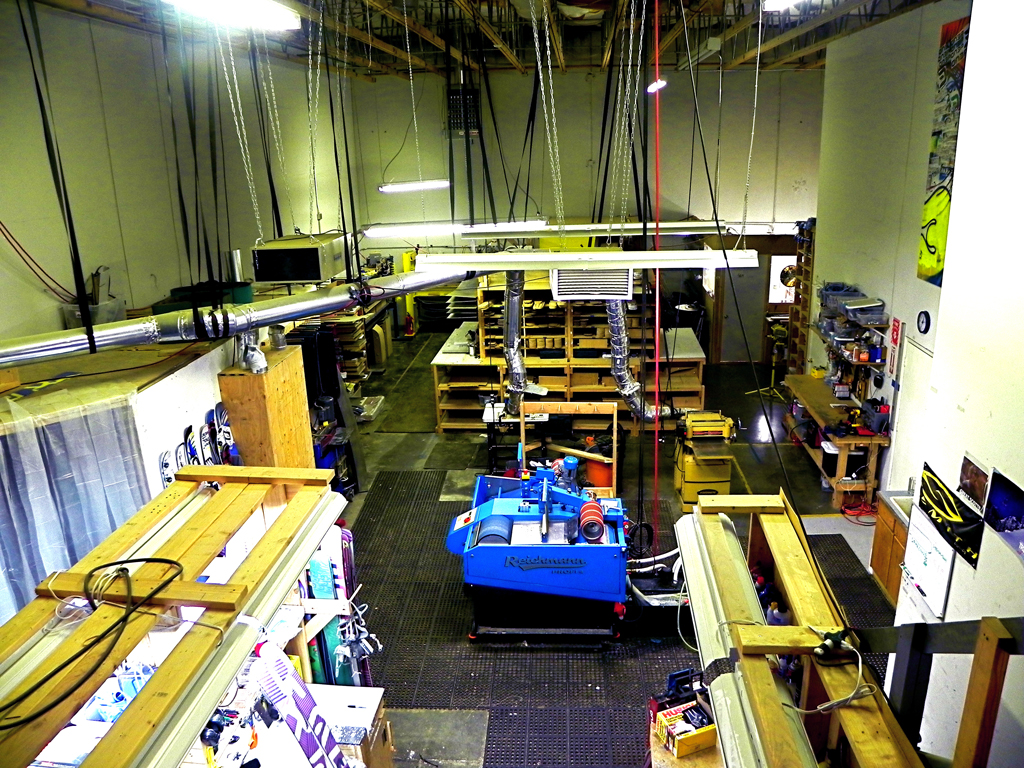 November 17, 2011
— John Clary Davies
There's a piece of base material stuck in Kip Kirol's mustache. The shavings litter his workspace, where he's routing out bases, tacking on edges. Behind him, Ramen boils in one of those college dorm essential hot pots.
It's going to be a late night at Portland's ON3P mini ski factory. For the four employees and two interns, who work for skis, 14-hour production days are common. The small ski company (pronounced Oh-Ehn-Three-Pea) is making about 1,000 skis this year, and between the entire crew, they can make an average of six skis a day. Practically every step in the process is done by hand, which results in a very labor-intensive production.
"I'm definitely more of a slave driver," ON3P founder and owner Scott Andrus said. "Everyone else has a sense of wanting some normalcy. For better or worse, I've gotten used to the crazy hours. This is my life."
In 2008, Rowen Tych was a student at the University of Washington. Once, while on Newschoolers.com, Tych saw a post by Andrus about the semi-custom powder skis he was building in his Tacoma garage for $300 a pop.
"Being a broke college student, that sounded amazing," Tych said. "I said, 'sign me up.'"
A few months later, Tych heard that Andrus needed help pressing the skis, so he drove down to Tacoma. He canceled work for four days and pumped out as many skis as he could, including his own. Upon graduating, Tych couldn't find any work in his field — biology — and decided to take the year off and apply to graduate school. That's when Andrus offered him a job.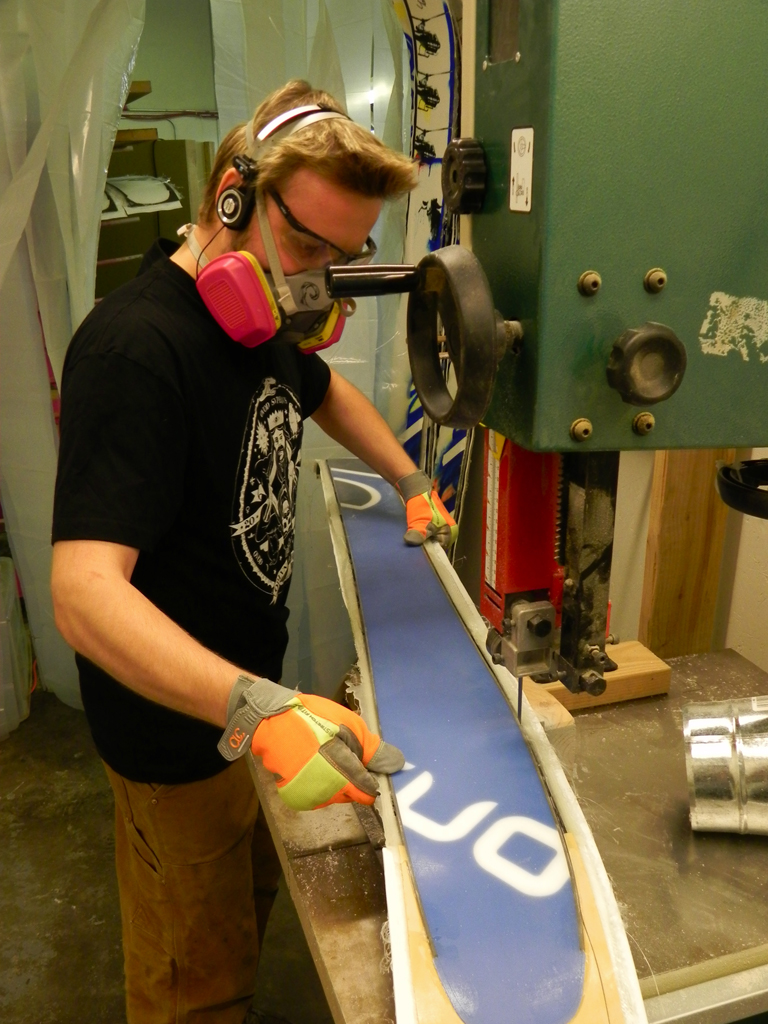 Andrus walks into the factory looking beat. With bloodshot eyes and unkempt hair, he comes across a bit curt. Five years after building his own ski press in his garage, his company has nearly doubled its production each year. On Dec. 1, the company will move into a new factory space, three times the size of its current facility. Additionally, evo.com will be carrying ON3P skis this season as the first retailer to do business with the upstart. Andrus says that if they meet their goals this year, ON3P will nearly be profitable. That's no small feat for a small company in its fourth year, but clearly, it has also taken a toll on Andrus.
"I haven't had a life for two and a half years," said Andrus. "We literally lived here for six months, we would go home every week and half to shower and do laundry."
Rowen and Andrus lamented the challenges of operating a small ski company. Manufacturers tend to put smaller orders at the end of the line. For a company that operates on pre-sales, there isn't much margin for error, says Andrus. So when edges show up seven months late, or the sidewalls come a centimeter too short, it adds to the stress of an already tight timeline.
Of course, the benefits to working for themselves are the freedom and control to use their tools however they please.
"We get to do whatever we want," Andrus said. "We don't have a huge budget so you can't go totally crazy, but we are still building whatever we want to build."
This season, that includes the limited edition Pillowfight, 135-mm underfoot boards with a rockered tip and rockered and tapered tail. The top sheets, different for each of the 15 skis built at each size, feature a different image of women pillow fighting in lingerie. Tych said he was sitting around drinking beers out of the office kegerator one night when he came up with the idea.
"I was like, 'what do you want on a super deep, endless powder day?'" Tych said.
The guys at ON3P recruited their most attractive friends for a photo shoot — all the girls asked for in return was a little booze — while an ON3P artist shot nearly 2,000 images.
"It was the best night ever," Andrus said. "The hardest thing to do was get them to hit each other. One was six weeks pregnant."
By building skis entirely themselves, Tych said they are able to come up with a prototype, drop all the files, cut their bamboo cores, build the ski and throw it in the press the next day.
"You can literally be going from idea, to it's on your feet in a week," Tych said.
Tych said by being a part of every step in the process increases the attention to detail, the quality of the ski, and his pride in each pair.
"When you're running a small batch through, you pay individual attention and walk each and every ski through the entire process yourself," Tych said. "And not only is it kind of cool to end up with a finished pair of skis after you take the wrapper off, but it's like, 'Nice, from start to finish, we did this.'"