One of the few big mountain riders who experiences consistent success in competition–on the Freeride World Tour–and on film, 686 rider Sammy Luebke checks in to talk about recovering from injury, having a family, shredding for the soul, and keeping snowboarding accessible.
How did you get injured, what happened, and how did it affect your perspective?
Last year I was doing the tour and planning on filming between contests. It was super-tight scheduling. On my first break in between contests, and literally on the first day filming in Jackson Hole, I sent an air to flat and broke my tibial plateau. I first I thought I bruised a bone, and didn't realized I fracture it. Doctors told me to stay off it for 8 to 10 weeks, because it's a major weight-bearing bone.
At the beginning I was optimistic. I was qualified at Verbier already. I thought I could take six weeks off, come back, and ride. When the doctors told me I couldn't, I went into a mini-depression of sorts. I couldn't walk really well until June. But it taught me to get back, be positive, and be stronger. I focus on the future and getting stronger–that helped me get through it. Family helps, too. It was good to have my wife and my daughter to kind of support me through that time.
Maybe I put too much pressure on myself to get the shot. I landed it, got the shot, but still lost the rest of the season. Filming is why I am doing what I am doing, probably. I want to put a lot more time into filming in the spring and try to bang it out.
What do you think about this year's changes to the FWT (Freeride World Tour) venues? Are there particular venues you look forward to riding?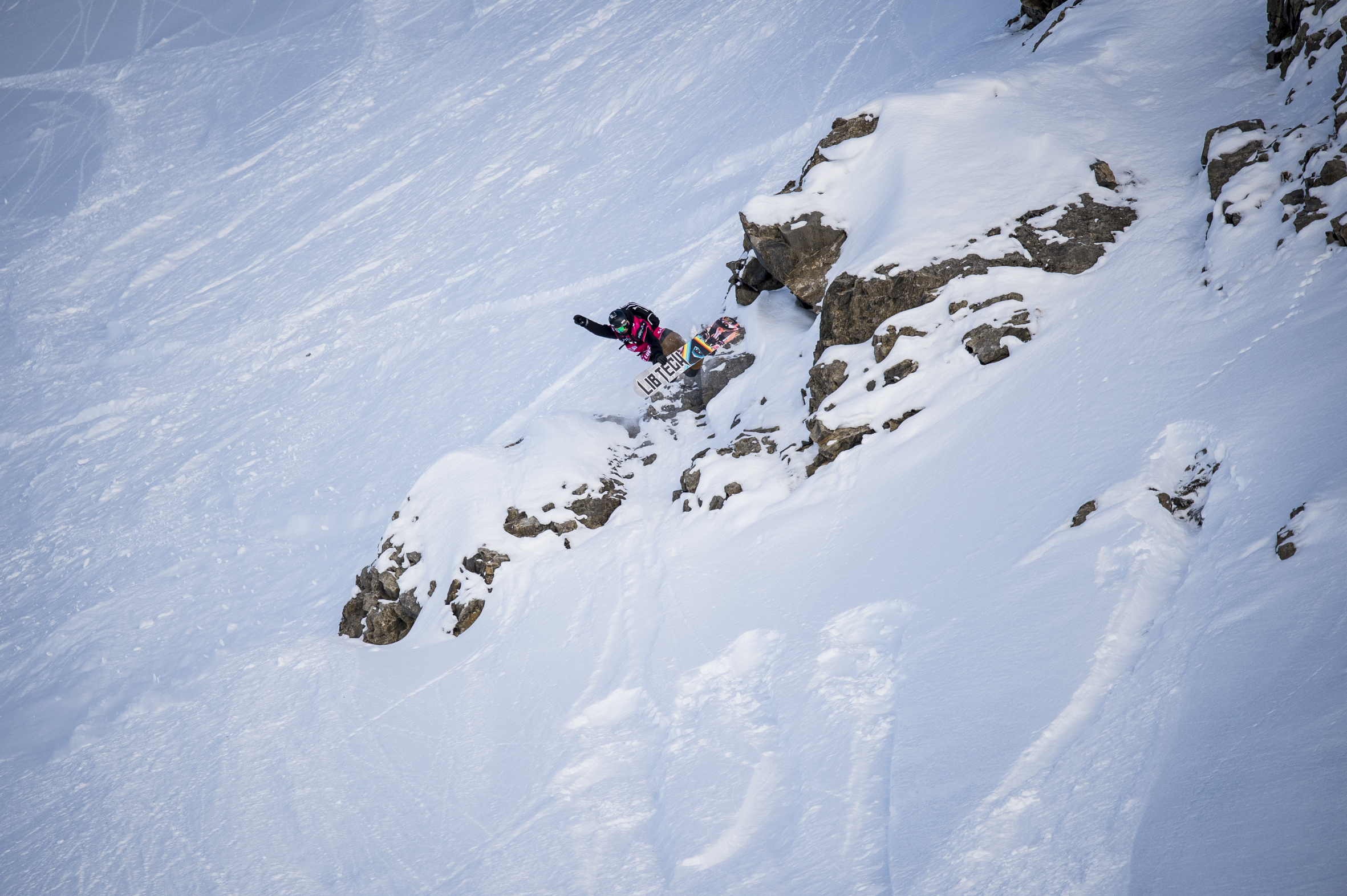 Sammy en route to winning the Courmayeur, Italy stop of the Freeride World Tour. David Carlier/FWT photo.
Most of the tour is going to be held in Europe this year. It's kind of tough because North America has plenty of good terrain. All I know is that these contests are good for the sport. It's good to have an alternative to mainstream contest riding like half pipe, or what people see in the X-games. FWT contests don't feel as serious as the Olympics. It's easy to enjoy [as an athlete].
My favorite place to go is Courmayeur, Italy because of the vibe, the town, and people there. Unfortunately, it's not going to be on the tour this year. But the FWT added Alaska and Andorra this year and I'm really stoked on it. I grew up in Alaska.
Can you describe your experiences in Alaska?
I moved to Girdwood when I was 6. It's different the way I looked at snowboarding then, and how I look at it now, living in Tahoe. It's a lot more laid back in Girdwood.
I spent quite a lot of time in Valdez the past eight springs. The first time in Valdez, I flew with H2O Guides and filmed with Standard Films. It was a high-budget, really expensive experience. While it was really good to be able to do, it's not something you can do all the time. We definitely went deep.
When you fly onto something, it's kind of unsettling sometimes. The guide digs a pit, and might tell you there's an instability three feet down in the snowpack. I've experienced a couple of big slabs in Alaska. When we hike stuff, we take everything into account beforehand: what's safe, what can we manage. It makes it a lot more comforting. You're earning it all yourself from start to finish.
The last five or six years, I've been camping on the Thompson Pass and taking sleds from my dad's house on the Kenai to the Pass. I'm still exploring a lot because sled access has really opened up there.
What are your long-term goals? What's the motivation behind what you're doing?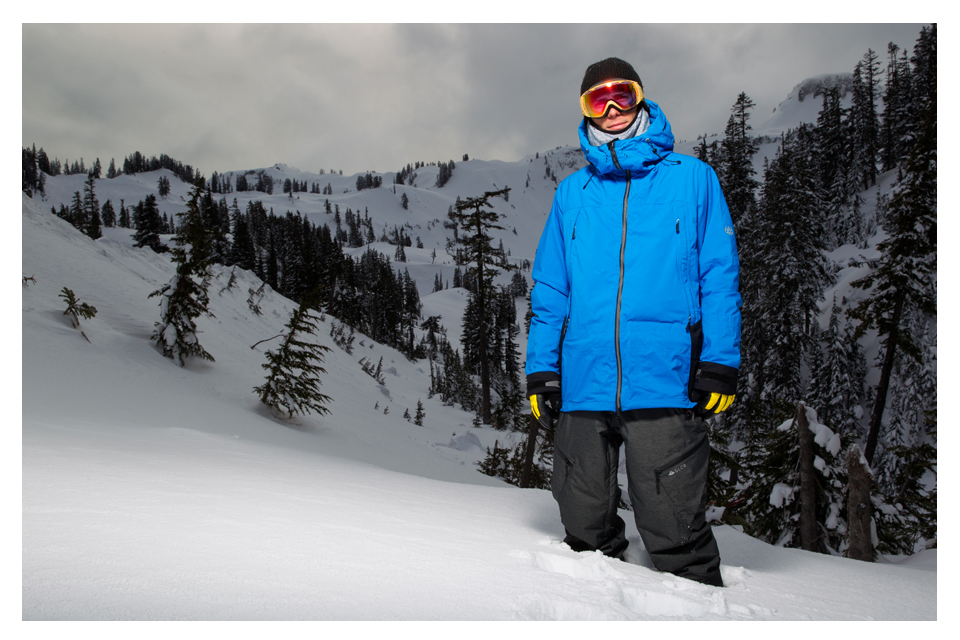 Sammy–25, married with kids, competing in the FWT and filming on the side–breaks the mold of your standard pro rider's resume. 686 photo.
I want people to know that you can afford to snowboard the backcountry, and it's not so inaccessible or faraway. Even if you ride park, you can still find a great urban spot. You don't even need snowboard clothes. If you take steps and do your homework, you can really achieve the same amount of time in the mountains as anyone who is doing it for a living.
Is big mountain contest riding at odds with the roots of freeride snowboarding because it's so expensive?
It's hard for me to say where I stand on the contests versus soul shred. They are both good for sport and the soul. You gotta have both.
Doing contests gives riders a chance to make some money, and they don't have to feel like they are going to extreme limits to make it happen. If you are determined and competitive, you can make it happen financially. I don't necessarily love doing contests, but I like this type of riding. It is part of how I can make a reasonable income. I have a family to support.
How does having a family affect your risk management and decision-making?
Sammy's standard backcountry kit, including outerwear from 686's new GLCR backcountry collection. 686 photo.
I try to make smart decisions, and maybe that's why I am still doing what I am doing. Maybe I'm more conservative, maybe not. I try not to go for 'do or die' things. I like to implement style and finesse on the mountain. I'm only 25. A lot of people don't have kids till they're in their 30's. Having a family helps me make smart decisions, but doesn't necessarily hinder my riding so much.
How can you describe your style?
Sometimes you see a big mountain rider on a line, and it looks like the guy's fighting a cat. You watch people like Gigi or Nicolas Muller who ride big lines and they are really focused on where they are making their turns, where they are placing their hands. If you see Temple Cummins rides, he has this style with hands, and it powers his turning. When I focus on line choice, I see if a feature sets up good for a spin, or if I can ride the line smoothly. The only lines I do in a contest are fun or which I would enjoy watching someone else do.
How do you balance filming and contest riding?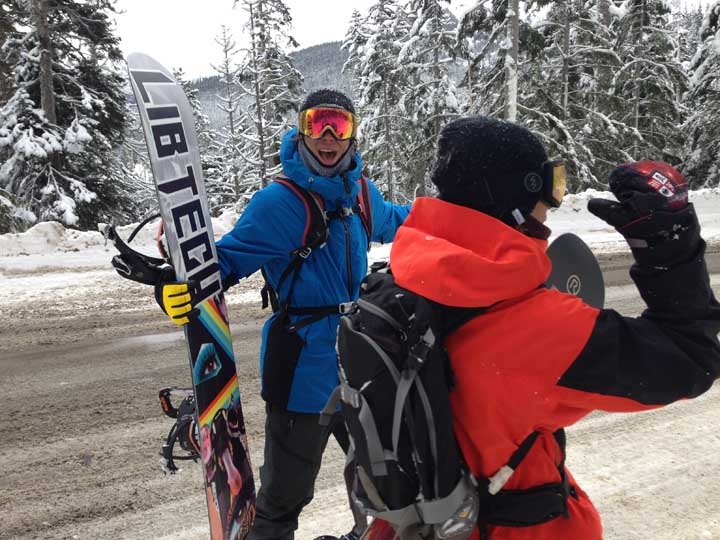 Sammy walks out of another stellar run in the Mount Baker backcountry. 686 photo.
When I started out young, doing contests was the way to get into filming. You finally do well and you get the chance to film. Then if you do well during your first chance to film, you get to be on the crew the next season. You get to that level because that's where you want to be.
I started to do contests again because I experienced a lot of self-pressure going out and filming and getting photographs. I love filming. There's so much freedom. You do what you want but it is a lot of hard work. You have to be really selfish. You have to focus only on snowboarding. You're planning on the next place, looking at the weather, getting up early, breaking trail on your sleds.
Now that I do more contests, I have extra free time. I'm trying to put both together, which stresses me out, because I don't really see the time.
Want to win a kit from 686's new GLCR backcountry collection? Follow TGR on Instagram and pay attention for giveaway details dropping any minute today...