Like all good things it began with a simple dream: to make a ski season a ski year. As much as I've always enjoyed the change of seasons a little sign framed by skis in a friend's house has always stuck with me - "Summer's a Bummer." It's really not, but to a skier summer means something unique. It means ski season is over.

Skiers love to party on the final day of ski resort operations, but I was never all that thrilled to celebrate the end of another season. In the high alpine I knew there was snow in to be slayed in May, June and July regardless of what the resorts had to do to remain profitable. In reality, depending on where skiers find themselves during those late spring and summer months, the skiing can be more than just good. Come August, September, and for most locales even October, snow is a scarce resource. But I figured, why not try and link 12 months together and ski for a whole year? While most of my friends were "over it" come May I just couldn't lie to myself. I wanted to keep skiing. When I posed the idea to link turns in every month of the 2003-2004 season to my girlfriend at the time, she was fired up. I was too.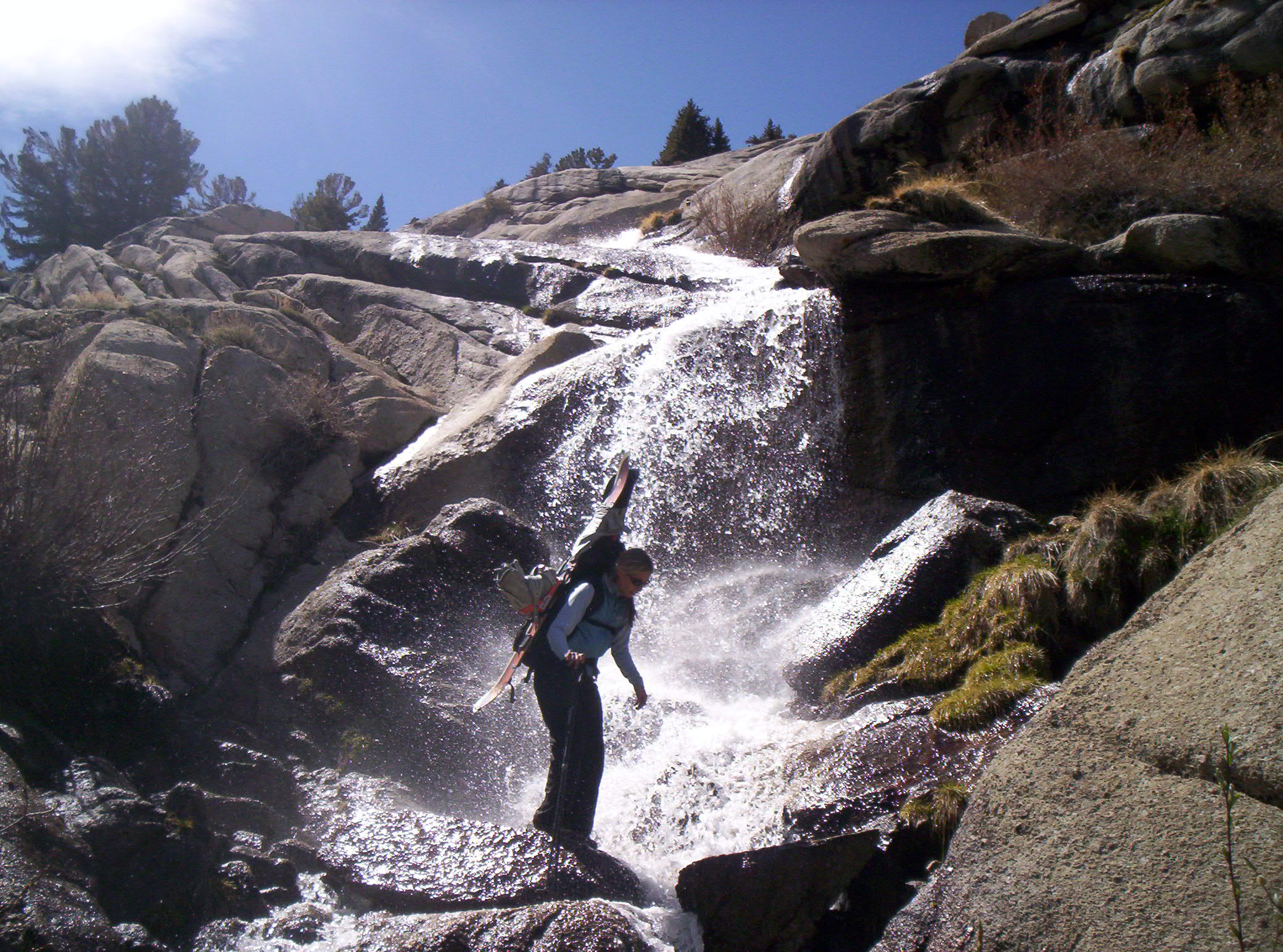 Jillian asking herself why we have to cross another waterfall on Mt. Whitney, Eastern Sierra, California. Late Spring 2004.

That initial season we made the most of early season snowfall in the Sierra Nevada during November, and went out of our way to make turns in the lean months of August and September. Maybe it was a little ridiculous to drive all the way to Mt. Hood that October because we couldn't find any snow in the Sierra, but we got it done anyway, and when we linked our first 12 months together the feeling of accomplishment was beyond what we thought it'd be. It wasn't that big of a deal at all, really, but to us we had achieved our goal to turn the ski season into a ski year. We were stoked!


Even with grass poking out, early season skiing can be pretty good if you take caution and know where to go. Kirkwood, California. November 2008.

When the lean months showed up once again in the summer of 2005 it would've been pretty easy to leave the streak at 20. It was July, after all. Regardless of how we tried to rationalize that ending the streak was okay neither one of us really wanted to stop. So we didn't. We kept going and it became our thing, something we looked forward to doing together, something that ultimately would help us develop a relationship in the mountains, with snow, that's taken us to more random places than we ever thought was possible.
Jillian lays it down in the winter, so it's all relative come summer and fall. Lake Tahoe Backcountry, California. Winter 2011.

Whether it was living out of a Subaru Outback in Glacier, Washington, to take advantage of deep early season storms, or skiing into the crater of Crater Lake National Park, Oregon, on our first visit (we didn't know it was illegal), the streak we started back in November 2003 slowly evolved from extending one ski season, to maintaining a run of consecutive months of skiing, to at the core planning as many diverse adventures as we could that revolved around the simplicity of sliding on snow.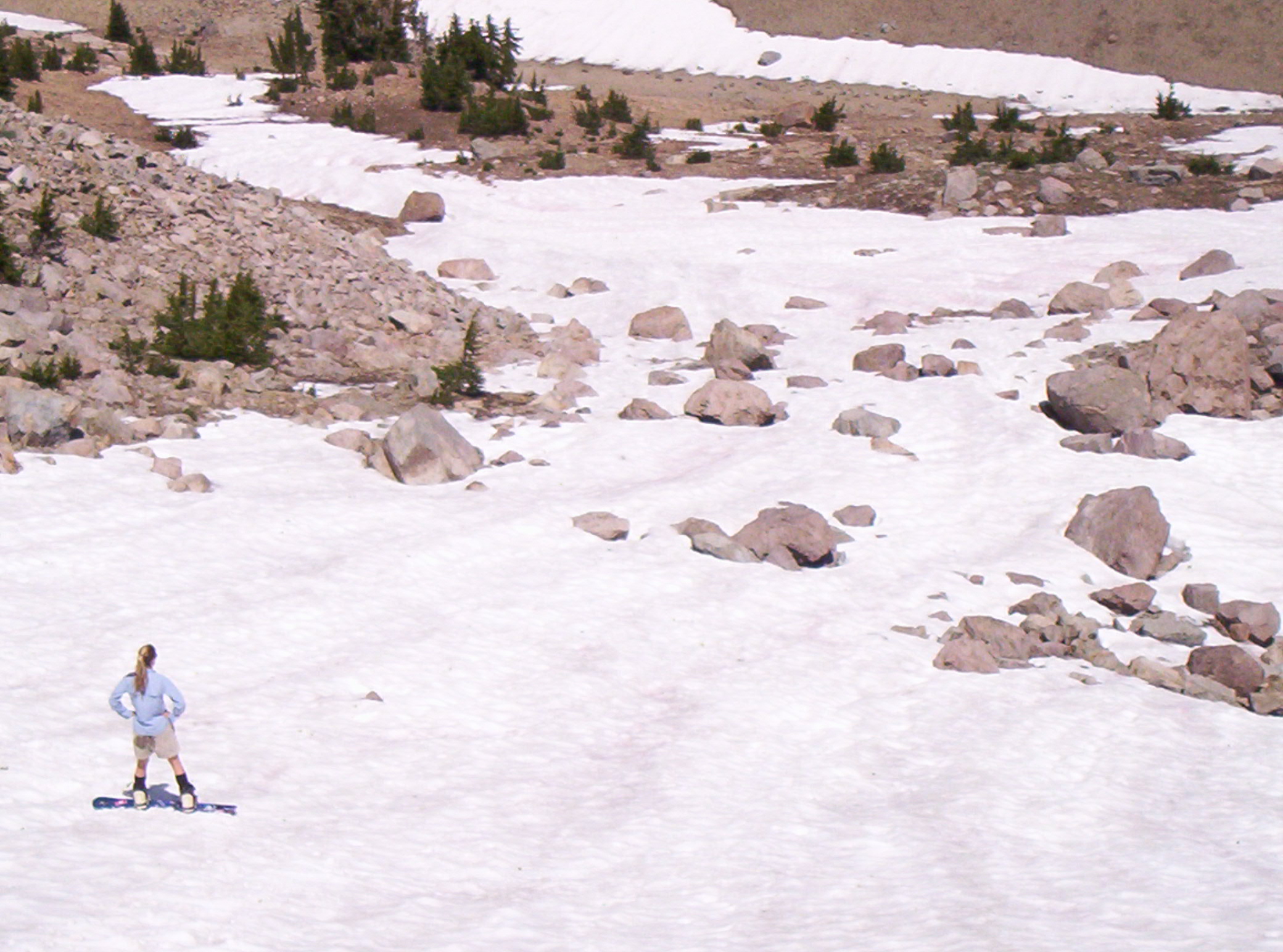 Every summer/fall there's at least one ski mission when we laugh at ourselves. August 2005.

When September 2006 rolled around we used our streak as an excuse to check out other sides of the great Mt. Shasta that we hadn't yet visited. We did the same that October. We would have never made trips like that otherwise, but because of the streak we dreamt of new places to visit where we could find snow to ski. What ultimately ended up happening is that mentality translated into our winter routine. We didn't plan for that to happen, but it did. We started looking for off-the-beaten places to ski in our Sierra Nevada backyard, shared our first heli-run in Alaska together, which morphed into looking for more unique places to check out around the world. In 2007 we got married and enjoyed our honeymoon in the Kullu Valley of the Indian Himalaya where 20,000-plus foot peaks filled our vantage on every ski tour. In 2010 we made it to the High Atlas Mountains and locked into a full-on powder day in Africa. In February 2012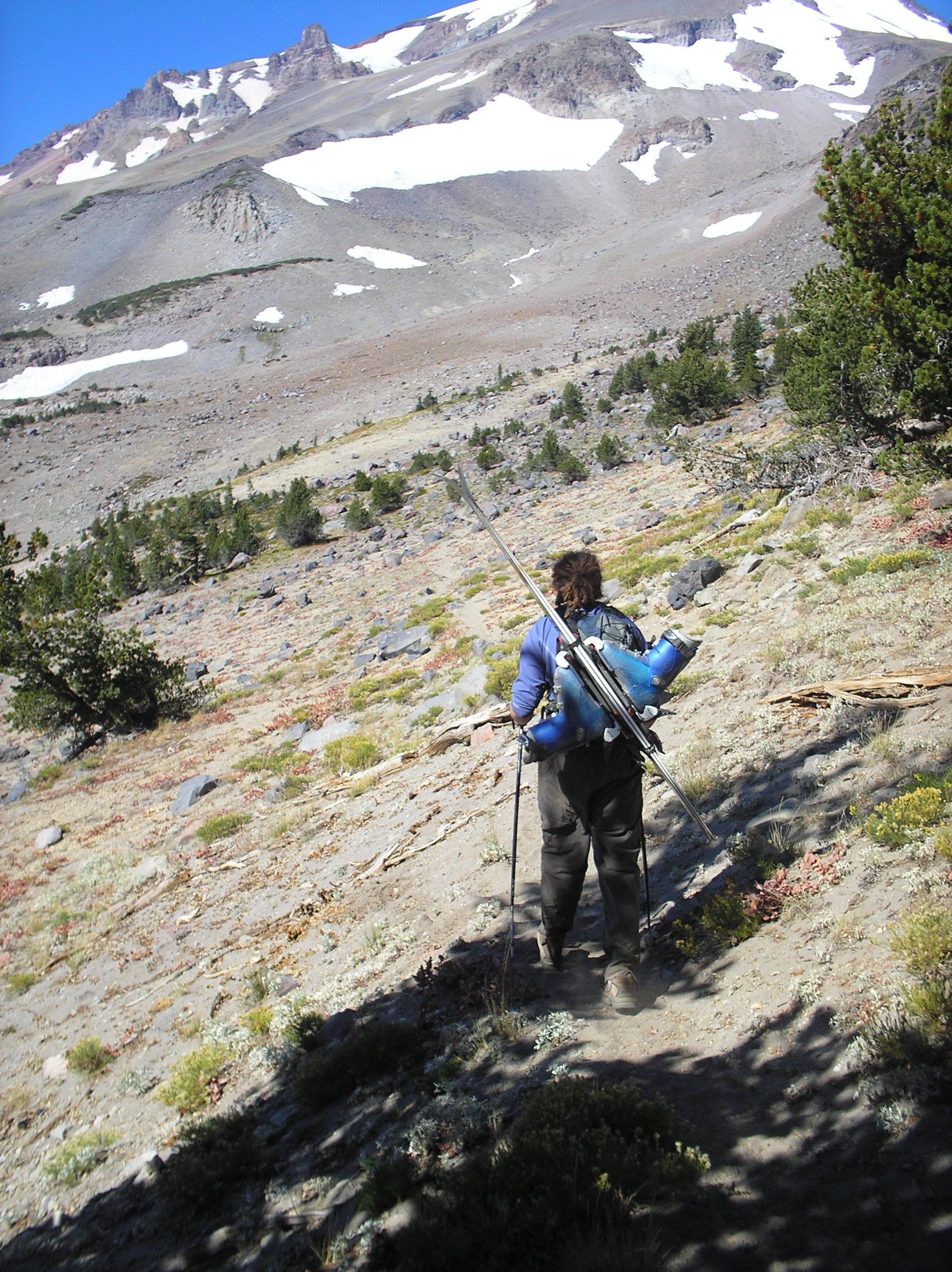 Dreadlocks, heavy alpine boots, and a long way until snow. So many memories ... Mt. Shasta, California. September, 2006

Last week, the first cold storm system of the fall impacted the Sierra. There wasn't much punch to the storm at all, but after all these the years of seeking out snow we were able to find a little gulley in the Eastern Sierra that had blown in just enough new snow to allow for a few turns.


Our 100th month in a row was one of the deepest of our lives. Hakuba, Japan. February 2012. Skier: Brennan Lagasse. Photo Credit: Zach Paley.

Nine years in a row. 108 straight months. "What a long, strange trip it's been."



Ignorance is sometimes bliss. Crater Lake National Park, Oregon. Spring 2005.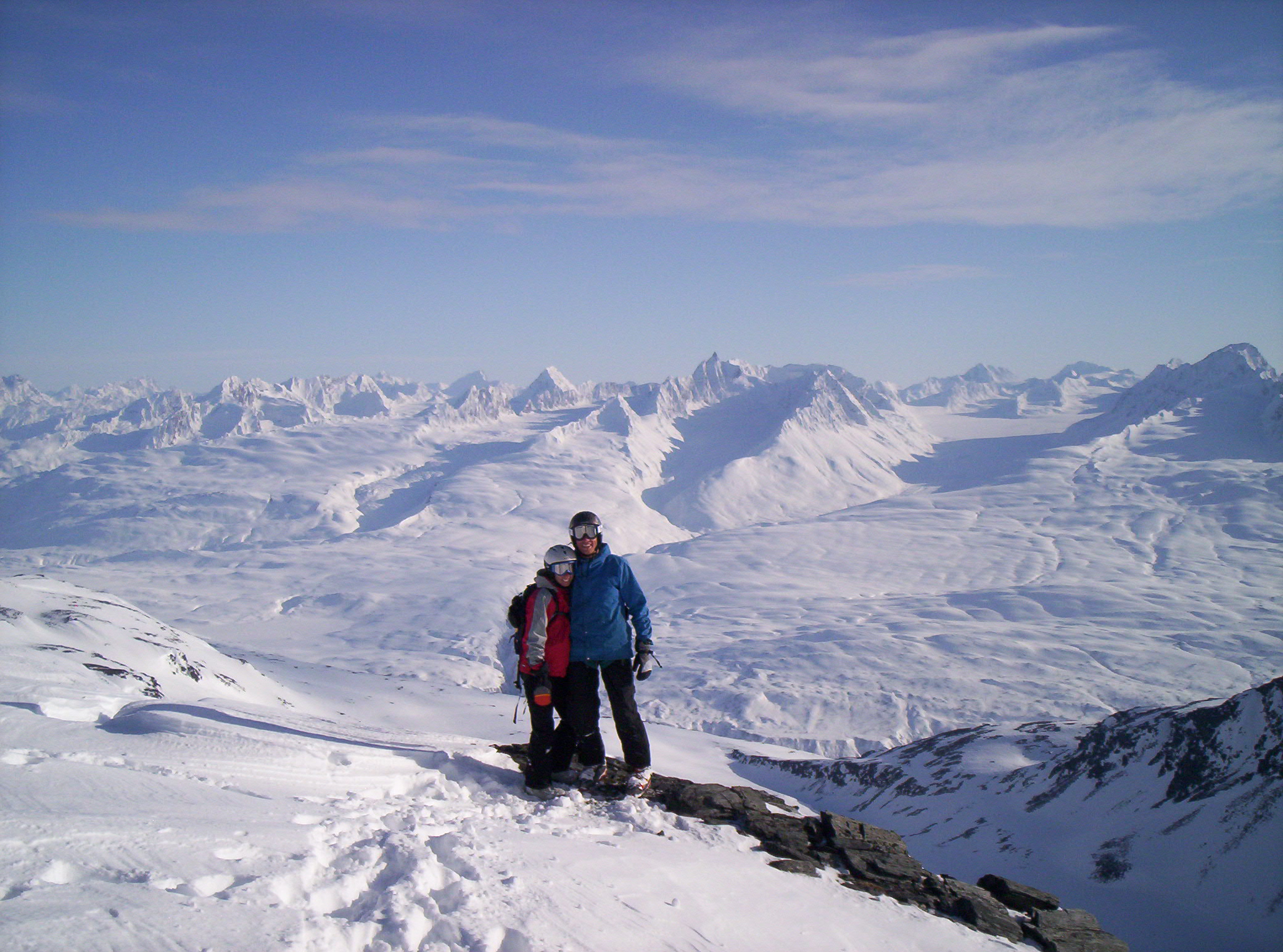 A token couple shot after getting out of our first heli ride. Valdez, Alaska. March 2004.


Jillian on a break in India. I almost forgot she used to splitboard. Kullu Valley, Indian Himalaya. April 2008.

What started as a goal to make it happen for a year has turned into something pretty special for Jillian and I. On the surface, I think it's easy to look at this as simply extending a streak, but I realize while we still desire to keep the streak alive it's really not about number of months at all - it's about the adventures. It's about seeking out new people in new places and experiencing the uniqueness that comes when skiing moves beyond a recreational capacity, and it becomes part of your identity.

So far, in this October there were maybe a handful of hours where new snow was skiable in the Sierra. Would we have made the effort to get down there without wanting to continue our string of months in a row? It doesn't matter. For a brief slice of time we hiked up, clicked in, skied down just like we've done hundreds of times before. Whatever the motivation was to make it down there and whatever motivates you in the mountains, the most important thing is to ask "Why not?" Why not make a trip to the far off destination you've always wanted to visit this season, why not ski that random peak in your local backcountry that no one else seems to care about but you stare at each season and wonder what it'd be like to shred? Why not try and ski 100- or 200-plus days this year? We should all celebrate every little weird, creative, special thing that comes with being a skier - even something as random as skiing for 108 and months in a row. Why not?


Nine years, 108 months in a row. Sierra Nevada, California. October 2012.