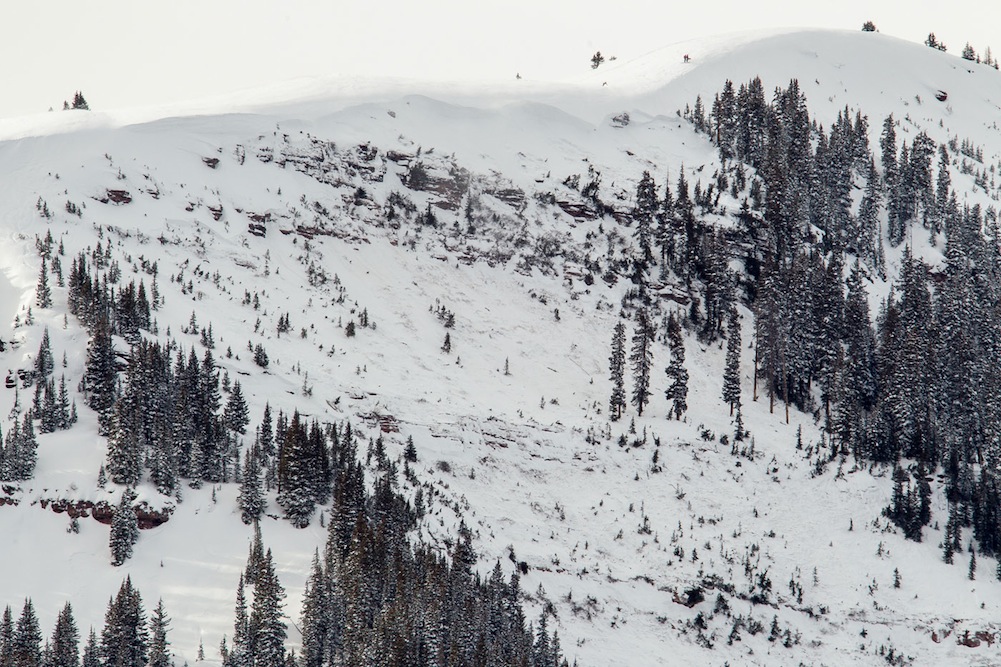 The scene of yesterday's avalanche in the East Vail Chutes. Photo courtesy of CAIC. For education resources on how to stay safe in the backcountry, please check out our comprehensive round-up of early-season avalanche clinics, seminars, and classes across North America: http://bit.ly/18uucLd
*Updated Thursday AM at 10:55:*
This week Vail Valley is mourning the loss of Tony Seibert, grandson of Vail co-founder Pete Seibert, who died yesterday after being caught in an avalanche in the East Vail Chutes area that also swept away the three other members of his party, including professional skier Rebecca Selig. One other member of the party was injured as well, and the group required assistance of a search and rescue team to navigate the victims through the area's tricky terrain.
The slide broke on a persistent weak slab layer, but quickly stepped down all the way to the ground, and revealed a crown that peaked at 15 feet. The avalanched occurred near the top of a run called Charlie's Death Chute, or CDC, a 35-39 degree run that is considered to be one of the most dangerous lines in the East Vail area, a popular backcountry zone adjacent to the boundaries of Vail Resort. CAIC described the run as having "Many paths [that] are loaded at the top, with either cornices or convex rolls. Starting zones often hang over cliff bands, dense forest or small trees that have survived periodic avalanche activity. Many starting zones are in the 35 to 40 degree steep range," which we'll add is the ranger of steepness where avalanches most often occur.
Avalanche danger was forecasted to be "considerable" by the Colorado Avalanche Information Center, highlighting the danger present by persistent slabs on all aspects from the Northwest to the Southest on terrain at or above treeline, and also the danger of recently-formed wind slabs that had blown in from westerly winds over the preceding few days, creating a problem particularly on East-facing ridgelines like the one above CDC. The CAIC mentioned that January's typically colder temps had weakened persistent weak layers deep in the snowpack that had formed in the early season, while a warming event on the day of the avalanche boosted the daytime high from the mid-teens to nearly thirty degrees.
The CAIC's preliminary accident report provided little detail about the event, although they did mention the incident in today's avalanche forecast:
Our second fatal avalanche accident of the season occurred yesterday in East Vail. CAIC staff is visiting the site today. We extend our sincere condolences to family and friends.

This tragic example, and other recent avalanches provide ample evidence of the dangerous Persistent Slab problem. Large triggered or natural avalanches have occurred many aspects near and above treeline. They are becoming harder for a backcountry traveler to trigger, but they are also becoming larger and more dangerous. Likely trigger spots are areas of shallow snow near treeline, or along the margins and bottom of the slabs. Triggered avalanches can break 3 to 4 feet deep, and spread across multiple terrain features. Give yourself a large buffer to handle the uncertainty of how these avalanches will break across the terrain.

Storm instabilities from the snow and wind earlier in the week are stabilizing, but haven't yet gone away completely. Keep Wind Slabs on your radar for today.They are 1 to 3 feet thick on you can easily trigger them on slopes 35 degrees and steeper. Softer slabs on the surface may disguise slabs that are harder, and will break wider. A small avalanche could step down to deeper weak layers and trigger a much larger avalanche.
In a thread started in the TGR forums, Vail-area members began weighing in on the terrain and the incident. Brian Lindahl spoke to the perpetual dangers of skiing CDC, using a POV video from the same run to explain the run's false safe zone:
The slide path was CDC - the most prominent and dangerous one out there. Has a couple of 'safe zones' that really aren't, at a location you can poke into past the main loaded start zone. The main start zone is incredibly dangerous and easy to accidentally get drawn into - which was the site of a death on Jan 4, 2008.
As Brian mentioned, on January 4th, 2008, a 27-year old snowboarder named Jesse Brigham died in an avalanche on the exact same run, in an avalanche that broke with a crown two to seven feet deep but that stepped down to the ground.
Another TGR member, Zargeten, was right behind the victim's group on the way up the hike to Benchmark Bowl – a 20-minute bootpack from Vail's Back Bowls that brings people to the top of runs like CDC:
That group was right behind mine on the way up. I'll tell my story of what I know.

We went up to the top of Benchmark to enjoy the views and to have a look at the bigger lines. We saw a number of small slides on Marvin's, likely triggered as the sun warmed that face. This confirmed our worries about the rapid warm-up making things touchy. As we prepared to drop back to the pumptrack down the ridge, the girl in the group got to the top and said to her group, "I still want to check out NBA." I don't recall any other things said, that just stuck out. We proceeded to ski Bighorn down to the bus stop.

This is what I heard after the fact: We heard of the slide when we got on the bus and saw a guy in that group get on the bus. We asked him how his run was and he mentioned a big slide on CDC. I asked if everyone got out, and he said they pulled his buddy out with no pulse and are doing cpr. He said he had no pulse and was purple.

I told my boss about what happened, and he gave my partner and I's numbers to SAR. They called my partner about 15 minutes ago asking what we knew about how many people were in the group. He thinks it was 4 or 5 people. I remember the girl and 3 guys from the top, and there may have been another hiking up behind them that was with them. Word is, they don't know if they recovered all of the people caught.

Vibes to everyone involved and friends and family.
While much of the forum discussion began to focus on whether the explosion in the popularity of backcountry riding has led to a proportional increase in the number of avalanche fatalities, forum member Quienes seemed to contest that assumption, at least as far as incidents in East Vail are concerned:
Pretty obvious that CO mountain pass traffic and resort-accessed backcountry traffic is soaring. But quantifying that growth is challenging. ..East Vail avy reports from 1996 estimate as many as 50 people a day were hiking up to Benchmark Bowl. That number is closer to 400 today. Yet the last fatalities were in 2008 (January) and 2014 (January.) Before that it was 1996…

The high alpine in central Colorado got blasted with wind last week, changing the avalanche scene tremendously. The early season backcountry honeymoon (where smaller snowpacks are easier to gauge) is over, right about the time it usually ends ... early January.

I keep coming back to this stat: Eight avalanche fatalities in East Vail since 1986: 1-7-14, 1-4-08, 1-8-08, 3-4-96, 1-12-93, 12-3-92, 1-2-90, 2-26-86 Five of those were in the first half of January.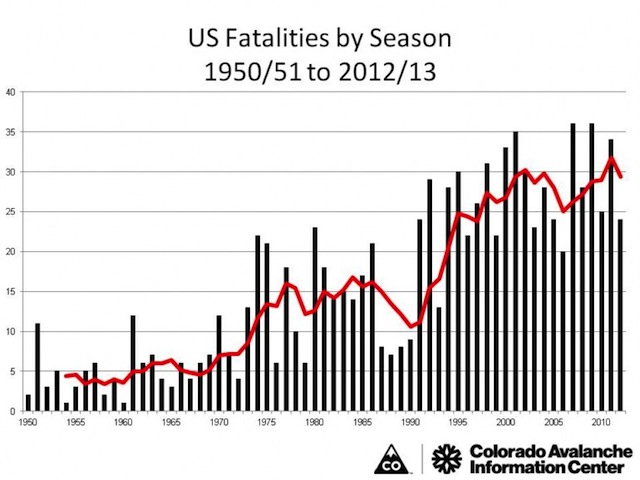 The above chart from the CAIC does, however, show a general correlation between an increase in backcountry travelers and an increase in fatalties across the country once a bigger data set is introduced. Further information from the CAIC correlates with Quienes' observation about the timing of East Vail fatalities, however: January is consistently the deadliest month in the backcountry.
But while the East Vail fatality may not add fuel to the fire in the debate over whether the expanding popularity of backcountry skiing and snowboarding is creating as rapid a growth in backcountry injuries and deaths, it is certainly leaving a big hole in the Vail Valley community. The Seiberts have been a fixture of the community there since Pete Seibert, a veteran of the 10th Mountain Division, helped find investors, secure land, and organize construction for the opening of Vail ski area in 1962. Tony had recently been interviewed for a documentary about the 10th Mountain called "Climb to Glory," and was himself a beloved younger member of the community who also had connections here in Jackson Hole, where he had coached members of the Jackson Hole Ski & Snowboard Club.
Jeff Moran, Freeride Program Director for the Jackson Hole Ski & Snowboard Club, noted that during Tony's year coaching elite competition athletes for the club, "The kids really, really loved him. They looked up to him for advice on life, schooling, and since at 22 he was only a few years older than many of the athletes, he shared a different connection with them." A standout competitor himself, Seibert was actively competing in big mountain competitions throughout his college career and his time with JHSSC, and his huge skillset in skiing, with experience skiing big mountain, park & pipe, as well as a background in alpine racing, really helped his athletes. After his short tenure with the program, Moran continued to seek Tony out for future coaching opportunities.
Matt Lancaster, a ski coach in Moran's Freeride Program, first met Tony at the Vail Ski Club and was the person who initially sought Tony out for the coaching gig. "He was just always happy," he remembers. "He's the type of guy you'd want to ski with when it was gray and icy; you could just feed off his positivity and energy and have an awesome day regardless. He'd give big bear hugs to anyone he hadn't seen in awhile." Lancaster happened to drive Seibert up from college at Boulder to Vail just before Christmas, passing under the East Vail Chutes along the drive. "We talked about how awesome those lines there, but also talked seriously about how dangerous they were," Matt recounted. "I was impressed with Tony's maturity level. He didn't seem like he'd put himself in a situation where something like that incident was going to happen."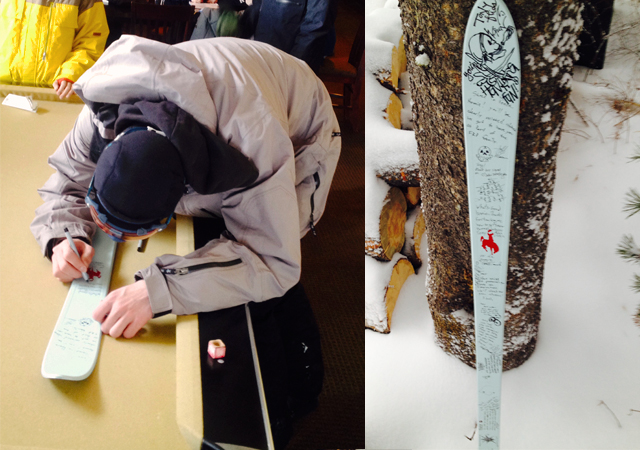 Yesterday, Matt brought a pair of skis to Jackson Hole Mountain Resort to have those who knew Tony sign them before we headed down to Vail for the funeral. "They're completely filled up," he said.
To follow the discussion follow Tony's tragic passing, and to offer condolescences to his family and friends, please visit the TGR Forums: http://bit.ly/1a1JhlK
Our thoughts and prayers here in Wilson are with the Seiberts and others who held Tony close to their hearts.
For education resources on how to stay safe in the backcountry, please check out our comprehensive round-up of early-season avalanche clinics, seminars, and classes across North America: http://bit.ly/18uucLd