Base Camp is a new semi-frequent photo column where we check out the cabins, lean-tos, igloos, tents, and RVs where mountain-minded folk base their adventures out of. To kick off our series, we profiled friends James Roh and Joey Howell, who quit their jobs to spend the winter hunting for pow while living out of their truckbed-mounted camper. This week we profile Jeff Young, who converted a dilapidated Vermont shack into a choice ski cabin that would host hundreds of TGR community members over the years.
Jeff Young, known as BigDaddy in the TGR Forums, had been visiting Vermont's Mad River Valley, home to the infamous ski areas of Sugarbush and Mad River Glen, since the early 1970s, but it wasn't until 2005 that Young, a die-hard skier, would get a chance to make his dream of a Vermont ski cabin a reality. An employee of his owned a dilapidated cabin on ten acres a few miles from his wife's friend's house, and was looking to sell the place as he was going through a difficult divorce and bankruptcy.
A dreamer of an architect and contractor, Jeff could see the undervalued cabin had serious potential. He waited two years until his employee exited bankruptcy, another several months for an illegal squatter to vacate the place, and put in years of sweat and labor to see through his vision of the perfect base camp for adventures in the Green Mountain, which included hosting the annual Ullrfest – a reunion of snow-starved TGR forum members in the waning days of fall – for several years. This is his story.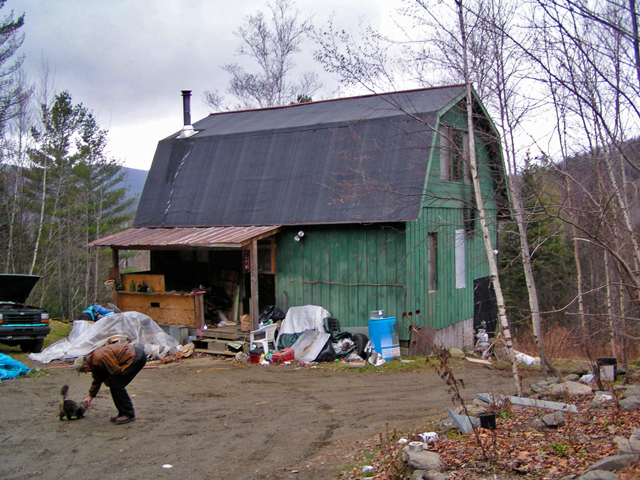 "The house was owned by an employee of mine who had gone thru a divorce and bankruptcy. He had a renter who stopped paying him rent after only a couple months, taking advantage of his problems and so he lived for two and half years rent-free. My employee sold it to me, though I waited two years for him to get out of bankruptcy so he would be sure to get all the money. It was well worth it.
He was officially evicted and given legal notification a month before I took ownership. He made no effort to move, but we communicated via notes tacked to his door. I had a dumpster delivered to the driveway and gave him two more weeks to move before I put everything in it. After one week, I offered him $200 if he was able to clear his stuff out in the remaining time. Mid-week he came home and pulled into the driveway, but nearly ran into the back-ho my friend was driving. Being hunting season, my friend had his shotgun on his lap, but the squatter took this to be meant for him. He then jumped out of his car and began crying, 'I promise to move my stuff out... please don't hurt me!' I didn't bother to tell him, the gun was intended for deer."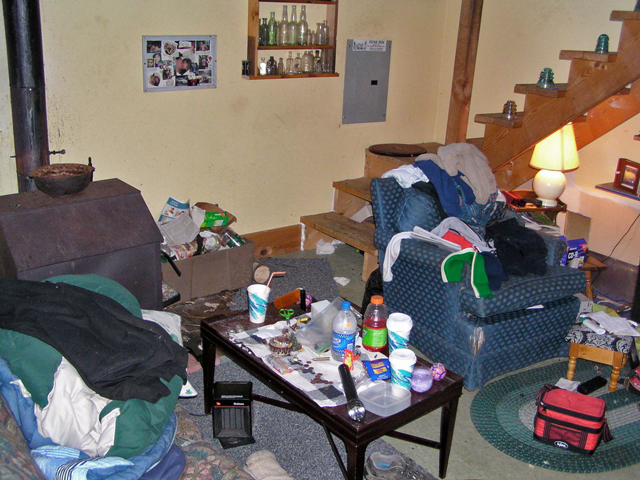 Despite Jeff's wife being dead-set against the project, he began a years-long process of converting the small cabin into the Vermont skiing base camp he'd been dreaming about for thirty years. He spent the first year gutting the cabin and adding a mudroom while cleaning out the years of garbage and twenty-five abandoned old cars that were strewn about the property.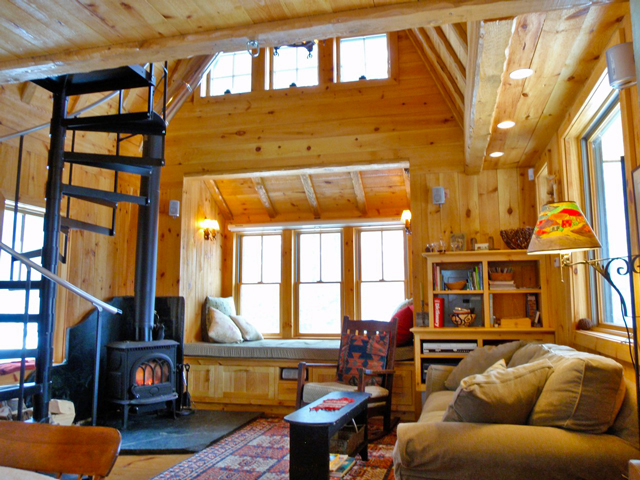 He turned the entire downstairs into a single space, added windows and reworked the stairs, and turned the upstairs loft into two bedrooms while adding a bathroom.
Jeff did all the design, carpentry, wiring, and finish work himself, turning the decrepit home into a stellar cabin that sleeps six comfortably and offers a killer patio with a hot tub out back.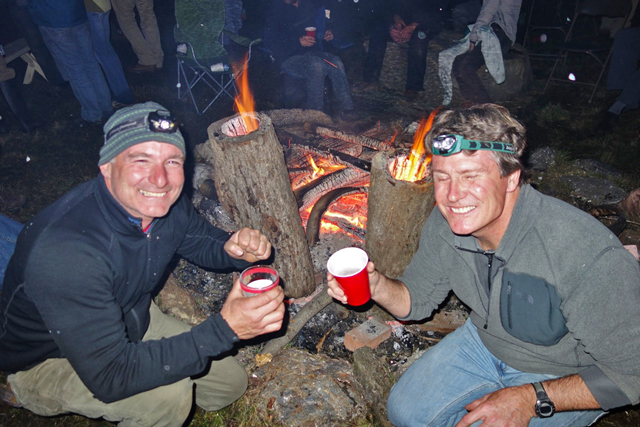 But Jeff (above right, with Rob MacCormick aka Stayalert on the left) wasn't just going to enjoy the place by himself, and ended up hosting dozens of TGR forum members ("maggots") every fall before the snow fell. "Ullrfest is party for maggots/skiers begun by Snowsprite (Terri Isidro) and Earlywood (Fran Gray) in 2006. I began hosting in 2008 and continued for five years to 2012. Every fall, maggots from New England and as far as Alaska and Canada gather to celebrate the start of a new ski season and reconnect over beers, bonfires, and ski films like Under The Influence and The Dream Factory.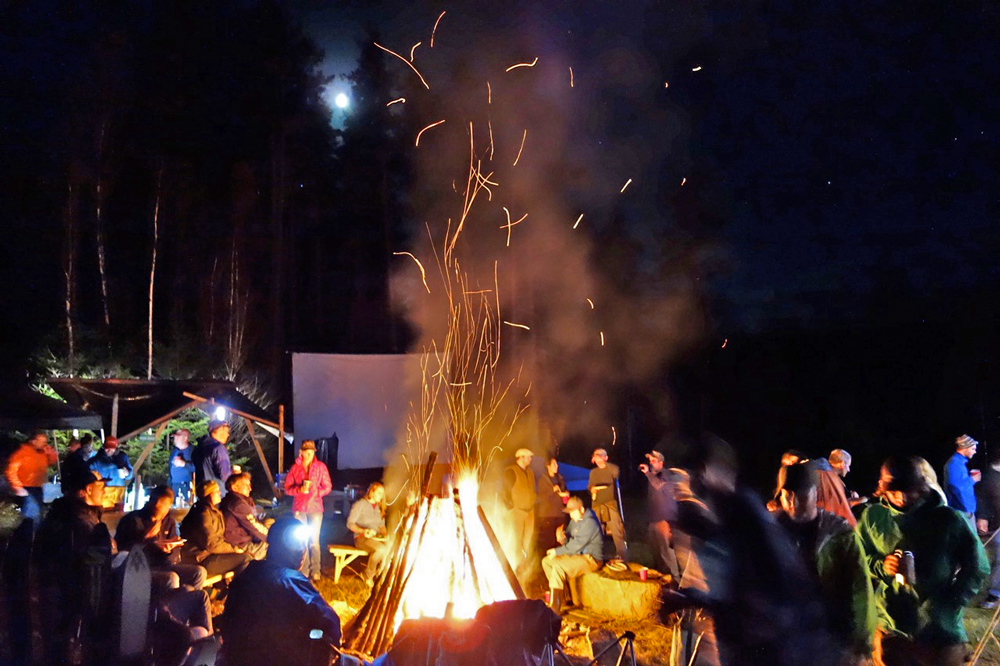 "When I volunteered to provide space for the event, I decided to try and make it something special, so I roasted a pig and made a drop cloth movie screen to show ski movies outdoors. It was incredibly cold, but we had a bonfire and at least thirty people attended. Each year it grew a little more, and by 2012, over a hundred people were attending and I had built a permanent movie screen, a stage for bands, an outhouse, and had cleared a dozen tent sites and put up solar-powered lights so people could find their way around the woods. One year we even coordinated delivery of ten pounds of home-cooked bacon from Washington, D.C. through a mag-to-mag handoff through the Providence airport and an office in Massachusetts."
Forum member VT-Freeheel looks on while Dowork pours the medicine for a willing Ullrfest patient.
"It seemed to pour every year, but the hearty crew was never phased. The year of Hurricane Irene, we raised $2500 for flood relief and yes, it rained again. Hosting Ullrfest was probably the most fun we ever had at the ski cabin, and many adventures and meet-ups were formulated during the evenings. It's helped created stronger bonds in the TGR forums, with people now knowing the faces and names behind many of the aliases, and we've had some incredible days on the hill together in all kinds of conditions, sharing our passion for snow. I feel I have been rewarded ten-fold just for opening my doors a few weekends a year!"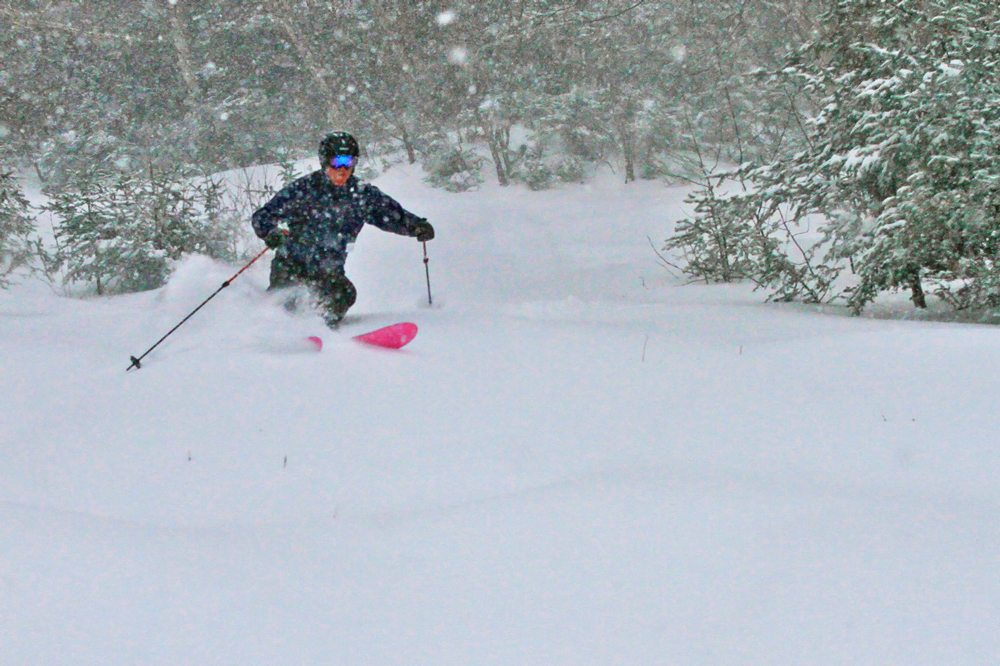 BigDaddy - or Jeff Young as his architecture clients know him - linking his VT-bred Worth Skis through his favorite stash at Mad River Glen.
And his skeptical wife? "It was very difficult working with her so dead-set against it, but she has completely come around. It's become her favorite place to be and she absolutely loves it."
The cabin itself is also available for rent, provided the snow isn't too good in Vermont that particular weekend...
Never dropped into the TGR Forums? Check 'em out here. Want more Base Camp? Check Out:
-The Powder Pilgrimmage Rig