Drink water. It's such an absurdly simple concept but it seems to have been forgotten in a world of action-packed, adrenaline seeking athletes who crack open an energy drink before dropping a cliff or at the end of their contest run. In this day and age, you are more likely to see your favorite athlete drinking caffeine, sugar and taurine than hydrating themselves with a glass of water. However pro-snowboarders Austin Smith and Bryan Fox didn't want to be sucked into an over caffeinated lifestyle and created a company to bring attention back to drinking water.
It all began in 2011 when Smith and Fox noticed the abundance of energy drink influence in snowboarding. Instead of focusing on the negative, they wanted to do something more positive to spread the word and began to write "drink water" on their snowboards. "We don't sell water. We just drink it." said Austin Smith. Thanks to word of mouth and influential snowboard friends, the Drink Water message began to leak out.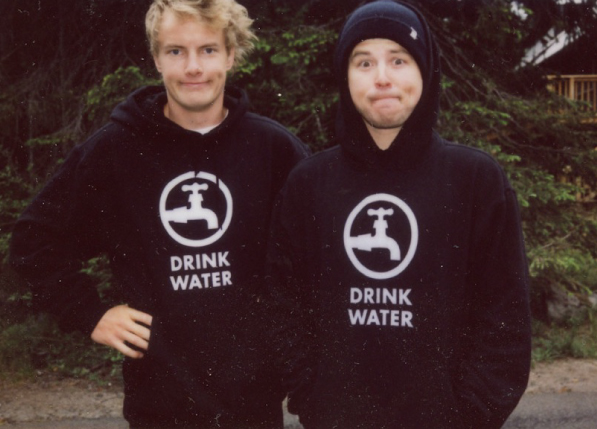 Pro-snowboarders Austin Smith and Bryan Fox spreading the Drink Water message.
It started with T-shirts, stickers and hoodies with a simple logo above a simple saying, Drink Water. The word kept spreading like wildfire so Bryan Fox and Austin Smith brought in Bryan's brother, Stephen Fox, to hold down the fort while they traveled around the world for powder. Since then they've added other products like coaches jackets and pin packs to help spread the message. Each item they sell is packed by hand with a handwritten note and help gives back to sustainable water systems.
"The response has been beyond encouraging." said Manager Partner Stephen Fox. "From people telling their friends, to kids saving lunch money to order a sticker and pin pack off our website, to folks spreading the word on the digital social networks, to people all over the globe emailing us or placing orders, to Terje putting a sticker on his board before his winning run at the Baker Banked Slalom, to global brands reaching out with support and collaboration ideas, we're honored to be part of what feels like a worldwide community statement."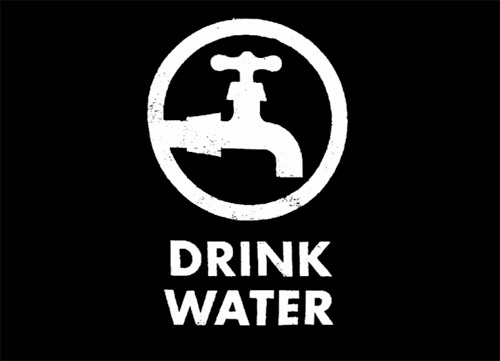 A simple idea and message to spread the word. Drink Water.
What once began has a two-man idea has grown to include other recognizable faces in snowboarding to help spread the statement and support the cause. Snowboarders Louif Paradis, Jake Olson-Elm, Josh Dirksen, Curtis Ciszek, Jake Kuzyk, Scott Blum, Blair Habenicht, Keegan Valaika, and Scotty Wittlake. In addition to snowboarding, athletes from skateboarding and surfing have taken notice to help spread the word. In addition, anyone who shares the same idea of drinking water is considered part of the movement and helps promote the idea of a healthier living.
Not only is drinking water good for your health, but when you buy a Drink Water product, you help spread the cause and give back to the world. Drink Water donates 10 percent of profits to Water.org, an organization that helps communities design and construct their own sustainable water supply systems.
Support a good cause. 10 percent of profits go to water.org to help improve sustainable water supply systems.
"We chose to support Water.org for a few reasons. Globally, nearly a billion people lack access to clean drinking water," said Stephen Fox. "Water.org is drilling wells to solve this challenge, and then, crucially, creating cooperative ownership for each well so that the local community members own the access to the water, rather than warlords, thugs, or corrupt governments. If you are interested, learn more about the global water crisis at water.org."
After a year of making a statement, Fox and Smith continue to do their part to help promote a healthier lifestyle and have received positive responses for their work. For the future, Fox explains "we're hoping to affect the way people think about liquid consumption." It certainly sounds like this simple message might just be enough to remind us all that hydration and health matter more.