Dash Longe and Tim Durtschi continue their winter in Alaska by hitting alpine terrain when there's good weather and trees and pillows during the storms.
Words and photos by Pete O'Brien.
Dash natural gully gap jump.
Durtschi 720 near Girdwood Alaska. He commented that it's more productive to ski this terrain with a sled rather than a heli because you don't have to worry about time or money while you're sessioning.
This time of year there's good light in Alaska from about 9 am to 9 pm, but we've only seen a handful of sunny days on our trip so far.
On some of the bigger lines the boys can only sled up so high before they have to start clawing their way up a knife edge ridge. With such a big snow year in Alaska, moats have been a serious danger. As the cornice on the ridgeline gets heavier with more snow, it begins to peal away from the ridge creating a fissure that is hard to spot and easy to fall in.
Durtschi sending a high angle cauliflower line.
Dash scoping a line at 8:30 pm with 3000' below him.
Durtschi jibbing the Wizard's Staff near Johnson Pass, Alaska.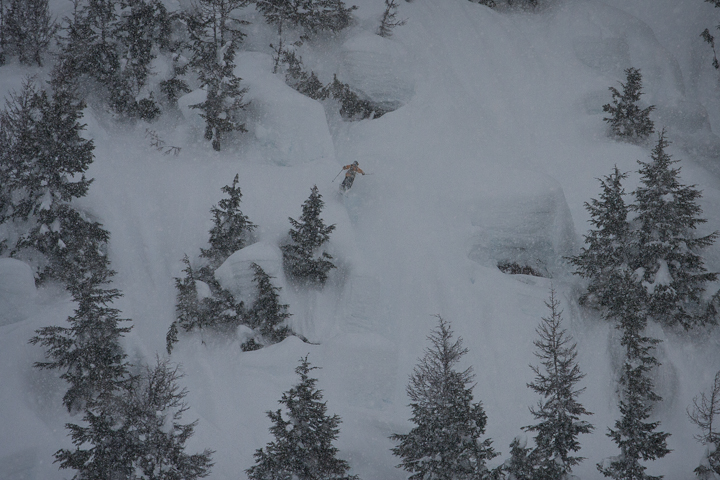 Part of the reason we hauled our sleds all the way to Alaska is to ski in the backcountry on days like this. Tree skiing in Alaska is generally pretty tight, but we've been able to find a few open slots.
Dash cork 7 on a windlip feature.