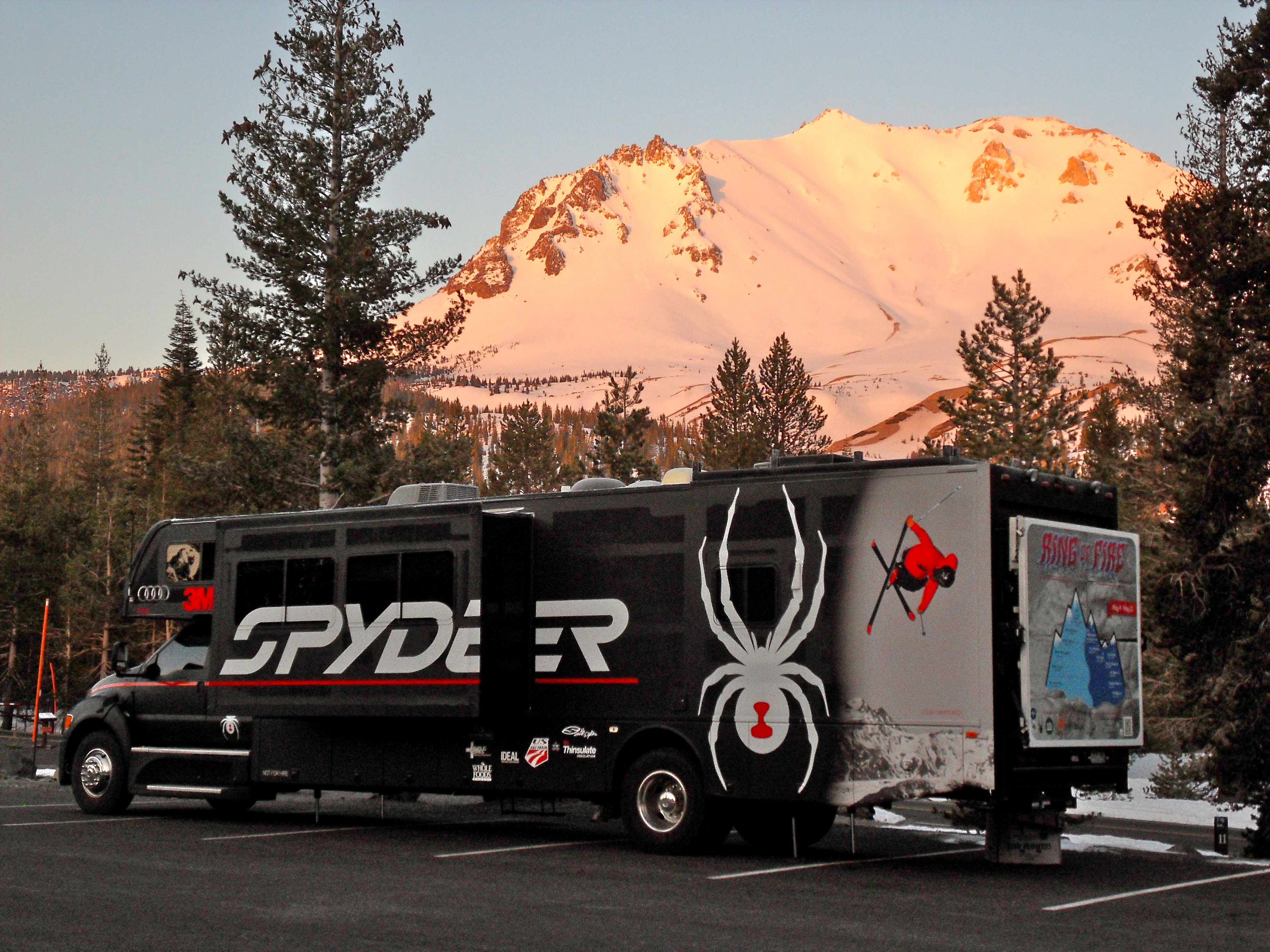 The Spyder Active Sports Land Yatch is seen parked in front of Mount Lassen in California. Skiers Chris Davenport, Jess McMillian and Daron Rahlves have been on the road skiing volcanoes out of this rig for the past two weeks.
Words by Daron Rahlves

On May 2, Captain Grant, our event director at Spyder Active Sports, hit the road in the Spyder Land Yacht from HQ in Boulder, Colo. After one stop in Salt Lake City to pick up Jess McMillian, the two were back on I-80 West to meet up with Chris Davenport and myself at Whole Foods Market in Reno, Nev. This is where we loaded up the back garage with the food cache we were going to rely on for this epic trip called the "Ring of Fire."

The team's mission: to climb and ski 16 volcanoes from California to the Pacific North West Cascades, practically back-to-back in a two and a half week period.

My plan was less of a commitment, but still a mission in itself: to tour for four days and ski five volcanoes.

Starting in California with 10,457-foot Mount Lassen and 14,162-foot Mount Shasta, I was committed on the trip through Southern Oregon for 9,495-foot Mount McLoughlin, 9,182-foot Mount Thielsen and 9,065-foot Mount Bachelor.

What an opportunity to top-out on iconic peaks and score creamy corn in prime May conditions. It was a pleasure to hang out with Davenport, who has so many experiences summiting amazing mountains all around the world and the enthusiastic charger, Jess McMillian. I was eager to learn a few tips on preparing and achieving these ascents.

Jess McMillan, Daron Rahlves, Jim Morrison and Chris Davenport on the summit of Mount Shasta.

I'm always hungry to ski. Growing up in Tahoe I learned to appreciate the mountains. Then taking on a racing career, it kept my skiing experience locked into resort skiing. My desire to see what's out there and work to get it is at an all-time high. My interest is not all over the planet, but more of what's out my back door and this trip was a dream opportunity. From Cali to Southern Oregon skiing volcanoes and taking in the surroundings of old growth forests, pristine lakes, ancient lava flows, wide open panels and terrain filled bowls after earning it delivers a stronger connection to the adventure.

The weather was just what we needed. We scored with clear nights and sunny days with calm winds, or none-at-all. On some days, you could light a match on top of the peak.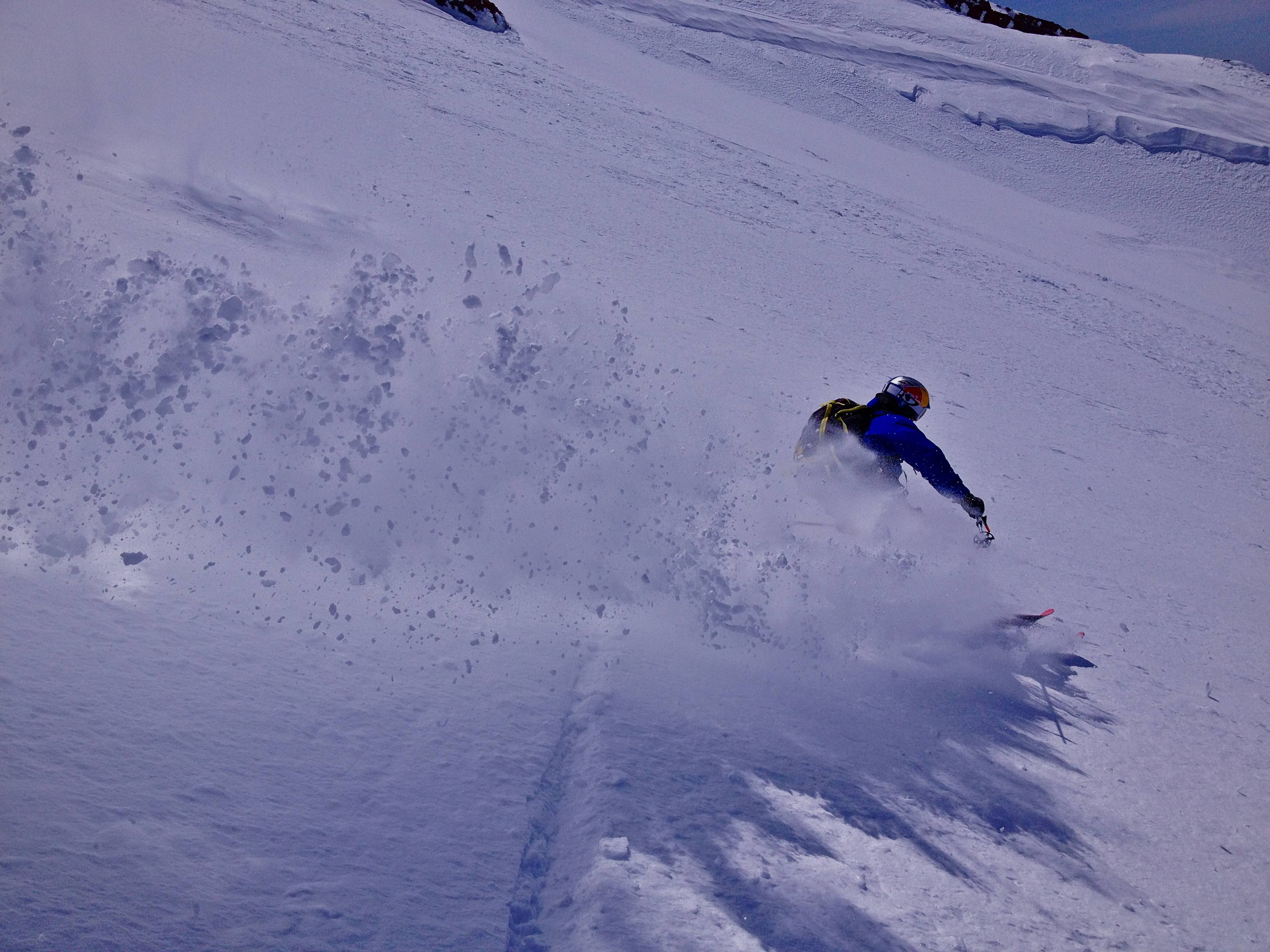 Daron Rahlves blasts down Mount Shasta.

Northern California and Southern Oregon turned out to have a lot more snow than I expected. We could start skinning right from the road or parking lot and even had to walk in over a partially snow covered dirt road 3 miles to the McLoughlin trail head.

Days started with wake up calls from 3:30 a.m. to 5:30 a.m. for the best climbing conditions and to limit the physical exertion by avoiding the intense solar radiation. Hulk Shakes, Bare Naked Granola, Greek Yogurt and fruit fueled us up for days on the Ring of Fire tour. Clif shots, gels and electrolyte drinks / water were mostly what I consumed on the way up to keep the pace moving and keep Dav and Jess close. Dav would get so fired up on the hiking and at times I'd shake my head when I was dripping wet and my heart was pounding. My motivation was to take one step at a time to ultimately ski down, but deep down I can say that his outlook made for a better experience and made me take in the beauty of what we were doing and where we were.

Chirs Carr, Jim Morrison, Jess McMillan, and Chris Davenport after skiing the West Face of Mount Shasta.

Reaching the top was a great feeling and then to share it slapping high-fives from excited friends tops that off. We had a variety of snow conditions, but most vert was dry, smooth chalk to buttery corn on the open faces. Then it went into the trees and made for the most fun tree GS skiing chasing each other through a maze, picking lines at speed. When it tightened up and we had trouble locating skin tracks and were surrounded by massive trunks and an enclosed canopy from the trees, I was able to help out the team with navigation using my Garmin Rino to track back the route. It was total disorientation in those old growth forests and without a GPS we would have added on lots of time and expended a lot more energy.

Oregon's Mount McLoughlin as seen through the trees.

To put eyes on home base was a huge relief. Now we could wind down and most of all the feed was on! Protein waffles, egg scrambles, recovery shakes, fruit, Red Bulls, jerky, cookies and water. Heavy caloric intake sessions would then be followed with packing up the drying gear lying in the sun and then the wheels began to roll to the next one on the hit list. We had all kinds of great snacks for the road trip and then once we found our next place to post up, we ate like royalty with in-house recipes a Whole Foods nutritionist planed out for us.

Chris Davenport updates his Twitter and Facebook followers from the summit of Oregon's Mount Thielsen. Follow him on Twitter @steepskiing see more updates at #volcanotour.

Thinking back to the trip a recurring moment that set it apart was reaching the top of each volcano, we could then see the next volcano and look back to the one we did the day before. To see where we were, standing on what we just climbed and then gazing out to the north for the next day was a very cool feeling.

Looking at Diamond Lake and Mount Bailey from the summit of Oregon's Mount Thielsen.
Thanks to Dav for dreaming up the Ring of Fire Tour and to Spyder and Whole Foods Market for helping us make it happen.

Follow the adventure at blog.spyder.com and think about getting after a few or all of these volcanoes yourself. My favorite was Mount Thielsen. It was the full package, with skinning, booting, rock climbing to the summit, great views and the best skiing I had. We left the Land Yacht at 6:08 a.m. and got back by 11 a.m.
Daron Rahlves skis from the summit of Mount Thielsen at break-neck speed. He also hits a pine tree like a slalom gate. Awesome.

Thanks to Johnny Cash for putting these words into my head on the daily climb, "I fell into a burning ring of fire, I went down, down, down and the flames went higher…" The broken record effect kept me plugging away.