TGR… On The Road for JaPow!!!
I've been to Japan for my first Olympics at Nagano in 1998 and then 2009 for a World Champs Ski Cross. A seat on a bus from airport to ski resort I've seen Japan's densely populated cities and rural country towns. The people are very friendly and always ready to help with a smile and then move quickly in a "Japanese hustle". Not many speak English so it's a challenge to communicate, but a nice smile will always be returned. The ski areas have friendly sounding announcements blasting over loud speakers and lots of people on the runs. It seems very routine for most Japanese skiing what they call courses or we'd call ski runs. You will see a rutted line down a run as if there were race gates. For the most part, Japanese are technically focused on skis. Good for us. That means less tracks and more pow because I'm here to free ski!
I joined TGR to ski with my Atomic teammates Chris Benchetler and Dana Flahr.
Picking it up from where Benchetler left off. Deep snow, trees loaded with pillows, pillow lines and oh yes…deep snow. We've been using the expression JaPow to describe how insane this snow is. After a few runs at Teine in the best snow I've ever skied the stoke was at an all time high and JaPow was becoming an overused expression followed by endless high fives!
The next day, Clayton owner of
After a 50min hike, I had a moment to take it all in. I like hanging with this crew, but also enjoy those moments where you feel all alone and very small in this world. It was spooky in a way. If I dropped off the backside I'd be totally out of reach with my group. What ifs ran through my head. I tried the radio and no word came back. As I felt that insecure feeling come over me I looked down to the road and saw our van. Ha, what was I freaking for?
Now it was time to shred.
Dropping in and getting those turns in Sugoi Yuki (awesome snow) kept the stoke alive. Then to hear the boys from the road as I slowed to a stop was a great capper.
That moment is why I'm out here. To ski for me and then to share it with those who know what it's all about.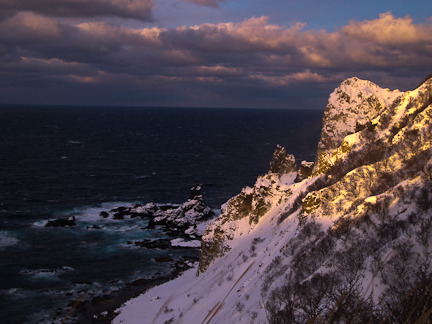 High Five!