Cyrus started living out of a Ford E250 van ten years ago and has not looked back since. Cyrus Sutton photo.
When Cyrus Sutton started living the van life ten years ago, it was a time before the hash tag and before living out of your car was cool. By his own admission, he couldn't get laid because of it. But the first night he lived out of the used 2003 E250 van he bought at 22 years old, it was an otherworldly experience. "I felt like an astronaut in terms of my freedom to do so much with so little," he said looking back. The first morning he woke up in the white van, he grabbed some coffee and his wetsuit, and 15 minutes after first hitting his alarm, he was surfing clean sets in the dawn sun. There was no looking back.
In the years that followed, Cyrus–who has doubled as a sponsored surfer with an idyllic style on the water and as an Emmy award-winning filmmaker and the founder of Korduroy.tv–fully embraced and grew from life on the road. The limited square footage cut out all the non-essentials, while the mobile platform allowed him to scoot around LA and Orange County working production jobs and then bug out of the monoculture of Southern California for months at a time to surf in Baja or hike in the Sierras. "[The van] was my Arc," he said in a recent interview. "It saved me."
Jaunts into the wild stoked his creative fires, giving him the spark to create beautiful films about surfing in addition to unforgettable documentaries, likeTrail Therapy, his story about Steve Fugate, who has walked 36,000 miles across America over the past fourteen years to raise awareness about depression and suicide after losing a daughter to a drug overdose and a son to suicide.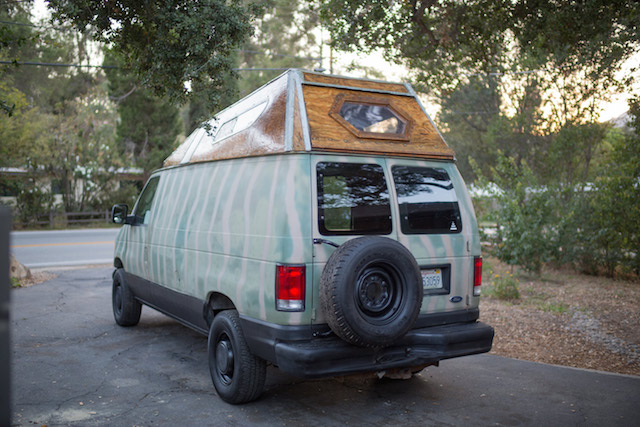 His custom-modded E250 with jaguar shark paintjob is now available for sale. Cyrus Sutton photo.
Now, ten years into the van life, Cyrus is moving into a bigger vehicle with space for both him and his girlfriend, rising surfer Anna Ehrgott, and is selling the Ford E250 that changed his life. Up for sale on EBay, the modified van comes kitted out with an upstairs loft that folds back to provide headroom in the downstairs and doubles as longboard storage, has cooking facilities and a water pump, storage for more shortboards, and one badass paint job. "It is not domesticated; it is a free range vehicle," Cyrus said. "It's wild."
"The Van Saved My Life; It was My Arc"
Originally, it was about not being in SoCal, and the van was a solution. But then it evolved to the question of: how can you affordably have a place and live, and be at multiple locations and live and sleep there? You could couch surf, but then you have no personal space and you can't get any work done. So for me, the van was the only option.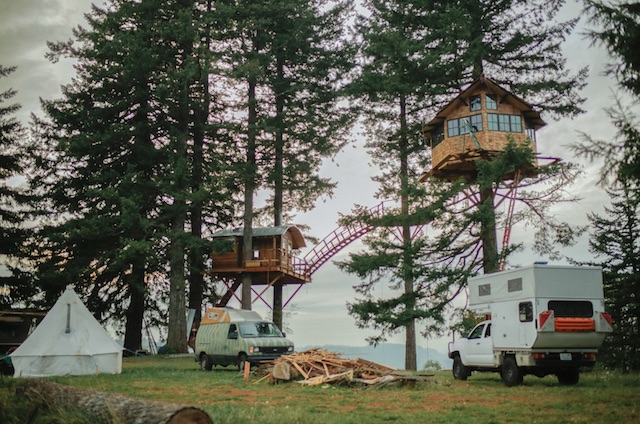 The van among like-minded habitats at Foster Huntington's treehouse in Washington state. Cyrus Sutton photo.
The whole van culture is really strong with outdoor-loving people, they have a passion that live outside of one location, and in order to live out those passions, you're going to need to sleep and cook on the road. Living in your vehicle allows me to get the best of both worlds. I can get business done in urban areas and do the things that allow me to escape into countryside. It's kept me focused on working hard and playing hard. I don't know where I'd be if I lived in a apartment somewhere. I'd probably watch TV, and be tricked into buying a bunch I don't need to fill up my place and be cool. The van was my Arc; it saved me.
Freedom Is the Ambition, Not The Byproduct of Ambition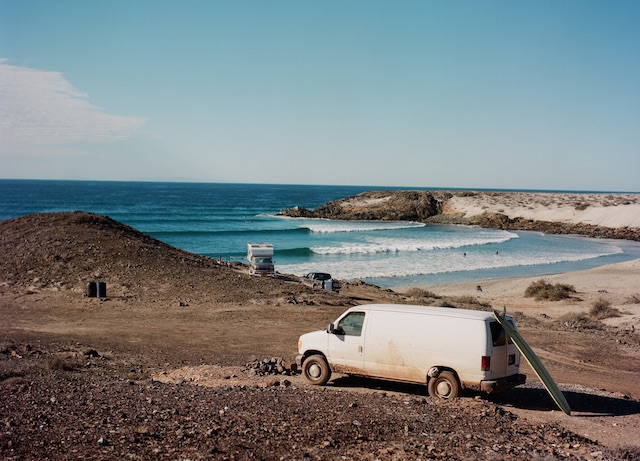 Cyrus spent six months in Baja surfing during the early days of his van life after getting work done in SoCal. Cyrus Sutton photo.
I had lofty dreams when I was young. I was pushing up against a dream where something had to give in order to keep the freedom I'd grown accustomed to as a teenager. And that thing was mobility, and rent. I hung out with older surfers who lived in their vans or in humble apartments and were happy, surfing every day and healthy. They led by example, not letting ambition suffocate their freedom. Freedom was their only ambition.
I hung out with older surfers who lived in their vans or in humble apartments and were happy, surfing every day and healthy. They led by example, not letting ambition suffocate their freedom. Freedom was their only ambition.
As soon as I got the van and spent the first night in it, I felt like an astronaut walking among everyday people in terms of my freedom to do so much with so little. You don't watch TV in the van, it takes you out of the cliques, you don't have this need to fill your place up with stuff. The first night, I was 100 yards from the beach, I got into the water within 15 minutes of waking up. I just got some coffee, put my wetsuit on, and paddled out. It was beautiful.
Don't Like Police? Don't Look like a Dirtbag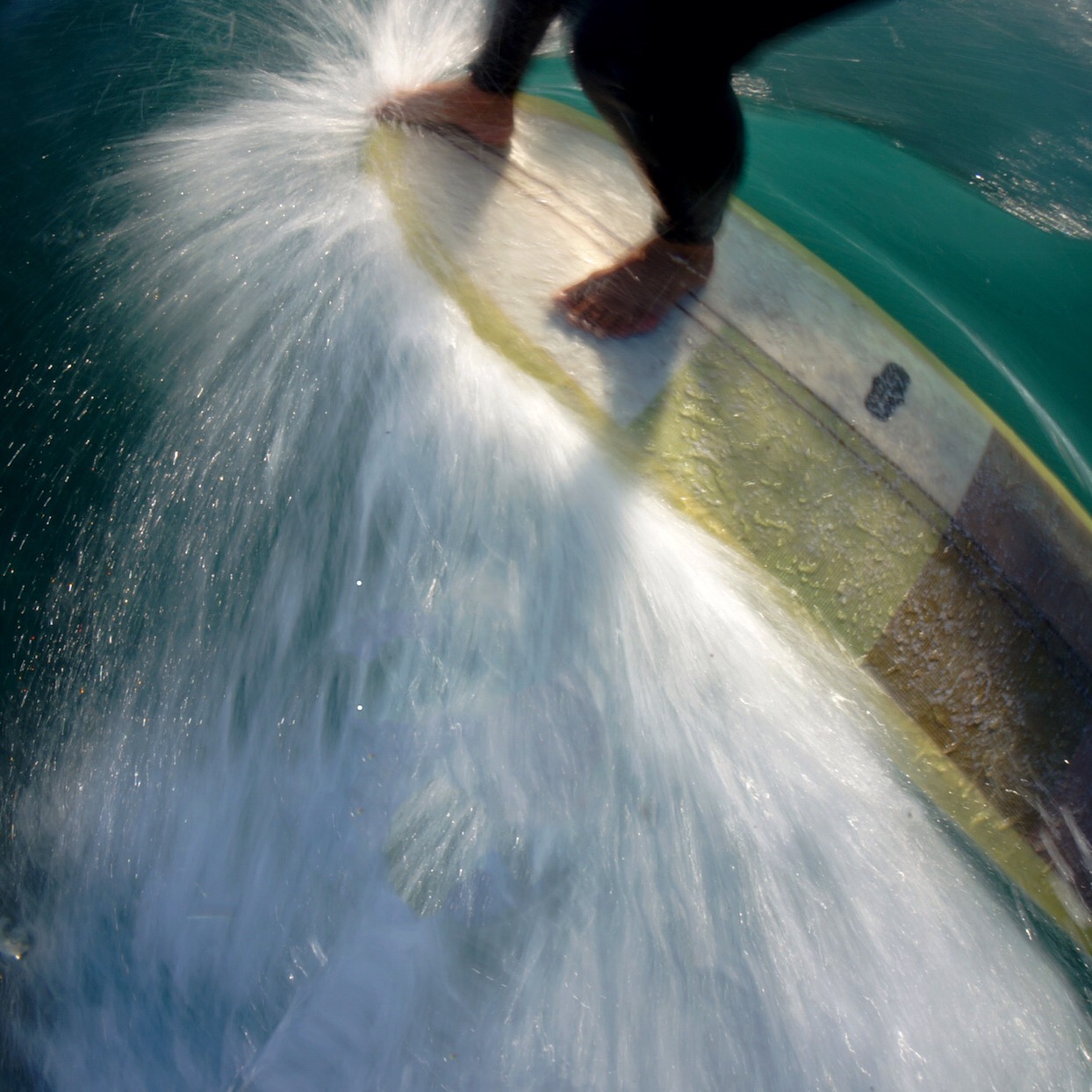 You can live like a dirtbag surfer, but if you don't want cops on your back, don't look like one. Cyrus Sutton photo.
When you live on the road you're exposed to front lines of the police state. I quickly learned how to fly below the radar. I keep myself clean cut, I don't socialize right outside my vehicle, once in awhile I'll get my van searched in the middle of the night by an officer. But that's only if I've gotten lazy and ignored my own protocol. Knowing where to park and how to carry yourself is the difference between coasting by and having a really carefree existence and being constantly hassled.
RELATED: How to live where you want and shred everyday
People are getting really attracted to this lifestyle and it's a really great loophole in our society, but it's not something to be abused. It's a fragile loophole.
Suburbia Is The Best Place to Live In Your Van
The open headroom allows Cyrus to cook and move around inside the van comfortably; helping him keep his profile low. Cyrus Sutton photo.
It's really easy to hide out in suburbia in the van; it's so convenient. There's markets, there's gyms to shower out, there's wifi everywhere so you can get work done, and there's trails you can go sneak away on. But you start to get alienated when you spend so much time doing such a different lifestyle than those around you. At first, it was going way out into the woods. But then I really figured out the suburban gig and was really comfortable there.
RELATED: The Cinder Cone might be the treehouse that can't be topped
As soon as I put the top on, it was all out the window. But that changed my habits and where I went and parked. But then I did this paint job, it made what was comfortable for so long uncomfortable. I can never see it from the trail, but in a suburban situation, you don't even have to look for your car in a big mall parking lot. It stands out. It is not domesticated; it is a free range vehicle. It's wild.
Working On The Road? Find the Wifi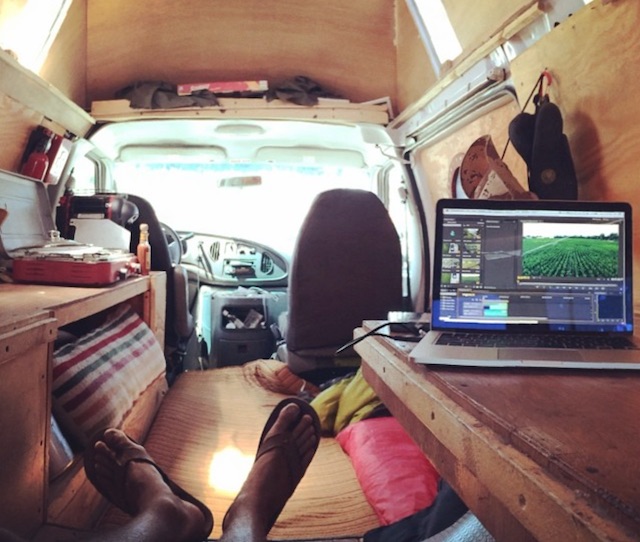 Cyrus does almost all of his video editing on the road from his van with a Goal Zero battery system powered by roof-mounted solar panels. Cyrus Sutton photo.
I can do all my computer work in the van. They put wifi limiters on all major chain coffee shops now, which I think is a crime. Starbucks is the worst, with ATT limiting the wifi bandwidth and so many people sharing the signal. But most independent coffee shops still have good wifi with lots of bandwidth, along with Krispy Kreme Donuts or McDonald's. They have limiters but the wifi is still pretty good because no one's going there to use it.
Van Life as a Couple? You Gotta Pass "The Fart Barrier"
I feel for girls that are trying to live in vans. It's not easy. If you live in a van with a girl, it's pretty much the ultimate. But you gotta break the fart barrier. You gotta just get used to flatulence, because you have no bathroom to go to and nowhere to hide. The constipation factor really takes a lot of people out if you can't blaze a trail and start ripping farts and get comfortable with that. It's really intimate; farts are like cuddling with someone's intestines. My girlfriend and I passed that on week one. That was mandatory.
Why Cyrus Is Selling The Van
I never thought I'd sell it, but a few months ago I ran into two brothers who had just boughten the biggest Sprinter van I'd ever seen. They were looking to sell it so they could buy an even larger school bus. It was a price I couldn't pass up and it's twice as big which is nice for my girlfriend and I. I have to sell this van to recoup my investment in the Sprinter.
Want the Van? Here's the Pitch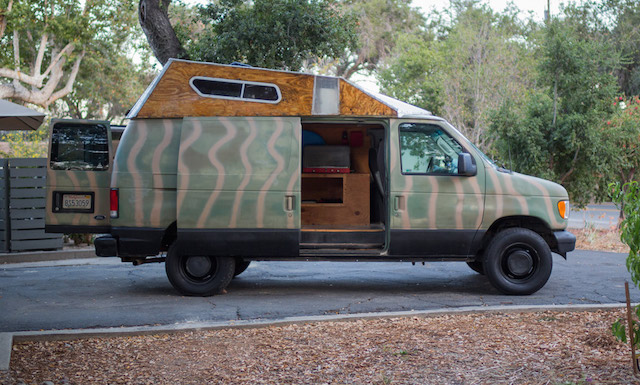 This rolling adventure chameleon could be all yours Cyrus Sutton photo.
This van is perfect for anyone who has the freedom to travel to remote places. It's a structurally sound wood cabin built in a 2003 E250 van with 190,000 miles on it. It's in good working condition. It features a stove, five gallon propane tank, storage for propane all fits together, water pump setup, secret compartment for camera gear and other valuables that you can't see, they get surfboard storage, underfloor storage, reclining upper deck bed situation. Full size spare tire. I'll probably include the rocket box with solar panels on it for over $10k. The auction ends this Thursday at 10am PST.
Cyrus also has a bangin' Instagram, give him a follow to see more of his adventures.