Colorado Avalanche Information Center photo.
If you've paid any attention to the snowpack across the western United States this spring, it's probably pretty obvious that the Pacific Northwest and California have no snow, while Colorado continues to get pounded on. The influx of precipitation would have been perfect for ski resorts in January, rather than when they began to close down in mid-April.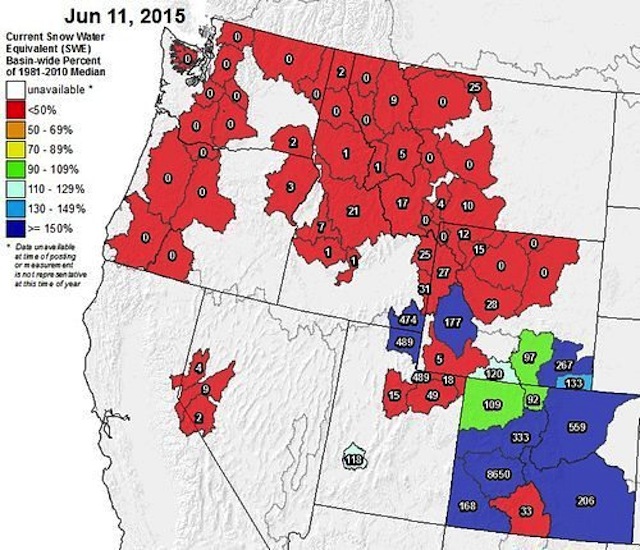 National Weather and Climate Center photo
Normal weather would show a majority of green (90-109% snow-water equivalent) over most of the covered area, however as this graphic indicates, we're seeing the two extremes. In the central southwest corner of Colorado you can see that the snow-water equivalent is 8650% above the normal median. Colorado's snowpack is at a high statewide coming in at 212%. The state is now running into concerns of high waters and severe flooding.
RELATED: HOW TO SKI COLORADO'S 54 14ers
While this snow may encourage more and more skiers to get after the extended season in Colorado, high temperatures and ample rain puts avalanche danger at a considerate risk. In May 2015, observers reported a whopping 258 avalanches to the Colorado Avalanche Information Center (CAIC). To put this into perspective, in May 2014 there were only 81 observed avalanches.
As far as safety goes when you head out into the backcountry in the early summer, make sure to watch not only the overnight temperatures, but cloud cover, fresh snow, and winds as well. Get out there in the morning, because as the air warms up, water running through the snow can trigger avalanches- especially on steep slopes. Avoid skiing under cornices, as warmer weather significantly raises the danger of their chances of breaking off.
For more information on the current conditions in Colorado, visit the CAIC Forecast.