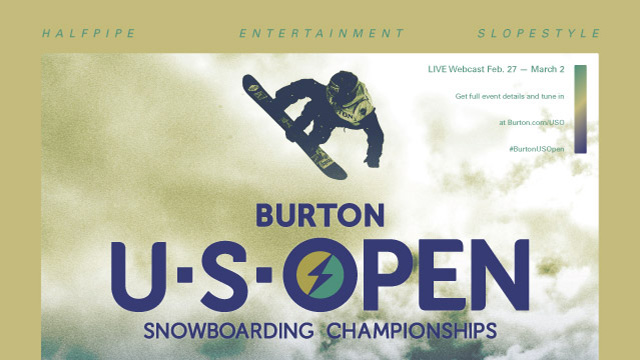 Burton U.S. Open of Snowboarding Preview

After 30 incredible years in Vermont, Burton decided to switch it up and move the U.S. Open of Snowboarding to Vail, Colorado. While there were mixed emotions about leaving Stratton, change can be good, especially when it means more ideal conditions for the riders and easier access to the venue for spectators.

The U.S. Open has been the premier snowboarding event of the season year after year, featuring the world's best riders who have continued to push the level of progression. With the builders at Snow Park Tech dialing in the slope and pipe setup, there is no lack of perfection and originality. The slope course this year features a series of rails, jibs, a massive wall ride with a Mini car (the main Open sponsor) set up at the landing, and three kickers, challenging riders to get creative and making it fun to watch.

One of the most notable aspects of the Open is the equal prize purse for men and women. The total cash money of $341,000 is split evenly— $45,000 each for the winners of slope and pipe, $20,000 for second, and $10,000 for third. Riders get paid down to 8th place, which is pretty rad.

For both pipe and slopestyle, one heat of 21 women, was whittled down to six and two heats of 21 men were knocked down to 12 for the finals. The riders get three runs to prove their skills and wow the judges, in hopes of standing on the podium and winning one of the most coveted titles in snowboarding.

On the party circuit, Burton is bringing free entertainment to the masses, with Mackelmore and Ryan Lewis hot off the Heist Tour Friday evening and Santigold on Saturday, with Skratch Bastid late night. It should be epic!

Catch the finals streaming live on: http://www.burton.com/US-Open/usopen_splash,default,pg.html

Friday March 1, beginning at 10a.m.-2:45p.m. MST — Men's and Women's Slope

Saturday March 2 from 10a.m.-2:45p.m. MST — Men's and Women's Pipe

Don't miss the top athletes in the game including Shaun White, Louie Vito, Scotty Lago, Elena Hight, Gretchen Bleiler, Jamie Anderson, Kelly Clark, Mark McMorris, and Eric Willet just to name a few, throwing down this weekend in Vail, Colorado. Stay tuned for an event recap from the contest and parties coming at ya next week!