Todd Heath started Bomb Snow Magazine in the winter of 2005 in Bozeman, Montana, to share ideas among an active counter culture that fought to break the mold of what he considers "the staleness and deception that permeates mainstream and outdoor media." Ten years into a history that's seen their message spread, for free, on newsprint and even at times "really expensive paper," Heath and the Bomb Snow crew are seeking to memorialize their "love for cheap beer and even cheaper thrills" through a real, live coffee-table book that they're 85% of the way to fundraising publication of through a Kickstarter campaign.
In order to agree to spamming our audience with promotion of their svelte hide-bound tome, we demanded that Todd share some of the darkest and funniest moments, along with a few of the ones that might actually make his parents proud. If you find yourself entertained, we suggest picking up your internet purchasing device (credit card/PayPal/Google Glass/implanted chip) and heading over to contribute to their Kickstarter page now...
THE "FUN" PART...
We heard Robb Gaffney was coming to Bozeman, so we decided to throw a GNAR-inspired party and show the film outside, on our warehouse's garage door. The cops received a noise complaint, then showed up and started asking me a bunch of questions. I assured them that I didn't know anything, and that I'd find the man in charge and make him stop the film.
I walked inside to hide within the sea of people. I knew the film had only ten minutes left of playtime, and there was no way I was shutting down the party. Next thing I knew, this crazy neighbor in a cowboy hat was yelling me at, telling me that somebody had just shit in his lawn. I invited the man in for a drink, and tried to convince him that what he'd seen must've been dog poop. He wasn't having it. He said he knew the difference between human feces and dog feces. Agree to disagree.
Our first GNAR-Inspired Interview for the Bomb Snow "Brogue" Event.
During the GNAR craze, we held an interview process similar to Gaffney's for an invite-only backcountry event called "The Brogue." It was a last-minute idea conjured up on a bar napkin somewhere, and I didn't really think anyone would show up. I was wrong. About 50 people showed up for an interview. The first candidate walked into the room with no pants on. No pants, no boxers...nothing.
I was in a bind: I needed to pick up a keg for an issue-release party and I didn't have a car, so I "borrowed" my ex-girlfriend's Suby. She was in Chile and had left me in charge of watching her car, but I wasn't supposed to use it. I picked up the keg, came back to the office, and opened up the back hatch. I realized that I had forgotten something in the front seat, so without thinking, I closed the hatch on top of the barrel, and busted out the back window in front of everybody.
We ran out of beer two hours later, so my soberest friend Maxwell went to grab another keg in his Subaru. As he was closing the back hatch at the liquor store, his window shattered.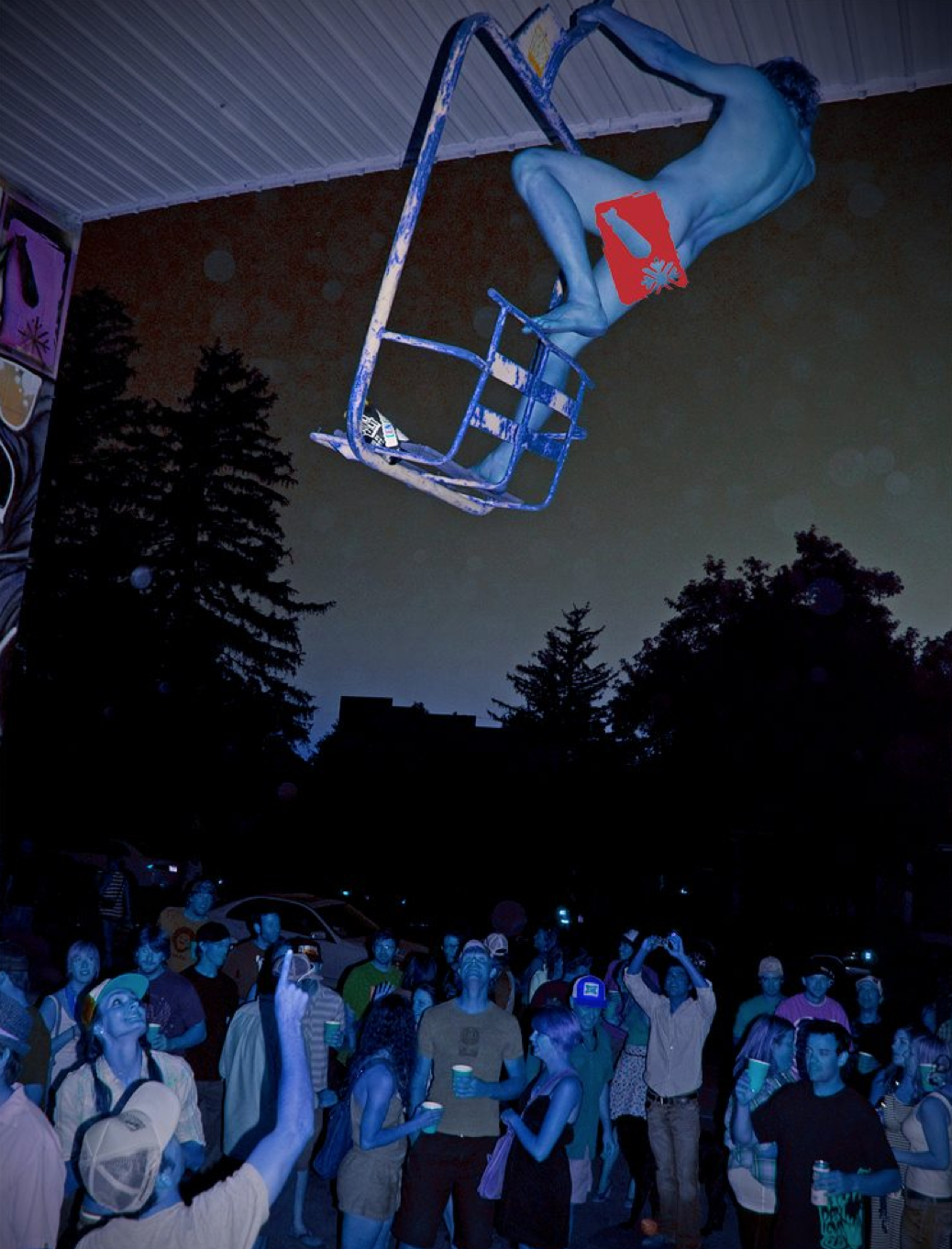 Caption: Tyler Bradt showing-off for the crowd / photo: travisandersenphotography.com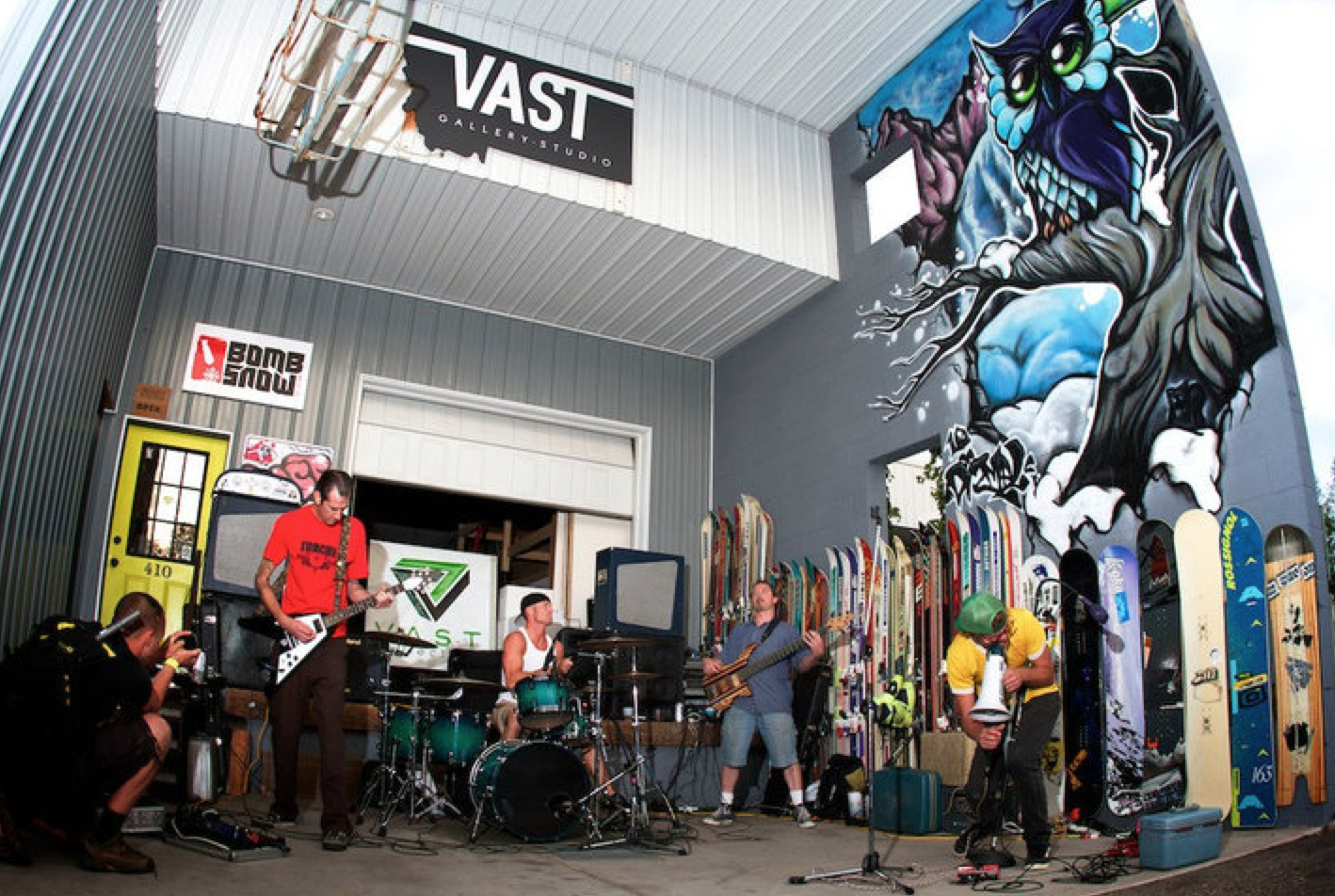 Medium Size Monster Playing for a release-party / photo: Morthphotography.com.
The Moustache Bandits are a crazy rockabilly band that played on our loading dock one time. After a few country jams, the bandits busted out a classy number entitled "Horse Cock". The song excited our friend Tyler Bradt so much that he got buck-naked and climbed up to an old double chair that hangs 20 feet above the concrete at our then-office. We had no idea he was such an exhibitionist.
THE "WORK" PART...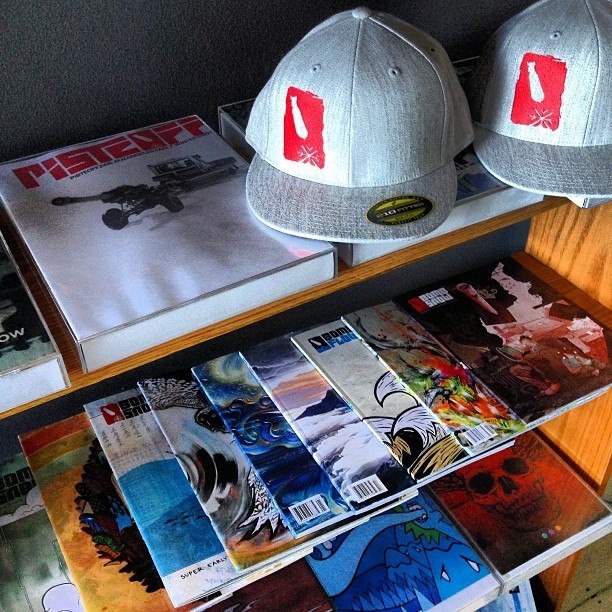 Content is usually submitted no more than two weeks before our print deadline because; hey, everyone procrastinates, right? That leaves us with very little time to design, edit, place ads, copy-edit, caption and color-correct. If you were wondering why you see an occasional typo or a blurry photo from time to time, now you know.
The final push is always the most stressful, but it's also the most creative and rewarding part of the whole process. It's amazing how much you can get done while sleep deprived. Taking catnaps throughout the day and staying hydrated with more than just Coors Light boosts productivity.
We only have five employees; two are part-time, the other two are rotating gypsies, and then myself. All of us have at least two other jobs. Bomb Snow wouldn't exist without our network of ski bums and friends that contribute content at heavily discounted rates.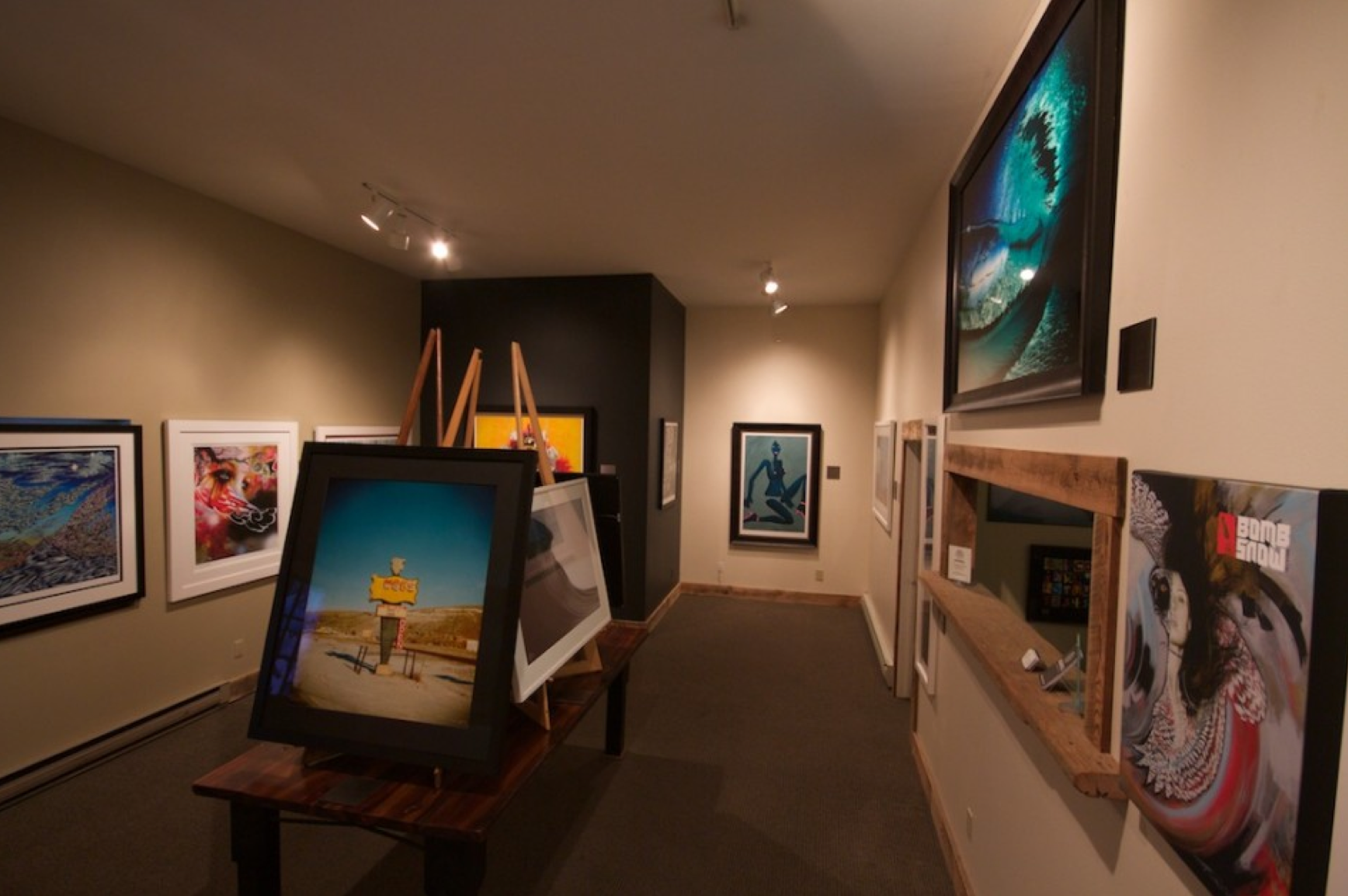 The Asymbol Show at VAST Gallery (formerly Bomb Snow Headquarters) in Bozeman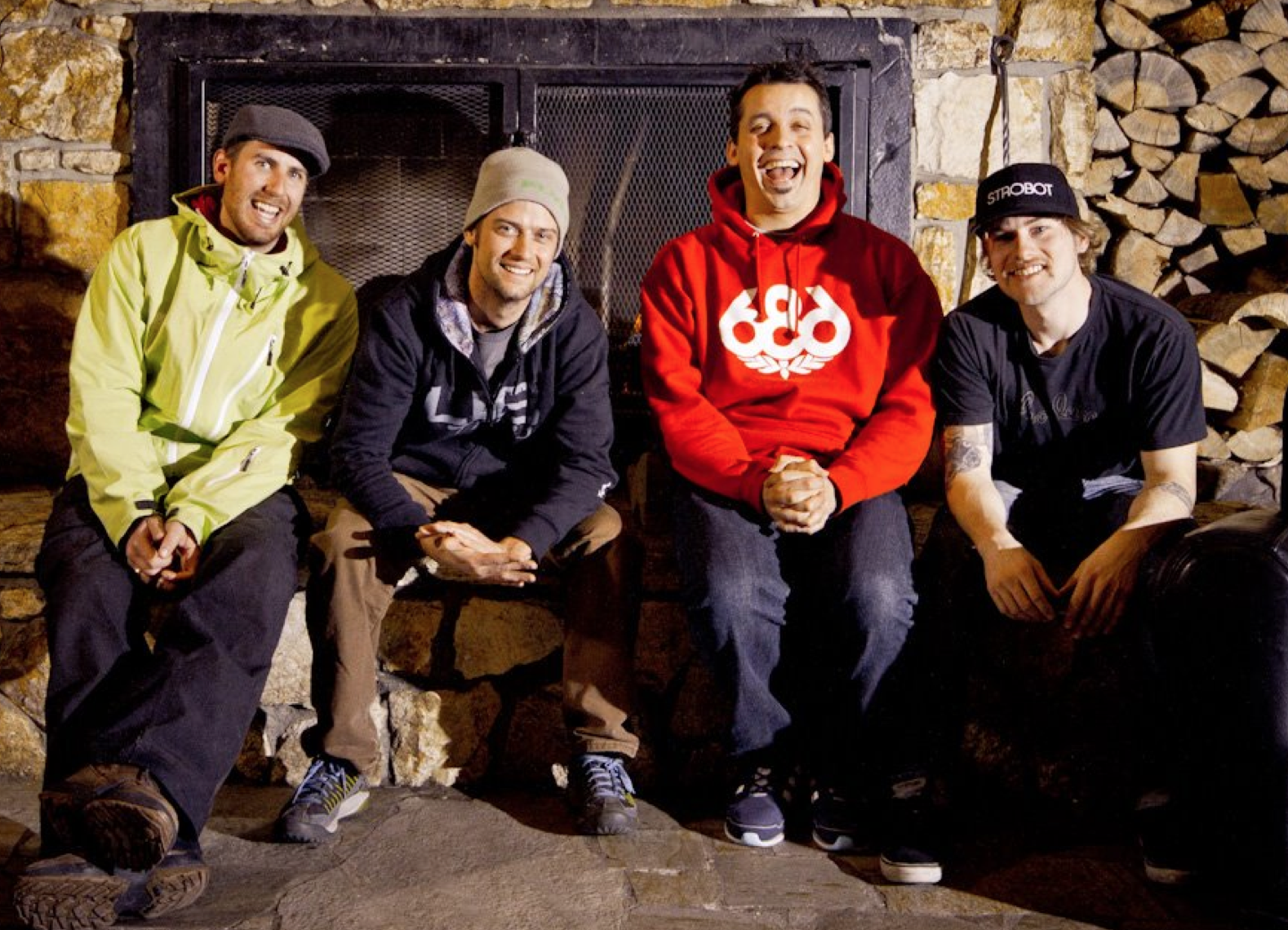 Interviewing Slug, AKA Atmosphere in Big Sky Montana, Photo: morthphotography.com
One of the most inspiring parts of this job has been being able to interview the people I grew up admiring. Hand-picking the artwork that graces our covers and pages has always been one of my favorite tasks too. I also love having the opportunity to speak with musicians I grew up listening to. But the best part is getting emails from our fans. I will never forget this email from Jake Moe, founder of Powder Magazine:
"Great Job, Crew–
Love the approach for your magazine–above all else, just remember three things! Be Authentic! Be Totally Radical! And, MOST importantly, have FUN! (If it isn't fun, it isn't worth doin!). With that in mind, you will truly connect with all the folks that find out about you.
All the best–Jake Moe, Powder Magazine 1971"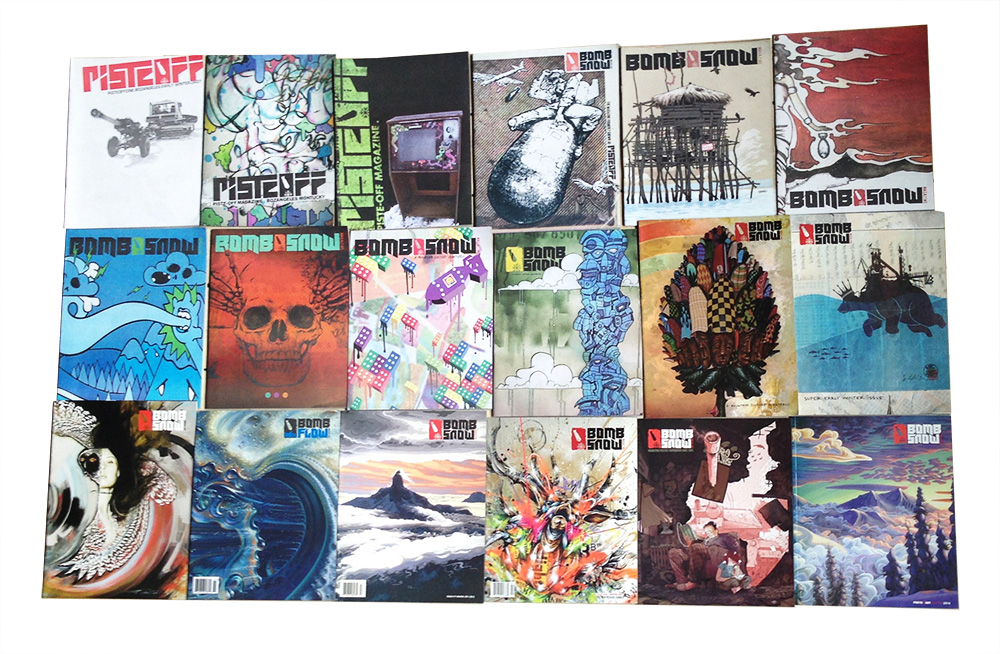 We are tired of the staleness and deception that permeates mainstream and outdoor media. After 10 years and 21 issues, our goal is to create a coffee table book each winter that celebrates the spirit of the outdoors and the ski culture. For us, those two things are what make living out West so remarkable. Creating something with a higher regard for substance and the environment makes sense. If Bomb Snow can create a unique, artistic publication that readers will appreciate and hold on to for the next ten years, then we have done our job well.
Stay Rad–Todd