September 27, 2010
by Xavier De Le Rue
Here I am standing in that Washington airport that I tend to know too well. Once again, my flights have been delayed and I missed my connection. I've been stuck one night in new york city...great fun! I'm looking forward to people inventing teleportation! That'll make my life easier...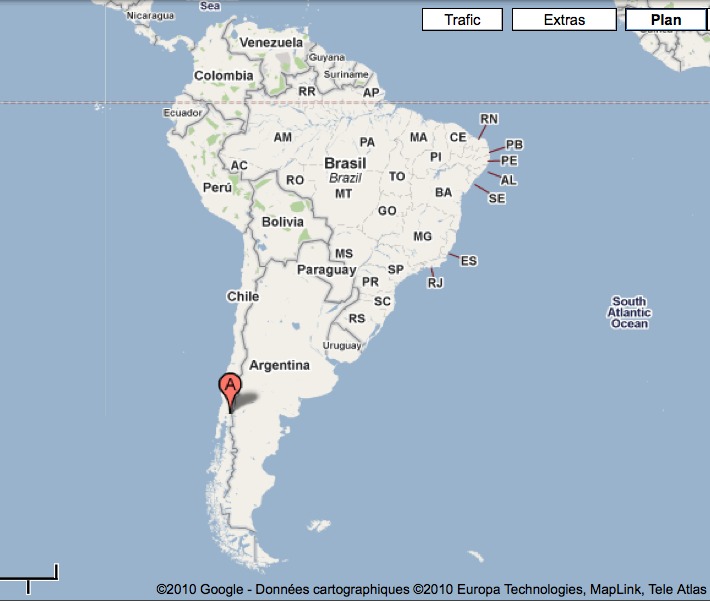 The Volcano's location.
Anyways, I'm stuck but with some great memories in my head. Just got out of a really cool mission in Chile in a volcano for Transworld and the north face with DCP, Lucas Debari and the whole Transworld snowboarding crew (including the well-known organizer Shin Campos). We've been leaving around two weeks ago from a place close to Osorno in Southern Chile to go and hit the wide crater of the Puyehue volcano that has the originality to offer great runs into it's heart from all 360 degrees. Basically after my short trip in California for the TGR's Deeper premiere (that I missed due to delayed planes), I joined the crew in that little cabin for one night before we could start getting into serious things. The next day we packed up all our gear, load it on a bunch of horses and donkeys, and headed for a 3 hours ride up mission to the cabin above tree line that's on the slopes of the volcano. We had food for about 10 days, a generator for the batteries, all our camping and riding gear, some wine and pisco of course. A few hundred meters below the cabin, however, the horses couldn't make it any farther because of the snow. As we result, we had to carry our gear the rest of the way--around half an hour skin up. By the end the next day, we had pretty much carried what we needed to live happy and prepare for the window that would allow us to ride the volcano.
Warming up in the cabin
We quickly realized that this window wouldn't last very long. The location is very wet and even when the sun is good, clouds always seemed to leave the volcano last. It's a great choice of destination to avoid getting sun burns!
Trapped in fog
After four days of being socked in without being able to even see the summit, we got in contact via sat phone with a weather advisor that told us that another storm was in its way in two days. Our only option was to start scoping the crater in the fog. We didn't want to spend our whole day sitting in the moistly hut, anyway. Some action and air are pretty vital for the brain and body. After our initial scouting, we retraced our initial step with food, tents and the rest of the gear we'd need for the final ascent. As you can imagine, we were still socked in with Lucas at the end of a rope as we made our way toward a potentially corniced ridge that we probably wouldn't be able to see. We eventually made it to a flat spot on the ridge that Jorge our guide had in mind. With less time than anticipated, we nixed the original plan to descend into and camp in the crater. The weather slowly began to improve and we ended enjoying the most amazing sunset and our first view down the valley over dinner that night. It was incredible to finally be able to see all of the surrounding lakes and amazingly shaped volcanos.
The fog finally clears!
Scoping the line was promising, the crater was way bigger that I thought. Some of the lines probably averaged about 300 vertical meters (1000 feet). Additionally, the crater's base must haver being a few kilometers wide! Even with the weather improving, we still had trouble believing the next day would grace us with good weather. When I woke up, around 6:30 AM, it was pretty clear with only a few clouds in the sky. Some amazing light was inviting us into several lines right below camp. After struggling to get into our frozen boots, I dropped in first at 7:00 AM! The snow on that first line was pretty hard, but DCP later dropped in on a more eastern-facing line and it became obvious that we were about to get what we had come for. And we did! We pretty much got five cool lines each, rode pow and hiked our souls out until in the end of the afternoon, when the next storm began to move in, covering all the volcanos to our west with a big dark net. Having enough time to pack up, we got to ride down the volcano's slopes with huge smiles, flying down dense, but great powder to the base of the volcano and looking down at that wonderful landscape lit by the sun's setting rays. We then recounted how lucky we had been to at ride least those few sick lines before our window closed.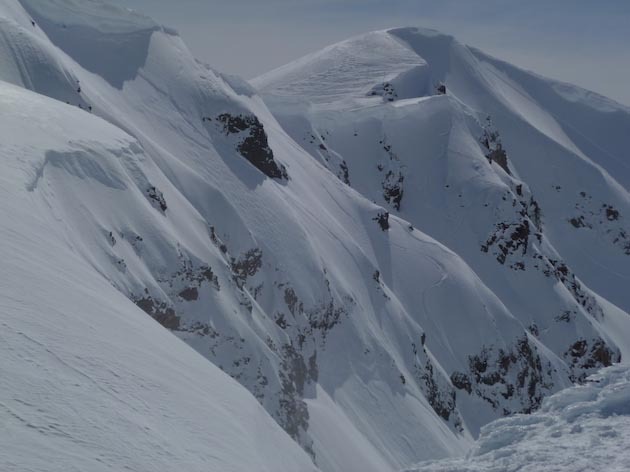 Some of our lines
We returned to the cabin for a celebration before the forced retreat--pisco vino! The next day, the way down became pretty interesting. The horse men couldn't come because it was a national holiday, which resulted in two hours of walking in the rain with about 40kg of gear on our backs. The forest and its exotic vegetation almost made us feel like we were on a Vietnam war mission. It was tough, but good fun.
Self-portrait
It's pretty easy to focus on the struggle we had to endure for a mere five lines, but the whole mission was a fascinating experience with regard to patience, mountain knowledge and human experience. We made the most it and I don't think that any of us will come home with a bitter taste in our mouths!
View from the top of the crater
After such an intense experience of winter weather, I'm really stocked to get back to enjoy the end of the summer before the season starts again and provides many more cool adventures!