October 11, 2010
Hampton, New Hampshire - South America Snow Sessions (SASS) completed its first season of environmental and community projects in the city of San Carlos de Bariloche, Argentina with support from a variety of organization including Protect Our Winters, 1 Step, and the One Life crew of professional snowboarders. Participants included Michelle Parker, Mark Abma, Chanelle Sladics, Kjersi Buaas, and Jamie Anderson as well as musicians Cindy Santini and Marc Beauregard, the Green Guide Networks' Casey Cochran, the Argentine sustainability consultancy Wulcon Energy, and SASS's own interns, staff, and clients.
The collaboration produced a greenhouse made of recycled plastic bottles for a local school in Bariloche, a biodiesel processor to convert waste vegetable oil into usable biodiesel, and a carbon offset program for SASS clients in the desert Puna region of Argentina through the EcoAndina foundation. South America Snow Sessions hopes that this first season of projects will be the foundation for more substantial and diverse projects in the seasons to come. With the help of POW and 1 Step, SASS hopes to educate Argentina's mountain communities about more sustainable practices while developing projects that serve those same communities.
The Group at the Finished Greenhouse
"When I proposed the idea in January of doing these projects, I had no idea how many people we would connect with who were really energized to do this kind of work," said Ryan Dunfee, SASS's Sustainability Manager. "With everyone from environmental organizations to professional skiers and snowboarders to individuals to the Argentines that we ended up connecting with, we had a huge network of people eager to start tackling these environmental and community issues in South America, and these projects would not have been completed in the short time window we had without them." With funding help from 1 Step and POW, people ran around town collecting thousands of used plastic bottles for the greenhouse walls, helped build a frame and a compost bin, and helped put together a biodiesel reactor made entirely from parts found around Bariloche. The crew was able to hand over both the greenhouse and the biodiesel reactor to the community by the time they left in mid-September.
The greenhouses were given to Secondary School No. 321 for use in a mentoring program where high school students teach primary school students how to grow and care for budding trees. The saplings are then used to reforest an area near the Cerro Catedral ski resort that burned down several years ago.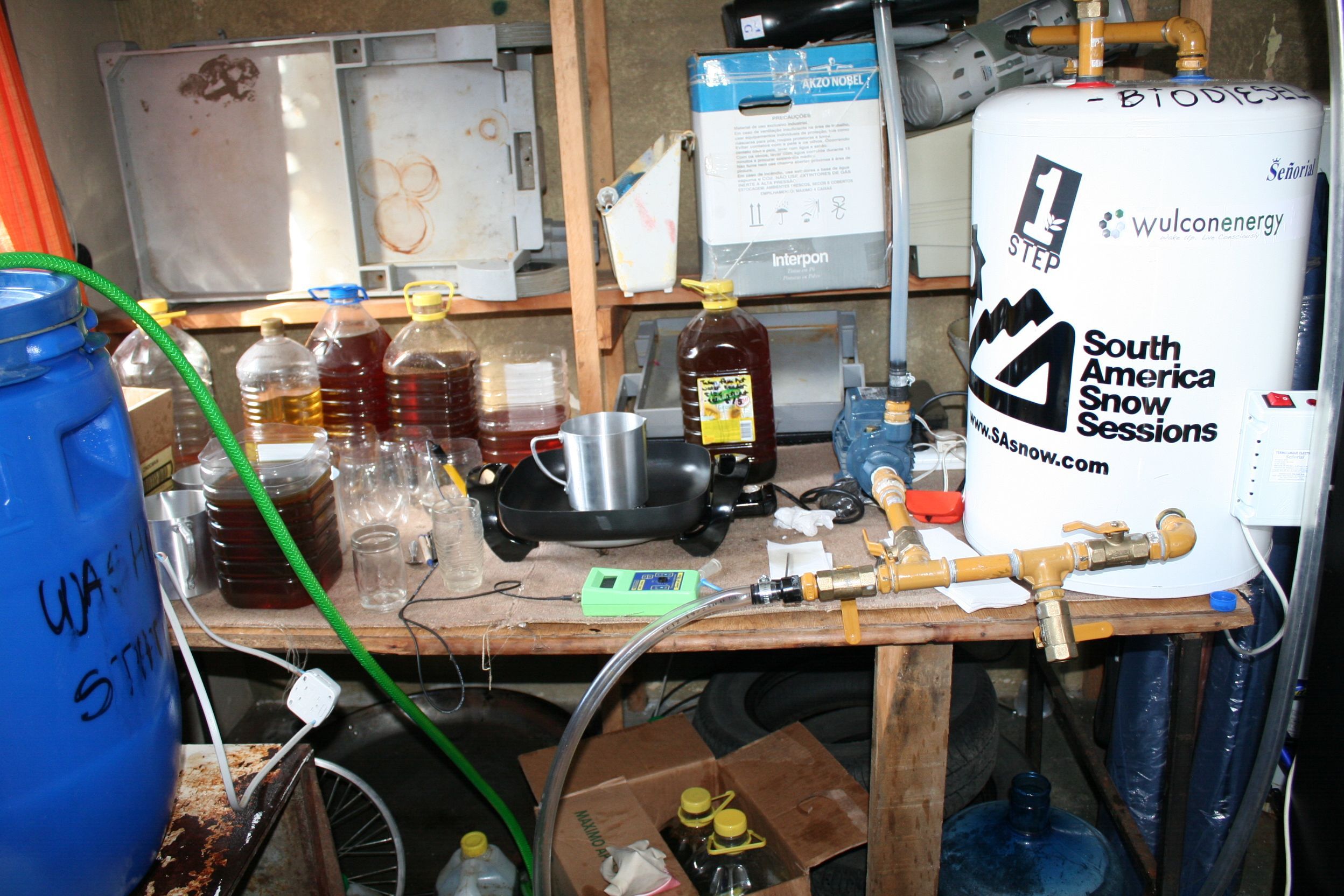 The SASS Biodiesel Reactor
The biodiesel reactor was also transferred to a group of local Argentines working on their own biodiesel project. These Argentines will train Bariloche's only recycling organization, the self funded Asociación de Recicladores de Bariloche, on how to use the reactor so that they can both recycle another waste product while lowering their fuel costs and environmental impact. Finally, SASS was able to develop its own carbon offset program for clients through the EcoAndina foundation of Argentina, which consisted of developing small-scale solar projects in the remote northern desert region of the country known as la Puna.
"We're thrilled at the amount of work that was done in Bariloche this winter - the collaboration amongst everyone involved was amazing and it all really addressed the needs of the community and the environment" said Chris Steinkamp, POW's Executive Director.
Martin Wainstein and Mark Abma in Front of the Recycling Association Truck
"This was the first year for everyone involved doing work in Argentina, so more than anything it was an experiment to see what the needs, enthusiasm, and challenges would be like for environmental projects in Bariloche," said Dunfee. "The results were extremely encouraging and now that we know what we're doing, I'm excited to expand the scope and scale of the projects, both in Argentina and at SASS Global Travel's other locations. We'll be working with organizations like Waves for Development, a surf 'voluntourism' organization, to identify similar opportunities in tropical communities, as well as work with our existing partners to expand our environmental efforts in the snow community."