May 1, 2011
Lamoille, NV
As the sun set on the month of April, a small group of us found ourselves camping at the mouth of Lamoille Canyon, NV. Anticipation was high as we settled into our sleeping bags with visions of climbing and skiing the little slice of central Nevada known as Terminal Cancer Couloir.
Our group was however missing two members. This mission was originally the brainchild of our good friend and competitive freeskier Tamara Guttman. After spending several years exploring the Tetons and San Juan's, Tamara and her companion Justin Theemling found themselves in the Sierra Nevada in time for the 2009-2010 season. In February, 2010 Tamara was diagnosed with stage four, metastatic pancreatic cancer.
Throughout the rounds of treatment, Tamara's courage and positive attitude were nothing short of inspirational and in the fall of 2010, she shared her goal of visiting the Ruby Mountains to ski T.C. Tamara maintained her goal and as she started yet another medical trial in March and she felt as though reaching her goal would be obtainable as the winter turned to spring. Unfortunately, Tamara's liver was not as strong as her heart and mind. On Tuesday, April 26th, the doctors at Tahoe Forest Cancer Center informed her that her body could no longer take the invasive treatment. That was a very bad day.
Although she was physically beat up, she and Justin decided that they would not roll over, but rather they would search out alternative treatment methods. As this was obviously a higher priority than skiing, there was no doubt that it was the right time to launch an assault on T.C. on her behalf.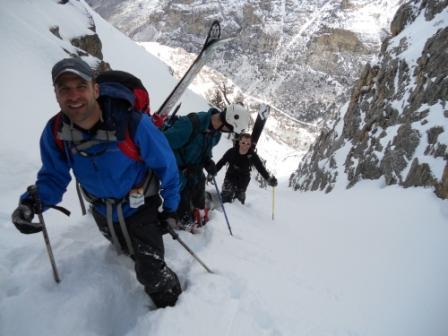 The morning of Sunday, May 1st was cold and clear. The boot pack up the base of Terminal Cancer got deeper as our team ascended higher. By the time we were climbing the heart of the couloir, we found ourselves taking turns breaking trail in the waist deep winter snow. As we reached the crest of the notch, we were met by the warm sun and we soaked in the moment and reflected on the beauty of the glacier carved canyon.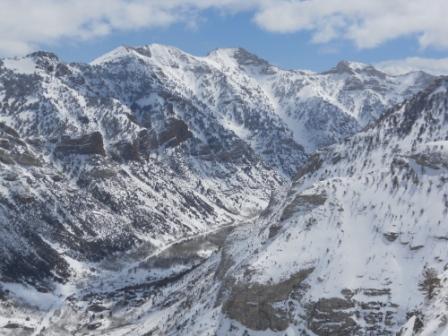 Although Tamara and Justin were on a separate mission to Ashland, Oregon to meet with doctors who specialize in eastern medical practices, they were BOTH with us in spirit. A bright bouquet of yellow spring blossoming flowers accompanied us on the climb and we planted them in the snow at the entrance of the line. This was not done in a morbid sense, but rather as a way of celebrating the mission and to include their adventurous spirits with us on our journey. It was comforting having them watching over us as we descended the couloir through the perfect untracked powder snow.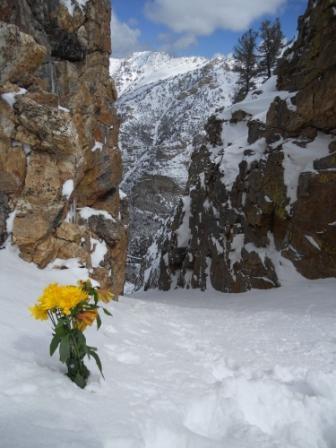 At the end of the day, the feeling of accomplishment was high and our team could not have been more proud of taking care of some unfinished business in the Ruby Mountains of Nevada for our good friends Justin and Tamara.
Words and Photos by Randolph Green
Skiers: Randolph Green, Ty Hargroder, Jonathan Cracroft
Additional cast members: Matt Blodgett and Sam Wells from Driggs, ID as well as Bruce from Spring Creek, NV and his dog Cody!!