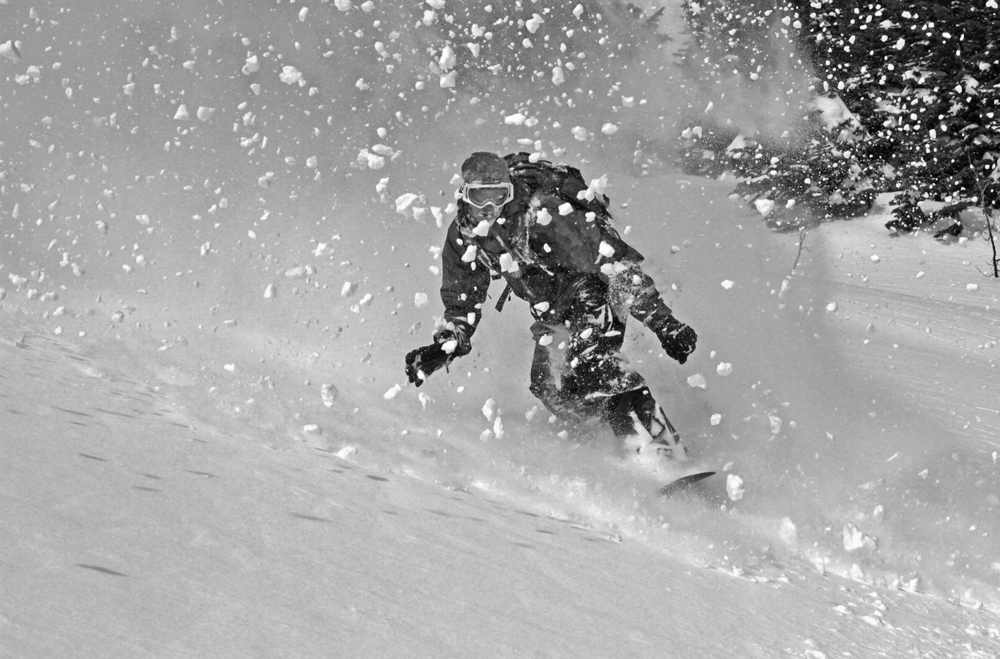 "The nicest thing is knowing that if you want more speed, you just point it straighter." Ian Walsh at Jackson Hole Mountain Resort. Ryan Dunfee photo.
TGR is all about the crossover athletes. Sage Cattabriga-Alosa is not only a savant of a skier, but a fluid and balls-out mountain biker as well. Ian McIntosh goes BASE jumping when the change of seasons means he can't close in on terminal velocity on skis, and yours truly is not only an amateur backcountry skier but also doubles as an equally untalented photographer.
The tradition was turned on its head a bit this month when Ian Walsh – a renowned big-wave surfer from Hawaii more familiar with the issue of chafing board shorts than that of fogging goggles – came into town to get his annual break from the beach and the waves to ride at Jackson Hole Mountain Resort. Walsh's second favorite hobby after surfing monster waves like Jaws is snowboarding, which lets him "turn [his] brain off" and enjoy a high-speed pursuit outside the pressure of the annual hunt for the world's biggest and least forgiving waves.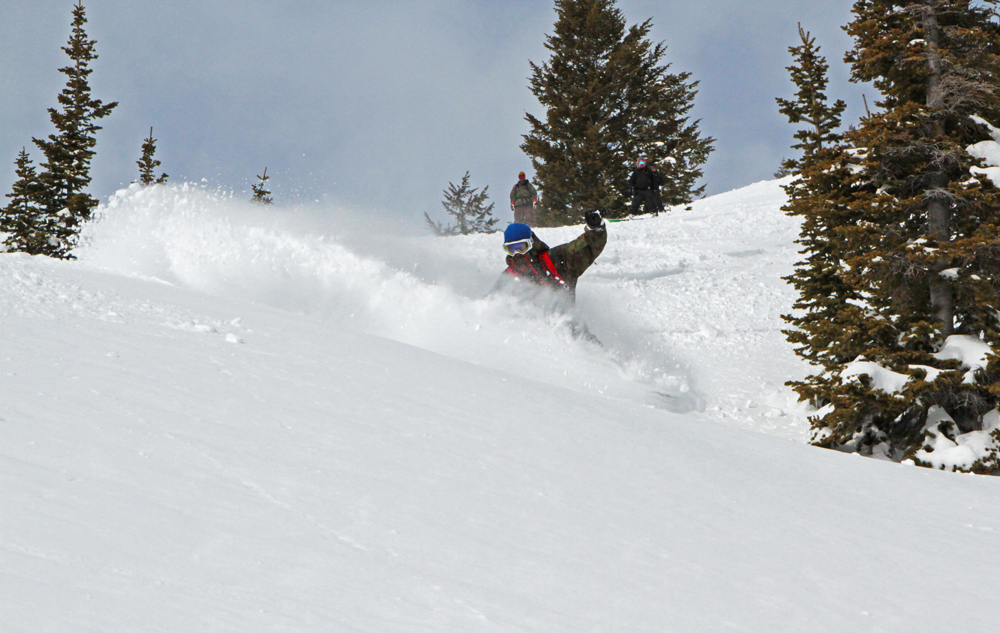 Ian showing master edgework, or hack work, in Jackson Hole this March. Ryan Dunfee photo.
"I started snowboarding in Park City with Andy Irons after he won the world tour," Ian said. "I spent the entire first day falling on my heel edge, and then my toe edge, and then heel again. We don't have edges on surfboards." Nonetheless, snowboarding had already been on the brain for some time for Ian, as he'd kept a small collection of Mack Dawg movies going since he liked the way they edited their films.
It wasn't until his second snowboard trip, to Jackson Hole after filming with TGR for one of their first surf films, that the snow addiction really set it. Walsh got to sample Jackson Hole Mountain Resort for the first time with Jeremy Jones and an all-star lineup of surfers, including Andy Irons, Joel Parkinson, Shane Dorian, and Australian legend Mark Occhilupo. As he put it, "One tram lap of blower pow from top to bottom put the talons in my back. I knew I'd never miss a winter after that." Riding pow, it turns out, is strangely similar to surfing. "You can go so fast and hold your edge for so long," he reflected. "It feels like an endless wave."
Todd Jones swaps the double planks for the single to show Ian the way of the Wyoming slash. Ryan Dunfee photo.
But there are some things that snowboarding does have on surfing. "You can actually stop and assess what you want to ride while you're snowboarding, while surfing is way more of a reactionary sport – you don't get to choose what kind of wave you ride or lip you want to hit." While the luxury of planning time is for sure an advantage, Ian's addiction to speed is still a deep part of the attraction. "The nicest thing is knowing that if you want more speed, you just point it straighter."
Regardless of the love for snow, midway through his Jackson Hole-based reprieve from the pressures of pro surfing, Ian couldn't help but be drawn back to the ocean. As he said on his Instagram: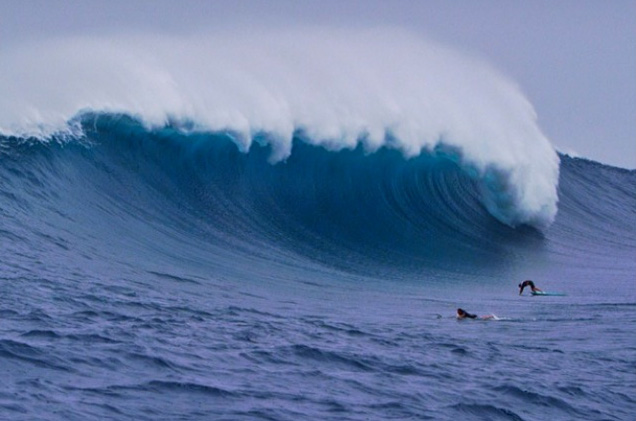 "At 11:45 pm two nights ago I was posed with a very good problem to have.... Either stay on my 1st break away from the ocean in long time to recharge the batteries with a change of scenery in the snow and my other deeply loved sport that consists of riding a snowboard along with one of the best forecasts for fresh snow I have ever seen - or - hop on a last second flight a few hours later at 5 am to leave right in the middle of this huge snow storm and a few feet of fresh powder (anyone that has played on a mountain full of deep snow knows how hard that is) to chase a big swell to Jaws that wasn't guaranteed with weather, wind, and swell angle.

It left me with two really good options (of which I am very grateful for) and a realization of how much I love both sports, but nothing can surmount the amount of passion I have for surfing and pushing myself in big waves. After a sleepless night of debate, I was on that flight before the sun came up and landed to a very challenging hit or miss day of surf. And as you can see from this photo of me 'diving for lobsters' I was well in the miss range, but it was a fun day to be in the mix regardless.

Now I am sitting back on a red eye flight to the snow to finish my little change of scenery with my brothers. Wake up and do what you love."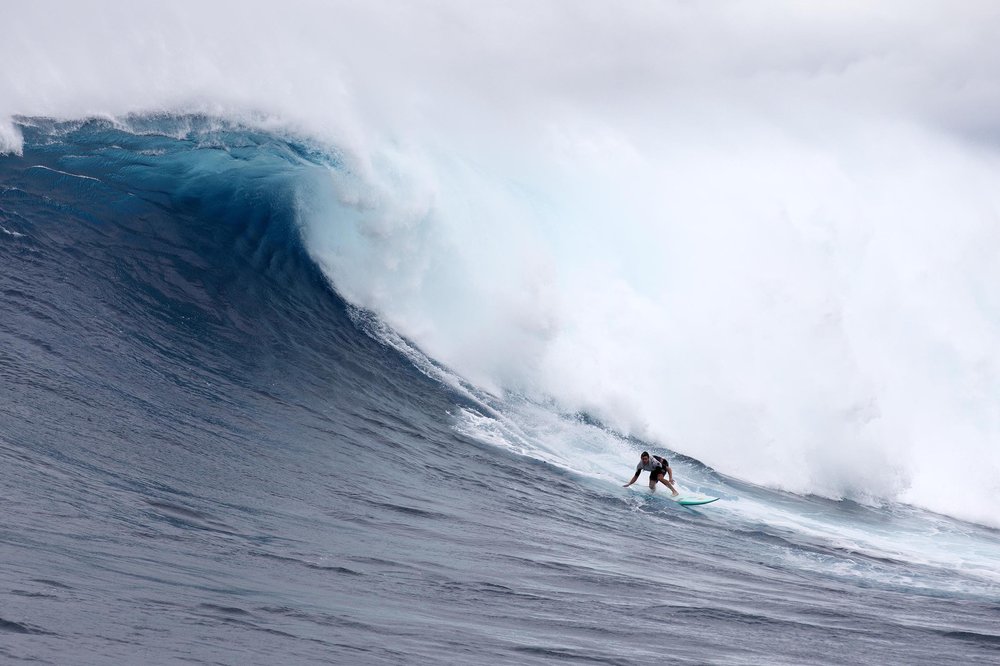 Ian escaping the wrath of Jaws unscathed... others weren't so lucky. Brian Bielmann/Red Bull photo
As gnarly as Jackson Hole can be, it still couldn't match the kind of intensity Walsh inserted himself into when he decided to step out from his low-pressure vacation for a second. This particular session at Jaws, with a flash-flooding storm ceasing just in time to allow for clean 25-foot swells and a slight off-shore at daybreak, was more interested in claiming victims than delivering the glory sought by pros on the hunt for the Billabong XXL contest title for the year's biggest wave.
Billy Kemper tore his calf. Shane Dorian, who was also in Jackson Hole with Walsh, got held under the water while two successive waves passed by. He surfaced with a concussion, a wetsuit torn in half, a bloody nose, and a busted chin. One surfer broke four boards after coming from South Africa, while another suffered two lacerations on his leg. A boat capsized. Ian found himself diving for the bottom as a 30-foot wave came crashing down on top of him.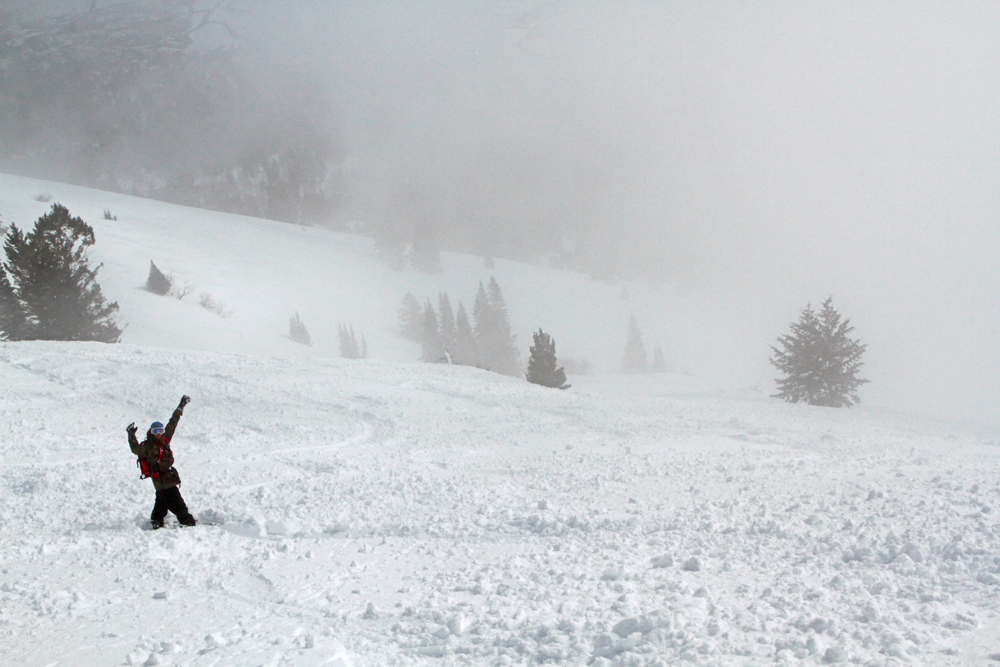 Walshy back in the more casual setting of the Hobacks. Ryan Dunfee photo.
Luckily, Ian escaped the session unscathed, and caught the redeye back to Jackson to enjoy what has become a very special activity for him. "What I enjoy most about snowboarding is the feeling of learning something new," he said, reflecting on his annual snow trip. "I get the same sensations I got when I was surfing at twelve years old; like 'Oh my God! I did my first floater! I got my first barrel!' Every time I go snowboarding, I'm figuring something new out. It brings me back to those first days when I fell in love with surfing."
Want more Walshy? More surfing? Check out TGR's own surf films, from Out There to Shack Therapy and Gondwana.