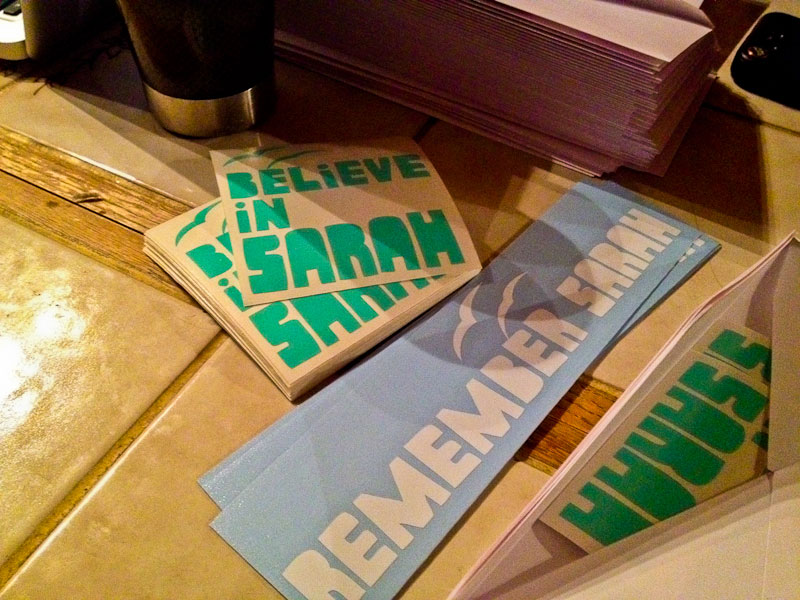 It's been almost a month since Sarah Burke, the leading lady of freeskiing, was seriously injured in a Monster halfpipe training session at Park City's Eagle Superpipe. On Jan. 19, nine days after the accident, Sarah succumbed to the irreversible brain damage caused by a tear in an artery to her brain that deprived her of crucial blood and oxygen. The skiing community was shocked, having lost a true pioneer and a dominant competitor in what seemed to be a freak accident. In an occurrence happening all too often recently, skiers everywhere took time to grieve for a fallen athlete. But one fellow freeskier decided she could do a little more for Sarah than mourn.
When the word went out about Sarah's hospitalization, fellow pro skier Michelle Parker was overwhelmed with feelings of deja vú. Around this time last year, Michelle had spent thirty-three days in a hospital in Montana with her boyfriend, Danny Toumarkine. Danny had suffered a similarly traumatic brain injury snowboarding, and after undergoing four brain surgeries and months of rehab, miraculously returned to the slopes this January. Michelle and her friends at the Shreddy Times crew had just finished editing a documentary about Danny's recovery when the news about Sarah came out. While never close friends, Burke had been a hugely significant figure in Parker's professional and personal life.
"One of the first posters on my wall was of Sarah," Parker said. "I have so much appreciation for what she stood for, her attitude, and her grace. I couldn't have had a better role model growing up."
While Parker, along with the rest of the ski community, held hope for Sarah as sparse information came out from University Hospital in Salt Lake City, the news that ultimately came out about Sarah's passing hit close to home given her experience with Danny. But when Toumarkine proposed the idea of using his sticker company, Sticker Pack, to print memorial stickers to raise money for Burke's medical expenses (likely now being absorbed by her husband, fellow freeskier Rory Bushfield, and family), Parker was immediately inspired to act. No stranger to supporting good causes, including a similar project last year to help pay for her boyfriend's medical expenses by selling hats, stickers, and bracelets, Parker and Toumarkine brothers Danny and Conor set up the "Believe in Sarah!" online store on ShreddyTimes.com and began selling stickers designed by perennial women's ski slopestyle champion, Kaya Turski.
So far nearly 3,000 stickers, going for $5 a pop, have been sold. The total take after the 47 cents per order of expenses for envelopes and postage? As of press time, $14,825. The orders have overwhelmed the trio, and lately a larger group of volunteers has been showing up once a week to help print stickers, pack envelopes, and lick stamps. If there's anything the ski community's good at, it's rallying around a fallen member. Rest In Peace, Sarah.
If you'd like to order a "Believe in Sarah!" or "Remember Sarah" sticker, click here.