Greg Epstein, center, with Griffin Post (left) and girlfriend Mira Lee (right). Photo via Mira Lee.
After a record storm cycle brought up to two hundred inches to the Tetons in little more than a month, local backcountry skiers and riders were hankering to get on top of lines around Jackson Hole Mountain Resort. For much of February, these lines had been getting hammered with new snow or were plagued by poor visibility. As the beginning of March brought with it some of the first bluebird days in weeks, local backcountry skiers and riders quickly fanned out into quickly-accessible terrain surrounding the legendary Jackson Hole tram. But the desire to scratch that itch produced multiple avalanche victims, including TGR's own Supervising Producer, Greg Epstein.
The first incident came on Tuesday, March 4th, when a skier triggered an avalanche after ski cutting the top of 7 Dwarfs in the steep North-facing terrain of Granite Canyon off the back of the resort. The slide swept the skier into trees and down a second pitch. Upon attempting a rescue, his partner set off a second avalanche that carried her down to her partner, almost burying him further. Both managed to self-rescue and exit Granite safely. The following day, two skiers set off an avalanche at the top of Four Pines off the south side of the resort that caught both but did not bury them.
On Saturday, March 8th, with a deep blue sky hinting at rising temps throughout the day, a highly experienced, local backcountry snowboarder attempted to negotiate the steep cliffband known as Breakneck, which is located beneath Cody and No Name peaks. Dropping in on his first run of the day, he hit an unstable pocket among the cliffs that released, raking him over successive cliffs and burying him completely at the bottom, his head three feet under the snow. Dave Miller, Jackson Hole Mountain Resort's Lead Backcountry Guide, was in a different party nearby with four other ski patrollers, along with one more at the top of Green River, and readily responded. Miller located the victim under the snow with the five others and, luckily, he regained consciousness. This close call could have ended very differently if an experienced guide hadn't been there right at that moment.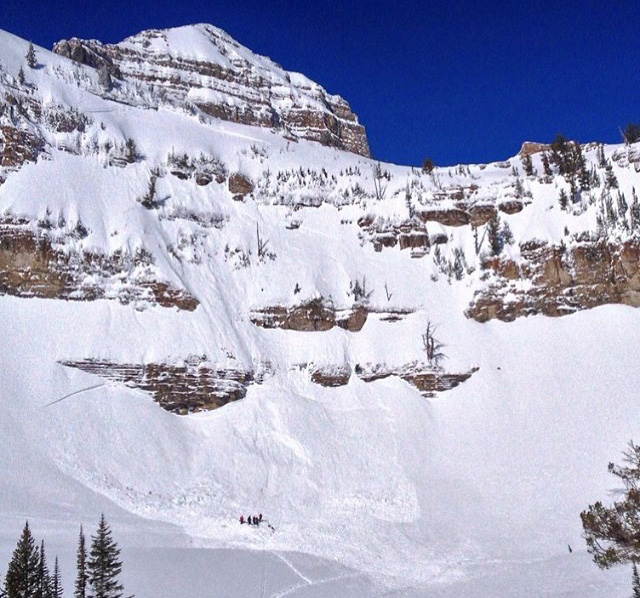 The result of the Breakneck avalanche. The crown where the avalanche broke can be seen high up on the face. Photo via the Bridger-Teton Avalanche Center.
"We basically had a snow cycle since late January in which we got thirty-six days of snow, and two hundred inches, before we finally got into a period of high pressure," said Mike Ream, an avalanche forecaster at the Bridger-Teton Avalanche Center. He explains that on the day of the Breakneck incident, "The snowpack was stabilizing, but immediately following that big storm cycle, people were making aggressive terrain choices. Saturday [March 8th] we had considerable hazards at the mid-high elevations with wind slabs, and persistent slabs at high elevations." Rheam added before discussing the Breakneck incident, where he was one of the first responders. "We don't forecast for steep, aggressive terrain like Breakneck. It's outside of our forecasting consideration, and there's pockets on those cliff bands that can go at any time. That guy was very lucky that he wasn't hurt worse by trauma while falling over the cliffs and [that he] was unconscious when found and exposed. It was a big red flag—that was really aggressive terrain."
The following morning, Sunday, March 9th, TGR's Supervising Producer Greg Epstein aimed to ski Granite Canyon with a small group that included professional skier Max Hammer and Patagonia's Josh Nielsen and Glenn Morden.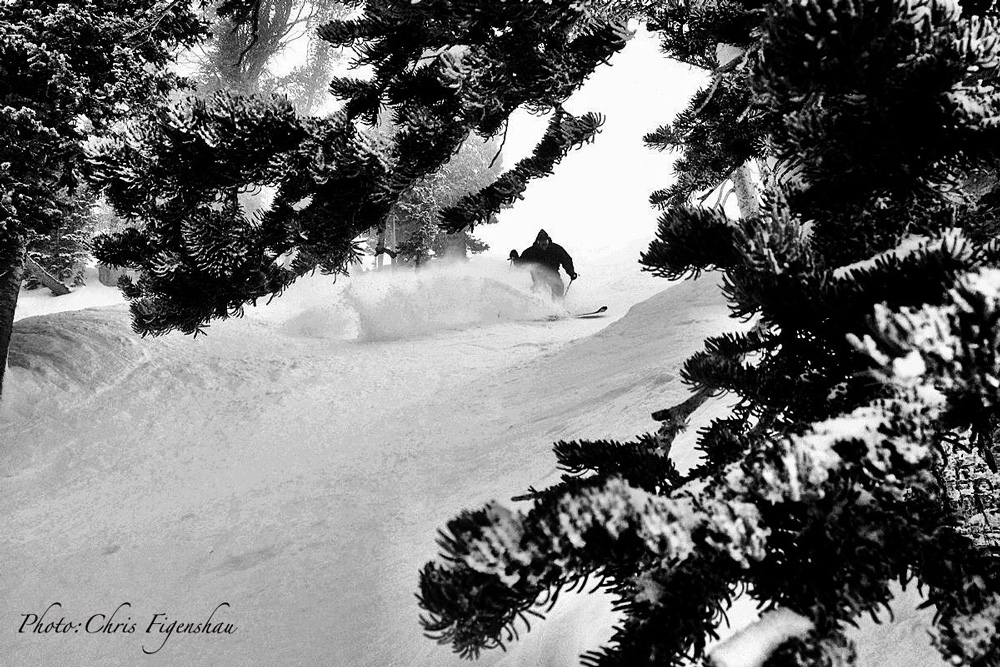 Greg Epstein skiing at Jackson Hole Mountain Resort. Photo by Chris Figenshau.
Epstein is a highly experienced backcountry traveler who has safely produced numerous backcountry film segments while also organizing the annual International Pro Riders' Workshop. TGR facilitates this workshop at the start of each season to train its film athletes and cinematographers in avalanche safety and backcountry rescue and first aid protocols.
The largely northeast-facing terrain is home to some of the area's most challenging and longest backcountry runs, including classics like Milelong Couloir, the Spock Chutes, and Northwest Passage. Nonetheless, the area presents a unique set of challenges when it comes to managing avalanche hazards. "It's pretty aggressive terrain—the narrow chutes especially," said Bridger-Teton's Mike Rheam. "The chutes in the early season are basically cliff bands, and they take awhile to fill in. When they do, the snowpack varies in depth quite a bit, being super shallow or deep depending on where along the buried cliff bands you area. But the wind loading is really the tricky thing there—it's very difficult to predict those wind slabs. And that particular terrain is notorious for shifting wind slabs that vary from chute to chute or from the top to the bottom."
Over the course of that Sunday, the avalanche hazard rose from moderate to considerable as temps in the high elevations rose from twenty-nine degrees at five a.m. to a high of 42. During a "considerable" avalanche hazard, natural avalanches are deemed possible while human-triggered avalanches are likely. But again, these kinds of hazards don't fully account for the dangers found on steep, technical terrain like that in Granite Canyon. While the snow had settled over the course of the past few days of high pressure, persistent deep slabs and wind slabs still posed a threat at the high elevations. Greg and his party skied one run safely in Granite earlier in the day, and came back after lunch to attempt the well-known Double Dogleg Couloir, a steep chuted run that goes on a similar Northeast aspect that splits in two midway down the line, runs for 1,500 vertical feet, and has an average pitch in the high thirty degrees.
Epstein set out to test the intricate hazards persistent in Granite with an experienced eye. "The general avalanche hazard forecast is a good way to get a general sense of what's going on outside, but it doesn't represent all aspects at all elevations. Granite has its own micro-aspects like a lot of places in the Tetons, and each one has completely different snow, wind—everything," Greg said with regards to the decision-making process. "We were a day after the Breakneck incident but on a completely different aspect. We had an extra day for the snow to settle and not much solar gain on the slope—that's why we decided to ski it. It was a group decision and we were prepared to be out there."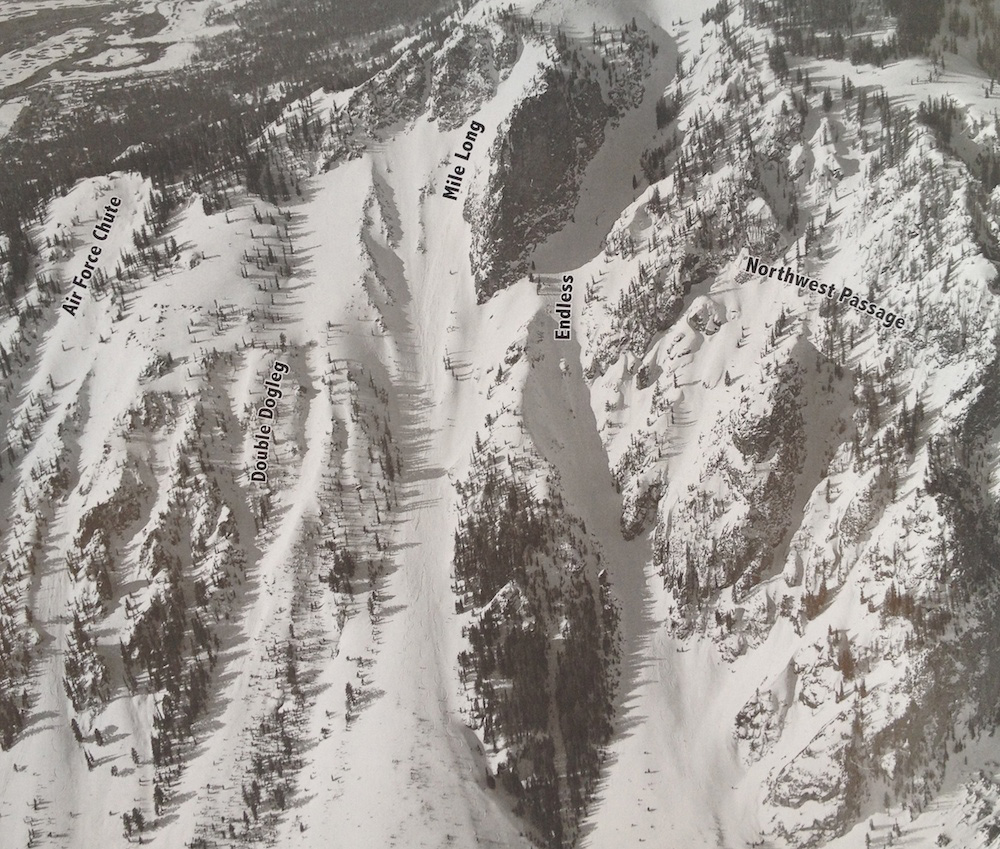 In this excerpt from the Jackson Hole Ski Atlas, the Double Dogleg Couloir can be seen towards the left of the picture. The Football Field is the unobstructed open section before the beginning of the chute.
Epstein made the call to ski cut the top of the first pitch, known as Football Field. This would allow the group to monitor whether or not any of the snow would release on the large open pitch before Double Dogleg began to narrow. He cut across it at a forty-five degree angle, maintaining his speed to get across any slab that might release, but nothing did. "So then we poked in a little further, " he added. "We got to the top of Double Dogleg, and I decided to ski cut the top of that as well. Nothing moved, not even a block of snow. We started talking about the next move, and decided that I was going to work my way about fifty to sixty yards down the fall line before stopping at this island of safety—a rocky ridge that took you out of the path of the chute. I made two turns and saw cracks forming in the snow ahead of me, and immediately beelined it for the safe zone. I got up on top of it, but as the avalanche passed, it grabbed the last few inches of my tails and pulled me into the slide.
"I pulled my airbag and took the ride for about 800 or 1,000 feet," Epstein explained. "It was definitely fast and aggressive. I went off a pretty big cliff that made me think for a few minutes—like 'what's going to happen when I come back down'—and I landed and my ski hit a tree, breaking off at the binding, and that's when I broke my leg and my pelvis."
"It was a fourteen to eighteen inch crown," said Rheam, after having inspected the debris of the slide in subsequent days. The crown was thrity yards wide, and the avalanche propogated wider after the initial break. "It was a pocket of wind slab, maybe an R2, D1.5 avalanche. Relatively speaking, it wasn't a giant slide, but in that terrain you're going for a ride once you get caught. A lot of times, people in Granite aren't buried; they're injured. It was definitely an aggressive terrain choice for the heat, and a pretty bold decision due to the recent avalanche activity, the warming going on, and the terrain features in Double Dogleg."
Back on the snow at the apron of the couloir, Greg sat facing up hill on top of the snow—thanks no doubt to his air bag—with a broken tibia and fibia in his lower leg, which was nearly at compound fracture stage with the bone trying to poke out of the skin. While that pain was bad enough, the pain of his newly-broken pelvis was purely agonizing. As partners Josh Nielsen and Max Hammer descended with avalanche beacons, searching for Greg's signal, Epstein yelled back up the hill to call 911. "Nielsen probably got to me within three minutes," he said. "I told him I thought my leg and pelvis were broken and that we needed to get me turned downhill, get me comfortable, and get help quick."
Hammer, who had CPR training in addition to his experience training at TGR's International Pro Riders' Workshop, took on the responsibility of triage, checking Greg's vitals and running his hands along Greg's entire body to check for secondary issues. They then pulled Greg onto a line of their backcountry packs to keep him off the snow and warmer. They also called emergency services. As local patrollers and search and rescue crews organized a response and called in a helicopter, Max stayed by Epstein, repeating encouraging words while continually keeping contact and pressure on Greg's chest to let him know he was there. After an hour, the first patrollers arrived. And after two hours, another set arrived with a sled to take Greg down to the base of the valley for a heli extract. Epstein started to get cold and shiver. This and the tension of a full bladder began to exacerbate the severe pain he was already experiencing. "It was the most pain I have ever been in in my entire life—hands down," said Greg looking back. "But I feel luckier than shit that I didn't die or have any back or head injuries."
Three hours after the avalanche swept Greg nearly 1,500 feet, a helicopter arrived and carted Epstein to an ambulance waiting at the base of the resort. After a night at St. John's Medical Center in Jackson, Epstein underwent nearly six hours of surgery to insert rods into his lower leg in order to stabilize the tibia and fibia and a plate to pull his pelvis back together. Almost immediately, a flurry of support from the local community made its way to Greg's bed, with piles of get well cards, sweets, and beers, along with enough incoming traffic to give the nurses an exhausted look at the sight of another visitor.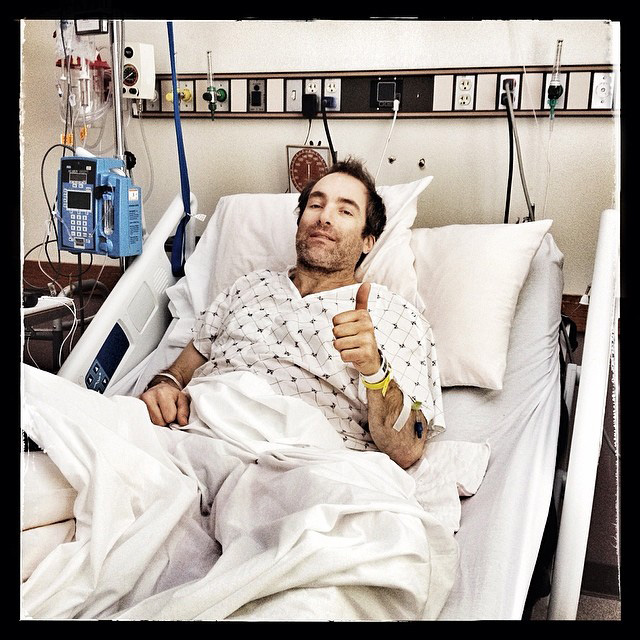 Mark Epstein captures his brother Greg recovering well in Jackson's St. John's Hospital before being released last Friday.
"It's been amazing how supportive the community has been and how many people called or cared," Greg said reflecting on his time in the hospital. "It's one of the things that makes Jackson Hole one of the best communities on the planet. I really want to stress that; this place is really, really supportive."
After being released from the hospital over the weekend, Greg would like to thank everyone who sent messages of support or visited him after his accident. He would also like to thank his backcountry partners. They not only had the skills to locate him with their transceivers after the avalanche, but also the skills to stabilize him, check for additional injuries, and efficiently coordinate a rescue and extraction with the emergency service personnel who helped Greg get to the helicopter and ultimately the hospital - a big thanks is owed to their tireless work as well.
Want to be prepared for the backcountry? Here are some helpful resources to check out:
-Higher Unplugged: International -Pro Rider Workshop recap video
-TGR's roundup of avalanche classes, clinics, and workshops in North America