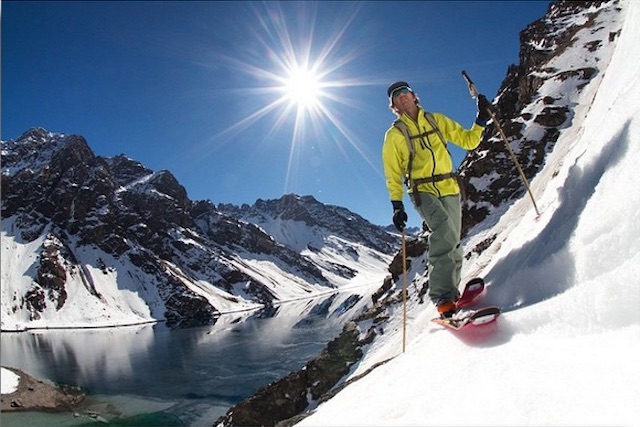 "American Dave" Rosenbarger ski touring around Portillo, Chile in a photo from his Instagram account.
JANUARY 23, 11:40 AM MST: Ski mountaineer, Patagonia athlete, and legendary fixture of Chamonix ski culture, "American" Dave Rosenbarger has reportedly died in an avalanche on the Italian side of Mont Blanc, according to Powder Magazine. According to Powder, Rosenbarger was with three ski partners when we was swept away in an avalanche on the Helbronner off Mont Blanc. His partners dug him out while he was still alive, and were able to get him airlifted to a local hospital, but he unfortunately succumbed to his injuries and passed.
Powder had done a large digital feature on Rosenbarger little more than a week ago called Untracked, in which the magazine covered the Tahoe-based skier's boisterous history in Chamonix and remarkable ability to track down powder in the area's notoriously steep, rocky, and dangerous terrain. "Ski bum is a term that someone sacrifices a lot in their life in order to achieve that sensation of skiing," Rosenbarger said at the end of the piece. "And I think people that are willing to do that just have a lot of passion and energy. It's amazing to be around."
Patagonia's Global Marketing Manager and TGR alum, Josh Nielsen, also released this statement: "He was the epitome of a pure passion skier–someone who didn't do it for the cameras or for the limelight–and was deeply committed to the sport for all of the right reasons. Dave was a calculated risk taker and a talented athlete who dedicated his life to climbing and skiing some of the most challenging lines in the world, calling Chamonix, France his winter home. Dave is known for having an effortless style while skiing in steep and precarious places but also for his infectious glowing personality. He contributed to our Patagonia family in so many ways–he had a natural eye for product design and became one of our most articulate and valued product testers, he was beloved by fellow ambassadors, a friend to all and the catalyst for many powder-laden Chamonix adventures. Dave was one of a kind and will be deeply missed."
For more information, head to Powder.com. Our thoughts and prayers are with Dave's family and friends.