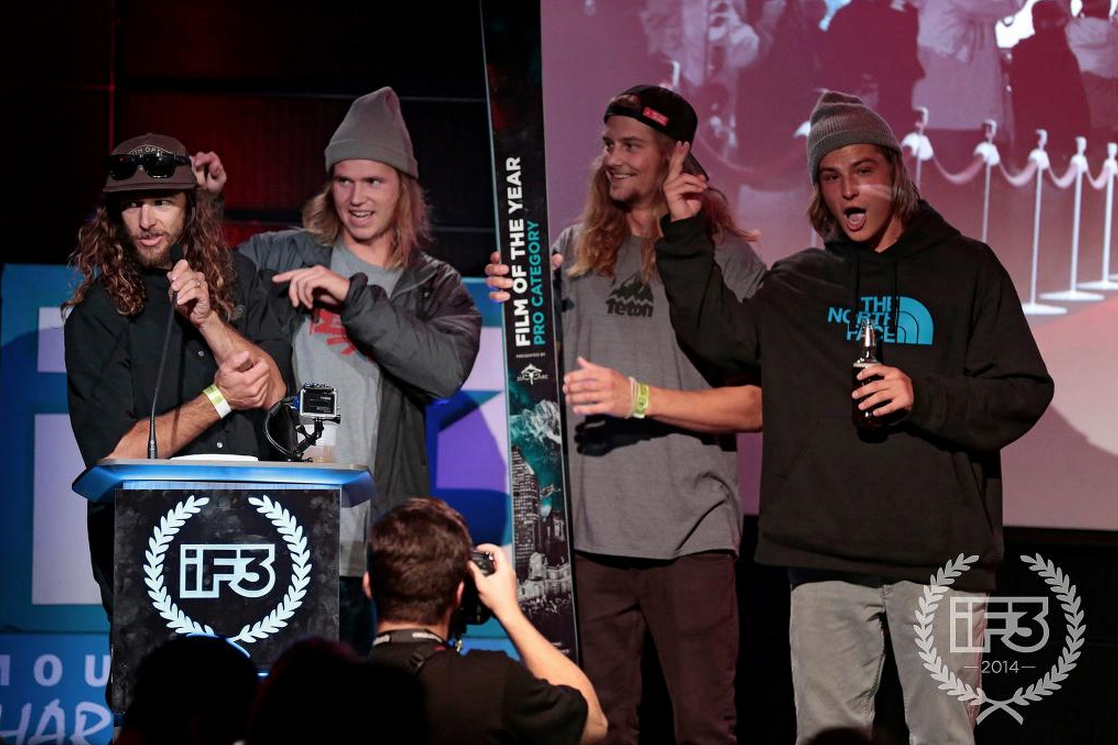 Sage Cattabriga-Alosa, Karl Fostvedt, Rookie of the Year Nick McNutt, and Chris Laker keep it "tight loose" for TGR at the 2014 International Freeski Film Festival last night in Montreal. IF3 photo.
Four of TGR's ski athletes–Sage Cattabriga-Alosa, Karl Fostvedt, Nick McNutt, and Chris Laker–had the pleasure and honor of mounting the stage in Montreal at the 2014 International Freeski Film Festival to accept the award for Best Pro Film for TGR's Almost Ablaze. One of the four–Co-Lab contestant and TGR's official New Guy, Whistler's Nick McNutt–also followed through on his promise by taking home Rookie of The Year for his segment in the film.
"I'm pumped–It feels good. I've been cutting a lot of these movies–I think six of them at this point," said Almost Ablaze's Lead Editor, Blake Campbell. "A lot of TGR athletes and individual segments have been recognized on their own, but this is the first recognition of this caliber for an entire film we've seen in awhile. We've been working up to this film for five years, and it feels great to see it all pay off."
Nick McNutt, who was brought into the TGR fold after an eye-opening performance in the TGR Co-Lab in 2013, barely had time to sit down before having to stand up for his Rookie of the Year award. "I was pretty pumped–it was kind of early in the night, like the first or second award," said McNutt. "I was just getting into my seat, and then they announced that I won. It was definitely pretty surprising." Nick's first night at IF3 was bookmarked on the other end by getting called up to the stage to accept Film Of the Year. "Winning Film of the Year was super surprising, since there were so many good ones coming out. I was really pumped that I was able to be at iF3–you're standing up there with Sage, and being there with Karl [Fostvedt] and Chris Laker from 4bi9 was a pretty cool moment. It was nice to have a little bit of a crew to go up there."
---
Want to ask fellow Almost Ablaze star Ian McIntosh ANYTHING?!? Join the conversation in our Ask Me Anything event w/Ian today from 12-3 PM MST in the TGR Forums.
---
In thinking about what made the difference that gave TGR the win, Nick pointed to a new initiative from the production team this year: mic'ing up all the athletes, providing in-the-moment audio throughout the film. "I think having the live audio was definitely a huge part of this win," McNutt said. "Instead of that forced interview that's been around for awhile, everything is more natural and behind the scenes. And Sage's lightshow was a really cool part of the movie, and the 4bi9 segment was awesome, even being mixed into a mostly big-mountain movie."
As well, TGR's Higher, Presented by Subaru, got a mention by Variety Magazine International Correspondent John Hopewell for getting a nod from the annual San Sebastian Film Festival, which selected TGR for its Savage Cinema section for the first time. In the review, Hopeful wrote that: "It's the sense of journey which gives 'Higher,' which world premiered September 6th in Squaw Valley, California, as with many top action sports movies, their emotional resonance and ultimate sense."