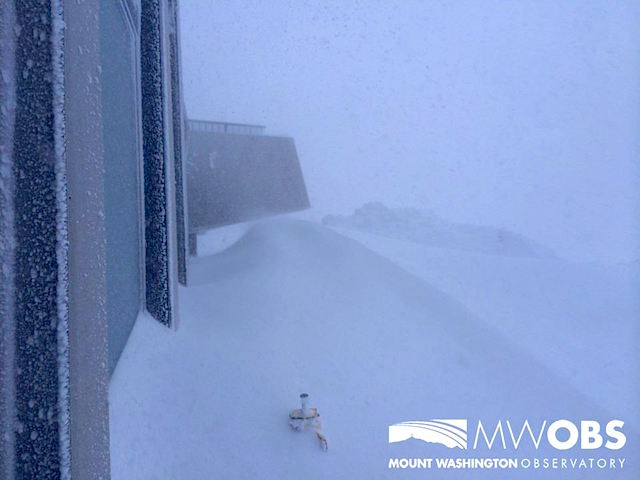 22.3" inches has fallen on the summit of Mt. Washington in New Hampshire in the past 72 hours. MWOBS photo.
The East Coast snow shellacking continues, with the fresh 22.3" that just fell on the summit of Mt. Washington in New Hampshire over the past several days giving New England skiers and snowboarders fresh material to spite their Western friends with. Far from a heavy spring storm, at least half the snow came in at around 10% density–meaning that fresh mid-winter pow is on tap for those experienced enough to handle the mountain's highly variable avalanche conditions.
READ ALSO: 6 Avalanche Slide on Mt. Washington in One Day on March 31st
According to the Mt. Washington Avalanche Center, another 6-12" (and unfortunately, some rain) is possible through this Friday, after which conditions will clear and warm up in time for the annual Inferno Pentathalon race. At present, wind slab at wet, loose snow avalanches are the primary concern, with the avalanche hazard rated at Moderate to Low, with unstable snow surrounding isolated terrain features. Stay safe out there and enjoy the pow, NH!