It has been a tough fall to be a skier or a snowboarder. After last season's record snowfall across most of North America, combined with predictions for a second La Niña winter the shredding population is champing at the bit. However, everyone's new powder skis have largely sat idle in the garage. From Tahoe to Colorado to Maine, it has been a lot of high pressure and not much snow this fall. But while one would think resorts would be panicking and facing loads of cancelations for the upcoming holiday — the most lucrative week of year — bookings have remained consistent at destination resorts where people have to book too far in advance to account for weak early-season snowfall, the resorts say. It seems that by and large, skiers and snowboarders still want to ski and snowboard during what is for many the only chance to get on snow for the year.


Snowguns a' blazin' on the slopes of Killington, Vermont.
After a freak Halloween blizzard and a smaller Thanksgiving event, the East Coast's sizable shredding population has sat through one of the warmest falls it can remember, where temps reminiscent of mid-September remained all the way through the first part of December. But despite a warm fall and nonexistent December snow, resorts across New England stand equipped for disappointment, and have been ferrying their armies of snowguns around since snowmaking temps become more desirable in the past week.

Killington, which has remained open since its Oct. 29 opening despite balmy weather for most of November, has been utilizing its 1500 snowguns to open a few trails across each of its many peaks in the hopes of spreading the Christmas crowd out. Its holiday week bookings have stayed consistent with last year, which Jillian Bourgholtzer, the Killington Chamber of Commerce's Business and Communications Manager, attributes to the fact that this time of year, "Skiers will ski if conditions are good." That seems to be the case elsewhere in the East, as Stowe, a bit farther up Vermont, is reporting an 85 percent to 90 percent occupancy rate for the upcoming week, on par with last year. As well, the incoming storm set to arrive Christmas Eve in much of the Northeast may combine with some new sticks under the tree to create a rush of day visitors excited to try out new gear in more favorable conditions.

Another unannounced factor playing to many resorts' favor is that with Christmas week being the one guaranteed vacation time for many families, bookings have to be made many months or even a year in advance — way too far ahead of time to account for early-season snowfall patterns. As well, in a down economy, it may be hard for people to justify switching vacation plans, as many lose a sizable deposit in the process. Also to keep in mind is that the recreational skiers making up the bulk of Christmas Week business are not as fickle about conditions as more hardcore skiers and riders, who are likely scrambling to find a few days of powder in the upcoming holiday.

The Pacific Northwest started strong with a November mimicking last year's 103 inches at Mt. baker, but December has been dry and quiet. However, the memory of last year's epic 857-inch La Niña winter is still strong, and season pass sales have been robust. Baker's Operations Manager Gwyn Howat said there's also been a lot of pent-up energy since November's two-foot opening day that riders are looking to expend Christmas Week, which may just get blessed with favorable weather patterns now lining up in the Northern Pacific. Howat and the rest of the Mt. Baker staff are hoping improving forecasts will turn that pent-up energy into a late surge of Christmas Week visitors.



Let it snow, let it snow, let it snow. Early season skiing at Snowbird.
While most destination resorts with a clientele that books their trips months in advance have stayed strong, other resorts have not been as lucky. In Utah, Snowbird, which counts on a mix of long-term and last-minute bookings as well as day visitors, a product of its proximity to a major city and a major airport, is looking at a mere 88 inches of snowfall to date compared with over 220 inches last early season. While Snowbird's long-term bookings have followed the trend of the rest of the nation, remaining largely consistent to last year's, last-minute bookings are down and the resort is forecasting a drop in local day visitors during the holiday break, which usually accounts for half its visitors on any given day during that period.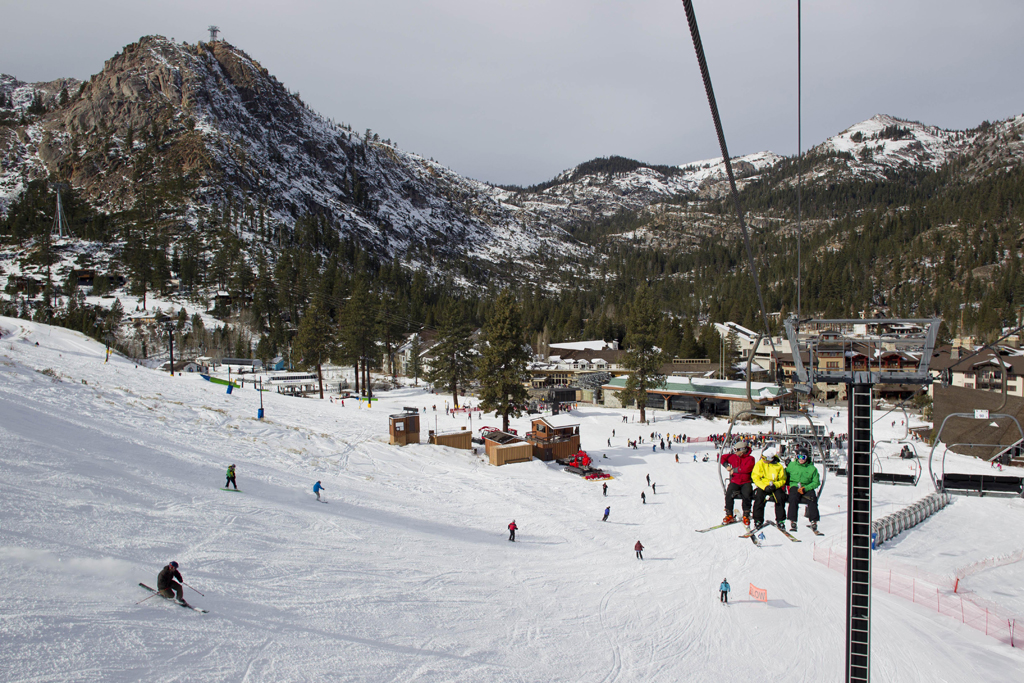 Opening day at Squaw Valley.

Lake Tahoe is also feeling the pinch. Whereas last year this time had seen a season's worth of powder days already in the bag, barely a couple dustings have come through in recent weeks. While October data showed Christmas week bookings a couple percentage points above last year's, November data was unavailable at this time. But in a rare concession to the slow start to the season there, local municipalities in North Lake Tahoe performed some late maintenance on the region's 18 miles of public bike trails, and local bike shops will be offering visitors rental packages for when they get bored of skiing the few groomers now available at resorts like Squaw Valley and Alpine Meadows. What many across the country are hoping is that concessions like that will prove to be unnecessary thanks to some much-needed and well-timed snowfall this Christmas.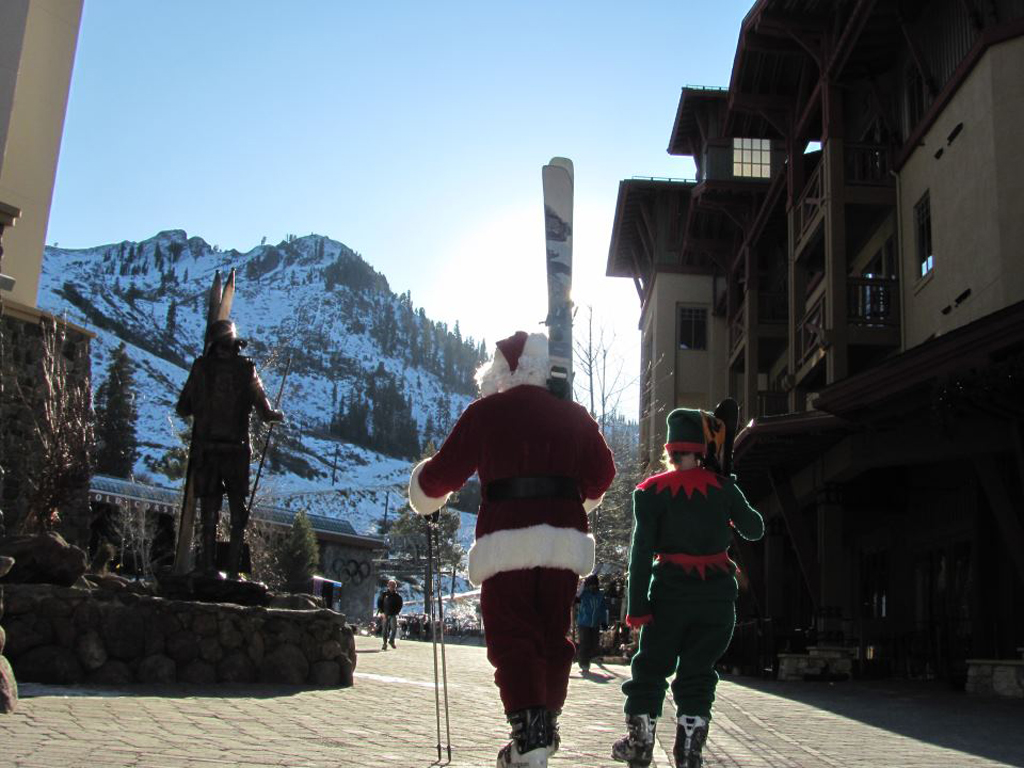 Santa and an elf at Squaw Valley.