The best way to get to Whitefish, Mont., is by train. The Amtrak will definitely be late, but they'll provide complimentary KFC when it is. Also, there's an extended stop in Spokane, so if you have a friend that lives there, it's a good idea to have them bring you a bottle of Evan Williams, or, if want to make party on the overnighter, a box of Franzia. While making new friends and trying to sleep on a train, it helps to be under the influence, obviously.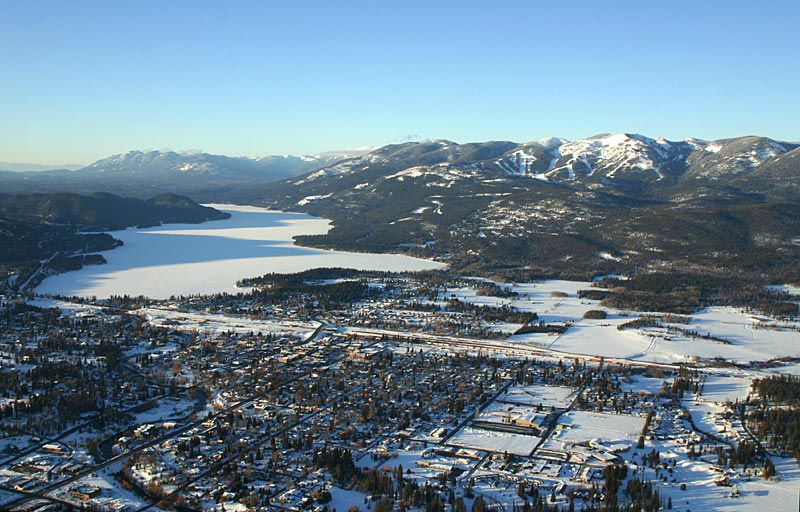 Whitefish, Montana. Getting here is half the fun. Photo by Brian Schott.
Whitefish is a classic ski town rich with Montana culture. It's totally acceptable to ski around in Carhartts, and typical to see a dead buck in the back of a truck. It's affordable, too. The Hibernation House Special is one of the sweetest deals in skiing. For $79 a day, visitors can stay on mountain, get a lift ticket and breakfast. Then there's Miller Mondays at the Northern, where a High Life will cost a dollar, and an octogenarian will kick your ass in ping-pong.
When you get into town you're likely to be hungover and hungry. In the Bulldog, the wallpaper in the bathroom is a lovely collage of nudes of the opposite sex from the '80s and '90s. Jenny McCarthy anyone? The restaurant has cheap and tasty burgers and BFPs, which stands for Big Fucking Pitcher.
Once you've had your fill, go skiing. Whitefish Mountain Resort isn't known for big dumps, but steady snowfall kept cold by low Montana temps. The East Rim area has short but technical lines that will cliff you out, while the Hellroaring Basin offers a huge bowl and tight tree skiing. Beyond the boundaries are plenty of sidecountry stashes. Skiers can hike up to Flower Point, which offers sustained vert into a canyon and a short walk back to Chair 7.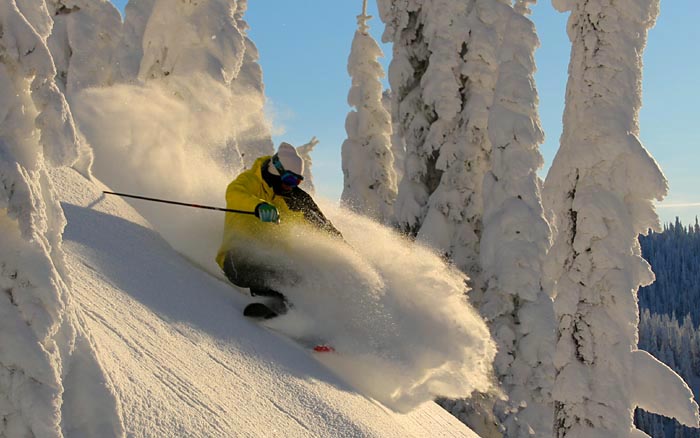 Cody Townsend rips Whitefish. Photo by Brian Schott.
For the more ambitious, Greg Franson of Bluebird Guides offers an array of tours near Glacier National Park. Franson and his guides specialize in tours around interior British Columbia and Northwestern Montana. Franson has experience guiding with film companies like Matchstick Productions, and clients can sign up for multi-day trips or one-day tours.
Whitefish is close enough to the Canadian border that some call it the Tijuana for Alberta. Canadians come in droves to do some affordable shopping and skiing, and to out-drink the locals. Their presence makes for a lively nightlife at Whitefish watering holes.
Back at Whitefish Mountain Resort, ski patrol crowns a weekly jackass as the 'Frabert' winner at the Bierstube. The award includes a chalice of beer, to be chugged in front of the large crowd that shows every Wednesday for the event. It's another tradition in Whitefish, like the weary train ride in, that keeps the community here rich, and the ski culture thick.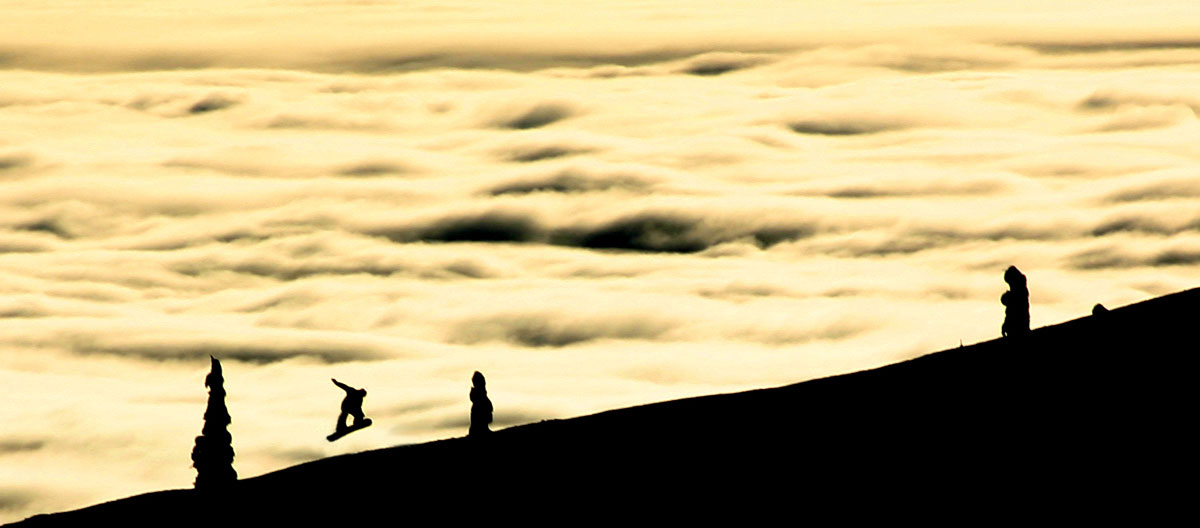 Wonderful Whitefish, Montana. Photo by Brian Schott.