Interview by Erme Catino
Born and raised on the slopes of Alta and Little Cottonwood Canyon, Utah, the Dubsatch Collective are a group of hard charging skiers at the pinnacle of what it means to be young and talented with the ski-world at their fingertips. Known for creating soulful edits stacked with faceshots and backcountry kickers, Dubsatch was previously a household name for the Utah locale (Dubsatch, Wasatch … get it?). However, that all changed when they won the Eye of the Condor video contest during the summer of 2011. Building upon their recent success and launch of ski careers, last season the group ventured to Alaska for their first time. TGR recently caught up with one of Dubsatch's co-founder, Leo Ahrens, to talk about their latest film: AK Our Way.
TGR: How did the Dubsatch get its name and grow into the group of riders it is today?
Leo Ahrens: Sam Cohen, Nate Cahoon, and I founded Dubsatch. Both Sam and I started our ski careers together. We began shooting with Lee Cohen, Sam's dad, and started getting photo publications.
Originally we were called Living Local. In the beginning, Connie Marshall from Alta gave us GoPros, and we would make edits. We met our videographer Nate Cahoon 3 years ago, he had a 7D, and we convinced him to start filming us—he's one of our best friends now.
The name Dubsatch actually came from my sister's boyfriend: the Dub is as in the letter "W" with "satch" standing for Wasatch Mountains, UT.
TGR: Growing up skiing Alta is every powder skier's dream, how was that experience, and how did that shape your crew?
Leo Ahrens: I'm 19, and was born in Alta at the Goldminers' employee housing. Both of my parents work up here, my mom works in the Albion Grill, and my dad makes ski racks you see around Alta, sometimes he'll plow the wildcat base as well. They both ski all the time. In terms of Dubsatch, we're all from LCC. That's who we are; when we travel we try to take our LCC style to other places.
The whole Alta community brought us up. It's very un-commercial, Alta is unique, and it's our home—more than my real home. What pushed us to where we are now is that there are always pro-skiers cycling through. I thought Dave McReynolds was a god, and I would follow him around—I wanted to be like Dave, he's the sickest. Sage… We stalked him, and hid in the trees. Then, I would hit a jump in front of him and he would be like "cool dude." Those guys knew all the spots. We would see all these crews taking photos, and I thought we could do that too.
TGR: You guys have steadily been receiving more press with your edits. What was the breakthrough?
Leo Ahrens: Eye of the Condor was huge for us, and was a classic junk show. I didn't' buy my plane ticket until a day before, and I couldn't afford to bring a filmer and photographer. So we met these two Chileans, and it worked out. All we wanted to do was jump the roofs on their houses, and they were into it—they were helping us build jumps with backhoes… We would be entering the in-runs to jumps with tons of Chileans cheering us on. They supported us so well, and the Eye of The Condor crew gave us a huge marketing push when we won.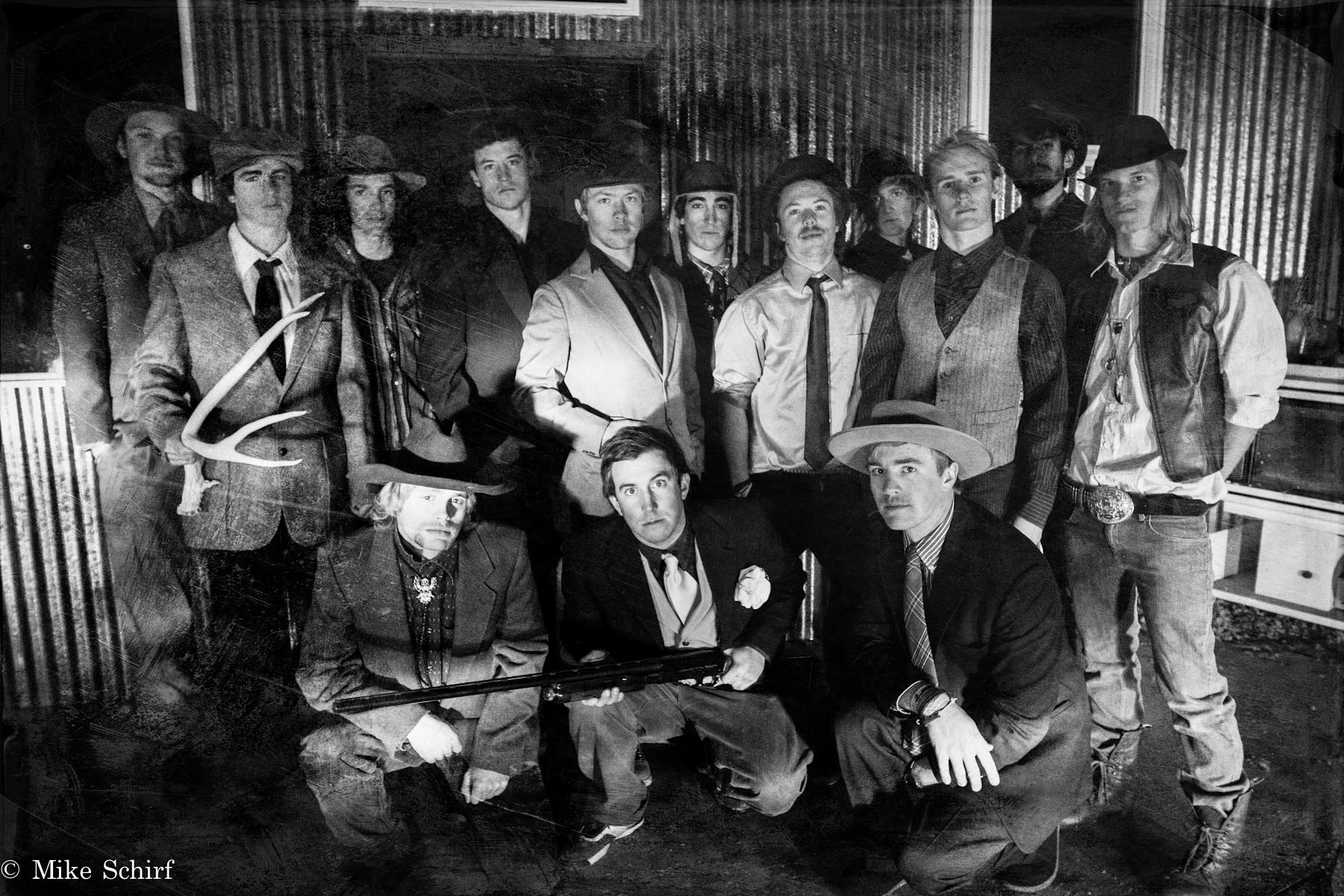 The Dubsatch Collective crew: Nate Cahoon, Leo Ahrens, Grant Howard, Jason Astle, Hayden Price, Sam Cohen, Ben Price, Carston Oliver, Eliel Hindert, Neil Howard, John Collinson, Douglas Nangle, Taylor Llyman, Henry Gates, Zach Halverson, Mitch Cahoon, Trevor Akimoto, Andrew Pollard, Colter Hinchliffe, Lexi Dupont, and Christian Mandahl. "We cycle through a huge crew, whoever is down to ski and work/film." – Leo Ahrens.
TGR: Talk about AK // Our Way. Was it your first time to AK, and who was in tow?
Leo Ahrens: Filming for AK // Our Way was our first time to Haines. We were in Stanley, Idaho, filming with our Dub Crew. Then, Lexi Dupont sends us a message saying we have two empty seats in Haines for a heli, "get here in 24 hours." Not even thinking logistically (Colter put this all on his credit card!), Colter and I left Stanley and drove all night to Portland, Oregon, to catch a flight—we convinced the airline lady to hold the plane and we made it… I had a first decent on the trip, and named it "Holy Junkshow."
When we got up there we met up with Lexi Dupount, Will Wissman, and Reggie Crist. Typically when you're in AK you have a film production team, but we didn't have a filmer… I had a 7D, and Will and Reggie also had cameras so we figured we would switch off filming each other, while still crushing lines—hence the name AK Our Way.
The cool thing about the trip was we were filming each other. We would pick out our line and everyone would help film it… Reggie and I filmed the shots of Colter on Dr. Seuss that appeared in TGR's The Dream Factory.

TGR: What's next for Dubsatch?
Leo Ahrens: This season we're planning on 4 online films. We'll be releasing them shortly after we complete production, and are trying to add some structure to make us more legit.
For our first film this winter we'll be putting a face on who we are, almost like Lords of Dogtown style… These will be followed by several trips offering unique stories; we're also trying to get the whole Dubsatch crew to Haines again.