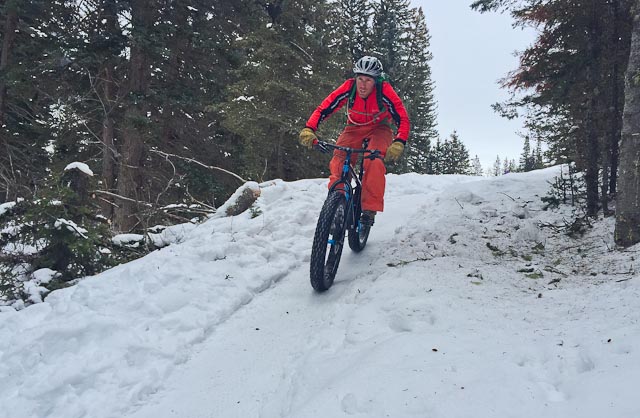 Jackson Hole mountain biker and TGR member Garrick Tischler hammers down the Hagen trail in Jackson this past weekend at the annual Fat Bike Summit. Ryan Dunfee photo.
When it comes to mountain bikes, I'm a strong ally of the sport's currently most-hyped bike category: the 150mm-travel, 27.5"-wheeled, dropper post-equipped carbon fiber enduro do-anything-and-everything-well quiver-killing wünderbikes. They go fast, look sexy, jump well, climb well, destroy corners and rock gardens, and drain wallets almost as fast as they blast downhills. They're goddamn fun to ride, and leave me wanting no other category of bike in the garage. Not that I could afford to add to the stable after blowing all my fun money on one, but others seem to be able to pull it off.
People Are Buying These Now?
Fat bikes, on the other hand, are the enduro category's weird Phish-obsessed cousin–still of the same family, still overtaking the industry in 2015, but with an entirely different personality. They're not fast, they're not particularly air-worthy, and you're not going to be roosting corners in between high-speed manuals as you rip down the trail. But all kinds of people are buying them. According to Trek's Global Mountain Bike Brand Manager, Travis Ott, folks in Florida and Arizona are buying them to explore sandy washes and trails too loose for normal tires.
Folks in the Midwest, especially places like Marquette, Michigan, where fat biking got an early start (see Cold Rolled at the bottom of the story), are picking them up to ride year-round. Even the skiing in Jackson isn't compelling enough for a small but growing year-round mountain bike crew to ignore the local Cache Creek trail system, where dedicated regular riding has paved over a few of the network's best trails into buffed-out snowy pumptracks. And Trek and brands like it are even breaking into the hunting market, where they think sportsmen (and women) will be attracted by the ease of access fat bikes can offer them to untamed forest roads and open meadows, especially in areas where motor-powered wheels are outlawed.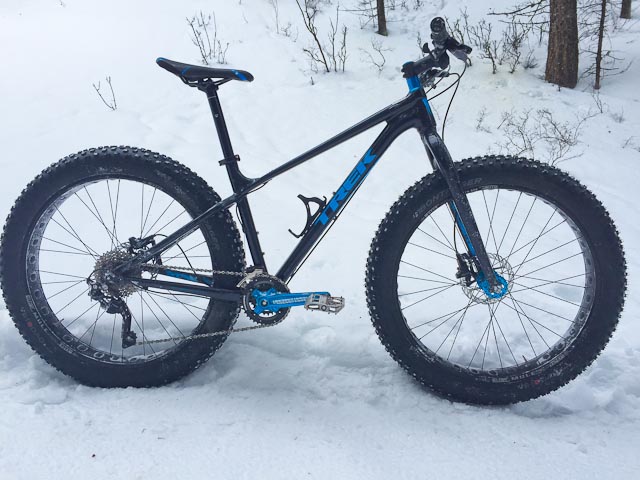 Fat bikes, like Trek's more entry-level Farley 6, are flying off the shelves to broader and broader markets this year. Ryan Dunfee photo.
It's clearly no longer the weird niché dominated by funky brands like Salsa and Surly that cater to old bike hipsters who wear yellow-tinted sunglasses indoors and out, and who spent long hours stroking their goatees in contemplation before selling their rigid 29-er fixie in order to try out the newest trend in bike weird. So, with some skepticism tempered by my eagerness to go pedal a bike on singletrack after a two-month break, I headed to the demo day at this weekend's annual Fat Bike Summit, taking place in Jackson Hole proper for its third iteration, to see what the deal was myself.
Starting Off
My friend Garrick and I grabbed a pair of Trek Farley 6's and headed out for a two-hour ride with Trek's R&D Engineer, Ted Alsop, who had a hand in developing the first lineup of Trek fatties. Despite Travis' initial warning that fat biking was "the most fun you'll ever have going slow," to my surprise, we weren't crawling on the pavement, momentum constantly constantly being sucked up by the four-inch tires that'd been lowered down to about 10 psi. We were moving along, although right off the bat, you can tell the fatties ride a little differently; at this relatively high tire pressure, the tires had a bit of a bouncy feeling to them, and as we rode over a first section of singletrack that had been pockmarked with boot marks from dog walkers, the going was slow, and every bump in the trail was directed straight into my tailbone.
After lowering the tire pressure to the point where I could squeeze the front wheel like it was a stress ball, things smoothed out a bit, especially in the rear end. We motored a few miles up the groomed cross-country trail towards our first legit section of trail.
Climbing A Fat Bike
It works! The climbing ability of these fat bikes was the most standout surprise. Rolling around Hagen's and Ferrins in Jackson, I was able to clear all but one of the steepest shots that had given me trouble on a regular bike through a good chunk of the summer. The traction on snow is impressive, and as long as you stay seated, it holds. Standing climbs tend to slip out, though, as the treads on the Bontrager Hodags do not quite match the aggressive patterns of the Maxxis High Roller II's I'm used to.
Good Ol' Trail Blasting & Downhilling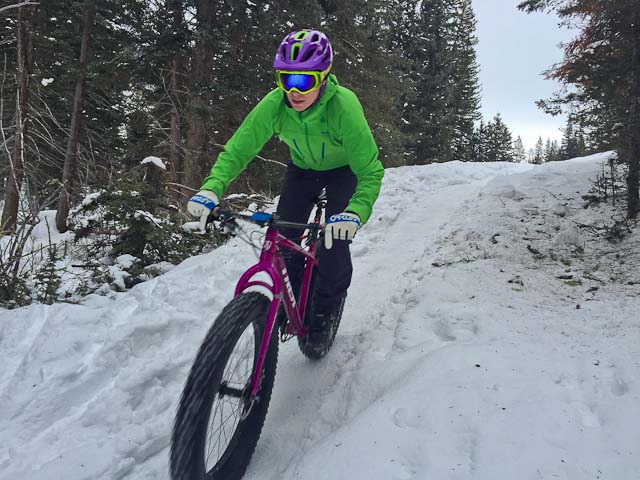 Trek's Ted Alsop rips Hagen's trail in Jackson on his custom-painted Farley. Ryan Dunfee photo.
This, of course, is what I was most curious about: how similarly would a fatty ride flowing, nominally downhill trails compared to my fancy enduro bike, and would it be similar enough of a feeling for me to want to pick up winter fat biking as my newest expensive hobby?
The answer? Sort of. Snow conditions make a huge difference in how these bikes ride; when it was pockmarked by hikers, it was like crawling on rocky tech, whereas when trails had only had bikes on them, all of a sudden the riding was smooth, fast, momentum-building and fun as hell. I even managed to double up a gap in the trail, which testifies to the confidence I was feeing on a bike with zero suspension.
However, the confidence gained early on straightline sections of trail outpaced the bike when it came to cornering. Fat bikes feel like they're floating over the ground, rather than digging into the dirt, and so when hammering into a flat corner, the grip was more tenuous than I might have liked. As you push the front tire into the ground in the corner, it feels like it's just barely holding on until, at the last moment, it suddenly grips the snow and snaps back. On multiple corners, I came in way too hot and ended up bailing into the snow on the inside. But with rocks, trees, and stumps buried in snow, frozen ankles were the only casualty of a crash.
Braking abilities change with the snow texture, and, at the end of the day, you're completely powerless when it comes to ice. Riding down the road, I felt way more comfortable riding through the ceaseless patches of ice that have been plaguing Jackson Hole pedestrians for weeks this winter, but coming hot into an icy, downhill, off-camber left turn on the final leg of singletrack, I grabbed the brakes, felt the tires slide uselessly, and slipped out completely, riding the rest of the corner on my chest and face. There's no fighting it unless you want to pony up absurd amounts of money to mount your fatty with studded tires, which are just starting to be offered.
Powder Biking?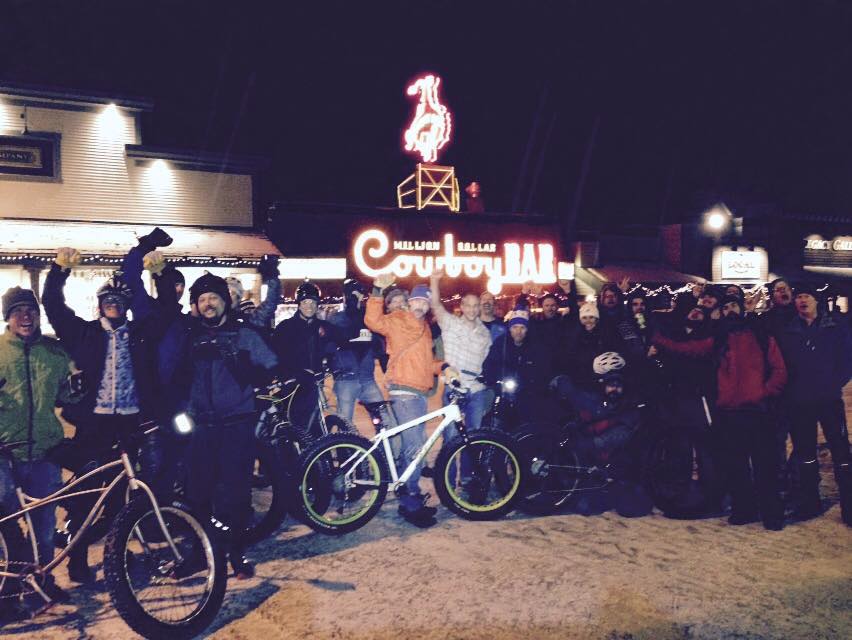 They might not be able to handle pow, but they're great for drinking! The Fat Bike Summit culminated in a well-attended fat bike pub crawl in downtown Jackson this Satuday. The Hub photo.
The big question for fat bikes newbs, especially come from the ski and snowboard world, is if you can take one out and crush powder runs on their gargantuan tires. Unfortunately, you cannot. They can handle a few inches of loose snow over hard, but as soon as you get off the packed trail, they immediately endo and throw you forward. Fat biking changes dramatically based on the conditions, but the best riding seems to got down on trails that stay permanently in the shade and which are packed down and smooth after a good little stretch without snow. Which is precisely when the skiing sucks, so there's that going for it. As well, there's a very small but growing cadre of manufacturers making grooming devices meant to be pulled behind a snowmobile.
Is It Time To Get Fat?
There is a certain zen to the fat bike experience, especially in the winter. Blasting down the trail in the middle of the snow, feeling and riding loose on a bike that is definitely not what you rode all summer, eyes watering and nose dripping with flem–the entire sensory experience cements in the crazy feeling of legitimately approaching mountain biking as a winter activity. It's definitely time and money better spent that sitting in your basement sulking over a trainer, if you're the kind who's really that desperate enough to "bike" come winter. It's not quite the mountain biking you're used to, but the unique handling of the bikes and the challenges that a quickly-changing surface like snow offers are certainly enough challenge to overcome the fact that all the tech sections and jumps on your local trail are buried in snow. But it's clear that snow riding is only a small part of where manufacturers expecting the fatty market to go, and to grow. Just don't buy those hideous pogies.