The largest of six avalanches that broke off this Sunday, March 29th, around New Hampshire's Mt. Washington. This naturally-triggered avalanche engulfed nearly one third of the main bowl of Tuckerman Ravine and took Snow Ranger Jeff Lane for a ride. Mt. Washington Avalanche Center photo.
This Sunday, March 29th, six avalanches–three human-triggered and three natural–struck various aspects off of New Hampshire's highest peak, Mt. Washington. As April approaches, skiers and snowboarders will be flocking to the spring skiing festival at New England's most popular backcountry area, Tuckerman Ravine, but the weekend's six separate avalanche events signaled that spring is a way's away and that mid-winter avalanche conditions are still in full effect.
Forest Service Snow Ranger and publisher of the Mt. Washington Avalanche Center avalanche report, Jeff Lane, was himself caught in the most spectacular of the six slides: a D2R3 avalanche with a crown as deep as two feet that broke underneath the ice bulges on The Lip of the The Headwall on Tuckerman Ravine and took Lane for a ride for several hundred feet before depositing him on the top of the debris pile, uninjured. The debris pile measured some 400 feet wide, and could be seen to encompass roughly 1/3 of The Headwall from the Mt. Washington Observatory webcam across the valley at Wildcat Mountain.
Of course, it was only one event of a very long day for Lane on Mt. Washington:
Avalanche #1: A small avalanche breaks naturally in the Lower Snowfields. A wind slab built up by 40 mile per hour winds overwhelms a weak layer consisting of loose, low-density snow that fell the day before.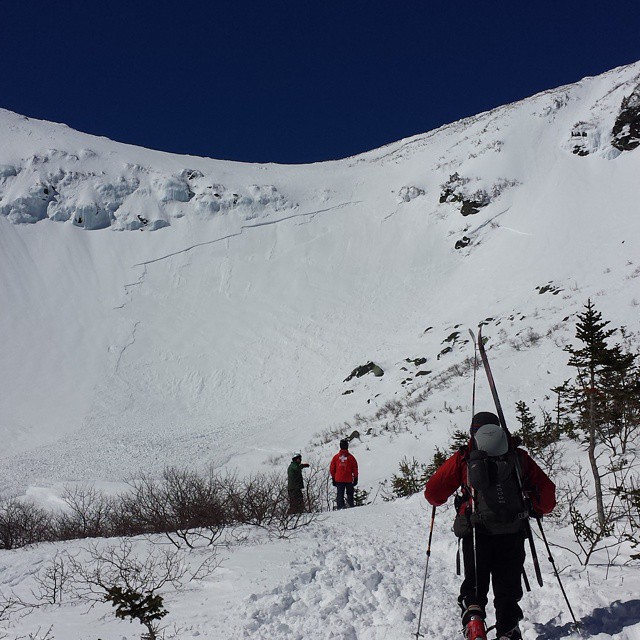 The aftermath of the Lip avalanche that took out Snow Ranger Jeff Lane. Mt. Washington Avalanche Center photo.
Avalanche #2: Snow Ranger Jeff Lane is hiking up The Lip to assess the snowpack when he breaks off a second, much larger avalanche breaks below the ice bulges of The Headwall on The Lip. It completely entrains him and carries him several hundred feet. He fights to stay on top of the slide, which thankfully goes through a clean area without rocks or other hazards, and finds himself on top of the debris, luckily uninjured. The avalanche, whose crown was two feet at its deepest, deposits a debris pile 400 feet wide.
Check out TGR's Safety Week column for a full lineup of backcountry and avalanche tips and instructions.
30 minutes later, a snowboarder traverses across Center Bowl and slides down the entire icy bed surface on his heel edge. According to Ranger Lane's report, "Had the Lip not been triggered, and he had descended this route, I feel pretty confident in saying he would have triggered an avalanche and been carried down from a much worse location than I was when it happened." You can read Jeff's further reflection about his decision making that led to the avalanche, and about his frustrations and regrets regarding it, here.
Avalanche #3: Shortly after this, solar heating from the sun heating up the snow lets a chunk of ice break free on the far right side of The Sluice, triggering a small natural slide.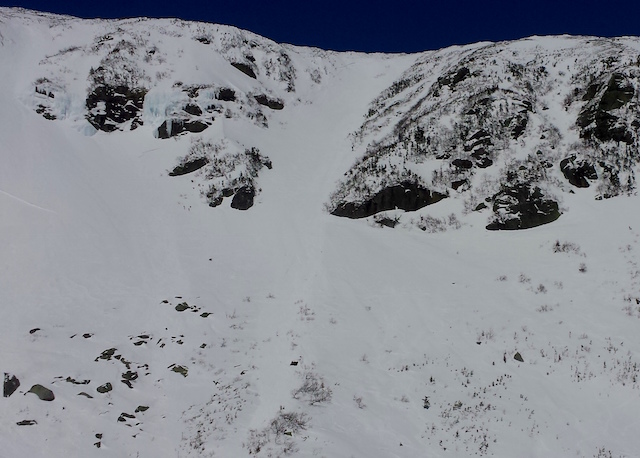 The aftermath of the Right Gully avalanche. The skier can just be seen on the looker's right edge of the gully above the large cliff. The crown broke across almost the entire top of the gully, while the crown of the Lip avalanche from earlier in the day can be seen in the left of the photo. Mt. Washington Avalanche Center photo.
Avalanche #4: Around Noon, a skier coming down Right Gully made a jump turn into the deepest pocket of windblown snow, triggering a thin slab avalanche of 4-10" deep that carried him downhill several hundred feet. He was able to get out of the slide before it took him right over Lunch Rocks.
Avalanche #5: Another skier reported in to the Hermit Lake ranger station to report that he'd triggered a slide in Oakes Gulf that broke two feet deep and 80-100 feet wide, and which ran for 5-600 feet. He was reportedly able to stay out of the slide and carry on with his day.
Avalanche #6: A guided group practicing lead climbing in South Gully of Huntington Ravine triggered a 6" deep slide that broke about 10-15 feet wide, and the belayer for the party of three, who was anchored to an ice screw, caught the group and prevented them from falling farther.
While backcountry skiing and snowboarding has been growing in popularity in the Northeast–no doubt thanks in small part to the content of this website–we'd like to remind everyone that real backcountry hazards, and real avalanche conditions, exist at Mt. Washington and any other place with the terrain and snow to produce them. Avalanches ain't regional.
Stay safe out there and be sure to check the Mt. Washington Avalanche Center avalanche advisory if you plan on heading into the Whites–keeping in mind that the snowpack is a long ways from shedding its mid-winter hazards.