#1: The 30th Annual Legendary Banked Slalom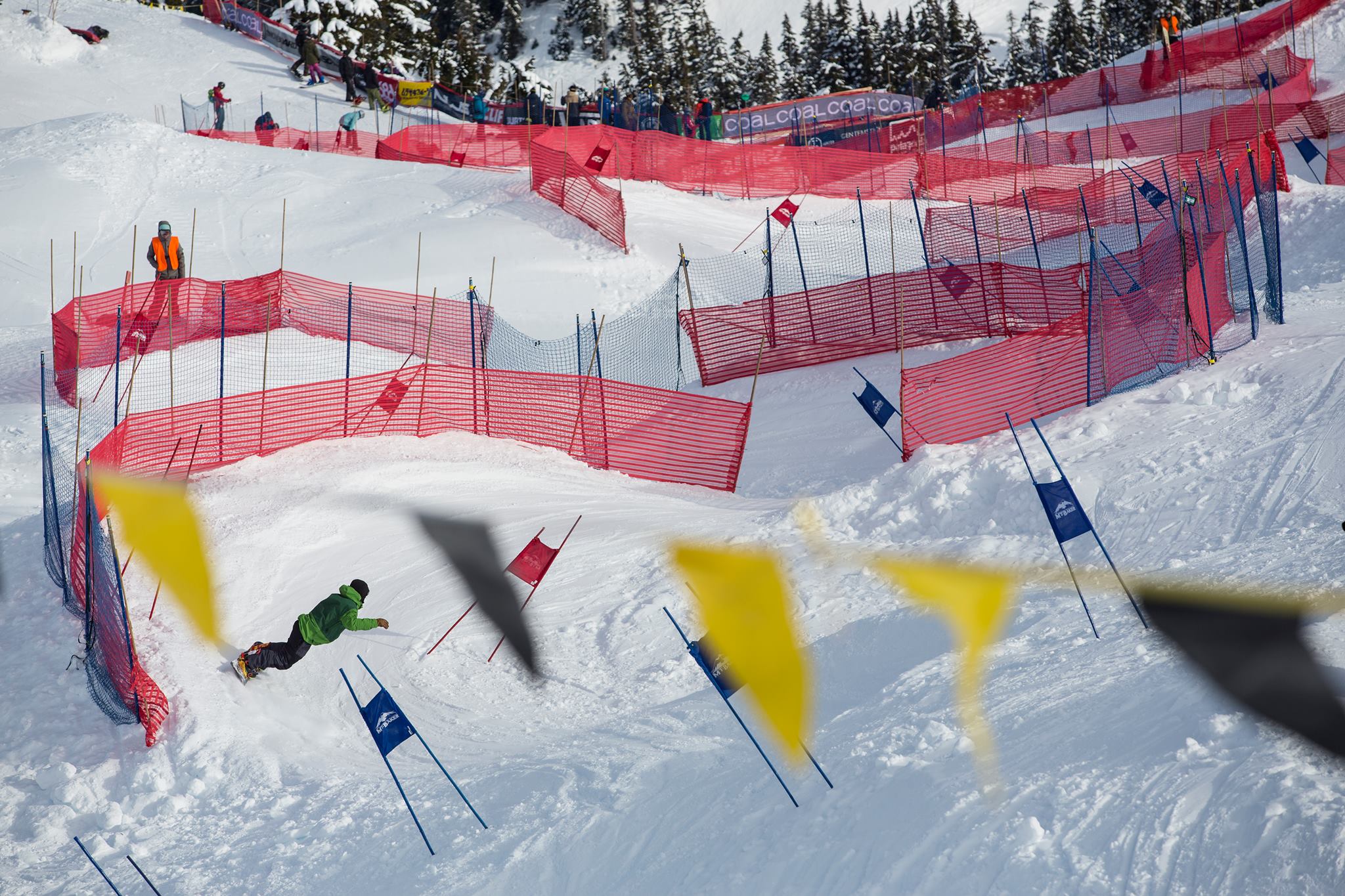 The Baker Banked Slalom may or may not even happen this year. Scott Wittlake shreds the course on a better year. Shem Roose photo via Mt. Baker.
Hosted annually at North America's snowiest ski area, the 30 th edition of snowboarding's most hallowed contest of all-out board skills, the Legendary Banked Slalom, was postponed from its anticipated late February date due to a truly dismal winter in the Pacific Northwest that has left area snowpacks as low as 30-40% of normal, despite precipitation volume being about the same as normal (i.e., shitloads of rain instead of snow).
Organizers postponed the event a full month in hopes of more favorable March weather, only to see temps rise, snow melt, and Mt. Baker itself, which holds the record for the snowiest season of any ski area in the States ever–1,140 inches fell during the '99 season–close due to a lack of snow.
Banked Slalom officials are hoping higher elevation snow coming in this week can help get the mountain back open by this Friday so they can run a simplified version of the contest, which they're calling the 29 1/2th Baker Banked Slalom, this weekend. The official 30th anniversary celebration is getting pushed back to 2016.
Those in the PNW this winters are getting a taste of what most ski seasons will look like in the area for their grandchildren should carbon pollution, and climate change, continue unabated. You can read more about that on forecaster Cliff Mass's blog here.
#2: Squaw Valley's First World Cup Event In 46 Years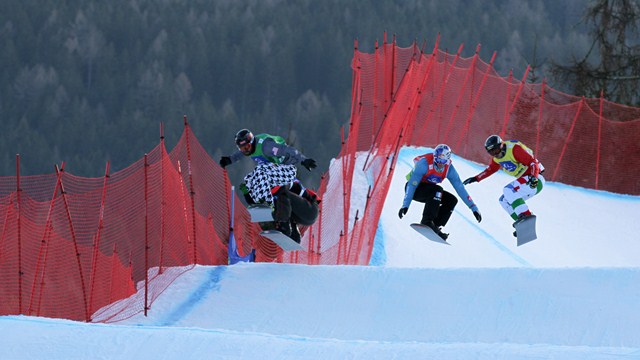 Squaw missed hosting its first World Cup event since 1969 due to low snow this past weekend. Oliver Kraus photo.
Squaw Valley was anticipating hosting a fully FIS-certified World Cup snowboardcross and skicross this March 4 th through the 8th, but with even the 8,200-foot summit of the resort chalking up only 140 inches–one third its normal snowfall–the event had to be cancelled since not enough snow could be farmed to build the course. According to CEO Andy Wirth, Squaw chose "to allocate its resources to focus solely on the guest experience" instead of sacrificing whatever was left to build the course.
According to the Tahoe Daily Tribune, the event was to be Squaw's first World Cup-level event since 1969.
#3: The California Ski Industry
The view from Sierra-at-Tahoe's Lower Bashful run on the lowest part of the mountain Tuesday, March 16th. The mountain is now closed.
In its fourth winter of drought, the Sierras are sitting are just 20% of their normal snowpack. Bloomberg extensively documented the huge snowmaking resources well-funded resorts like Heavenly have been throwing at their trails to keep them open during the fourth consistently shitty winter in Lake Tahoe, but the reality of the weather has sunk in much harder for the California ski resort industry as a whole: 11 of the state's 24 ski areas are now closed, with Sierra-at-Tahoe becoming the latest when its efforts to move snow from the parking lots, and anywhere else they could find it, simple weren't enough to combat 60 degree temps eating away at a thin base.
The LA Times recently wrote an op-ed declaring that the state has only one year's supply of water left, after which they urged strongly for the introduction of mandatory water rationing across California. With the "wet season" coming to a close, it's something of a shock they haven't been introduced already.
#4: The Iditarod Race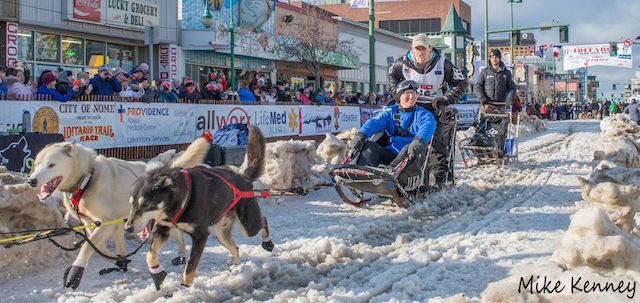 The 43rd Iditarod sled dog race had to move 225 miles north to compensate for a lack of snow around Anchorage. Mike Kenney photo via Iditarod.
For only the second time in its 43-year history (the first was in 2003), the annual Iditarod sled dog race had to move farther north in Alaska to find a snowy enough course to run the 10-day, 1,000-mile race. With Anchorage receiving only a third of its normal 60 inches of snow this winter due to the same amplified jet stream that has kept the Pacific Northwest warm and rainy, the race had to move 225 miles north to the city of Fairbanks. Dallas Seavey won the race for the fourth consecutive time this week on the new course, which was made up largely of river ice.
#5: Boston's Snow Removal Budget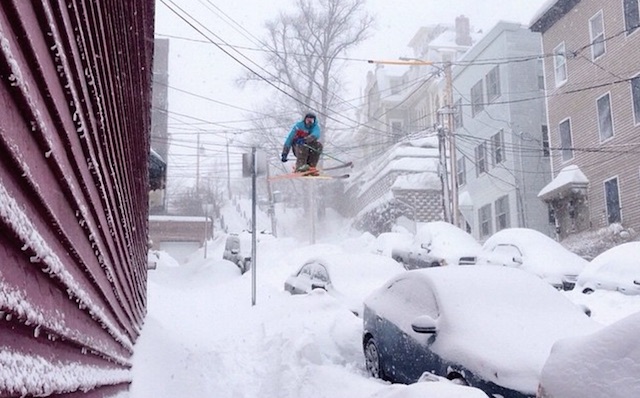 Doug Currie blasts a shifty in deeeeep conditions in South Boston this February. Kris Hopkins photo.
Of course, the East Coast has been having much the opposite story. Having just broken a record for winter snowfall (December through February) at 108.6 inches, Boston also broke its snow removal budget thanks to the Northeast's most superbly epic, fountainous train of storms that seemed to never stop once the later half of January approached.
The city's $18.5 million budget was quickly squashed by the relentless snow, with resources strained to the point at which union workers were paid $30 an hour (and 50 prisoners paid $0.20 an hour) to clear snow from train tracks by hand and using a $226,000 snow melting machine that burns 60 gallons of diesel fuel an hour while melting down 30 tons of snow to water. The spend on snow removal for the 2015 winter is now reportedly a cool $40 million.
Of course, even with spring on the horizon, the cleanup ain't over yet: the slowly melting snow is revealing piles of frozen doggie poop bags left around overfilled trash cans in city parks, and city residents have called complaining that their household trash hasn't been picked up for weeks–the ugly side effects of an insane winter in which the city struggled to keep basic services up and running amidst the deluge of snow.
Until climate change forces temps to rise to the point where more of Boston's winter precipitation falls as rain, Bostonians can look forward to bigger winters in the near and medium-term future, as a warming atmosphere is though to be creating the optimal conditions for heavy snowfall in the area.